12 Best Swimsuits to Hide Tummy Budge so You Can Feel Your Best This Summer ...
By Laura
Peak swimsuit season has officially arrived! I'll be the first to admit that it came quicker than expected so I didn't quite use my winter gym time to its full potential. This means that I'm not exactly beach bod ready unfortunately, BUT I did my homework and fear not!
Below I have compiled a list of 12 of the best swimsuits on the market today to hide belly bulge and look my absolute best this summer. So whether I am hitting the sand in a nice vacay on the beach or I'm simply hanging out with my kids in the local pool… this list of tummy control swimsuits has got my back so I can feel confident.
---
1

Must Have Miracle One Piece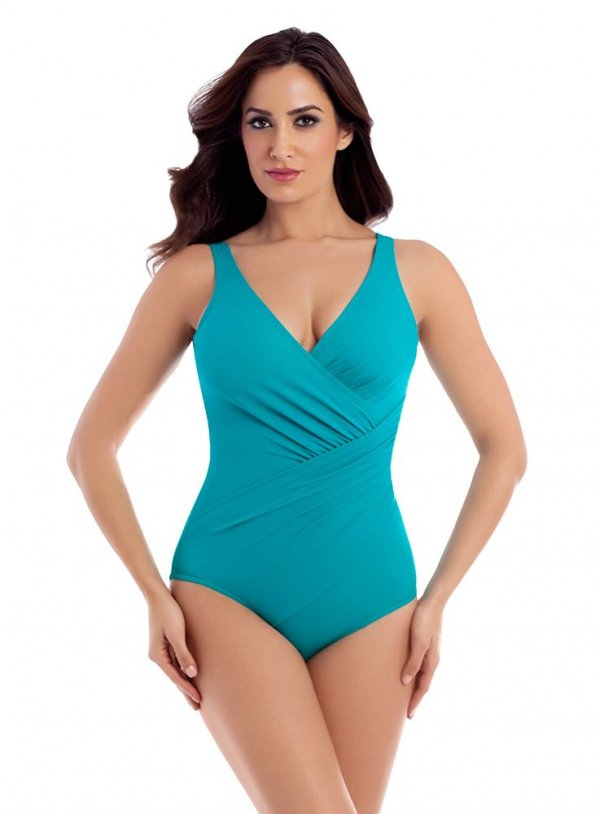 miraclesuit.com
Price: $156
A pricier option but definitely worth the investment. Made with spandex for slimming technology as well as long lasting. This one piece has me feeling like my best self when I find myself in the water this summer.
2

Sweet off the Shoulder Tummy Control One Piece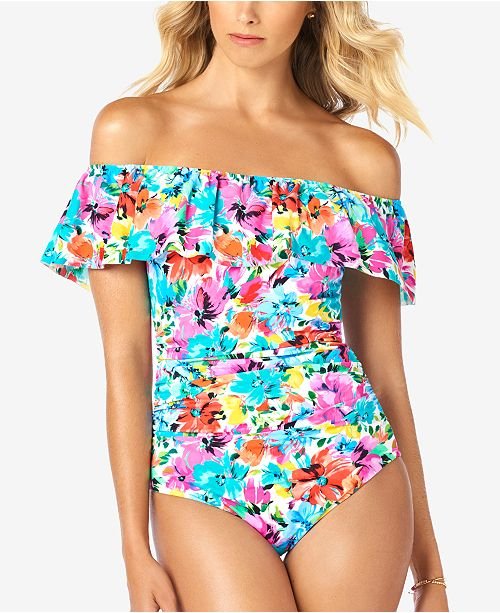 macys.com
Price: $75
Gorgeous doesn't even begin to describe this tummy taming one piece swimsuit. This cute off the shoulder suit will have jaws dropping this summer. Floral print, tummy ruching, and a total eye catcher. I do not want to pass up this suit.
---
3

Adorable Slimming Bikini Top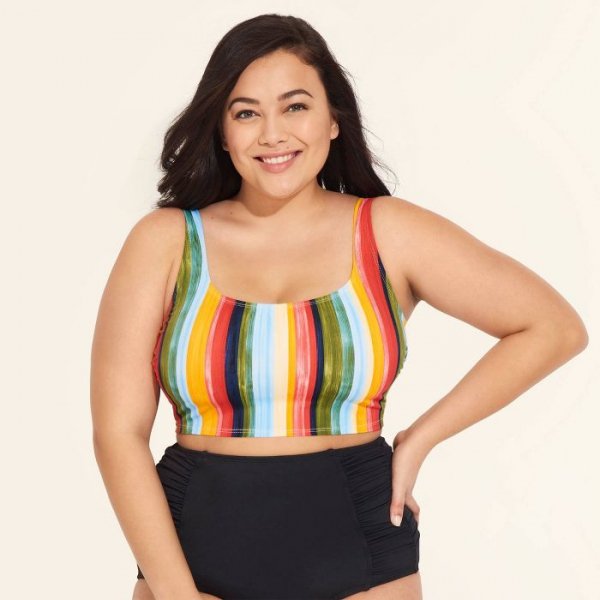 target.com
Price: $40
If I don't want a one piece then my go-to suit needs to be this long line slimming bikini top from Target. Pretty colors, SPF material, and special slimming fabric; have all eyes on me when paired with some plain black high waisted bikini bottoms.
---
4

Sexy Tie Front One Piece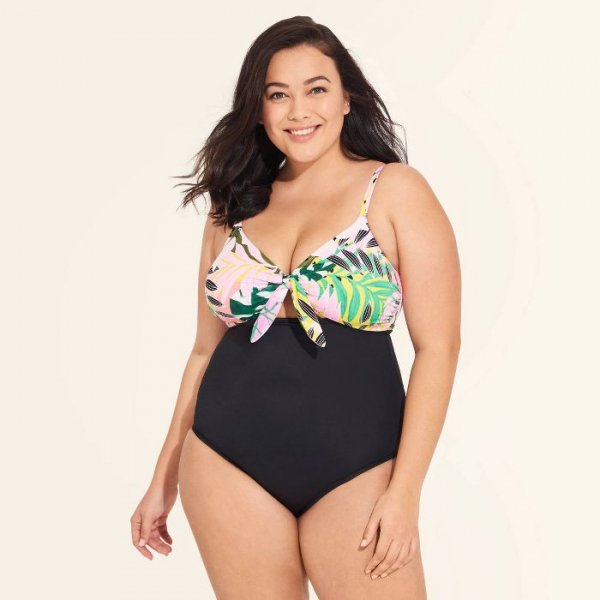 target.com
Price: $65
Not confident enough for a two piece but still want some sex appeal? Well then look no further than this tie-front cut-out one piece. Slimming technology fabric in a cute tropical print to have me feeling flirty and fun anytime I'm hitting the water-from the pool, to the beach, to the water park, I won't regret buying this super adorable one piece bathing suit.
---
5

Functional and Cute Seim Dress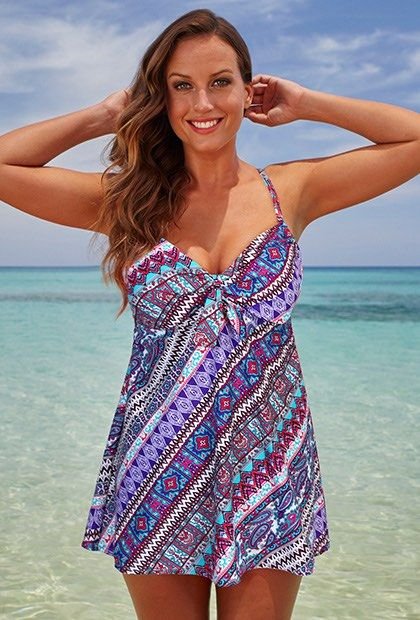 swimsuitsforall.com
Price: $79
Okay y'all, if you haven't considered a swim dress you're missing out! A full one piece bathing suit underneath with a flowy dress on top?! Double cute, double functional, and double the awesomeness! Tummy taming, built in underwire, and adjustable side boob coverage. This suit will cover all tummy problems for summer fun needs.
---
6

Super Sexy One Piece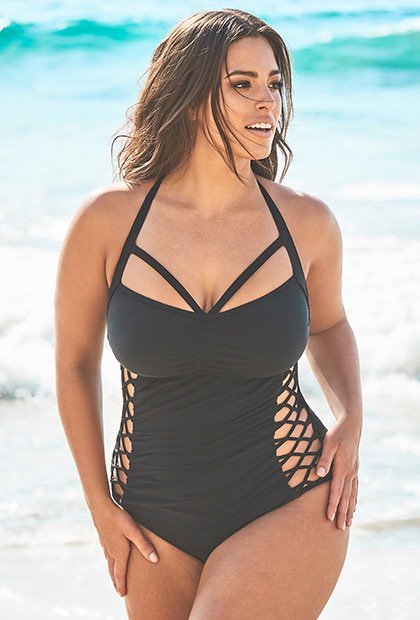 swimsuitsforall.com
Price: $96
Another pricier option on this list (as are all swimsuits nowadays) BUT hear me out. This sexy one piece is Ashley Graham approved! Yes, gorgeous plus size model Ashley Graham. Tummy control, sexy side cutouts to accentuate curves in all the right places, and awesome looking cutouts on top to emphasize bust as well. This higher neck swimsuit will give the compliments all on its own.
---
7

Miracle Swimsuit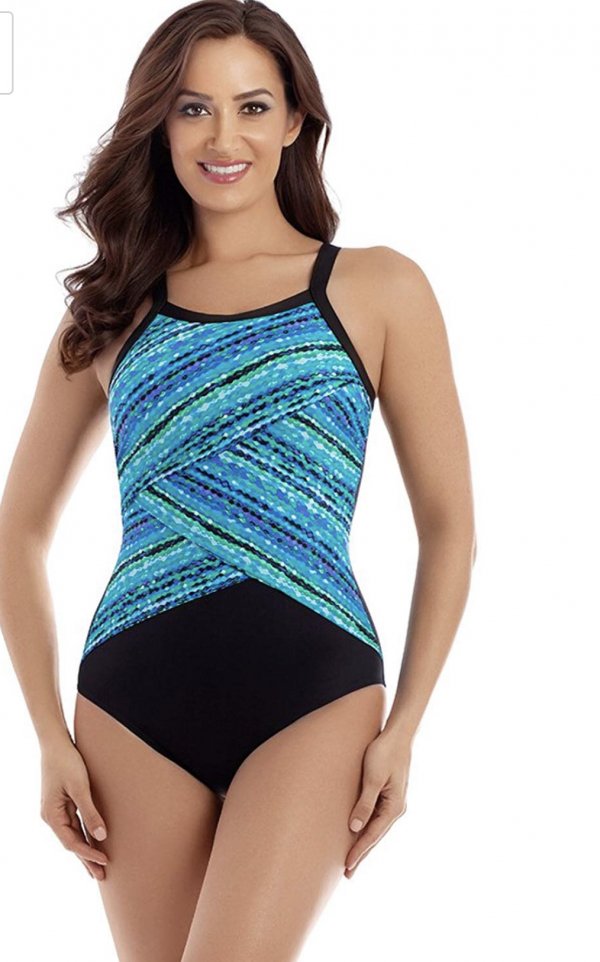 amazon.com
Price: Varies by size
Layers for slimming, high neckline, and a super pretty blue color. This slimming swimsuit will give the most confidence this summer. The Miraclesuit is said to make you "look 10lbs slimmer in 10 seconds" and with a promise like that, it's impossible not to feel like my absolute best self when I've got this on.
---
8

High Neck Monokini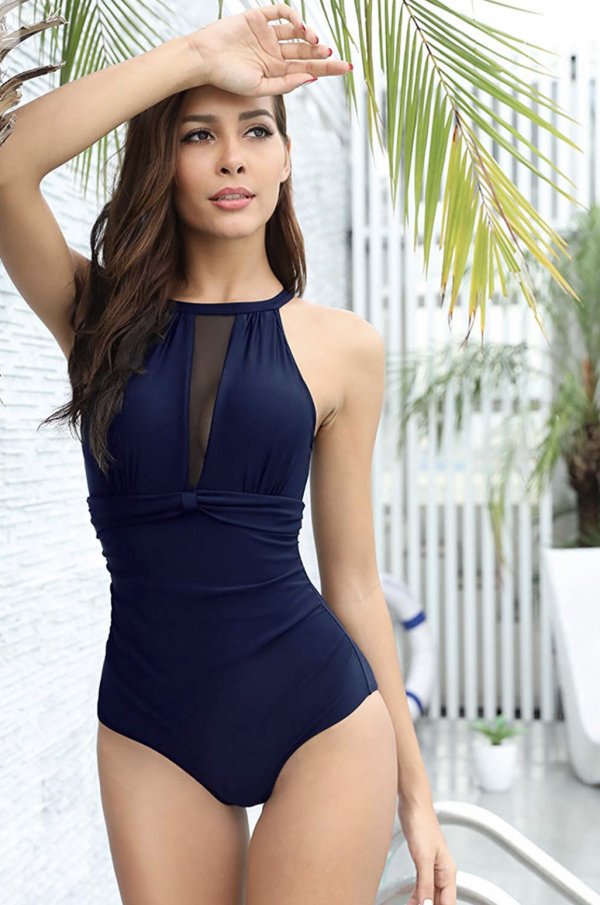 amazon.com
Price: $17-$28
As if picking the perfect swimsuit for the season isn't difficult enough, this suit just stepped up the game! 17 colors! That is crazy! I could buy one for everyday of the week or even almost every day for a month if my heart desires. This high neck mesh monokini accentuates curves, tummy ruch hides pesky imperfections like tummy bulge, and gives all the confidence needed to rock it.
---
9

Highly Rated One Piece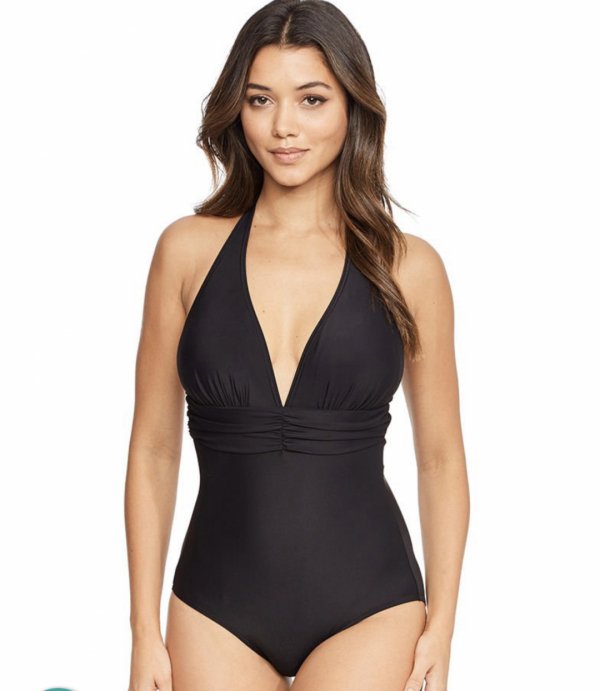 figleaves.com
Price: $50
Not the cheapest on the list but also not the most expensive. It's got 4.5 out of 5 stars so it's probably a great choice to add to my swimwear collection. Reviews say it is flattering and supportive, and the plunging neckline is just enough to give some added sex appeal but not so much that I'm going to be falling out of it. With 5 color choices to pick from it's not hard to find the best color for my skin tone and just personal preference.
---
10

Flirty and Fun Bikini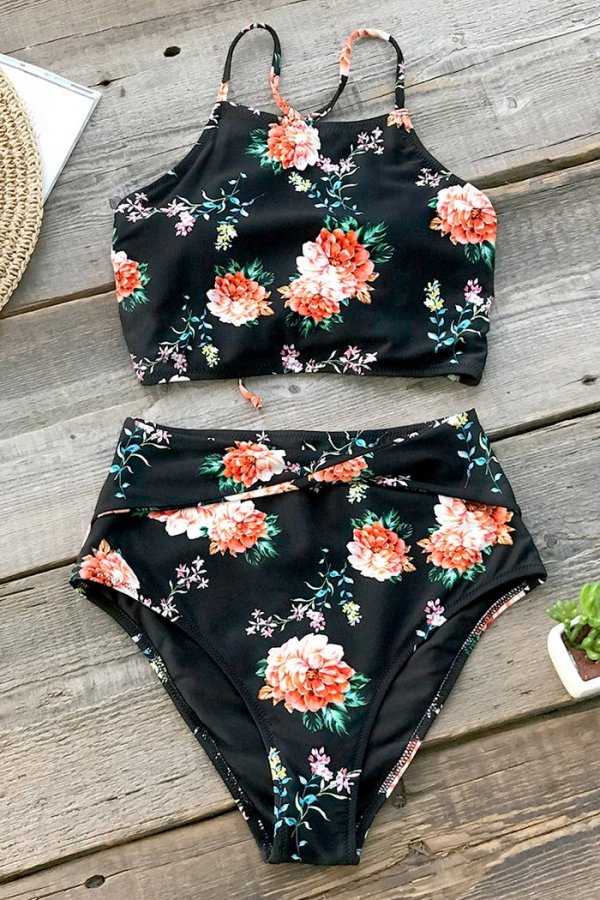 cupshe.com
Price: $29
This orange blossom patterned high waisted bikini will give the sex appeal and confidence I desire in a bathing suit but also provide the belly bulge slimming technology I need to get those things. Sporty, sexy, and reasonably priced, this high waist swimsuit is an absolute need for all my summer plans. From laying out in the sun to hanging in the water, this suit will not let me down.
---
11

Ultra High Waist Bikini Bottoms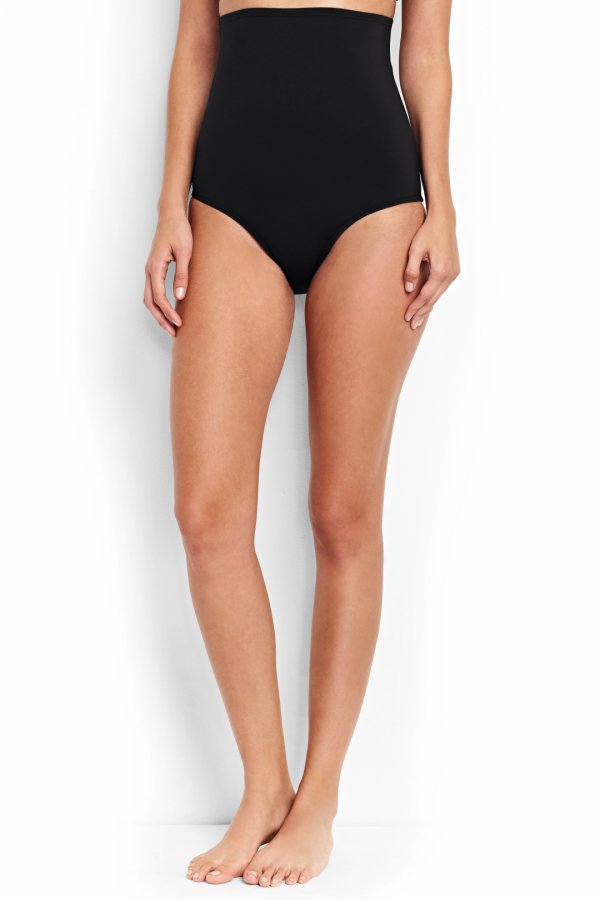 landsend.com
Price: $22
I have a dilemma and you might too: the perfect bikini or tankini top but can't find the right bottoms? Thank you Land's End for creating this ultra high-waisted bikini bottom. It comes up just below the bra line to slim your whole midsection (giving piece of mind that my muffin top will not be making an entrance when I don't want it to) and since it's just plain black bottoms, it allows me the option to mix and match with my favorite top that I already own.
---
12

Double Trouble Two Piece Tankini Set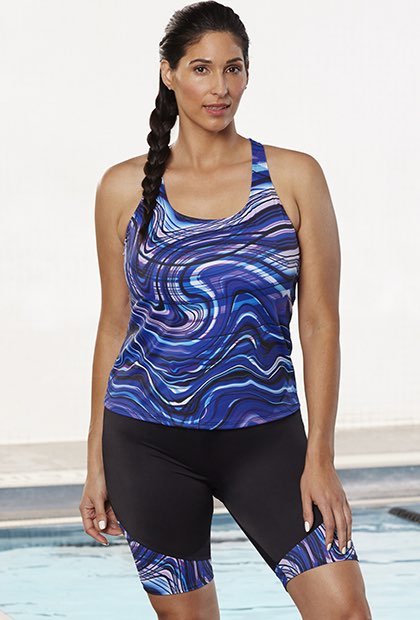 swimsuitsforall.com
Price: $78
Midsection not the only issue? I feel ya! And most of the time swim "shorts" are less than forgiving when it comes to other chunky areas on the body like my thighs. That's where this tankini with matching bike short bottoms come to the rescue! It will cover the problematic middle and the thick thighs with ease, giving me the confidence to take on whatever summer throws at me. 2 cute patterns (or optional solid black), 10 sizes (ranging from 8-26), it's nice to mix and match sizes (meaning an XL top doesn't force me into an XL bottom) to fit my body perfectly so summer confidence will never be an issue.
---
Popular
Related
Recent