Every girl needs to be comfortable when exercising, so why not take a look at some of the best workout tanks? What you wear to workout is very important, not just because you can look cute, but for comfort and efficiency you need good clothes. Working out in sweatpants and a t-shirt is fine, but could get in your way. Here are some of the best workout tanks. Take your pick!
---
1

Nike Women's Sculpt Tank Top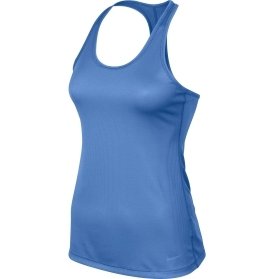 Who doesn't love helping the environment while wearing one of the best workout tanks? In your own small way, buying this tank, which is made out of recycled polyester, you'll be helping out the environment! On top of that the tank is made with Nike's Dri-FIT fabric which helps to keep you cool and comfortable as you workout. The fabric also isn't binding, which is always an added bonus. There's no going wrong with this tank.
Price: $25 at Buy on eBay
---
2

Lucy Workout Racerback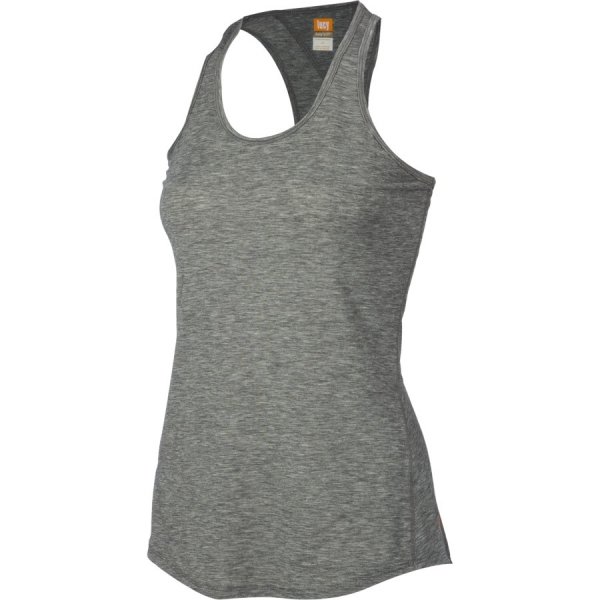 Not everybody likes workout gear that is tight and constricting. If you're one of those people then this tank is for you. The fabric is loose fitting and moves freely with your body. It doesn't leave you feeling like you're bound in fabric, which is always an added bonus. The best part about this tank is that it's odor-inhibiting! No more worrying about getting too sweaty (and maybe a little stinky) at the gym anymore!
Price: $35 at lucy.com
3

Under Armour Women's Victory Tank Top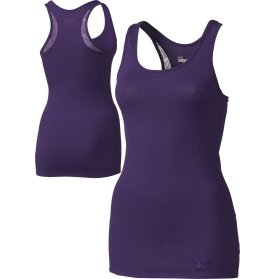 Love working out in the outdoors? Well this tank top is made with UPF 30+ which is going to help prevent against sun damage. Why worry about your clothes getting faded while you're working out? This tank is also made with really stretch fabric which is not only comfortable, but helps with your pre and post workout stretching.
Price: $22 at Buy at Under Armor
---
4

SOLOW Workout Racer Back Tank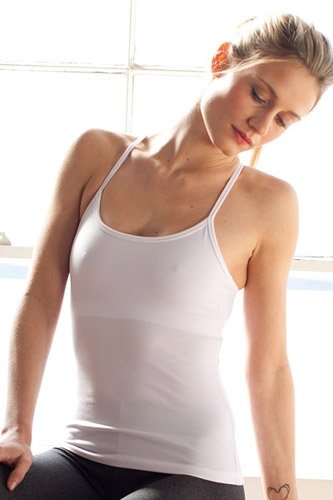 A lot of tanks don't offer enough support and you find yourself having to bring along a sports bra in your gym bag, but not this tank. While carrying a sports bra isn't a heavy load, you still don't have to ever worry about whether or not you brought it with you. The SOLOW Workout Racer Back Tank has a bra built right in! Now you don't have to worry about the support you'll be getting. .
Price: $48 at Buy on Amazon
---
5

Nike 'Flow' Racerback Tank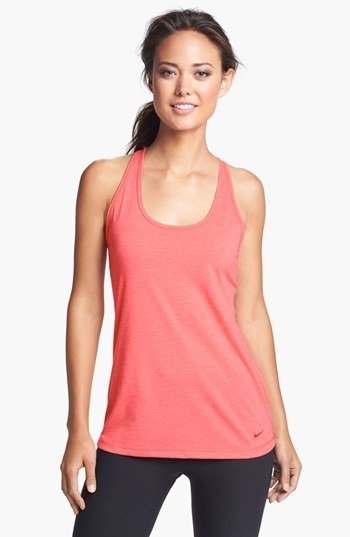 This tank is made with the same Dri-FIT fabric as the previous Nike tank on this list. So you still don't have to worry about getting too overheated, because the fabric is designed to make sure that you're cool and comfortable. The great part about this tank is that it's flowing and not skin tight. No need to change when you get to the gym, just wear this on your way there because it's so cute and comfortable that there's no reason not to!
Price: $28 at macys.com
---
6

Pop Space Dye Run Tank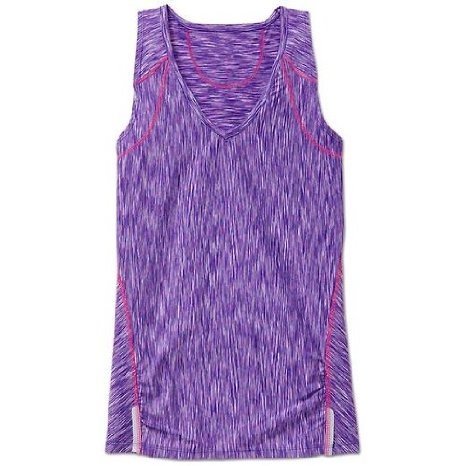 Talk about a "pop" of color! These tanks are some of the brightest and colorful tanks on this list. Not only are they bright and fun, but they also have sun protection to keep them from sun damage. This tank has UPF 50 to keep your bright tank looking bright. The tank is also really flattering on those who wear it! Maybe not your number one goal, but important enough.
Price: $49 at athleta.gap.com
---
7

Zella 'Everyday' Racerback Tank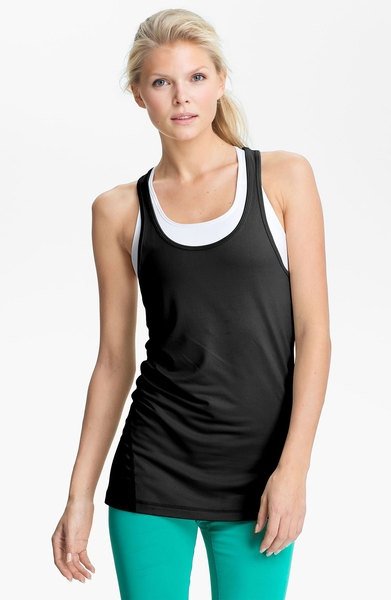 Talk about comfortable! People would go so far as to say that this tank is as comfortable as pajamas! This is a little bit more affordable than some of the other tank tops on this list. Not only does it have price on it's side, but this tank helps your skin breathe while you're working out. It doesn't hurt that it looks really cute with a pair of leggings. Users have said that this is a great tank top to wear while doing yoga.
Price: $38 at shop.nordstrom.com
---
8

Adidas by Stella McCartney Run Performance Tank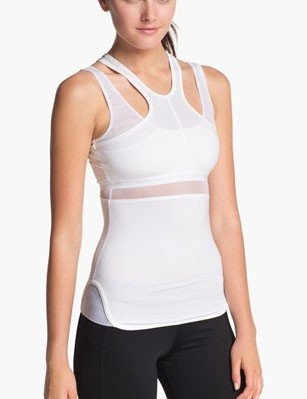 These tank tops also have a built in bra to help you get the support you need without wearing a sports bra. Stella McCartney decided to team with Adidas to come out with some great workout gear. This tank with a built in bra has a little more of a fashion side to it than the others on this list.
Price: $65 at Buy at Zappos
---
9

Sweaty Betty Athlete Workout Tank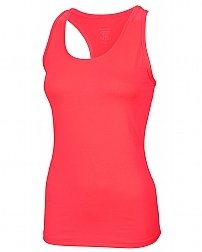 These tanks are great for any kind of workout! While some of these are better for yoga or have special features for working outside, this tank is for the kind of person that just wants to grab and go. Why worry if it's your outside tank or your yoga tank? Just grab this top and be on your way. It comes it a variety of colors, is longer in length than some other tanks, and is a slim fit, but not clingy and uncomfortable.
Price: $45 at Buy at Sweaty Betty
---
10

Lululemon Cool Racerback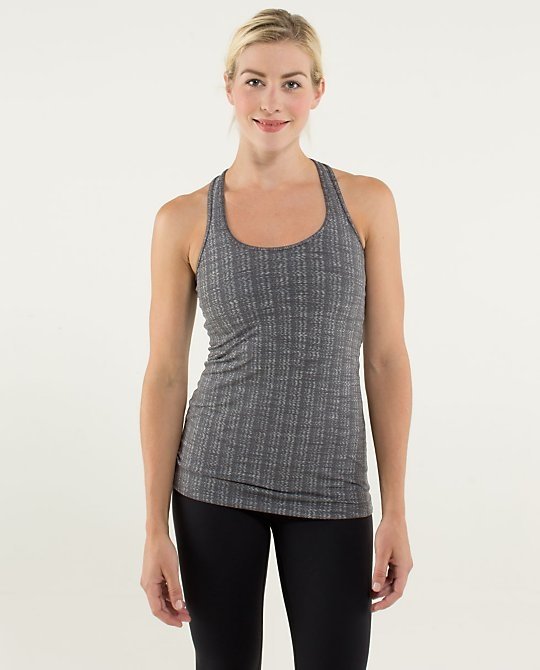 This tank was designed to show off your back. The fact that it's a racerback doesn't hinder its coverage or anything. You'll still be able to feel comfortable while also feeling sexy in this great racerback tank. If you're not comfortable showing off too much of your back, just think of this as something to aspire to wear. That way when you feel ready to wear this, you'll know you've made progress.
Price: $42 at Buy at Lululemon
---
11

Electric Yoga Drape Tank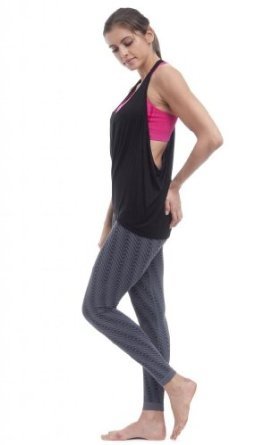 The brand says yoga, but don't think that's the only way that you should wear this tank. With it's awesome design, you'll be staying cool while working out. Of course it's made to be layered over a sports bra, but that's kind of worth the extra air you'll get to feel on your skin while you're working out. If you want a built in bra, this isn't for you, but if you want something loose, fun, and comfortable then look no further.
Price: $42 Buy on Amazon
It doesn't hurt to look cute while getting in a good workout! Of course that's not what all these tanks are about. They each offer different things to help you when you're trying to decide which tank is right for you. If you choose a tank off of this list, there's no going wrong!
---
Comments
Popular
Related
Recent