I love looking at fashion magazines every season to get inspiration on how to update my wardrobe, and this especially came in handy when I went browsing through this year's fall fashion trends. I loved a lot of them because they were chic yet classic and timeless enough to use over and over again. Here are some of my favorite fall fashion trends from the runway this season!
---
1

Knit Beanies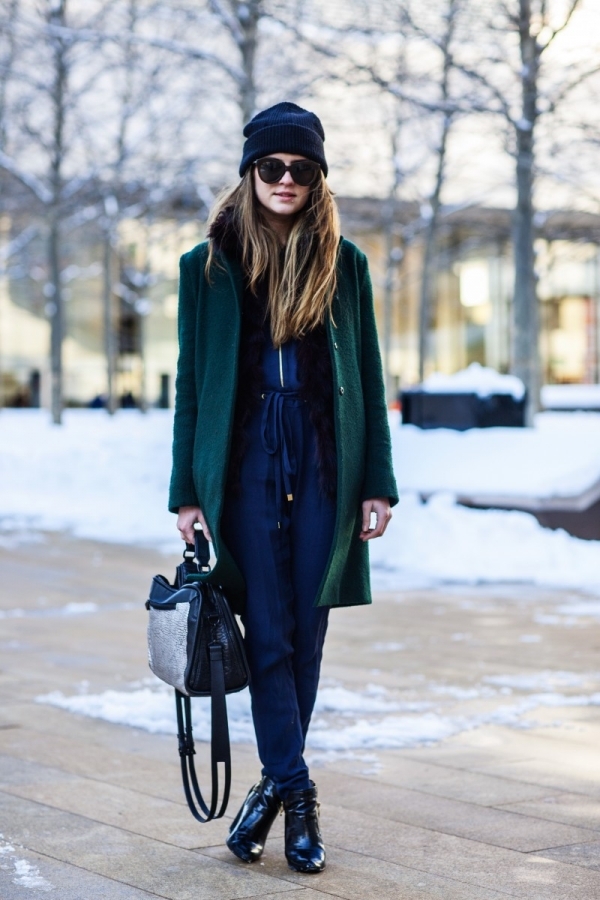 Knit beanies are a hot item on the runway this year, and it's super easy to see why! A beanie is comfortable, casual and chic. It's easy to put a beanie on to jazz up any outfit. It's a great way to incorporate fall fashion trends this year in an affordable way. Knit beanies are nice because they can make fun/quirky statements, and they'll keep your head warm in the cooler months! What's not to love?
---
2

Over the Knee Boots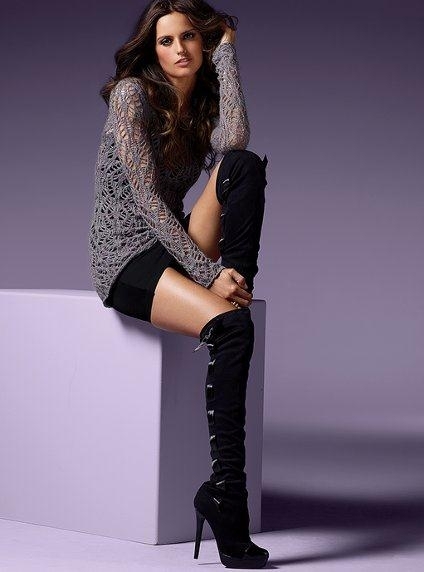 Another fashion winner on the runway this year are over the knee boots! A couple years ago, I got a pair, fell in love instantly and sought to buy all of the cute over the knee boots I could find! They're versatile, and will keep you warm if paired with a skirt or dress. They definitely add a bit of glam or grunge (depending on the style) to any outfit!
3

Turtlenecks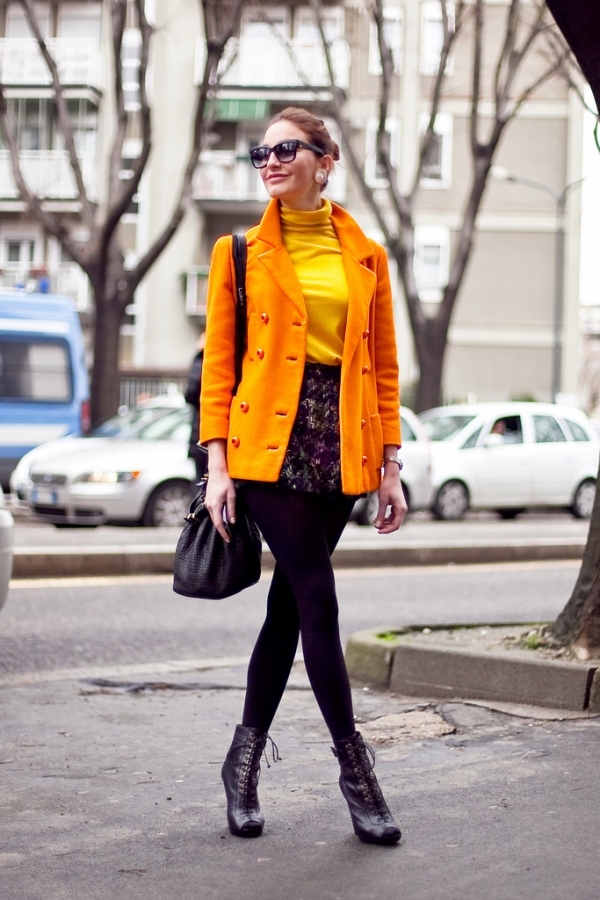 Turtlenecks should always be in style in my opinion. They are comfy, warm, and classy. A turtleneck looks great when paired with trousers or a mini skirt. It's definitely a throwback look to when showing less skin was in. Think Audrey Hepburn, circa 1950.
---
4

Green is for Gorgeous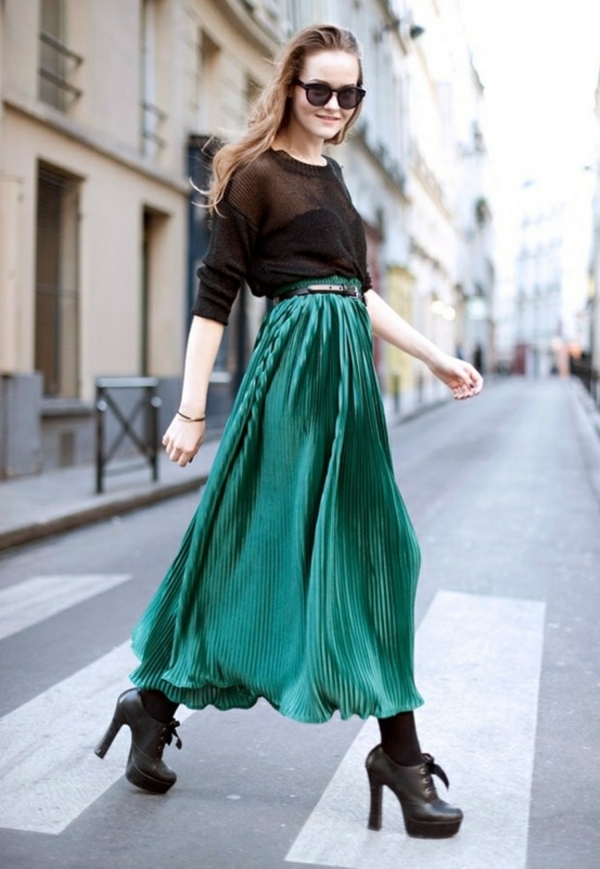 Green is a color that looks ravishing on almost anyone. On the runway, lots of different shades of greens were showcased, and I definitely approve. Emeralds, olives & forest greens typically dominated, but get creative with other shades of the color and match them up as you please.
---
5

Chic Slouchy Pants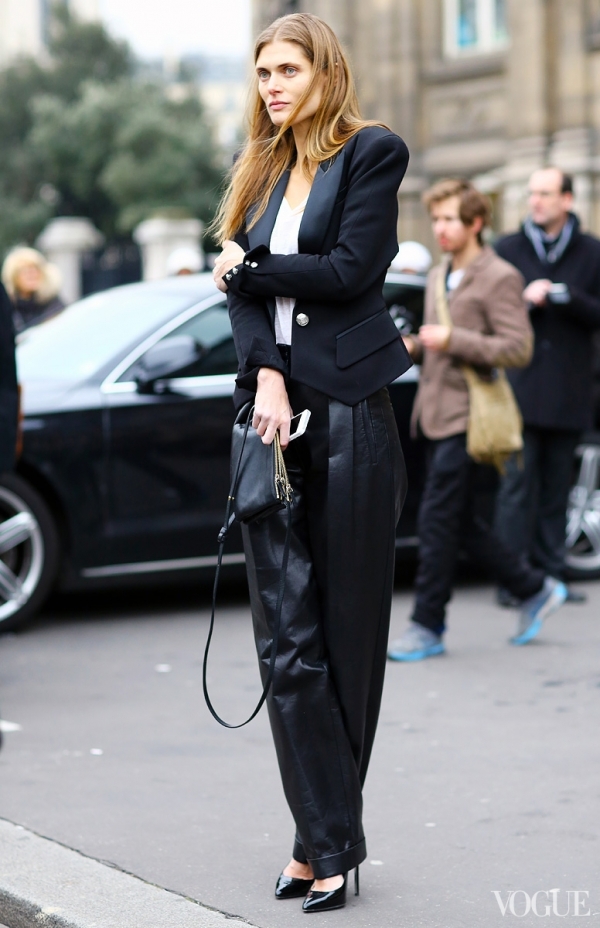 I love slouchy pants for so many different reasons. I like that you can look pulled together yet comfortable at the same time. Browse through a few lookbooks to get an idea of how to pair your slouchy pants with the right blouse and shoes to create the perfect outfit!
---
6

Layers of Hues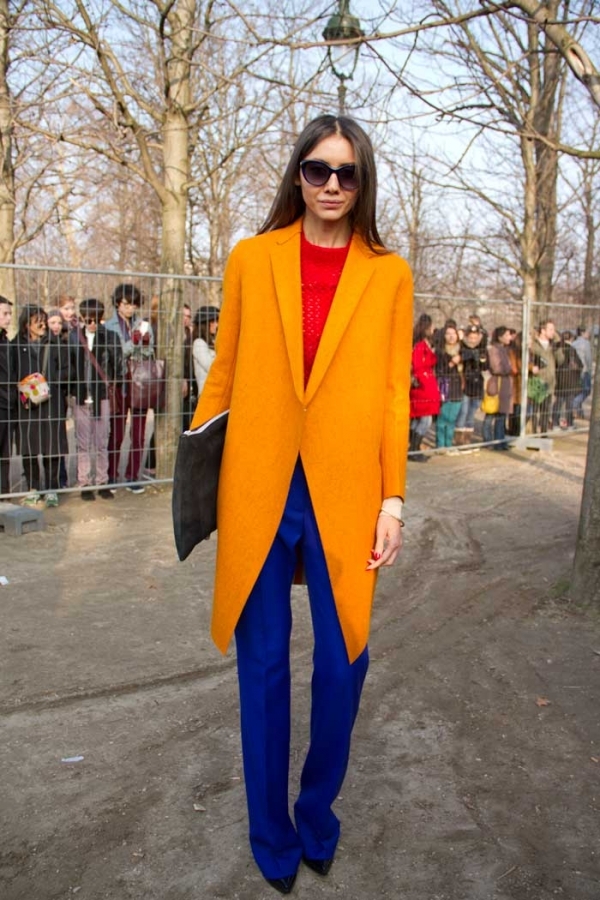 Feel like color-blocking this autumn? Well, fear not! This year, layers of hues were shown on the runway in fabulous fall colors. You might want to go for the nude/neutral family--tans, browns, creams,whites, blue family-- navy, midnight, mykonos, or stick to basic, but various shades of blacks and grays. Either way, have a little fun with it and layer the hues with different pieces in different shades for a dazzling ensemble!
---
7

Loads of Leather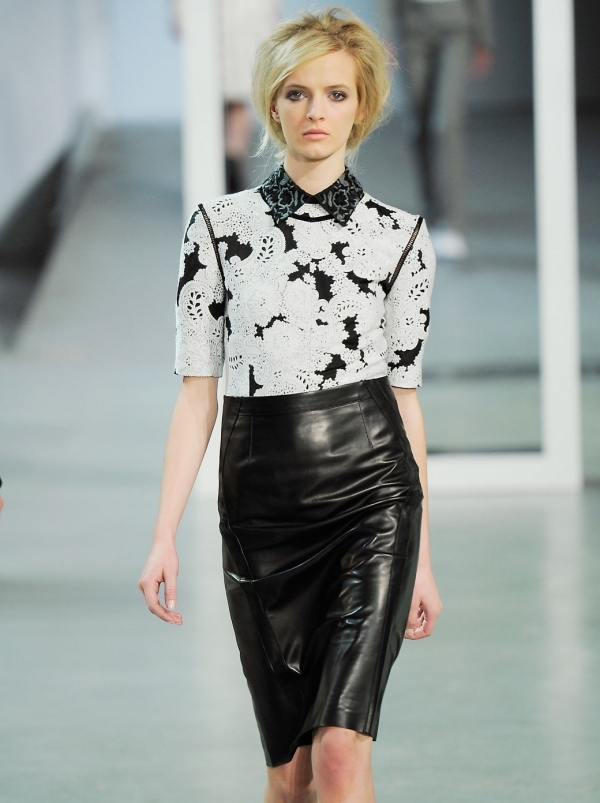 Leather is such a staple in fall fashion trends-- it'll never fade! This year, leather can be seen in almost anything--hats, shirt sleeves, pants, skirts, jackets et al. Leather is great in different colors too, like tans, reds or grays! The leather look is something everybody can pull off!
---
8

Feeling Gray Today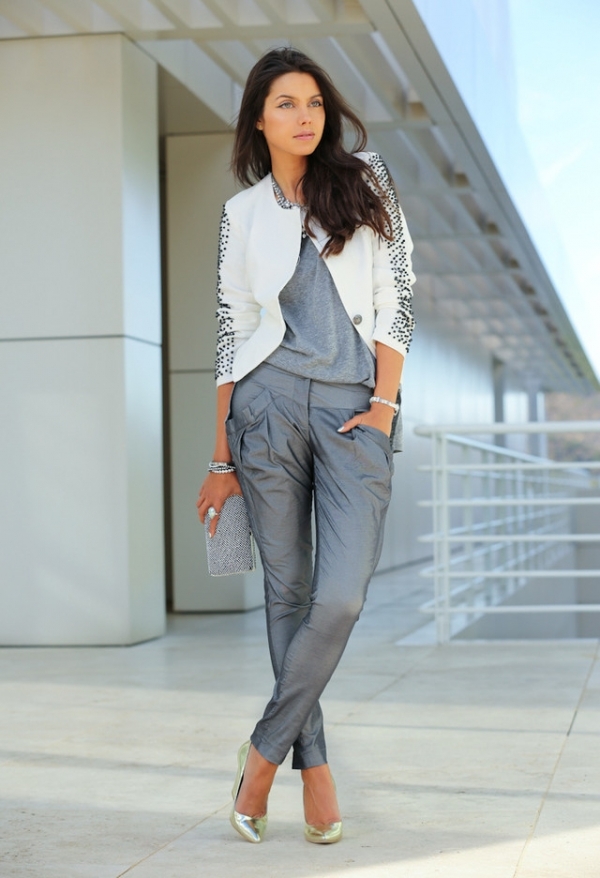 Gray is another color that is IN, this fall! There are so many different shades of gray, so it's easy to incorporate them into your wardrobe. And, gray goes with pretty much anything!
---
9

Dark Nails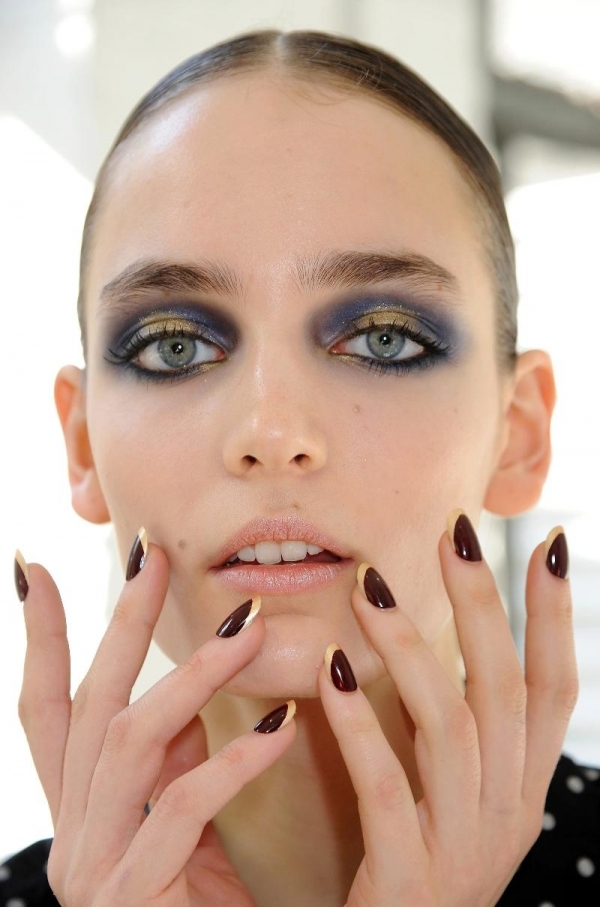 Darker nails in shades like emeralds, cherry reds, and metallics are totally represented on the runway this fall. It's a nice, welcome change from the bright hues we rocked all summer!
---
10

Cool Kicks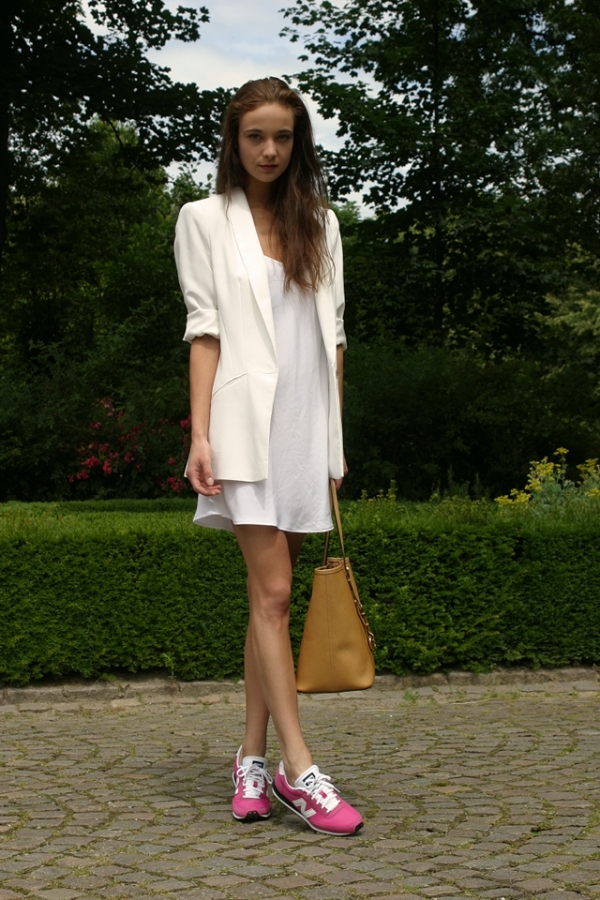 Ready to give your feet a break from high heels? Well, this season sneakers are making an appearance! In our '90s styles of today, sneakers totally fit the bill. Steer clear of sneaks like Jordans ( they're cute, but only for off days) and go for Air Max to complete a chic look! Try pairing with a blazer or something structured to give a more sophisticated look!
---
11

Necklaces with Words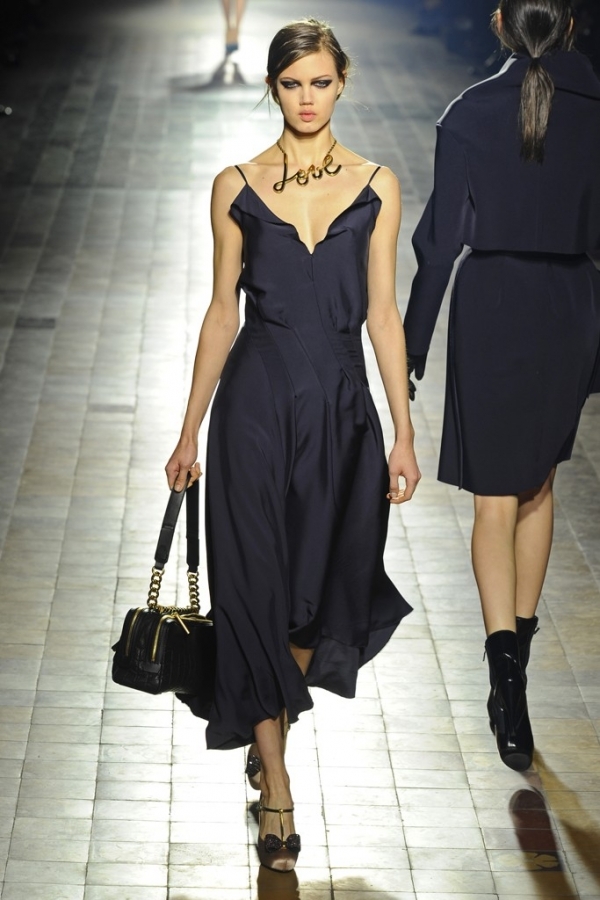 Necklaces with words like "cool" and "happy" made a splash on the runway this year! Lavin was the leading designer on this fun trend. It's funky and definitely a pop to any outfit!
These fall trends are totally workable for any normal girl, not strutting her stuff on an actual runway. Although, I'm pretty sure if you incorporate some of these fall fashion trends into your wardrobe, the world will be your runway, you fashionista you! What are some fall trends you'd like to try this year? What are your favorite ones on the list?
More
---
Comments
Popular
Recent