7 Chic Outfits Inspired by Paris, France ...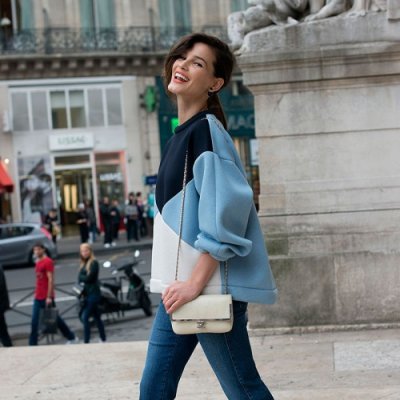 Even if you can't afford a plane ticket to see the Eiffel Tower, it doesn't mean you have to be Paris deprived. You can bring the city of love to your hometown by dressing the part. You won't be able to sightsee, but at least you'll look like you belong in the place you've been daydreaming about. If you're not sure where to start your Paris inspired shopping spree, here are a few outfit ideas that you could put together on your own:
This outfit is perfect for the upcoming season, because fall is the perfect time to layer. To create this look, you should wear leggings beneath your shorts and pair them with a conservative sweater. Don't forget your beret! Even if it doesn't come with a bow, you can always buy one separately and clip it onto your hat with a safety pin.
You'll look super sleek and stylish when you stick to wearing blacks and whites. Follow this woman's lead by dressing in black slacks, a black jacket, and black shoes with a white shirt underneath it all. Of course, you can add a pop of color to the look by carrying around a bright bag.
Never underestimate the importance of accessories. You don't have to choose between carrying a chunky bag, oversized earrings, a cute hat, a statement necklace, and a patterned scarf, because you can wear them all at once! You just have to be careful, because you don't want any of the items to clash.
Every woman needs a dress with this pattern. You don't have to worry about looking plain when you wear it, because the outfit will look stylish, even without accessories. Of course, you can also match it with some gold bangles with a matching clutch for a classy touch.
This is a simple outfit that's easy to recreate. The best part is that you won't look out of place while wearing it in New York City or in a small town in the south. All you really need is a striped shirt, some jeans, and a scarf that matches your hat. That way, the outfit will look well-planned.
This outfit will make you realize how important matching (or mismatching) can be. The shade of the belt matches the shade of the bag, which really brings the outfit and all of its accessories together. Even though the shoes are a completely different color than everything else in the ensemble, it works. It gives this dark outfit the splash of color that it needed to really stand out in a crowd.
Spring isn't the only time when you can get away with wearing light pink! The shade actually works well in fall, especially when contains a cardigan that will keep you warm when the wind blows. How could you pass by this outfit? It has the potential to make any woman look as sweet and innocent as ever.
You don't have to live in France to wear these Paris inspired outfits. They'll look fashionable on you, no matter where you live! Which one of these outfits do you find the prettiest?
{{#comments_count}} Show Commnents ({{comments_count}}) {{/comments_count}}