This fall is all about the bold prints, so it's no surprise that the camouflage trend is back – and this time, it's bigger than ever. If you aren't really feeling that teenage-scruffy look, though, how do you pull off such a bold print? Is it possible to do polished and camouflage? Here's some of my favorite ways to wear the camouflage trend right now…
Table of contents:
1

Get Shirty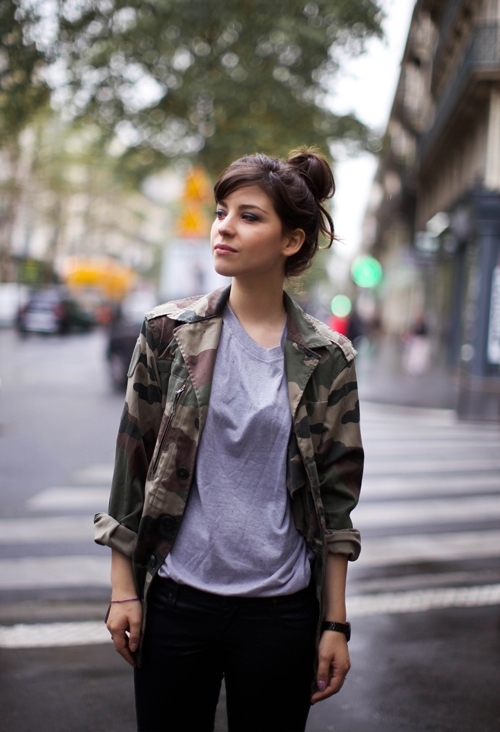 Want an easy way to wear the camouflage trend? Track down a camouflage print shirt. If you go for a slim-fitting version with three-quarter length sleeves, it's girly enough to wear with heels and skinny jeans for a masculine/feminine balance. For a more casual look, opt for a looser shirt, roll up the sleeves a little and leave the bottom button undone. A big colorful necklace over the top is a perfect finishing touch.
2

Grab Your Coat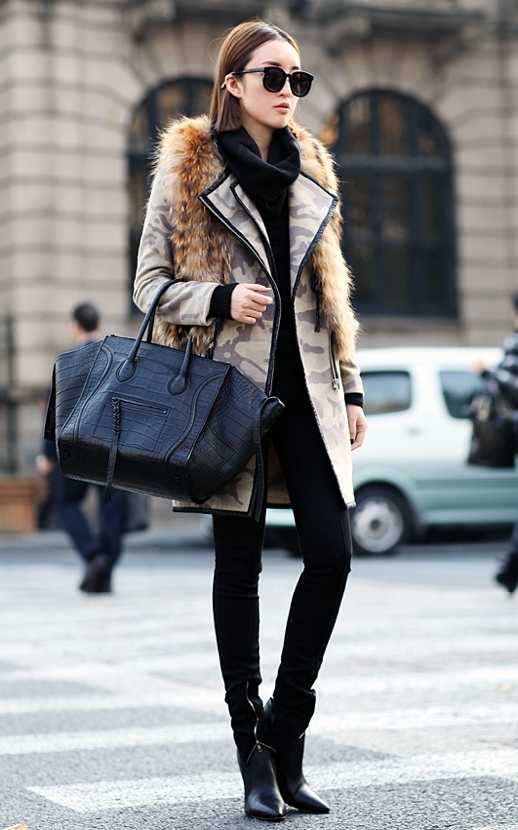 A camouflage coat is a cheap and chic addition to your wardrobe, and you'll get plenty of wear out of it. For a really 2013 look, try teaming it with red accessories – red wellies, a red brollie and red bag are perfect accompaniments, whether you are in your work clothes or jeans.
3

Skirt up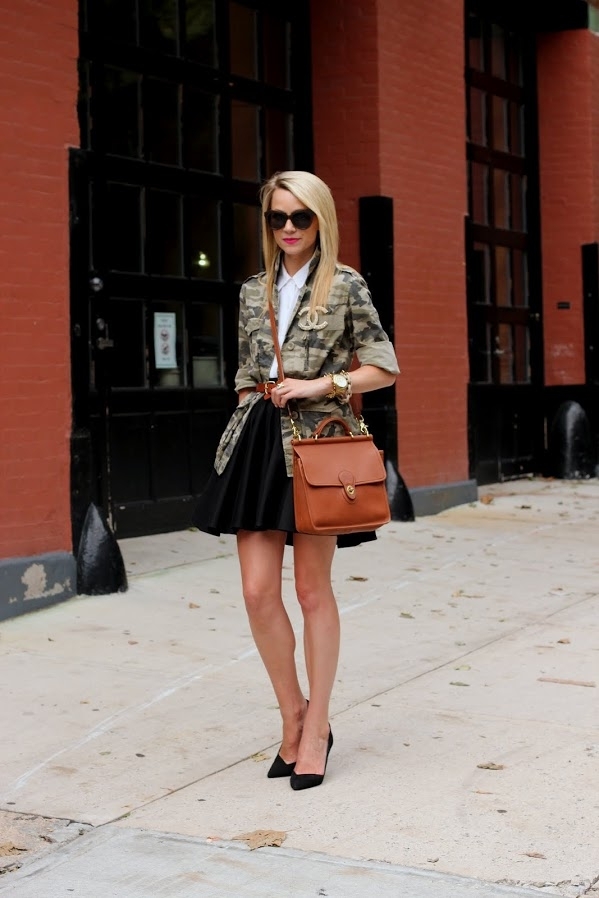 Find a pretty skirt, pair it with a shirt, a camouflage jacket and heels. A handbag, sunglasses and shiny loose hair will give the look a sophisticated look without detracting from the bold style, and it's oh-so-easy to wear. This is a great way to update your summery skirts for the fall.
4

Go Skinny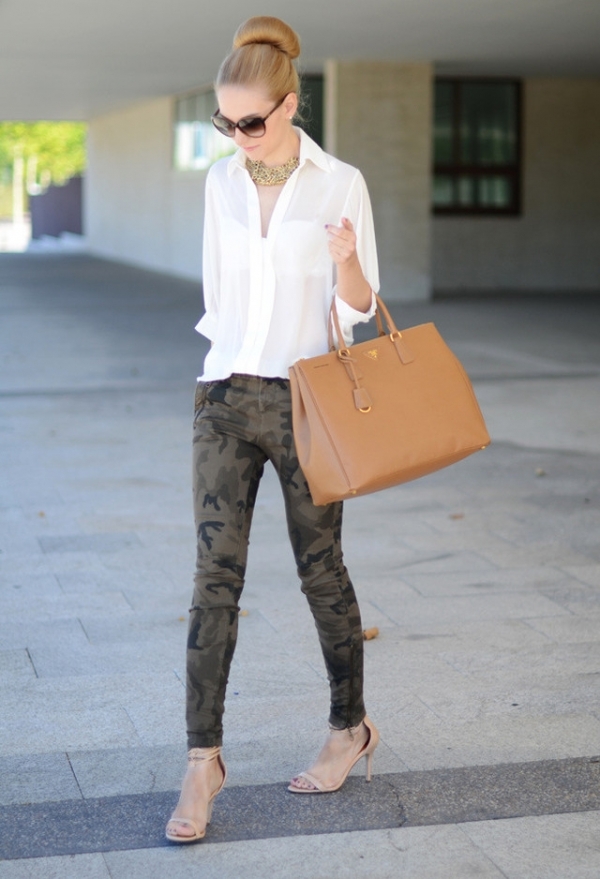 Cigarette pants have been all over the high street, and now they are getting printed. Don't just opt for florals, though: camouflage prints look great, too, and they are super easy to wear. Just add a loose top, eye-catching necklace and black heels, and you are comfortable and stylish. On cooler days, a fitted blazer will look great, too.
5

Statement Shoes

Big shoes are here to stay, so make yours the most eye-catching around by opting for a camouflage pair. To really get value for money, find shoes that are comfortable and waterproof, and team them with everything from dresses to jeans. Skinny jeans, big shoes and a neon jumper is so now!
6

Go Retro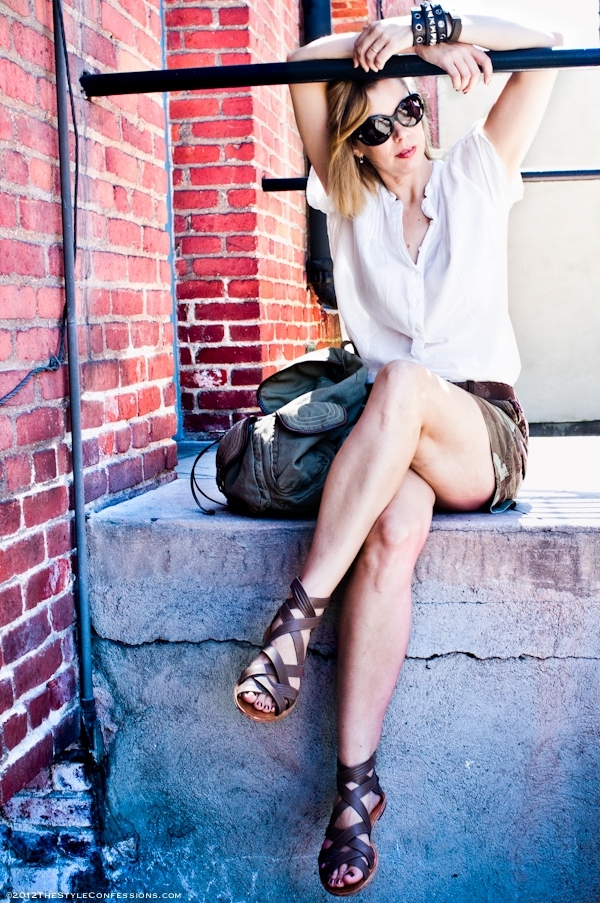 Wearing a camouflage print skirt can seem difficult; the 90's really owned that fierce look. To bring it up to date, go for a more feminine look, and try to balance out the camouflage with glamorous hair and big jewelry. Think more Scarlett Johannson than Destiny's Child here, or you'll get the decade really wrong!
7

Accessorize!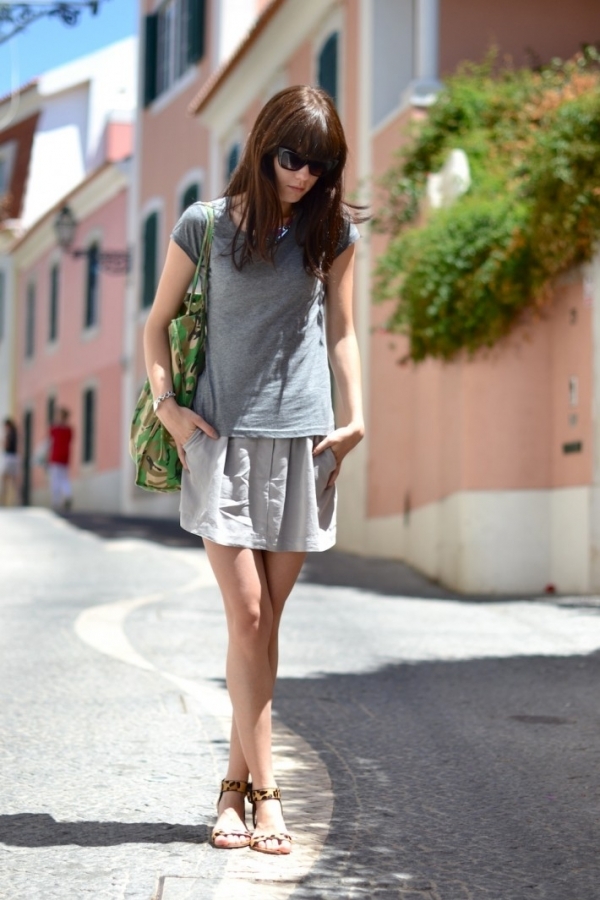 Want an even easier way to rock the camouflage trend? Just invest in some super-cute accessories. A camouflage handbag will update almost any outfit, being eye-catching but not too bold. A big camouflage belt will update jeans and cigarette trousers, and can always be downplayed by adjusting your jumper to reveal just a glimpse. Even just camouflage socks look great.
Getting the camouflage trend right might seem difficult, but when you see Rihanna et al rocking the print at Fashion Week, you'll fall in love. Just make sure that you keep that polished edge, and don't be tempted to go head-to-toe camouflage! Got a tip for wearing the look? Let me know!
Please rate this article