Designer Bags don't have to cost you a month's work. I have found 8 fabulous designer bags that are all under $300. If you have ever owned a designer purse you will know nothing compares to the quality of one. Designer bags to me are well worth the money spent, hence why a vintage Chanel costs more than what it did when it first came out. Here are my 8 favorite designer bags under $300.
---
1

Guess | Talina Canvas Coral Handbag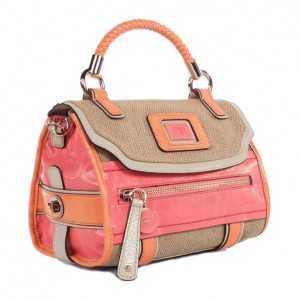 Price: $190 at vanmildert.com
Does it get much better than a color combo like Peach, Coral and Beige…so refreshing! This gorgeous Guess purse oozes spring to me, a must for the upcoming season. Paired both with Jeans or a Sun Dress I think this is a perfect addition to your Spring and Summer Wardrobe.
---
2

Steve Madden | France Leather Tote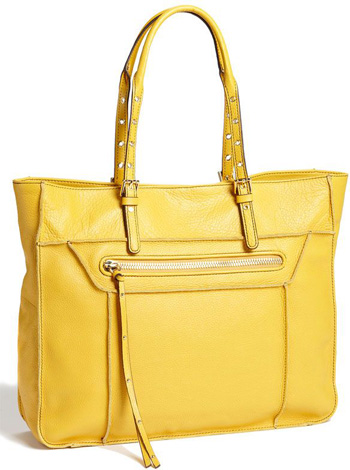 Price: $206.61 at shop.nordstrom.com
I don't know if it's the color or the smell of real leather… but this bag has me at "hello." A gorgeous addition to anyone's wardrobe, this Steve Madden Leather Tote is a fabulous investment as it will take you from Spring and Summer into Fall and Winter.
3

Dooney & Bourke | Crossbody Satchel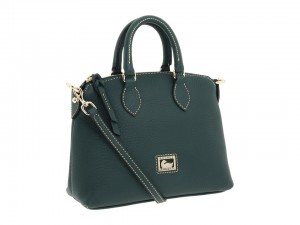 Price: $178.00 at dooney.com
How could you say no to this designer bag? Under $200 and in a shade of blue that will go flawlessly with your favorite Jeans including your little black dress. At this price you're also able to afford those hot Jessica Simpson Pumps you were eyeing this afternoon on Beyond the Rack. Win Win all around.
---
4

Fossil | Vintage Reissue Messenger Handbag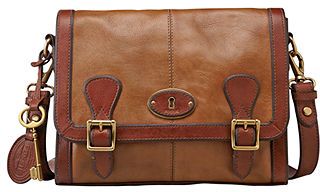 Price: $261.71 at macys.com
Everyone needs a little vintage in their lives. This designer bag by Fossil gives you the Vintage look but the Brand New smell. Which, if we all had the choice, we would go this route – don't lie. Messengers Bags are quite popular at the moment and this one is not only the perfect size but comes in 4 shades of beautiful.
---
5

Kate Spade | New York Grove Park Tenley Crossbody Bag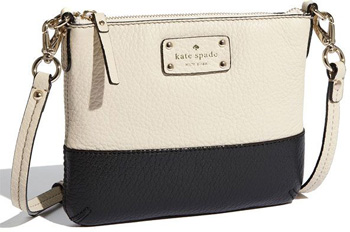 Price: $196.18 at shop.nordstrom.com
Crossbody Bags are a perfect purse to throw on if you have no time to think about your accessory decisions. This Kate Spade purse is perfect in every sense. Basic colors, going with almost everything in ones wardrobe and reeks of quality with it fancy little metal plate log. Love it.
---
6

Rebecca Minkoff | Striped Diamond Canvas Tote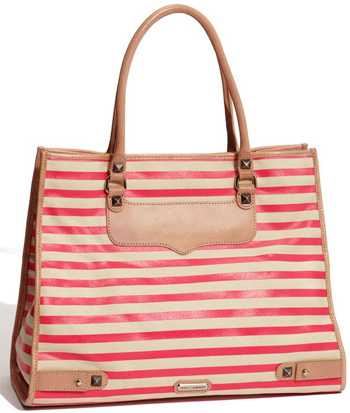 Price: $203.48 at shop.nordstrom.com
Rebecca Minkoff must have been dreaming of the beach while making this beauty. Coming in Cotton Candy Pink and a Lemony Lime, if this Designer Bag doesn't put a smile on your face… you may need some serious retail therapy?
---
7

Michael Kors | Jet Set Zip Top Tote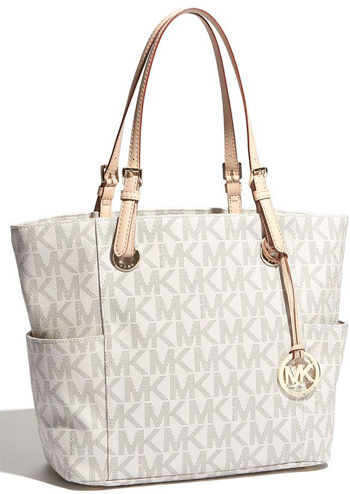 Price: $206.61 at shop.nordstrom.com
This purse makes my heart skip a beat. Its belt like leather handles, its gorgeous golden logo and the feeling of class I get from its simplicity. This Michael Kors designer bad will be in my closet soon enough. This is my next big purchase, I'm well on my way. Call me crazy but it will make a fabulous diaper bag. I hope I didn't offend Michael with this. Does it make it better Michael that you are my favorite accessory designer at the moment?
---
8

Tory Burch | Ella Nylon Tote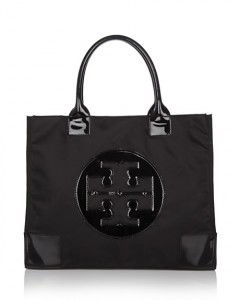 Price: $223.83 at bloomingdales.com
This gorgeous "carry all" Designer Purse is another that has me wishing I had a celebrity bank account. A purse that can fit everything and the kitchen sink has a special place in my heart. A classic purse that can be carried through out every season is well worth the $225 in my eyes.
What really tugs at my string on these Designer Bags are their interiors. The materials are always so lush and well made. I never second guess myself at spending money on accessories. If and doubt, spend your big bucks on your Bag or Shoes. You can always put together an affordable outfit, but throw a Designer Bag with it and it takes it to the next level. What accessory designer deserves your well earned money?
Top Image Source: weheartit.com
---
Popular
Related
Recent