The new year will bring about some much needed change in fashion, and the fashion choices for 2014 are some of my favorites we've seen in a few years. This year, femininity will take priority over most fashion trends, and will change from fashion in years past dramatically. You don't have to trade out your entire wardrobe though, so don't worry. Just try some of these top new fashion choices for 2014 and you'll be set to go!
---
1

Trouser Pants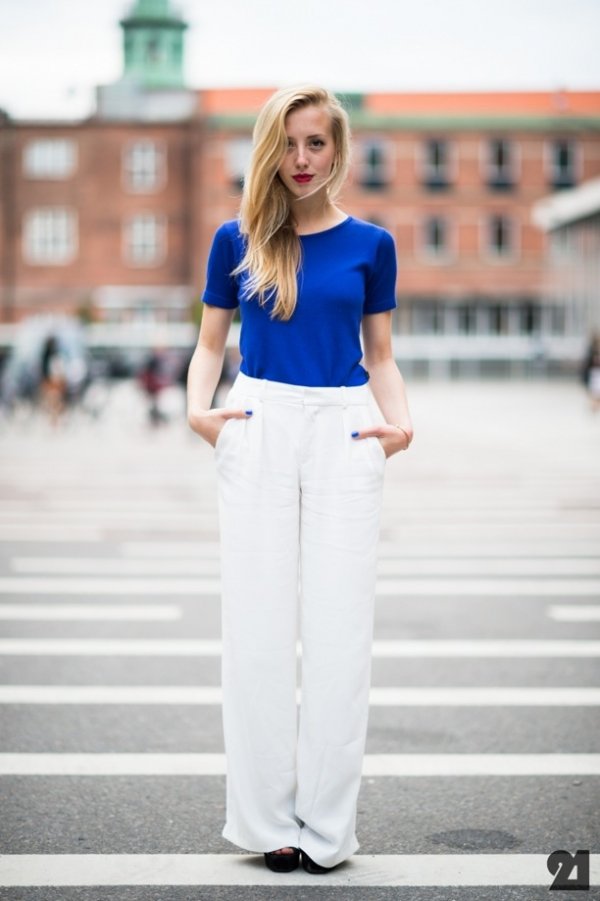 I adore trouser pants and they are one of the best fashion choices for 2014 to make, no matter what body type you have. I'm preferable to them because they're wide-legged and really help accent a woman's shape, no matter what that is. They're usually somewhat higher waisted, and very long, making them wonderful for elongating the leg and adding elegance to any outfit.
---
2

Cropped Jackets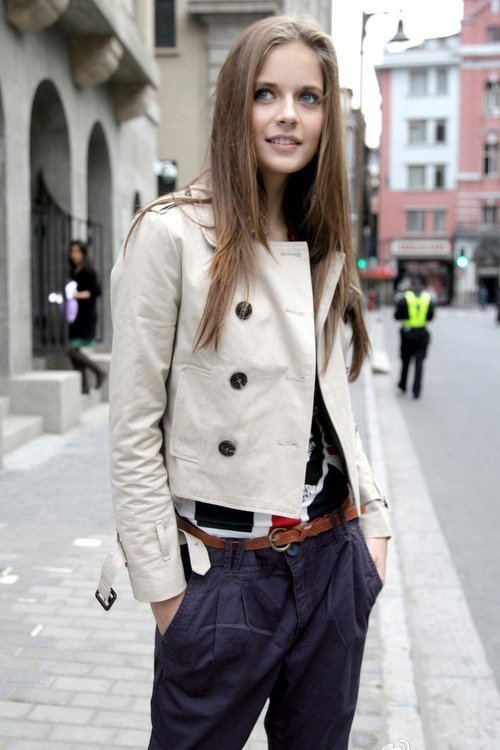 Cropped jackets, specifically collarless styles, are very popular this year. Paired with office attire or casual wear, cropped jackets are all over the runway right now. Since they're a little more feminine than a blazer, they help to add a nice soft touch to a woman's outfit, and they pair well with skirts, pants, or even over a dress.
---
3

Pastel Dresses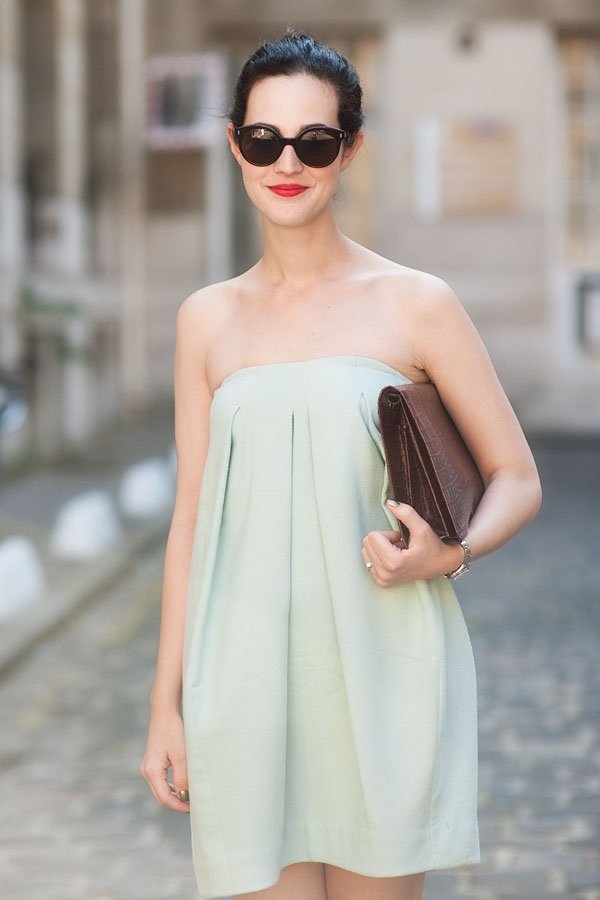 Pastels are going to be huge this spring, specifically in the dress department. I have to admit, my top choice for dresses is always black, but this year, it's all about the pastels. Pink, lavender, yellow, blue, and green are all going to be huge this coming year in the dress department, and even for the office. Branch off from the boring black and blue and try something a little lighter in color this year.
---
4

Mid-calf Skirts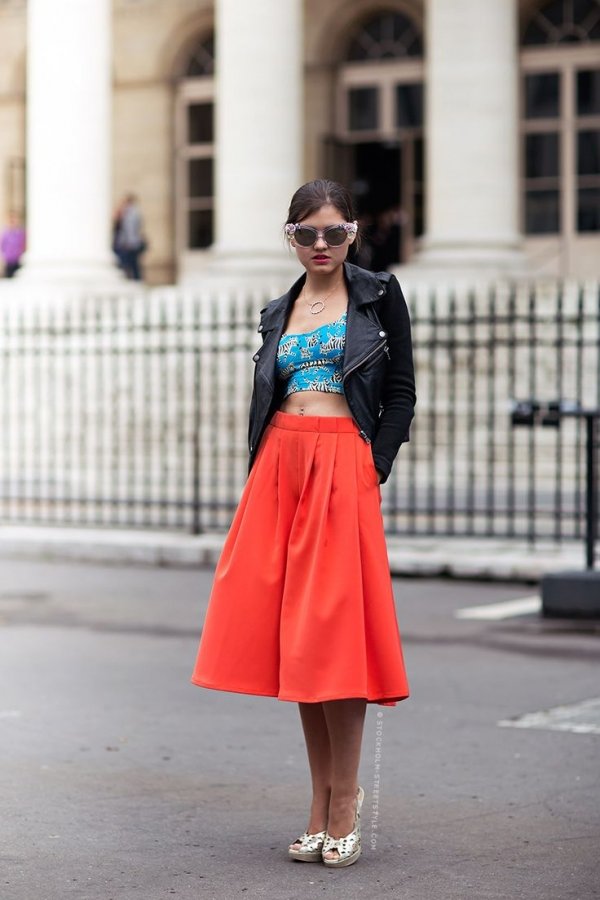 Skirts that hit mid-calf are another huge fashion trend this year. Sometimes known as tea skirts, these are extremely feminine and a much needed break from the shorter styles we've grown accustomed to in past years.
---
5

Plaid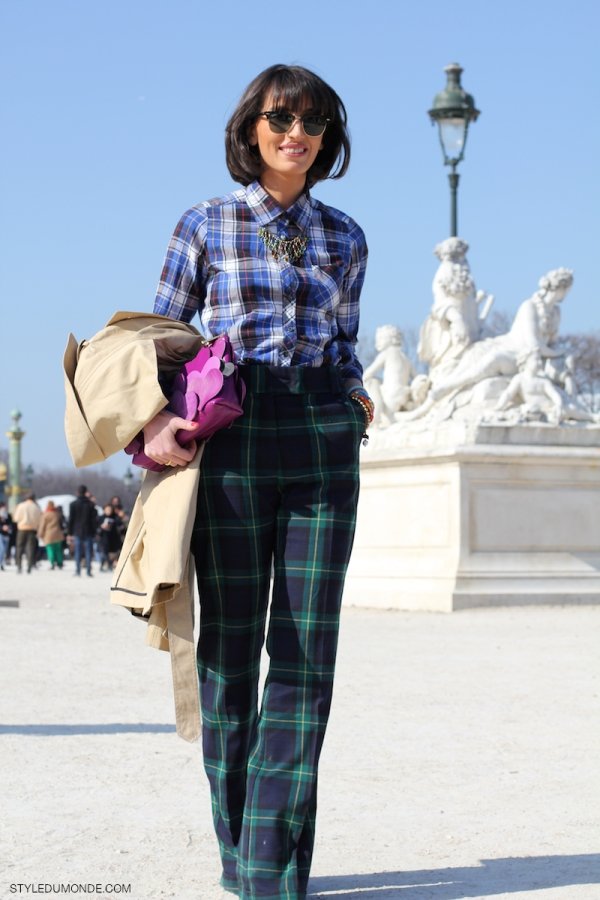 Plaid is a top fashion choice this year when it comes to choosing trendy prints. No matter what your outfit, plaid is in. Choose from shirts, skirts, pants, jackets- anything! All colors are safe too, and nothing is off limits. Plaid shirts, skirts, and jackets seem to be the most popular offerings for fashion this year, but anything is game, from scarves to pants.
---
6

Sweater Materials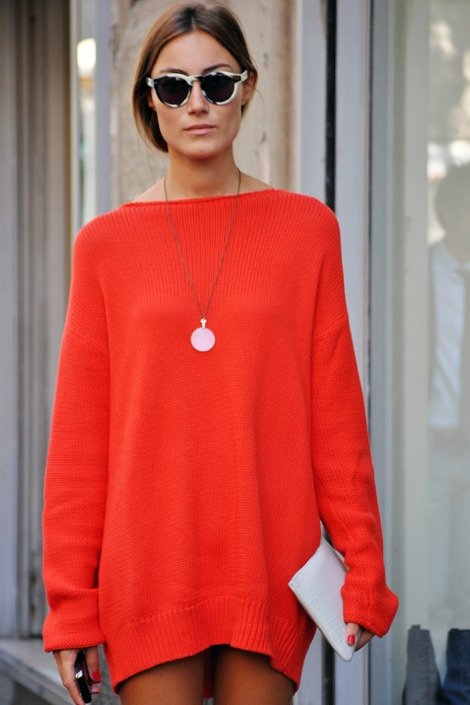 Whether in a dress, skirt, or an actual sweater, sweater material will be huge this year. It's even appearing in swimwear for summer as well. I think I'll leave my swimwear as it is right now, but otherwise, I'll have to pick up a few sweater pieces next time I go shopping!
---
7

Shift Blouses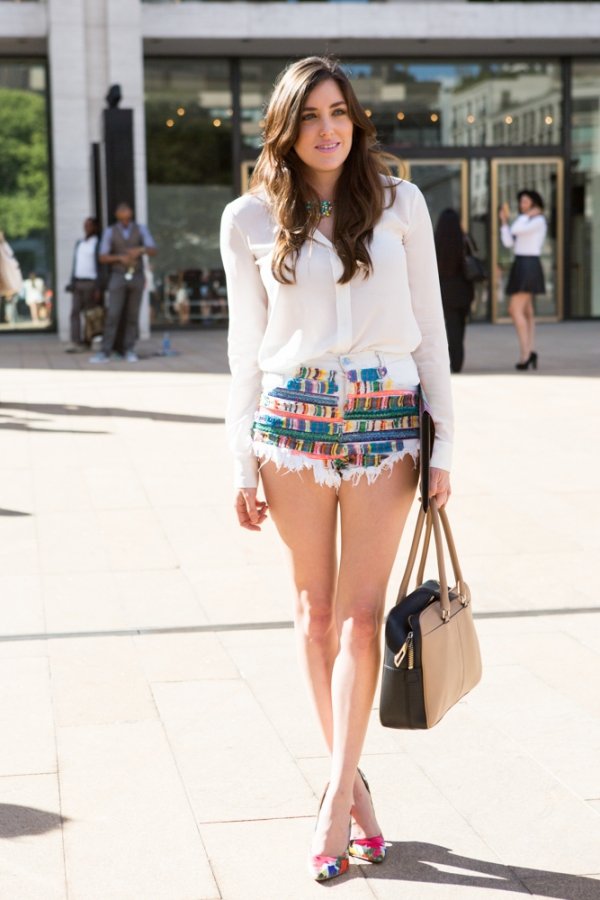 Shift blouses are also going to be a popular spring item to pick up and a top fashion choice for 2014. They're dressier than a T-shirt, but cropped at the waist and made of materials like linen, polyester, and certain kinds of cotton blends. They're usually cropped to add a dressier appeal, and they also have a wide collar to accent a woman's neckline.
---
8

Orange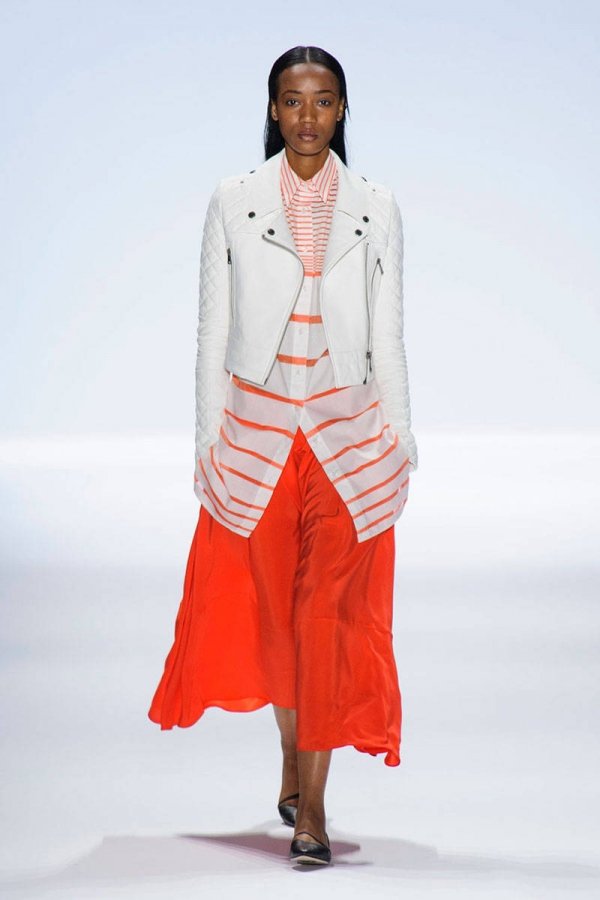 Who doesn't love a bright color? Whether it's makeup, a pop of color, or your whole outfit - you can't go wrong with orange in 2014. What's great about a color is that you can go bold or be very subtle, whichever fits your personality and outfit of the day. While other trends can stick you with having to have a certain look, colors are great for everyone because they can be used in so many different ways.
---
9

Striped Tuxedo Meets Athletic Trouser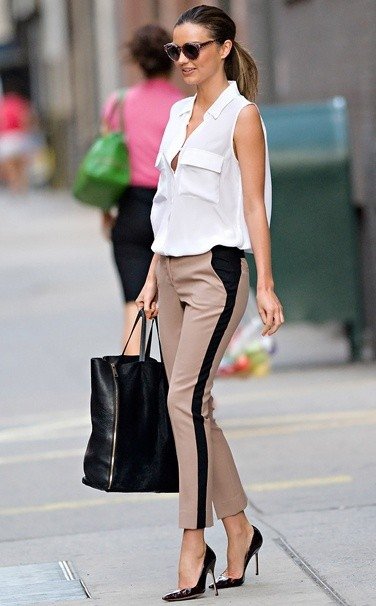 Well aren't these really cool pants?! I love the long stripe down the side of the leg because it makes your legs look like they go on forever. These can definitely be dressed up or down, so it's a great trend for 2014 or any time. It's always great when you can find multipurpose for a trend and because of the casual/athletic aspect you can wear them out with friends, but because of the trouser aspect you can wear them to work too!
---
10

Fringe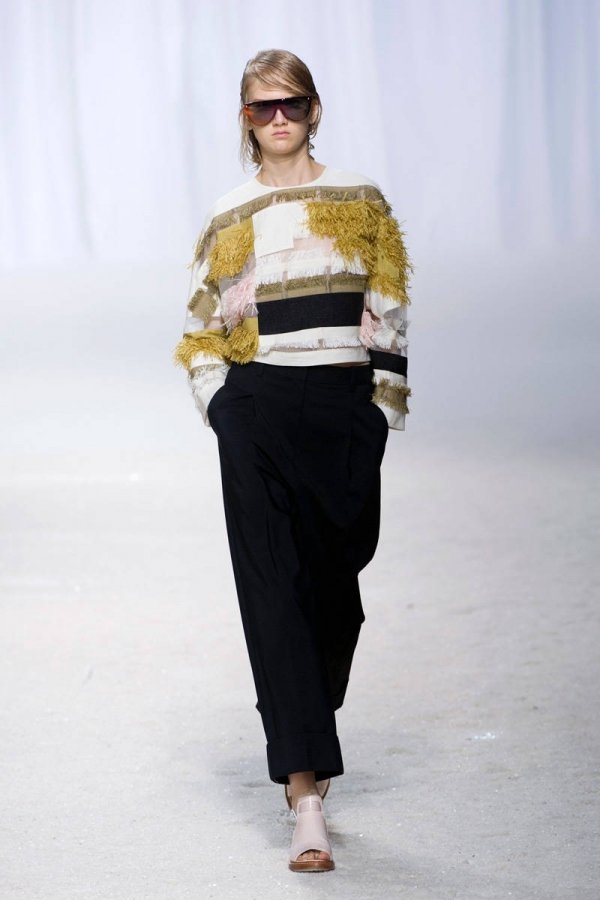 Fringe, how very flapper! This is a trend that goes in and out every so often and there's no question as to why. Fringe is so much fun and can add personality to any outfit. There doesn't need to be a lot to make a statement and it could be just as simple as at the hem of a dress, shirt, or even a coat. There are a couple of cool ways to wear fringe so don't get stuck wearing it the same way over and over.
---
11

Floral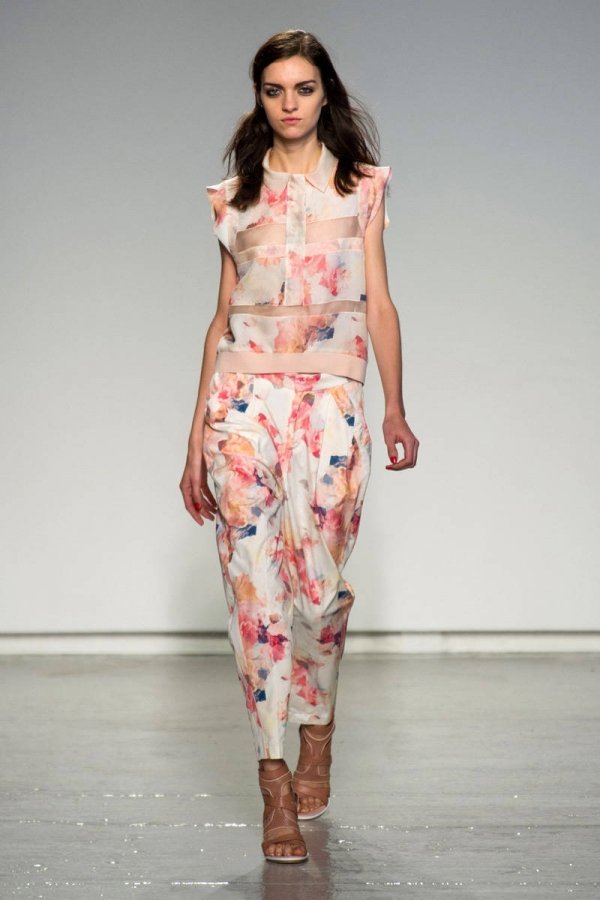 Floral is a great trend, because much like some of the others on this list it can be worn so many different ways and can be combined with other trends this year. Of course floral isn't loved by everyone so if it's not your thing then there's no pressure to wear it, but don't be afraid to try something new. Floral is a great way to add a delicate flare to any outfit!
You can still keep your fashion pieces from 2013, so don't worry, but if you're interested in adding a fashionable touch to your outfits, try some of the trends above. What other new trends for 2014 have you spotted recently?
This article was written in collaboration with editor Lydia Sheehan.
More
---
Comments
Popular
Recent