The stylish elements found in all of these outfits worn by Kerry Washington more than prove why she is considered one of the top trendsetters in the fashion industry today. I can't help but constantly be floored by the astonishing shapes and silhouettes of every design that she graces. Therefore, I am inclined to give credit where it's due (I'm looking at you, Ms. Erin Walsh). Elated with Erin Walsh's work, Kerry Washington once stated that they "were fashion twins separated at birth." One look at these fabulous outfits worn by Kerry Washington will be sure to enlighten you on why the dynamic duo of stylist and star works so well.
1

2013 Film Independent Spirit Awards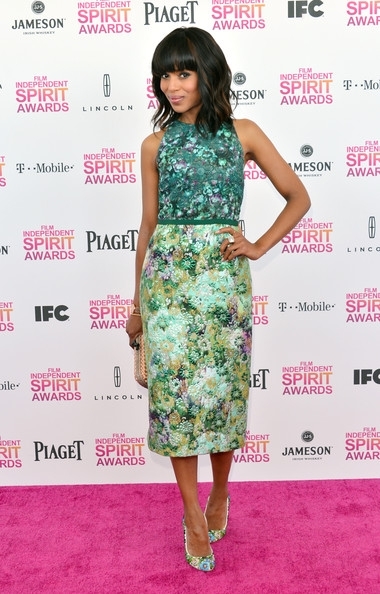 The green hues in this stunning print come together for an overall glamorous look, making this one of my favorite outfits worn by Kerry Washington. Debuted at the 2013 Film Independent Spirit Awards, I love that Ms. Washington is not afraid to give off a classy yet playful vibe when pairing her Giambattista Valli floral dress with matching floral shoes.
2

2013 MTV Movie Awards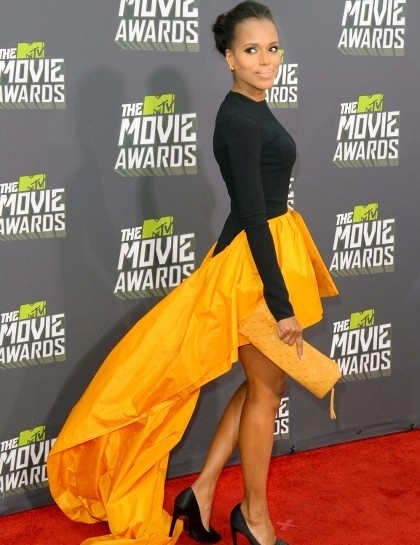 This next choice has been considered very daring by many fashion critics. I saw this dress as one of the defining moments in her career as a trendsetter! From the wonderful yellow hue of the skirt to the figure hugging shape of the black mini dress, the exaggeration of this fabulous Michael Kors number is certainly noteworthy.
3

2013 Django Unchained UK Premiere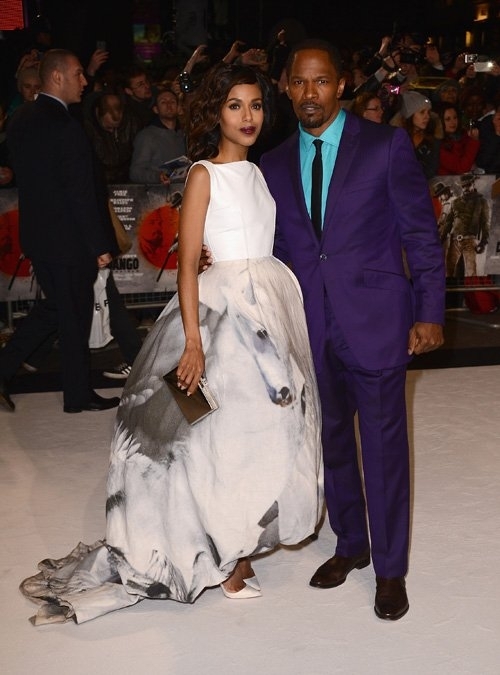 Kerry Washington and Erin Walsh continue to break the boundaries of fashion with this stylish choice! Designed by Giles, the print of this dress was very fitting for the movie it represented. I love that the style of the dress is as magnificent as the horse featured on it.
4

2013 Late Show with David Letterman Appearance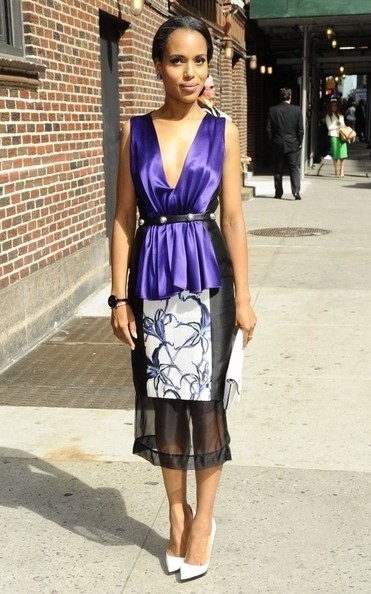 This sleek and sultry number is one of my favorite looks sported by this stylish actress. The cut and style of this dress show that Kerry Washington more than deserves her reputation as a style icon.
5

TV Series Scandal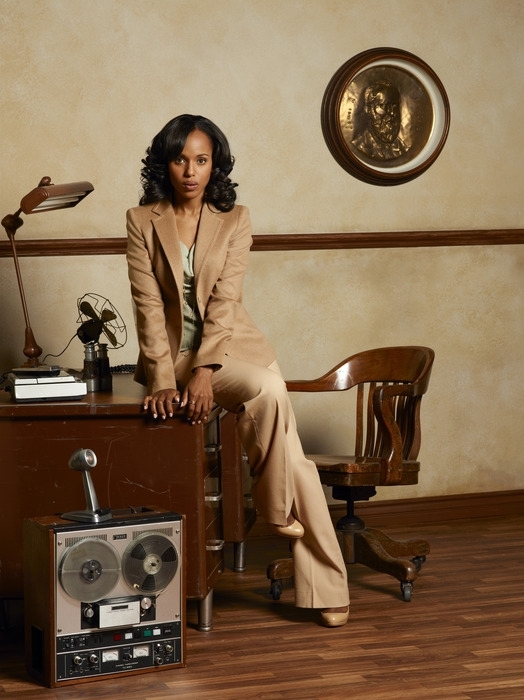 This piece was worn by her character Olivia Pope on the show "Scandal". I love that the lines of this blazer accentuate her beautiful and slender curves. Costume designer Lyn Paolo definitely knows what works!
6

TV Series Scandal Part 2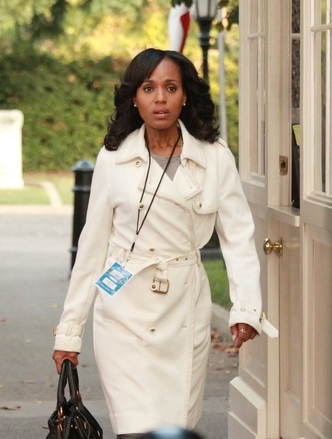 Take a look at this next jacket which also had me drooling when I saw that it was featured on the show! The subtle cream tone of this Tory Burch trench coat is absolutely delightful. How can you not fall in love with those gold-accented buttons?
7

TV Series Scandal Part 3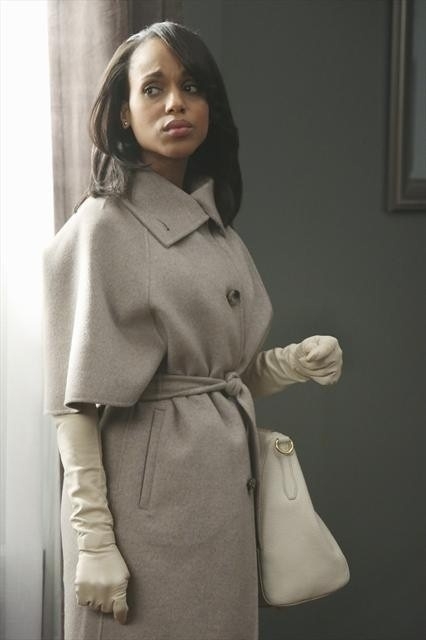 I am sneaking in one more look from the hit series! I'm utterly envious of this gorgeous Max Mara jacket; paired with sleek gloves and an oversized cream bag, Kerry Washington is a wonderful site to behold.
8

2013 Project Runway Fashion Show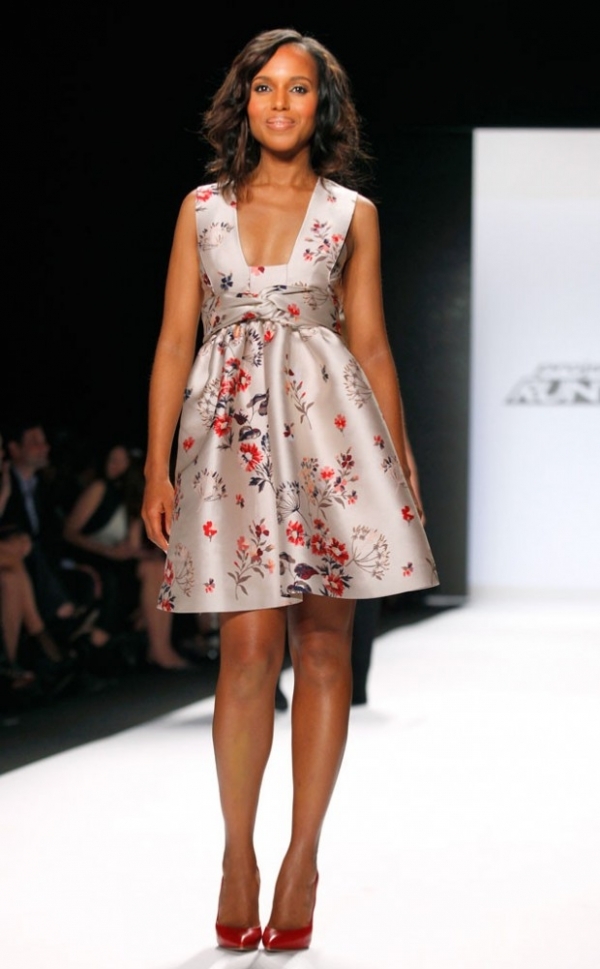 This fashion-forward look is definitely worth mentioning! The brilliant color of this marvelous dress perfectly accents her warm skin tone. I absolutely love the hints of red littered throughout this silky dress; featured in the Stella McCartney Resort 2014 collection, this dress was a great choice for Washington's runway debut! It's no wonder that Kerry Washington herself stated that this was one of her favorite looks!
9

2013 Teen Choice Awards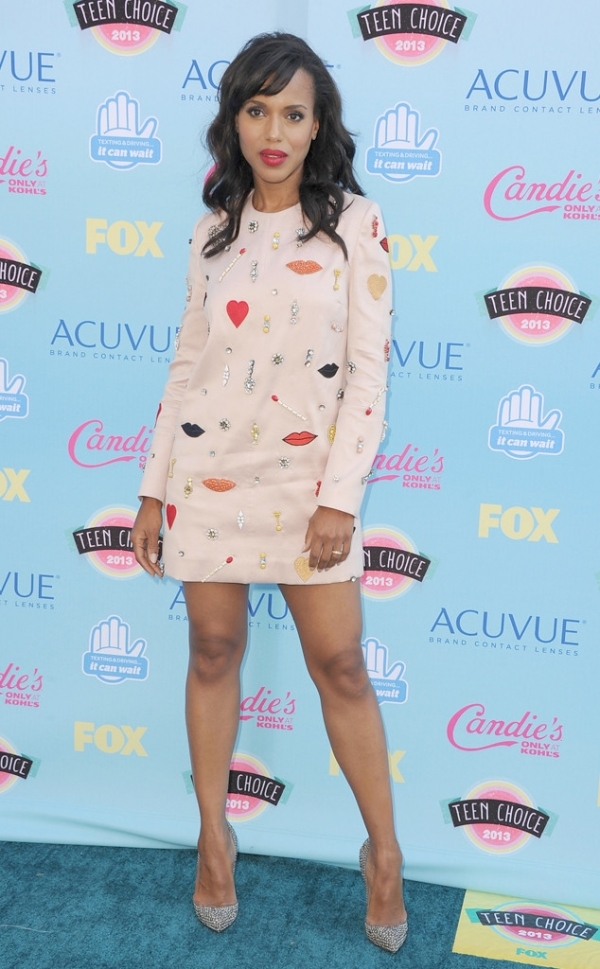 This fun and flirty look was a hit at the 2013 Teen Choice Awards. Another design in the Stella McCartney collection, the print on this mini dress shows Kerry Washington's more playful side.
10

2010 HARMAN VIP Reception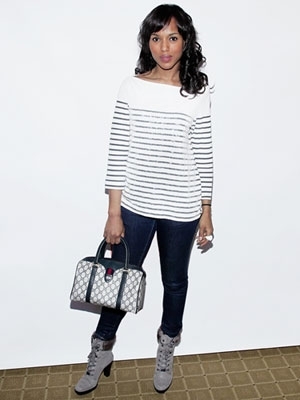 I love the utter simplicity in this J. Crew top by Ms. Washington on her way to the Harman VIP reception. Sometimes comfortable and casual items are the best choices as fashion statements.
11

2012 Appearance at MTV Studios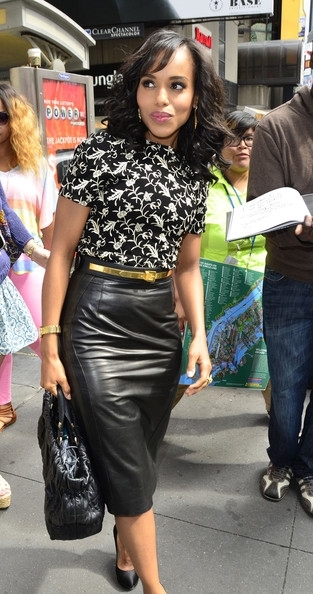 Lastly, Ms. Washington paired this black and white top with a leather skirt for a truly dashing look. I love that she added a gold belt to make her outfit pop!
Each of the looks discussed above deserve honorable mention for being pulled off so well! Kerry Washington's style shows that there is nothing wrong with going for the less conventional design, regardless of what the public may think. What are some of your favorite outfits worn by Kerry Washington? Isn't Erin Walsh phenomenal in her role as her stylist?