Pastel fashion is one of the most popular 2012 trends and, in case flipping through the latest issue of Vogue hasn't convinced you that marshmallowy colors need to find their place in your spring wardrobe, I hope this list of budget friendly finds will! So here are a few pieces to help you both pull off and personalize this spring trend:
Table of contents:
1

Free People Pastel Jeans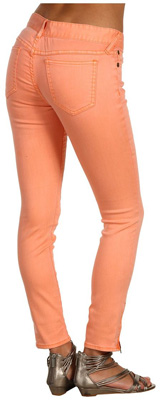 Price: $88.00 at zappos.com
Forget about that silly rule that says you aren't allowed to wear colored jeans after the age of 10! There is a new spring trend in town and, yes, you are more than welcome to choose a pretty pastel shade of your favorite color and rock it anytime you wish to do so! How about this lovely one? And don't worry in case that's not one of your personal faves because this gorgeous pair of skinny jeans is available in pretty much any pastel you can think of!
2

Bodycon Skirt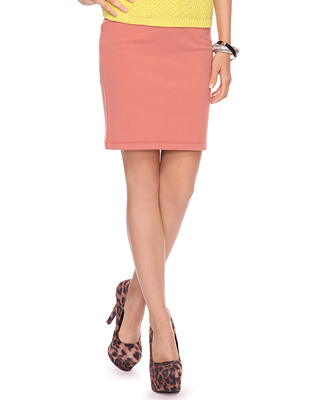 Price: $7.80 at forever21.com
But pastel fashion doesn't have to end there and there are many more cool, absolutely fabulous finds you don't have to pay big money for! A sexy, bodycon skirt is definitely a piece worth having in your wardrobe and I'm sure this pastel baby is just what the doctor has ordered for the season!
3

Textured Eyelet Skirt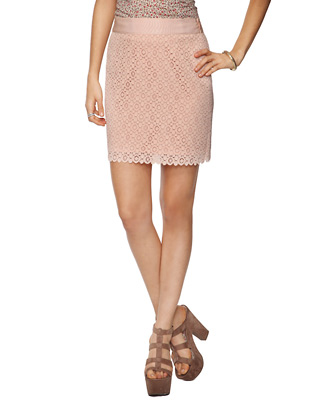 Price: $22.80 at forever21.com
Louis Vuitton? Prada? Nope, it's Forever 21! You must agree that it looks absolutely amazing! Romantic textured garments in pretty pastels are one of the best 2012 trends and, although it seems that you have to spend some serious cash to get the look, the truth is that you can really look just as stylish as the girl on a magazine cover even on a limited budget.
4

Peter Pan Swing Tank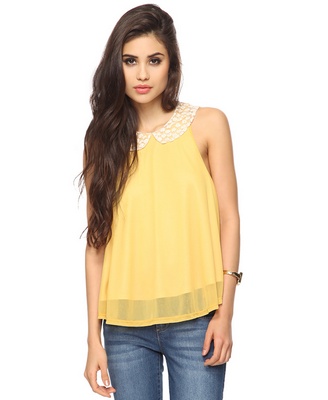 Price: $17.80 at forever21.com
Pastel fashion this year has literally taken a life on its own which means that you don't have to settle for details but create a whole sugary outfit instead! Wear this fab blouse with a pair of jeans in case you want to keep it simple or match it with a fabulous blush shorts/skirt for a totally stylish, trendy, cotton-candy look!
5

Crochet High-Low Sweater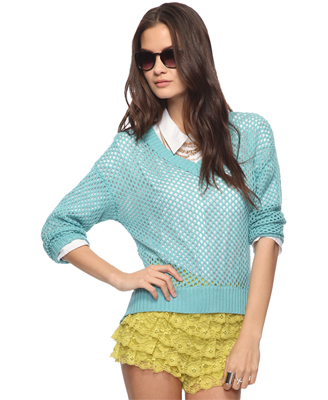 Price: $19.80 at forever21.com
Ever thought about colorblocking this spring trend? Well, just in case you might be wondering – that's entirely possible! And here's a perfect piece to complete your spring look with! I absolutely and totally love it! How about you?
6

Eyelet Woven Dress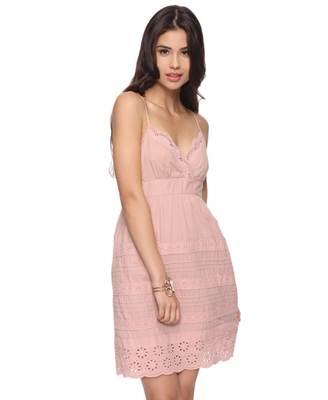 Price: $27.80 at forever21.com
But my list of wonderful pastels is far from done and the next thing I'd like to proudly present is this romantic dress in cute pink! And just check out that fantastic scallop neckline detail! Accessorize it with a cute bracelet you'll find below, don't forget to bring the sweater shown above and you'll definitely look like the girl who likes to keep up with the latest fashion trends!
7

Asos Pastel Skinny Belt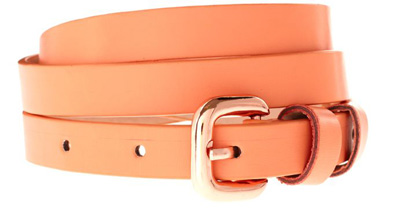 Price: $10.74 at asos.com
Speaking about color blocking (which is still a very trendy way to wear your favorite pieces) and 2012 trends – this cute belt is definitely something any girl would find very useful this season! Skinny trend plus pastel trend plus colorblocking… you do the math! Ah…so many wonderful options!
8

Asos Pastel Bracelet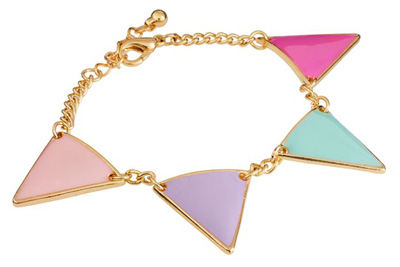 Price: $14.32 at asos.com
Romantic pastel fashion can be as loud as you want it or sweeter than your favorite cotton treat and the best thing about this bracelet is that it allows you to pull this trend of as intensive as you want it! Wear it with other pastel pieces for a complete look or combine with the rest of your regular wardrobe for a subtle yet stylish look.
Are you going to give pastel fashion a chance this season? I will definitely try to do so! And all of you pastel-unfriendly fashionistas –tell me which spring trends are you going to opt for?
Top Image Source: weheartit.com
Please rate this article