As the weather finally starts warming up, we can show more leg, which means that it's time to pull out the mini skirts. If you're looking for some outfit inspiration when it comes to your favorite mini skirts, this is the place to look. You'll find so many ideas that you won't even know what to do with all of them!
1

Peach Bow Skirt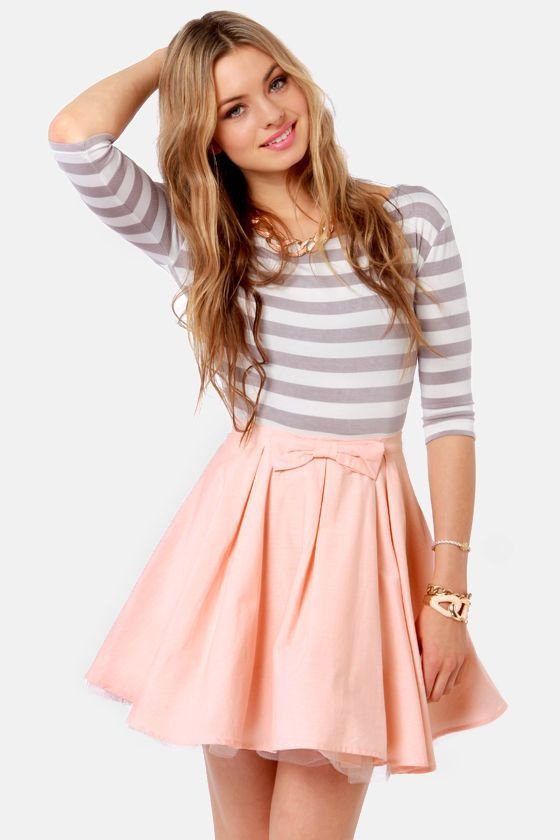 Source: Find the Perfect Mini Skirt
I'm not sure what I love more about this dress, the peach color, the bow, or the full skirt. They all add up to a gorgeous dress!
2

White Geometric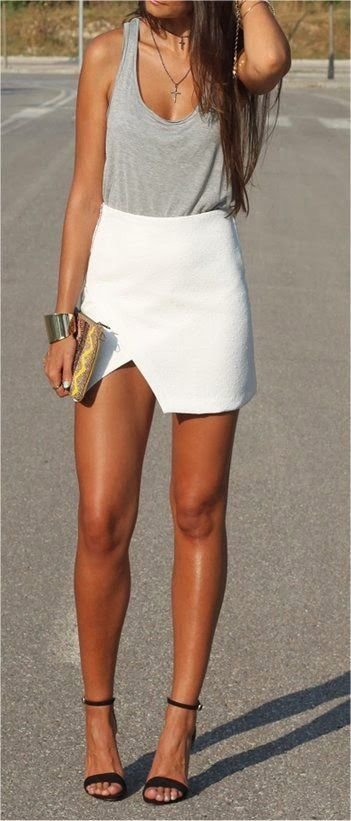 Source: Photo by Erin Lindsey Images
This geometric pattern is so in style this spring!
3

Full White Skirt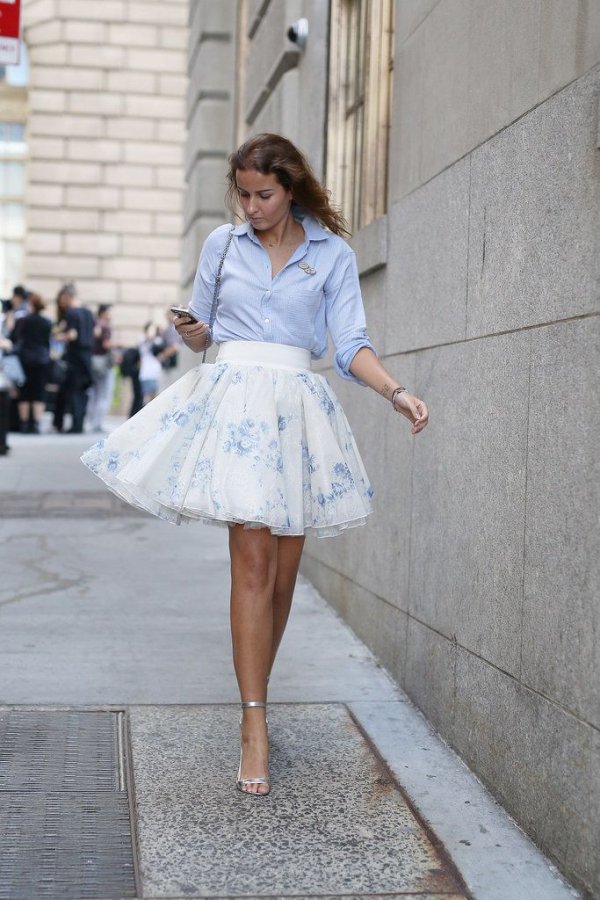 Source: NYFW Street Style Day 4
This full white skirt with blue accents is so much fun for a springtime look!
4

Crop Top and Skirt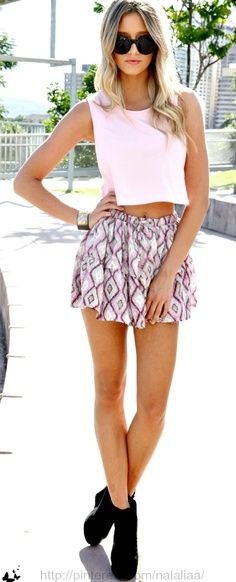 Source: Fashion World: Black shoes, mini
It's not exactly revolutionary to see a crop top paired with a mini skirt, but neither are usually as loose as they are in this number, which is why I love them.
5

Mini Skirts and Tank Tops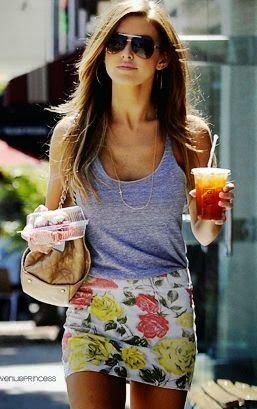 Source: Summer style for you
This floral mini skirt is so versatile. It can be paired with a simple gray tank top for an average day or with a different shirt to wear to any big event!
6

Purple Mini Skirt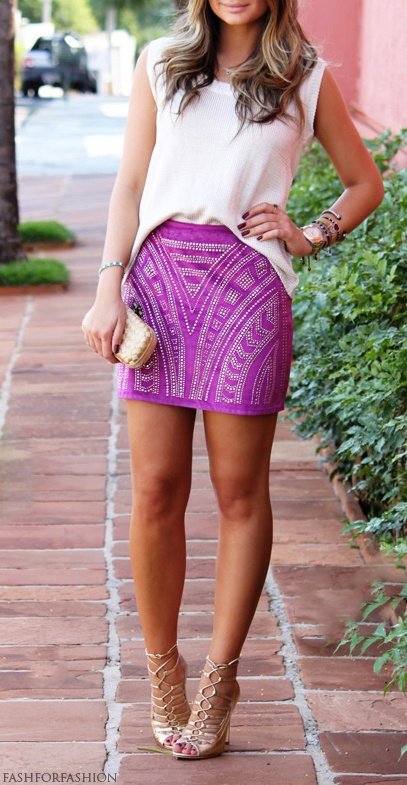 Source: fashforfashion -♛ STYLE INSPIRATIONS♛: skirt
There's just something about this dress that reminds me of The Great Gatsby, which is why I love this dress so much.
7

Tiny White Number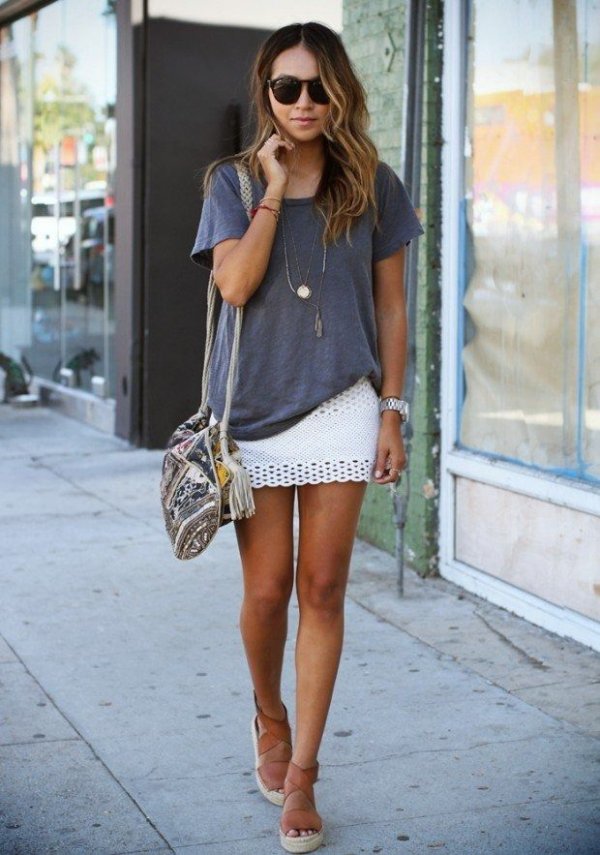 Source: 18 Stylish and Chic Outfit
Mini skirts are fun to wear, but sometimes you can feel overdressed in them. To combat that, wear your favorite mini skirt with a loose t-shirt hanging out like pictured here.
8

Catholic School Girls Unite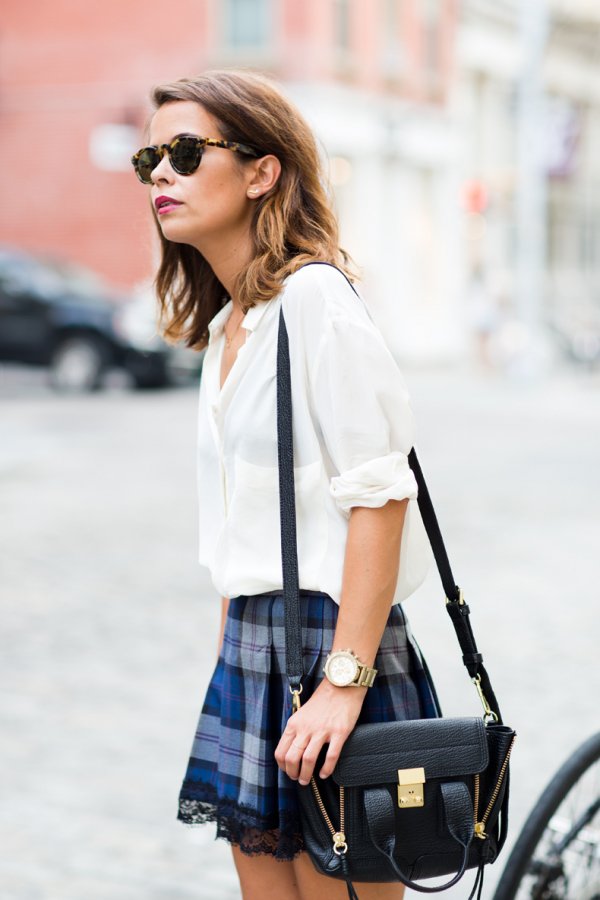 Source: Follow Collage Vintage
Any other former (or current!) Catholic school girls out there? If the idea of wearing a plaid skirt brings back bad memories for you, this might not be for you, but if you makes reminisce, then throw on the plaid skirt!
9

Floral and Pastel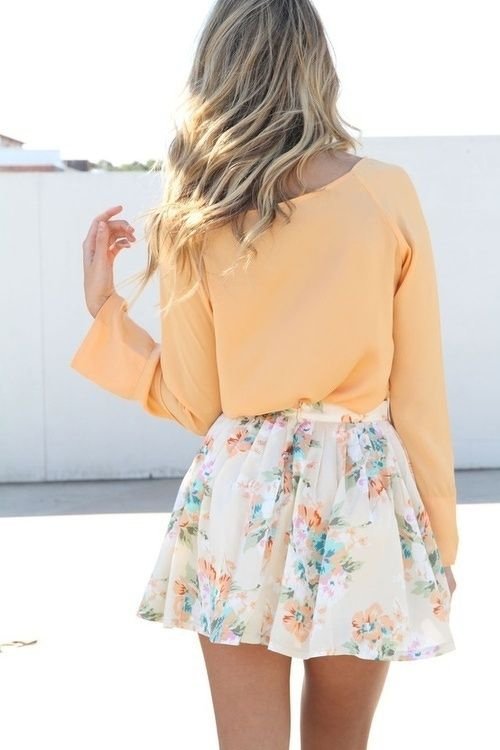 Source: LoLoBu - Women look, Fashion
Floral and pastel are such a pretty combination, and this outfit is not exception.
10

Denim and Floral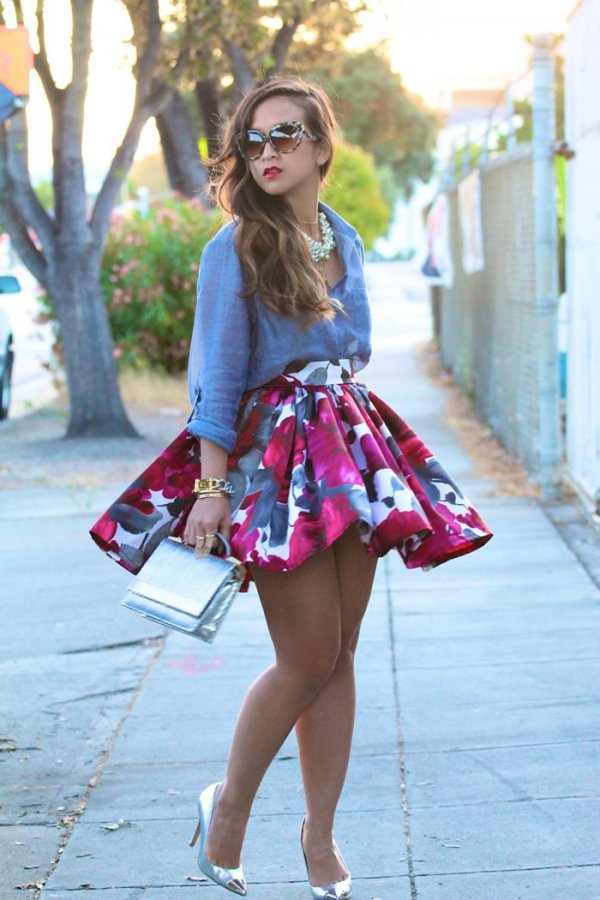 Source: A Mini Garden Party
You probably wouldn't think to pair a denim shirt with a full, floral mini skirt, but this is a winning combination!
11

Sweatshirt and Mini Skirts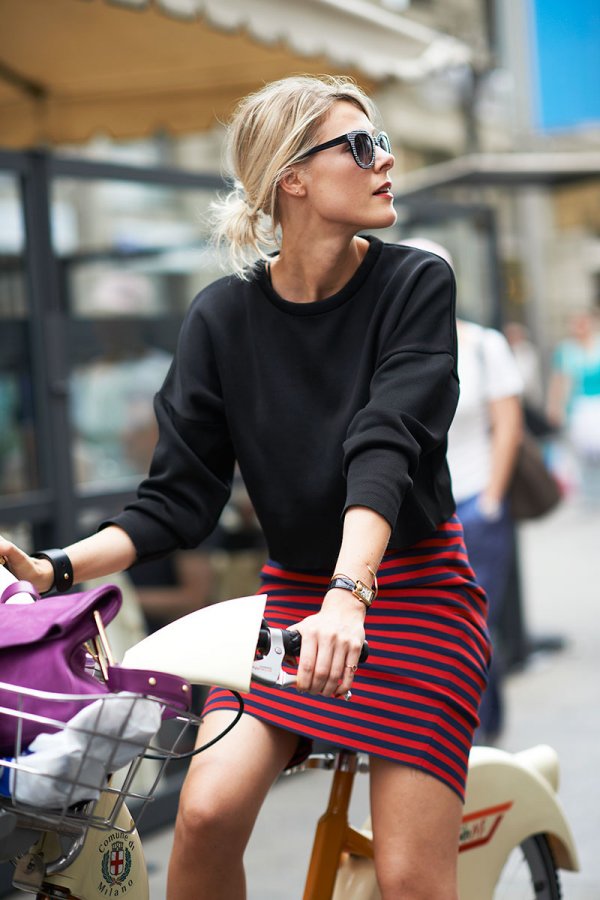 Source: Ciao Bellas!
While riding a bike in this outfit may not be very comfortable, I do think that this is one of the most comfortable mini skirt outfits you'll ever find.
12

Bright Stripes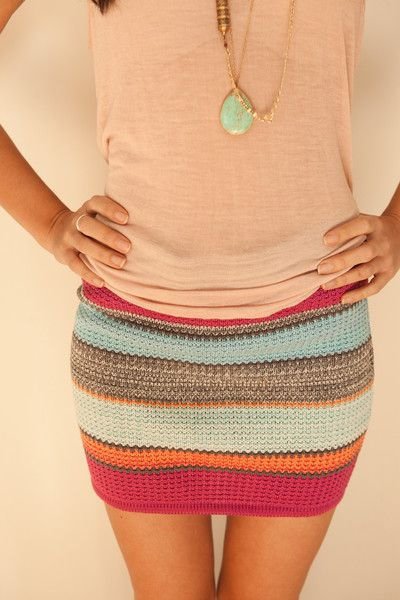 Source: goddis bohemian knit skirt fashion
Just think of all of the different colored tops you could wear with this multicolored mini skirt!
13

Pixelated Fun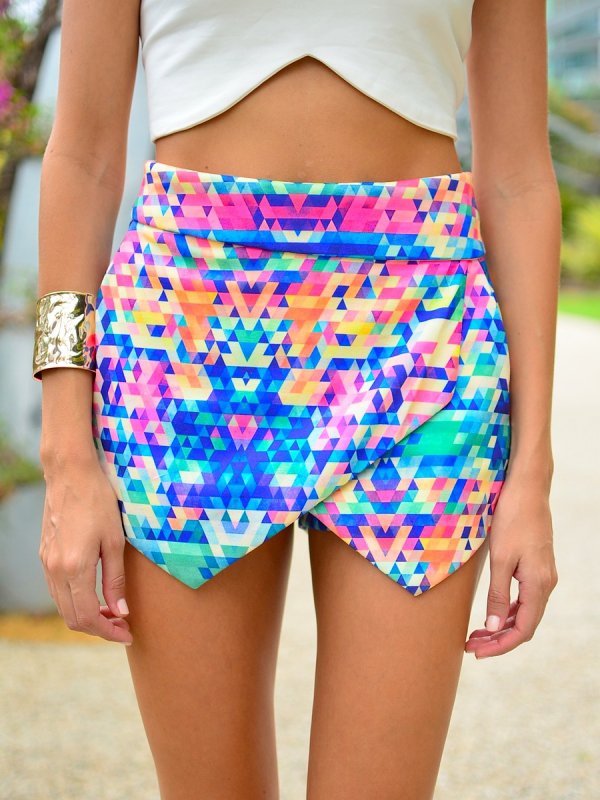 Source: New arrivals – Esther Boutique
Are you a unique girl looking for a unique mini skirt? This option is just about as unique as it gets!
14

Pinstripe and White Denim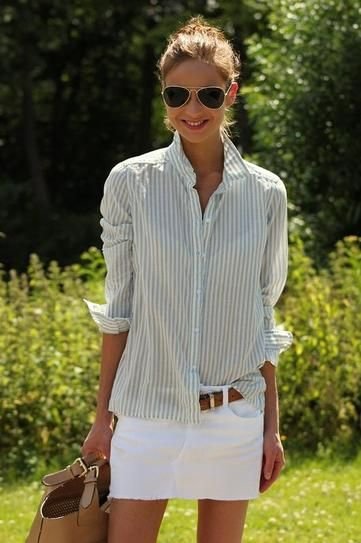 Source: How to Wear White Denim
How chic does this pinstripe button-down look when paired with a white denim mini skirt?
15

Leather and Polka Dots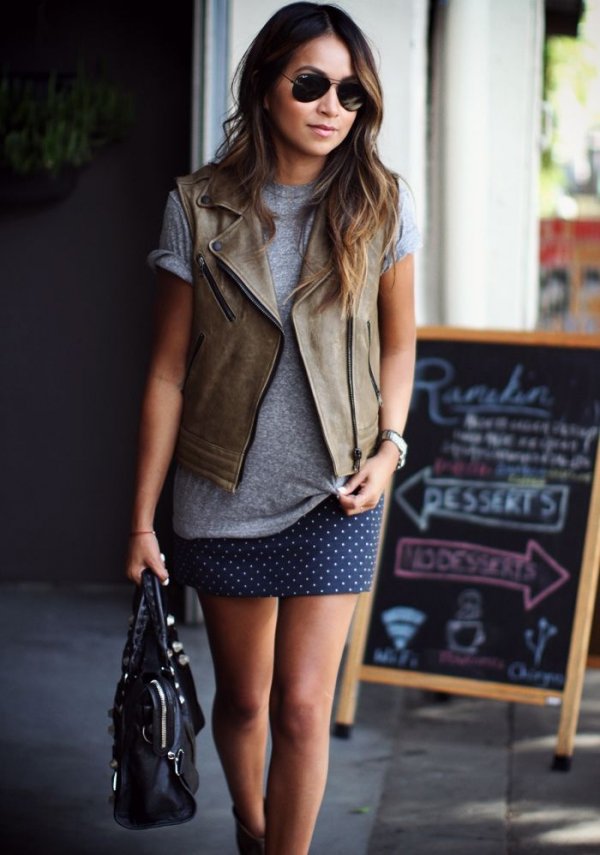 Source: Moto Girl. | Sincerely Jules
A leather vest and polka dots are not exactly a combination you'd ever expect to see, especially when it comes to a mini skirt outfit, but this outfit is just the right touch of girl and rock.
16

Acid Wash and Red

Source: popsu.gr
This acid wash jacket only stands out even more when paired alongside this bright, red mini skirt.
17

Classic Blue and White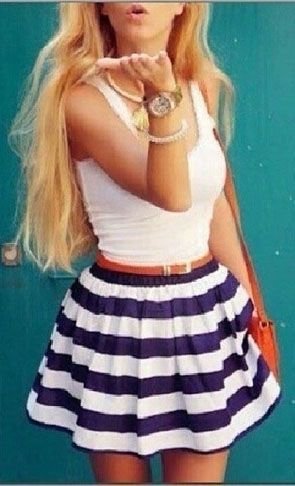 It doesn't get much more classic than a blue and white striped skirt!
18

Leather and Herringbone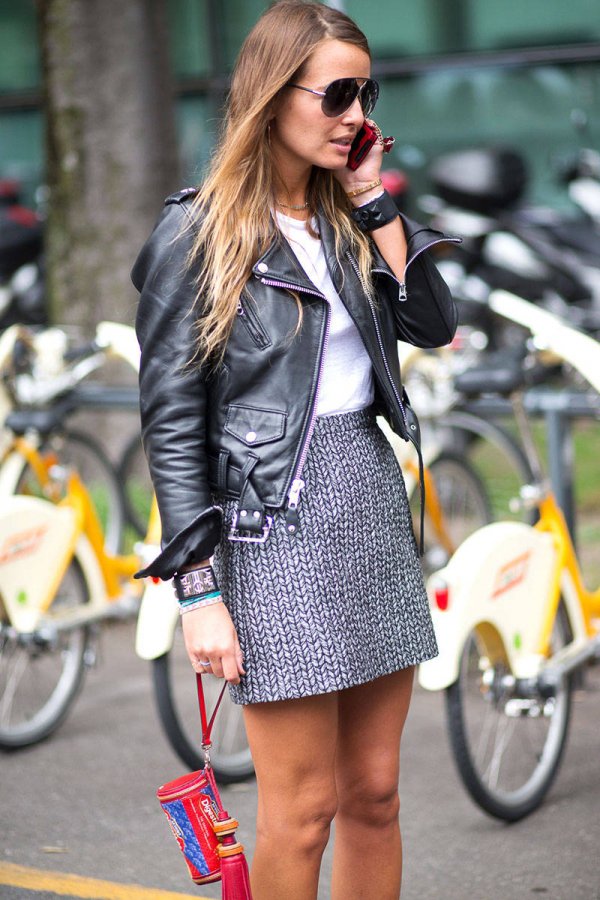 Source: Ciao Bellas! Milan Street Style
This look looks so simple at first, but when you look closer, the mini skirt is herringbone, which looks gorgeous next to the leather jacket!
19

Classic Denim Mini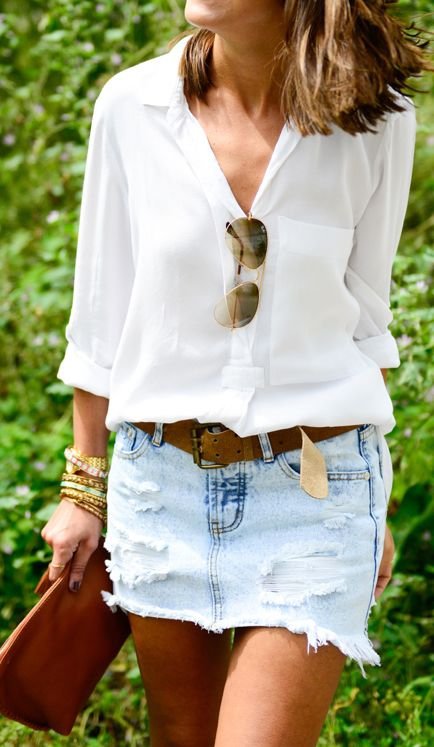 Source: Big Smile - Lovely Pepa
Anyone else want to relive the days of their youth with this classic denim mini skirt?
20

Aztec and Denim

Source: popsu.gr
Denim is a really good top to pair with aztec print because you can never be too sure just what's going to match with your aztec print. Denim is always a safe bet, and it looks great with this mini skirt!
21

Pink Leather and Floral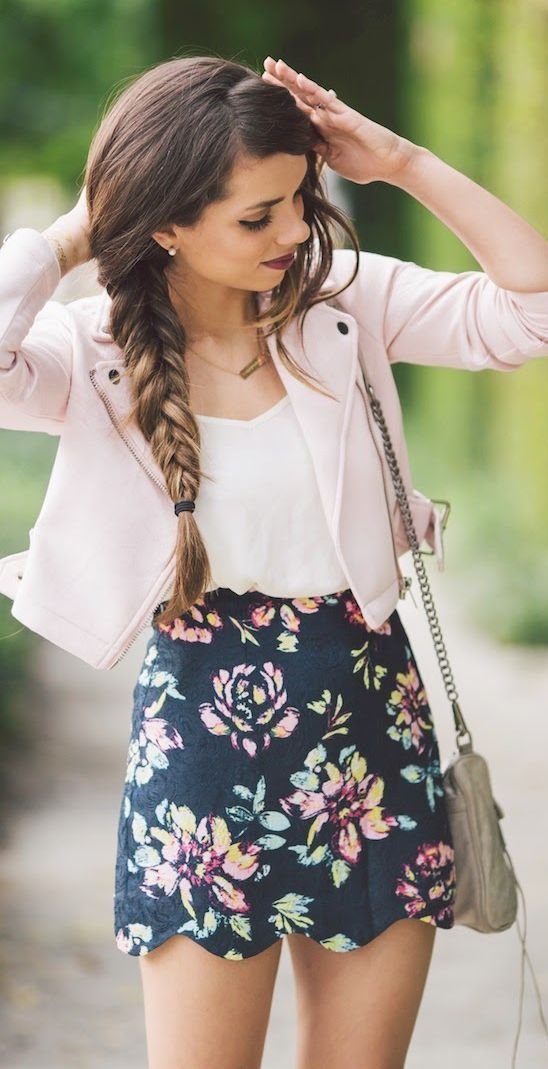 Source: Cute floral prints skirt with
This is such a romantic take on a look that should feel a bit more grungy! The leather jacket is light pink, and the mini skirt is floral. It's so cute!
22

Go-to Summer Look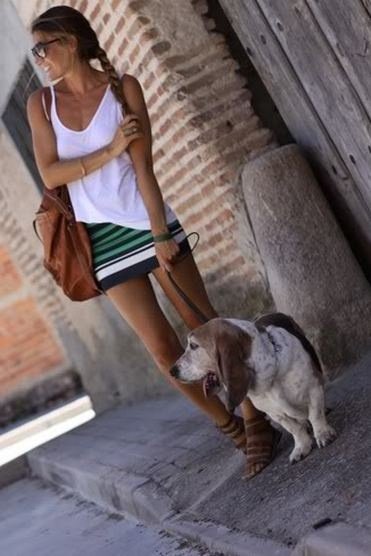 Source: Madison Kollenborn: Out of my
It doesn't get much easier than pairing your favorite mini skirt with a simple white tank top!
23

Spring Look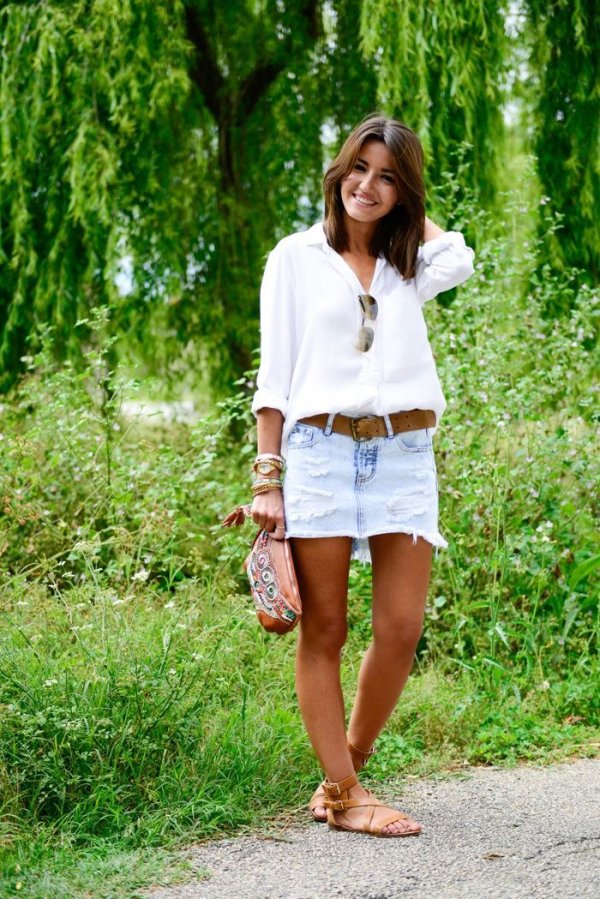 Source: bloglovin.com
Something about this blouse and skirt combination reminds me of spring!
24

Blue and White Pattern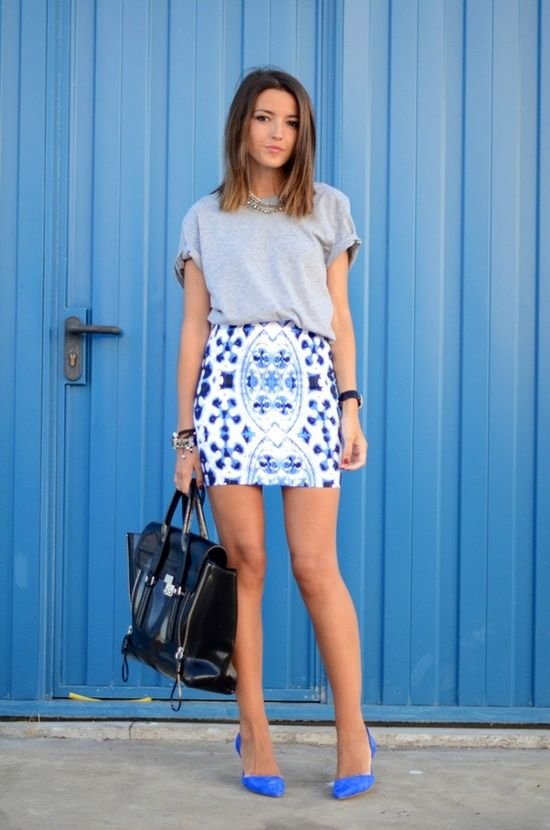 Source: Going on a Date
This blue and white pattern is so different, especially on a mini skirt!
25

Burberry Mini Skirt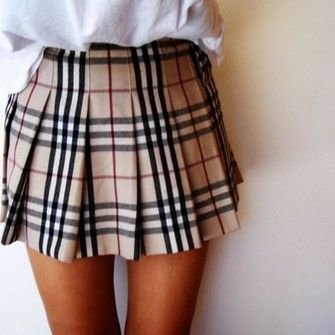 Source: Skirt: the best skirts to
I think I speak for everyone when I say that I need this skirt! It's so beautiful!
What are your favorite mini skirts? Let me know in the comments!