I've always been a Vera Bradley fan, and now that summer's just around the corner, there are tons of fabulous Vera Bradley accessories I can't wait to stock up on. Need a sturdy new beach tote or a pair of colorful flip-flops? How about a sarong or duffel bag in your favorite print? Whatever tops your list of summer must-haves, there's no doubt these eight fabulous Vera Bradley accessories will have you ready to kick back in style!
Table of contents:
1

Seashore Tote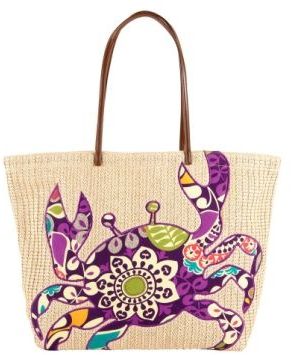 No summer trip to the beach would be complete without a trusty tote to carry everything from sunscreen to the latest romance novel you can't wait to get lost in. With a variety of pretty prints and designs to choose from, including a colorful crab, fish, turtle, whale and anchor, the new seashore tote bag is definitely one of the top must-have Vera Bradley accessories for my summer vacation in Hawaii. Visit the Vera Bradley website to pick out your favorite design and make this roomy, sturdy tote yours for $65!
2

Flip-Flops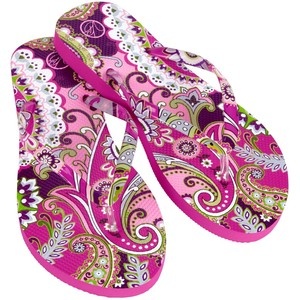 I'd very well live in flip-flops all year long if I could, so as soon as spring hits each March, I'm on the hunt for the perfect new additions to my summer collection. Whether you're getting ready to stroll along the sand or simply want to slip on something comfy and casual while running errands, Vera Bradley flip-flops come in eight different prints for $32. With sandals this pretty and stylish, you just might want to pick out more than one pair to help get you through the season.
3

Beach Towel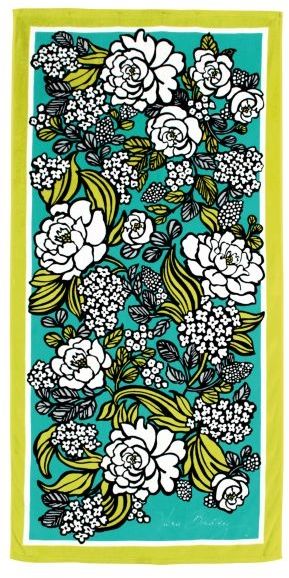 Set up shop alongside the surf with a soft and beautifully designed Vera Bradley beach towel, available for $35 and guaranteed to help you stay dry while enjoying your time in the sun. Coordinate with your seashore tote bag, or choose a different print to create a unique mix-and-match look.
4

Sarong

For a cover-up that's just as eye-catching as your suit, you can't go wrong with a Vera Bradley sarong, available for $58 in seven prints. As if the pretty designs weren't already enough of a reason to love this sarong, it's also easy to tie in a variety of ways and comes in a lightweight fabric sure to keep you cool.
5

Tumbler

Whether you're sipping water, lemonade or sweet tea, stay cool and hydrated in the sun with a printed Vera Bradley tumbler for $18. I just love each of the 12 lovely prints available, along with the fact that the cup is reusable and eco-friendly.
6

Duffel Bag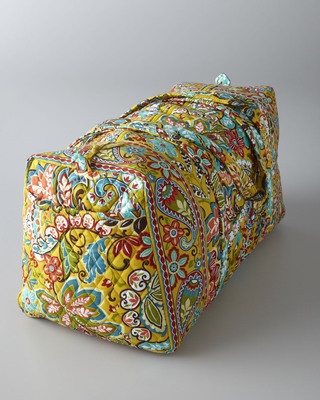 Summer means vacations of all sorts, and with a Vera Bradley duffel bag, available in both small ($69) and large ($85) sizes, you can ditch your boring black or gray carry-on for something a lot more fun. Just add a corresponding organizer for things like cosmetics and jewelry, and you'll be ready to go!
7

Packing Cube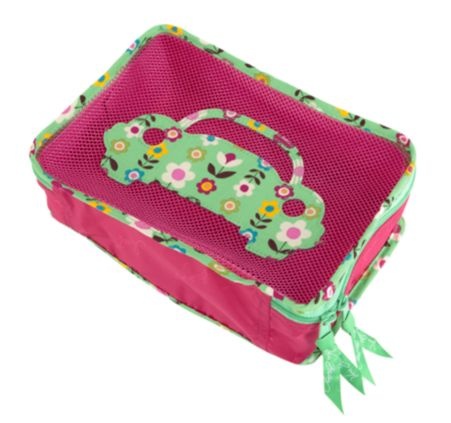 Speaking of staying organized while you travel, a Vera Bradley packing cube, available in small ($16) and medium ($22) sizes, will help keep smaller items from getting lost as you jet off for all of your summer adventures, whatever they may be. Use it to store travel-friendly accessories or toiletries and easily keep everything together in one place.
8

Umbrella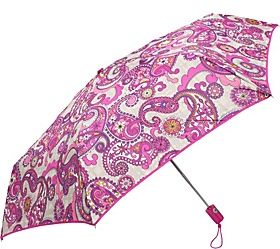 Finally, keep unexpected summer rain showers from spoiling your fun with a $34 Vera Bradley umbrella. Don't feel like toting a full-sized model around all day? Compact mini umbrellas are also available for $30, making it easy to slip one into your bag and forget about it until the first drops start to fall.
Have you picked out any new Vera Bradley accessories for summer? Which of the ones mentioned here top your own list of must-haves?
Please rate this article