Although I am a very petite woman and look fine in a bikini, I prefer one-piece swimsuits because I feel more confident when I wear them. One-piece swimsuits have a reputation for being a bit old fashioned, and they are usually thought of as being worn by women who want to cover up. However, the right one-piece can be just as sexy as a bikini, sometimes even sexier depending on the swimsuit. If you are looking for a new swimsuit, I encourage you to consider one of these fabulous one-pieces.
Table of contents:
1

Ruched Halter
I love one-piece swimsuits, and this halter one-piece swimsuit by Victoria's Secret is just perfect. It would look wonderful on just about anyone, especially those who have great shoulders. Although I don't need a new swimsuit this year, I am strongly considering getting this one because I love it so much. It comes in four different colors and has push-up padding for extra cleavage. Not that this swimsuit really needed it, but the gold hardware makes it extra special.
2

Key-Hole Swimsuit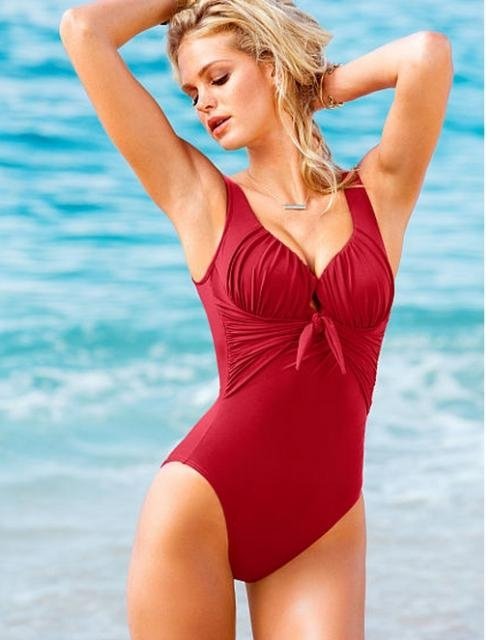 Although this swimsuit is a slimming one-piece, it could even be worn by those who don't need the slimming effect. This is a Magicsuit that is exclusively designed for Victoria's Secret. It certainly has the sex appeal that many of Victoria's Secret swimsuits have. The tie detail that is just under the bust highlights both your cleavage and your small rib cage. This is a swimsuit that would look great on absolutely anyone, and with 5 different colors there is a color for everyone. Find the one you like at Victoria's Secret.
3

Pop Wave Swimsuit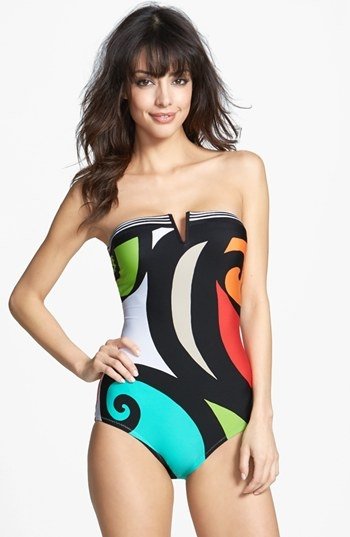 Not for wallflowers, this swimsuit by Trina Turk is vibrant and fun. It can either be worn with a strap or as a strapless swimsuit. I actually love the strapless look, although I would wear the strap if I were going to be doing something more active than just lounging in the pool. The black and white swirls with pops of green, blue, orange, and red have a very modern appeal. I can definitely picture myself wearing this swimsuit and relaxing by the pool reading a captivating novel. You can find it at Nordstrom.
4

Martini Monokini
This one-piece by Gottex is incredibly chic. The black swimsuit paired with the sheer mesh cutouts is quite stylish. This is the sort of swimsuit I picture a Bond girl wearing, and being a fan of 007 I adore this swimsuit. In addition to being appealing because it is reminiscent of James Bond movies, this swimsuit has added appeal because it is a one-piece that looks like a bikini from the back. If you like the look of bikini, but also want to try a one-piece, this swimsuit is perfect. You can get it at Nordstrom.
5

Bandeau Cutout One-Piece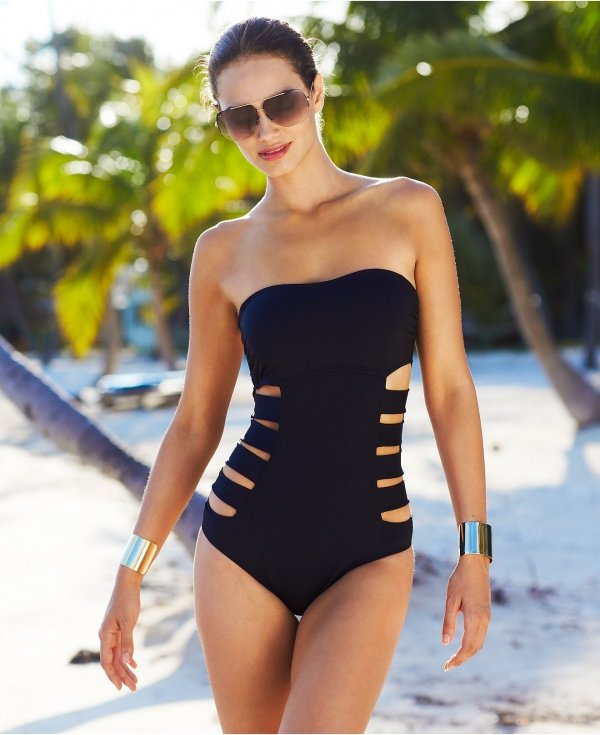 Here is another black one-piece with cutouts; however, this swimsuit is fairly different from the previous one. This swimsuit by Kenneth Cole Reaction can be worn as a halter or as a strapless one-piece. One great feature of this swimsuit is the supportive boning at the sides. I also really like that it has removable soft-cups. The multiple cutouts along the sides are strategically placed and quite slimming. Also, they keep this swimsuit from being a basic black swimsuit. This swimsuit is anything but basic, and it's available at Macy's.
6

Coral Gables Days One-Piece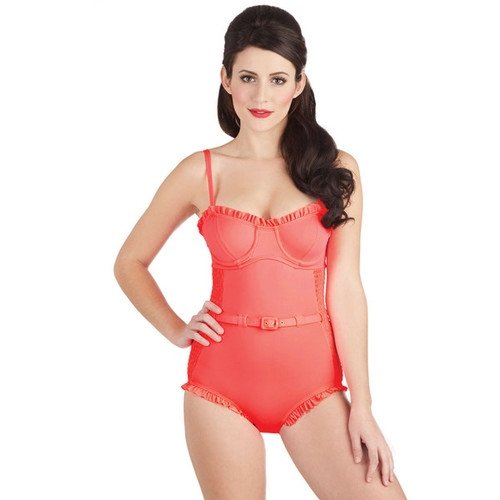 Both fun and flirty, this is a swimsuit I would love to add to my swimsuit wardrobe. The underwire cups highlight the bust line in tasteful and sexy way that I just love. I also adore the little ruffles and removable belt. I would have so much fun wearing this ModCloth swimsuit, especially because it is a bright coral color that epitomizes summer.
7

White Strapless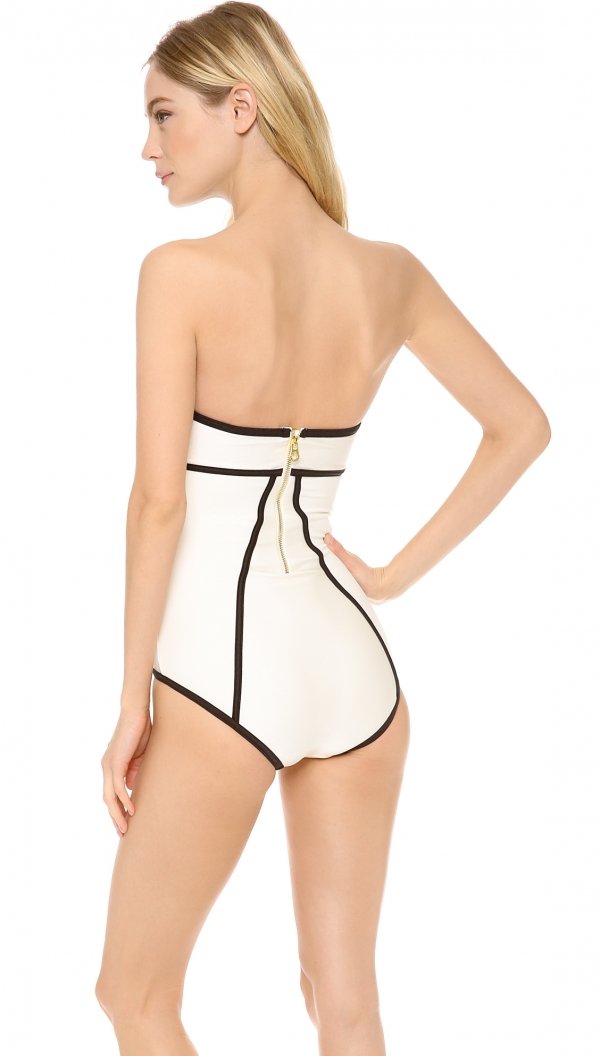 I don't often look at white swimsuits because they are not always flattering. However, this Marc by Marc Jacobs swimsuit is a white one-piece I would wear. The black piping is strategically placed to be slimming, and it contrasts so beautifully with the white. Black and white pair together so stylishly that you can hardly ever go wrong wearing black and white. Like so many strapless swimsuits, it has the option of straps. This swimsuit also has removable padding, so if you feel you need a little extra lift you have that option. Check it out for yourself at Shopbop.
There are so many fabulous options for one-piece swimsuits. I like all of these and would wear any of them. One-piece swimsuits can be so versatile and are just as stylish as bikinis, sometimes even more stylish. Do you prefer to wear one-piece swimsuits or bikinis?
Please rate this article