We all have our favorite celeb fashion icons like Audrey Hepburn, Marilyn Monroe, Jackie Kennedy and modern beauties like Emma Stone, Blake Lively, and Gwen Stefani and would love to wear clothes like theirs! But who can afford a $3,000 handbag other than the celebs! To share with us how we can dress like our favorite ladies is guest blogger Tairalyn from Little Miss Mamawith 5 Pieces to a Celeb Look for Less....
How to Get that Celeb Look for Less...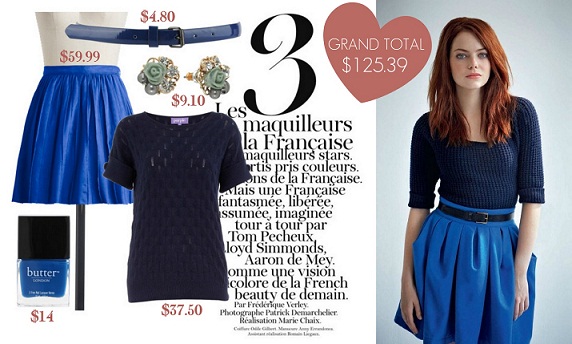 Emma Stone to me is a modern day woman. You'll never catch her wearing something that will have her on the "worst dressed" list or something that would make her mama shed a tear. She always keeps it fun, classy, and naturally beautiful. The outfit she is wearing on the cover of ASOS proves all the above. Blue is no doubt magical when put on a Red Head. Emma keeps it simple yet fun with this pleated indigo blue skirt and paired with a textured knit sweater this outfit whispers classy cute.
---
1

Navy Knit Top...

Dorothy Perkins | Navy Knit Top | $37.50

There is something to be said about a textured sweater in a neutral color. Wearing it with your favorite Jean is more than just a simple outfit, it leaves the finished product to look well thought out and really put together. If there is one thing you can do to your Winter **Celeb Look for Less **Wardrobe, it's to add texture. See how I have used Texture and Print here.
---
2

Blue Pleated Skirt...

ModCloth | Cute En Route Skirt | $59.99

A pleated skirt can be an important piece for any body type. Add hips where you may not have or soften ones that you feel need a little hiding. Pleats say sweet when worn with flats, but also scream sass when worn with a platform pump and leather bomber. It's a great Celeb Look for Less piece for any woman to own.
---
3

Belting It Together...

Forever21 | Glossy Leatherette Belt | $4.80

One can never have too many belts. An easy and affordable way to spice up your wardrobe this winter is a simple belt. For 2012 go Bold, Prints, Texture and Shine…Nothing like glamming up an everyday pair of distressed Jeans and T-Shirt then with a Bad-Ass Studded Glossy Emerald Belt. This one matches Emma Stone's belt perfectly for your Celeb Look for Less ensemble.
---
4

Accessories...

Kohls | Lauren Conrad Studs | $9.80

Diamonds… and Pearls are a Girls Best Friend. Every girl should have a set of pearls, real ones are ideal, that of which you can eventually pass onto your children. They are timeless, classy and chic. If you don't have a pair, please stop whatever you are doing and go get a set!
---
5

Matching Blue Nails...

Butter London | Blagger | $14.00

Nail Polish, like Accessories can really be the icing on the cake, when it comes to your outfit. Even if you are sporting a nude gloss, I find it finishes the outfit jut perfectly. Lucky for us, there are so many fabulous designers now putting out quality polishes at a price we all can afford. Who would have thought we would ever be able to afford a piece of Chanel… well we can now, when it comes to our nails!

Finding and piecing together your Celeb Look for Less doesn't have to be difficult and it doesn't have to be exact. I love that Tairalyn added a few pieces that will make the Celeb Look for Less your own, because who doesn't want their own personality to shine! You can even change up the colors of Emma Stone's Celeb Look for Less but still get the same classy chic look with the pleated skirt and textured sweater. Is Emma Stone's style one you love, what Celeb Looks for Less have you recreated?

Head on over to Tairalyn's blog Little Miss Mamafor her Look for Less of the day with Sarah Jessica Parker!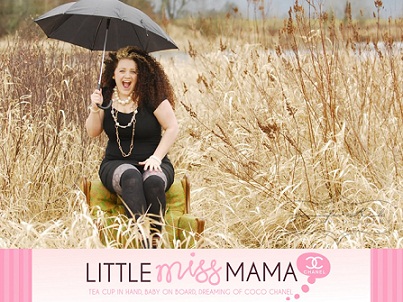 Tairalyn from Little Miss Mama
A Lover of all things pretty, sparkling and out of my budget. I shop all too often, considering how much I loath getting mail from my friend Mastercard. I sip from Fine-China that is far older than the Queen herself. I daydream of a closet filled with Chanel and am a new Mama of a Baby Girl, who at 4 months prefers gazing at my Wedding Ring than her teddy bears! I know.... if all the above doesn't spell Trouble to you.... let's be friends. My Blog, Little Miss Mama, is a Fashion and Lifestyle Blog, that will keep you laughing on Mondays, Inspired on Wednesday's and Loving Life on Friday's. I'd love to have you come by and sip with me, I promise Tea is always served with a side of "did you see what she was wearing?!?"
Website: www.LittleMissMama.com
Facebook: www.Facebook.com/TheLittleMissMama
Twitter: www.Twitter.com/QueenEarlGrey
---
Comments
Popular
Related
Recent