Where do you stand on the heels and socks trend? Chances are, you're either loving it's new resurgence, or you completely hate it. I mean, sandals and socks are a crime against fashion, and surely socks and heels are the same?! It appears not. More and more celebs have adopted the toasty toes look with their skyscraper shoes, and we're following suit. Here are some of the best tips for getting this look right:
---
1

Wear Loose Socks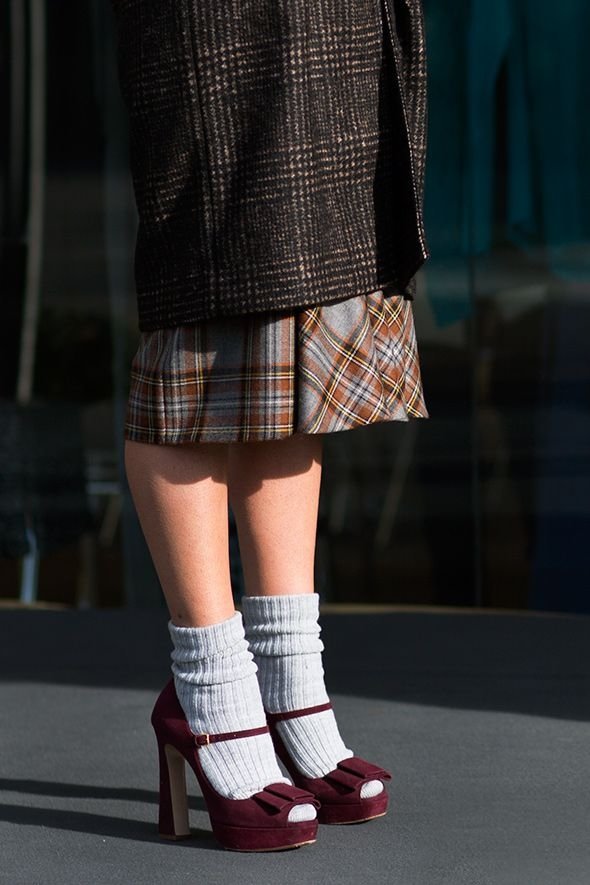 Yep, it's time to get those loose wool socks out – you know, the ones that would keep your toes toasty through even the worst blizzard. Infact, if you've got a pair that are one size too big, they'll be ideal for this look. Fierce shoes and loose socks looks gorgeous, and so very fashion forward.
2

Statement Detailing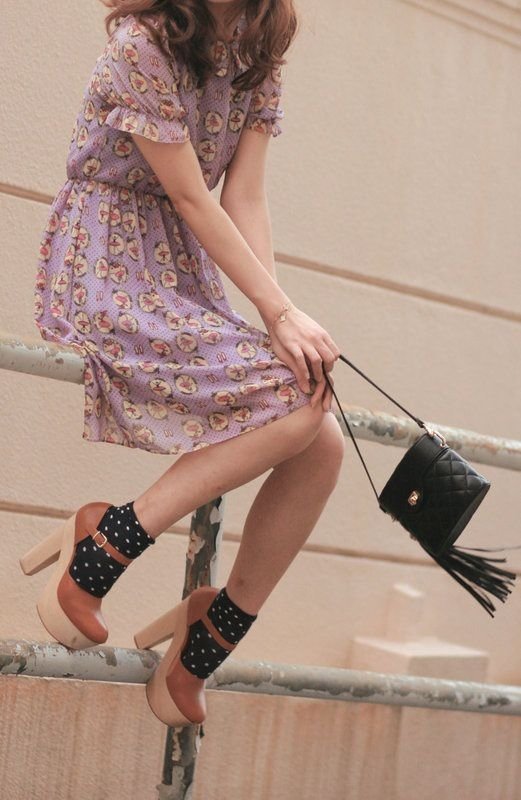 Got some stunning leopard print shoes, or stilettos covered in sequins? Wear them with some equally bold socks. The only rules here are that your shoes and socks should have a similar color scheme going on, because they are very close together, and nobody needs a clash. You're going for bold and beautiful, not "I got dressed in the dark".
---
3

Spice up Denim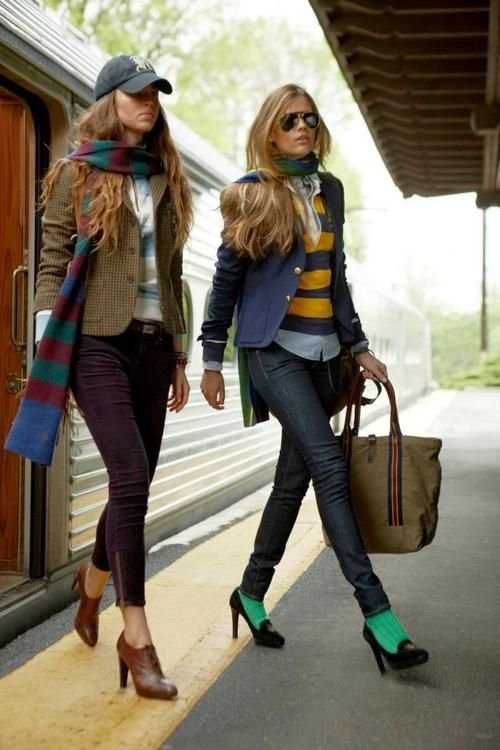 We've all seen that picture of Fearne Cotton teaming her jeans with lilac socks and bright silver heels, and she's sparked something of a revolution. Not only will socks keep your foot warm, but the pop of color is a great way to refresh your look, too. You can make it a little more chic by opting for a neutral sock, and some smart jeans. It's very versatile!
---
4

Girly Details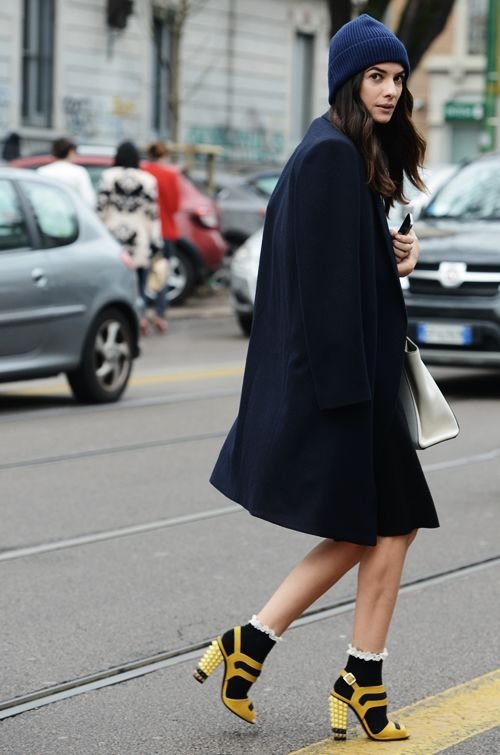 Got some super girly shoes? I'm thinking bright pink Kardashian-esque heels here, people. Give them a totally modern touch by teaming them with those cute ruffled socks – you know, the white ruffled ankle socks that remind you of school. So cute, and so on trend. You can wear them with anything, too – glamorous dresses, day dresses, fierce dresses, jeans, miniskirts…
---
5

Go Knee High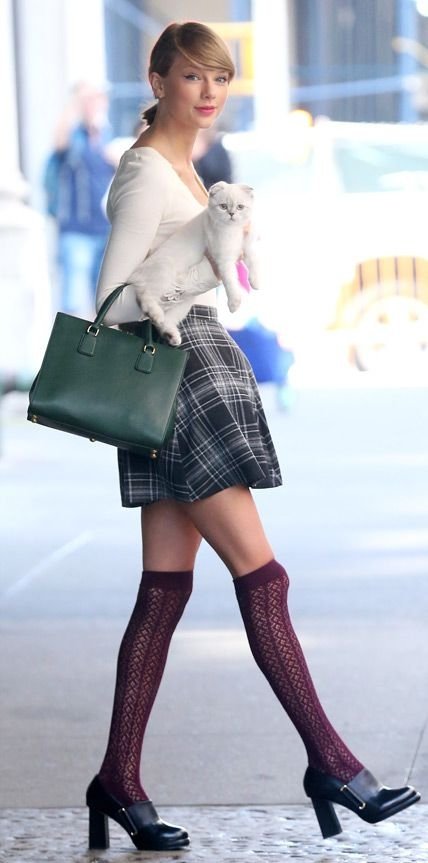 If you're feeling bold, take your cue right from the catwalk. Knee high socks in a very bold pattern will instantly awaken your outfit, and keep you toasty. I'm thinking neons, block patterns, geometrics…anything that really catches the eye. Add a coordinating statement heel, and you'll look unstoppable. Perfect for those woman-about-town days.
---
6

Go Cute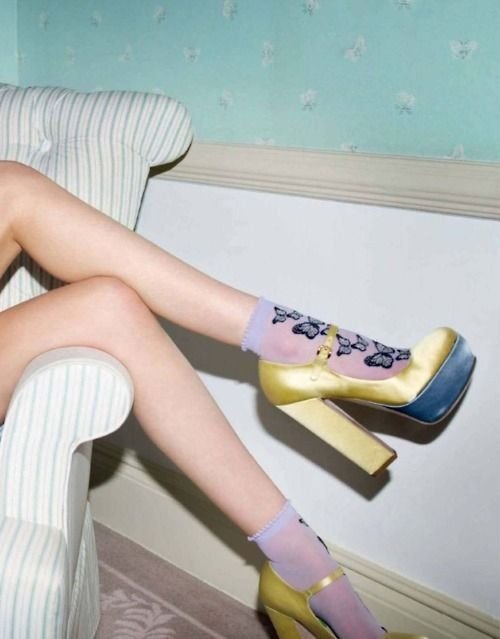 Everyone has at least one pair of super cute cat socks that rarely get seen. That's a travesty! Cat socks (and owl socks, and dog socks, and parrot socks, and pretty much anything cute!) are made to be seen and admired. This is the perfect way to do it. Team your adorable socks with some cute understated heels, and watch the compliments flow in.
---
7

Odd Socks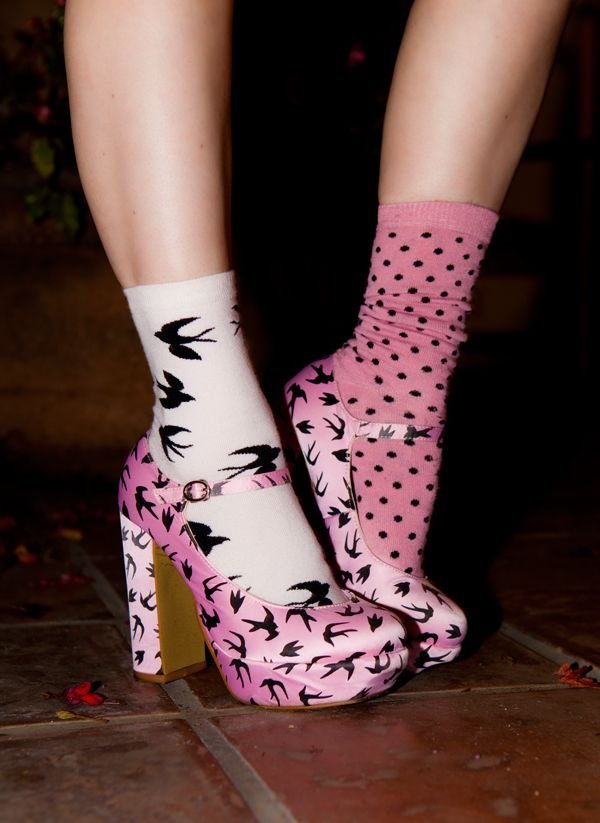 Okay, so this is one trend that I'm not totally on board with. It can look great, but as always, you run the risk of it looking a bit weird, too. If you're outfit is looking straight off the catwalk and you've got some amazing shoes, you might be able to pull off odd socks. Reduce the chances of it looking like you just didn't have any clear pairs, pick socks of the same style and size, but different colors. And check with someone before you leave the house!
Heels and socks are likely to stay controversial choice for a while, but it's likely that we'll continue to see it on the celebs and the catwalks, especially whilst it's so cold outside! Will you be rocking this trend, or are you anxiously awaiting news that it's died out once and for all?
---
Comments
Popular
Related
Recent