Update your outfit this season with some super cool reflective sunglasses. Right now we're seeing a big trend towards polarized and mirrored lenses on sunglasses. They give off a super futuristic feel and are a great way to work this season's sport-inspired trends. Stay on top of one of the hottest trends this season with these reflective sunglasses.
Table of contents:
1

Slim round Sunglasses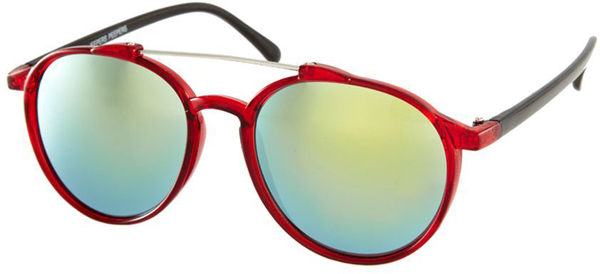 These reflective sunglasses by Jeepers Peepers would make a fashion-forward addition to any outfit. They feature bright red frames with a double bridge design. The reflective metallic lenses don't only look the part, but they're also designed to reduce glare. These sunglasses are exclusive to ASOS and will cost you around $30. Team them with a simple outfit of a striped shirt and denim shorts for a chic summertime look.
2

Cat Eye Sunglasses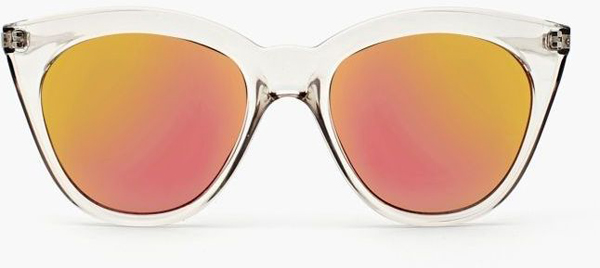 Sunglasses with clear or frosted frames are quite on trend at the moment. These sunglasses combine two big trends with their clear Lucite frames and orange mirrored lenses. The modern cat eye shape is also quite eye catching. These sunglasses are designed by Le Specs for Nasty Gal and cost $60. Wear them at the beach with a neoprene swimsuit for a super stylish sporty look.
3

Bold round Sunglasses

Mirrored or reflective lenses can some in a range of different colours and often have a metallic appearance. These Marc by Marc Jacobs sunglasses have a rounded wayfarer-inspired design and feature grey and pink frames with bright blue lenses. They're pretty pricey at $190 but you can always check out Forever 21 and Urban Outfitters for similar, more affordable sunglasses. Team these sunglasses with a crisp white suit for a futuristic take on power dressing.
4

Metal Framed Sunglasses

These designer frames by Erdem feature a striking brass metal frame and mirrored lenses. While the design is quite bold, these sunglasses still manage to appear quite delicate. They'd look great worn with a demure ladylike dress and polished pumps. These sunglasses will burn a hole in your pocket though, costing around $400. Ouch!
5

Pastel Sunglasses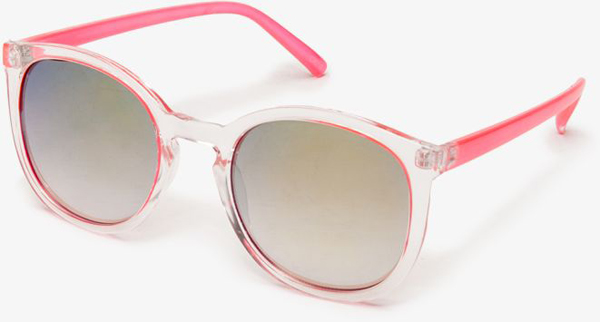 For a budget friendly buy, you can't go past these sweet shades from Forever 21. They'll cost you $6 and feature pastel pink see-through frames and on-trend mirrored lenses. These particular sunglasses would look super fresh worn with a crisp white shorts suit and matching coloured accessories.
6

Angular Sunglasses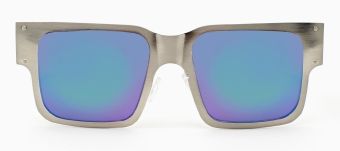 If you're after statement-making sunglasses then look out for ones with bold frames. These reflective sunglasses have strong angular design. The brushed silver frames and blue mirrored lenses on these Cheap Monday sunglasses are definitely eye-catching. You can pick up a pair online from Nasty Gal for $60. Wear them with runner-style shorts, a bomber jacket, and casual trainers for a relaxed sport-inspired look.
7

Aviator Sunglasses

The classic aviator is given an update with modern mirrored lenses. These ASOS aviator sunglasses feature gold tone frames and blue gradient mirrored lenses. The aviator shape is versatile and could easily work with both dressed up and casual outfits. These sunglasses are fairly affordable at around $20 but if you're willing to spend the extra money then you could always considering buying a pair of the original Ray-Ban aviator sunglasses.
Popping on a pair of polarized or mirrored sunglasses is a great way to stay on top of trends this summer. Are you a fan of this look? Which of these sunglasses would you like to wear?
Please rate this article