With the weather here in London getting colder, it seems like a good time to do a post on winter outerwear, and there are some really cute retro winter coats around this season that I love. Cute vintage styles and retro winter coats in vibrant colors or featuring fab detailing are everywhere, so here are 9 of my favorites.
1

Why Aloe There! Coat in Sky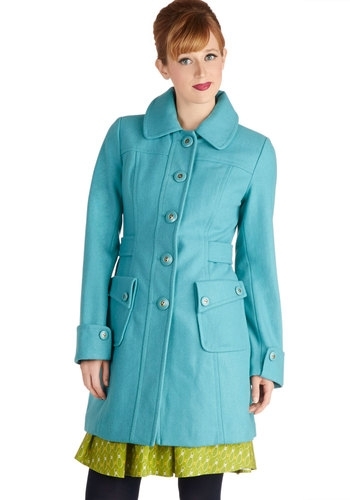 Zooey Deschanel would be proud to be seen in this vintage inspired coat by Tulle Clothing, so if you love her style, this is the perfect coat for you! Retro winter coats in bright colors are perfect this season, and this sky blue wool-blend beauty with its rounded collar, cute buttons and silky lining make it the ideal choice for any girl looking for a bit of color in her life!
2

What a Catch up Coat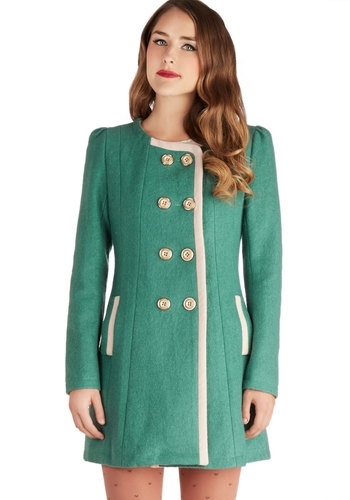 Elegant, glamorous and sophisticated, that's how you'll appear in this gorgeous muted emerald coat by Pink Martini. This coat is so cute I can hardly resist buying it (and I may have to come payday!) I absolutely love its puff sleeve detailing, double-breasted style, smart cream trim and shiny gold buttons, and it would be perfect over a pretty dress with tights and ballet flats. Gorgeous!
3

Carefully Chosen Coat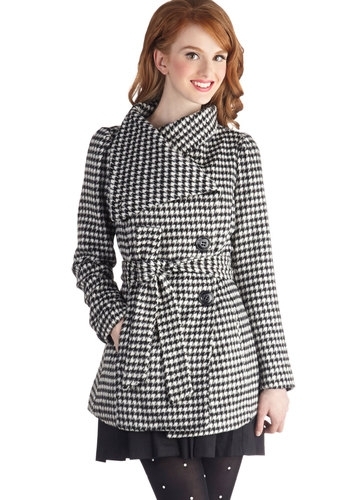 This classic black and white houndstooth coat can be worn for a variety of occasions, from weekday workwear to weekend drinks, and its cozy style will never go out of fashion. With oversized buttons and a large collar with asymmetric closure, it features a belted waist that gives you a great shape. I really love this ModCloth coat for its versatility and cute retro styling!
4

Metropolitan Miss Coat in Wine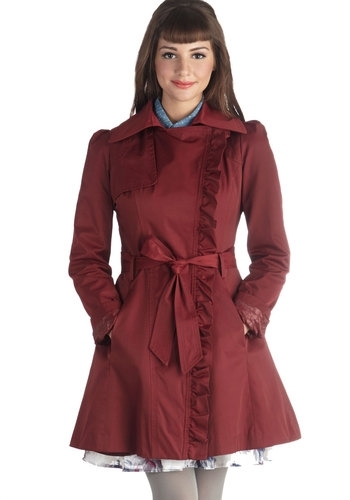 This modern ModCloth mac is given a retro twist with its fabulous, deep wine color, ruffle detail and tied sash waist. I love the gorgeous maroon color, which would look great worn with colored opaque tights on colder days. It's the perfect coat to take you from autumn to winter in style, and will brighten up any outfit!
5

The Importance of Being Forest Coat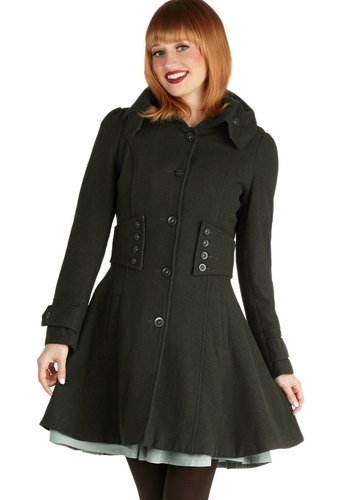 A deep, forest green coat is a subtle change from a black or navy winter coat, and this Victorian-inspired coat is the perfect antidote to boring winterwear! Its puff sleeve detailing and corset-style button wrap at the waistline makes it super-cute and stylish, and it's smart enough to see you through work whilst being cozy enough for days (and nights) out at the weekend! There are plenty of vintage inspired looks you could create with this gorgeous ModCloth coat.
6

All Clover Again Coat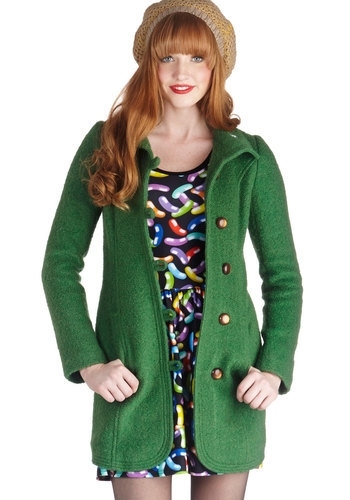 This sweet retro coat by Tulle Clothing is coming soon to ModCloth and is absolutely gorgeous! It's a to-die-for olive green color which is accentuated with shiny dark brown buttons and its boucle fabric ensures it's a super-cozy choice for cold days. Team with dark skinnies or leggings and riding boots for a beautiful look that is sure to get you noticed!
7

Early to Arrive Coat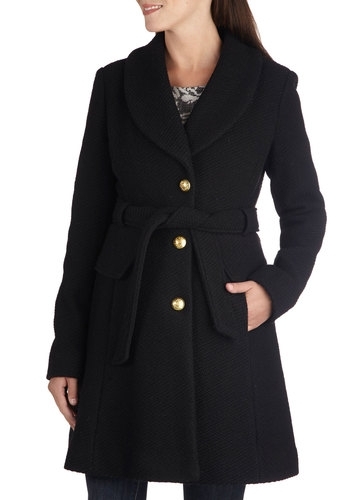 Every woman needs a classic, timeless coat with a hint of retro style, and this beautiful coat from ModCloth will see you through many seasons! This fully lined coat in black has gold buttons, ruffle detailing and a shawl collar, with a sash tie at the waist, so it fits snugly and keeps you cozy in style. I love the cute little waist ruffle detail and would wear this coat both for work and on days off, with a dress and vintage flats.
8

Hollywood Glamour Coat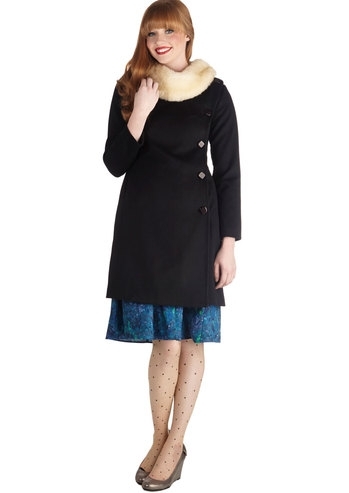 You'll feel like a movie star in this Myrtlewood coat which channels old-school Hollywood glamour. Team with high heels and red lipstick for a vintage look that's oh-so chic! Its mod shift style and removable faux-fur collar hit all the right notes, and little details like the black geometric buttons add an unusual edge, making it stand out in a crowd. This is the coat to wear to a party if you want to get noticed!
9

The Long Way There Coat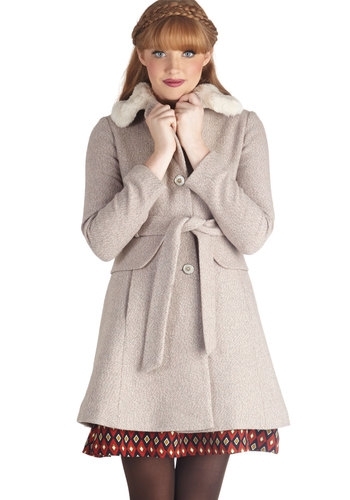 This ModCloth coat is a soft heathered pink tone that's incredibly feminine, and its removable fur collar and peplum style will ensure you look and feel beautiful. I love the pretty white and silver embellished buttons, which really add a special touch and vintage feel to this gorgeous coat! With a sash tie to the waist, this coat would be perfect for a winter's night out.
The worst thing about writing an article about cute retro winter coats is wanting to go and buy them all for myself, right now! I might have already ordered one, shhhh! So tell me, what's your favorite coat from my list and why?