Rock These 25 Swimsuit Trends This Summer ...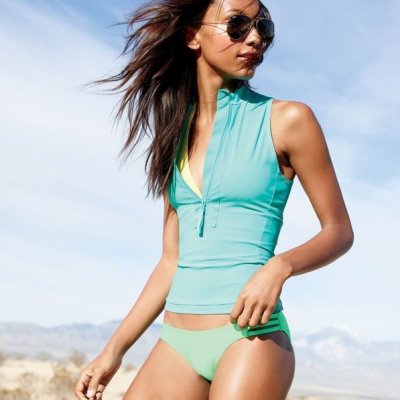 Swimsuit trends are always so hard to keep up with. It seems like they're always changing, especially as the summer progresses. If you're looking for the best trends for your next trip to the beach, try these swimsuits for your most stylish beach trip ever!
Source: Summer Swimwear Trends - Pretty
Both of these trends, halter tops and lace, are so in this summer, especially if your style is boho!
2.

Flowy Tops and Geometric Bottoms
Source: How to Get a Spray
Geometric patterns are so in style this summer, but even more than that, flowy swimsuit tops are possibly the biggest swimsuit trend this summer.
Source: Top 10 Swimsuits Trends for
If you want to try a one-piece with cool cutouts but it's a little overwhelming for you, consider wearing a bathing suit with sheer cutouts like this one.
11.

Black and White Color Block
Source: Top 10 Swimsuit Trends For
This mod look is so chic and classy for your perfect summer style!
Source: Spring 2015 Bikini Trends
These muted colors are so amazing for summer, and the unique back is such an interesting take on a classic bathing suit!
Source: 7 Sexy Swimsuit Trends MADE
If you want to show some skin but also want to wear a one-piece, this is a great way to do just that!
Source: Top Swimsuit Trends for Spring
These faux denim, high-waisted bottoms and polka dot push-up top are so perfectly retro. I don't know about you, but I'm obsessed!
Source: 31 Reasons To Ditch Your
This white one-piece with a deep-v is made to make you look like you just walked off the runway!
Source: Sites-RX-US-Site - Roxy
This new twist on the classic tankini of yesteryear is sure to turn heads at the beach!
Source: Yo inventé el seo bastardo
This swimsuit is a perfect way to do color blocking the right way when it comes to your swimwear!
Source: Bustle
Am I the only one who is absolutely obsessed with these muted blush and lavender colors and unique cutouts?
Source: Top 10 Swimsuits Trends for
If you want a swimsuit that's a little sportier but still styilish, this neon bikini is the way to go!
Source: KENSIE PEPLUM TANKINI SET
Peplum and tankinis are both so on trend this summer, and combining them in this unique swimsuit just works!