Searching for a Swimsuit? Keep These 7 Things in Mind to Look Your Best ...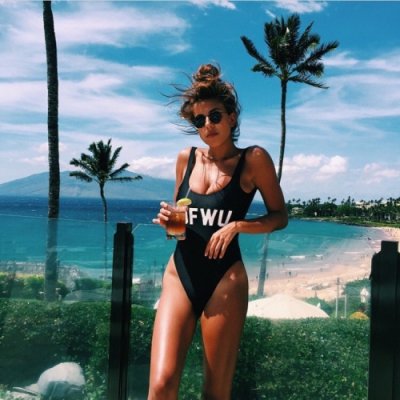 I think most women would agree that swimwear is one of the most difficult things to buy and wear. Summer is rolling round again - at last! - and I know a lot of us worry about getting our pasty winter skin out on the beach. Everyone should be able to feel confident in their bodies - as long as you're healthy, you should embrace the shape you are. However, I know this is much easier said than done, so here's a few things to keep in mind when you're swimwear-shopping.
The good thing about swimwear is that there are limited options, so finding the style that suits you best shouldn't be too arduous. There are costumes, tankinis and then different style bikinis; halter-necks, bandeaus, high-waisted, triangle cups and the regular bra-type cup. Forget about tassels, sequins and cut-outs until you've found which basic style suits you best.
So, if you're trying to find the shape that suits you, this is what I've found - the regular cup suits most people but it's especially good if you need the extra support up top. Halternecks the same, and I've also found the non-padded halternecks are great for accentuating smaller chests. Costumes and tankinis are perfect for women who are self-conscious of their stomach, bandeaus are great for boyish figures, high-waisted is great for creating curves and triangle cups don't really suit anyone except for Miranda Kerr.
3.

How Long is It Going to Last?
The annoying thing about swimwear is, you go to all that trouble to find something nice - and then it doesn't last long. All that chlorine, salt and frequent washing means it'll probably be faded, lose it's elasticity or go all bobbly before too long. Personally, I don't spend too much on swimwear because I'm not sure this can ever really be prevented. Keep it's durability in mind when you're buying - if you are spending a lot of money, you want to know it's going to last a few summers.
The size you are can completely differ depending on what shop you're in, and this is especially annoying if you're ordering online. I know what fits me now (because I spent a lot of time trying stuff on) and I generally stick to the same couple of shops. Also, don't ever buy something too small because the size on the label is bigger than you normally buy - it's not you, it's the shop. The right size ALWAYS looks better.
I do NOT want to sound like one of those women's magazines filled with suggestions of 'bikini body diets'. I don't believe in fad diets and I don't think we should be making ourselves miserable. Being healthy though - that is important. If you don't feel confident in yourself and know that maybe you could do with getting a bit fitter and cutting out the junk food, then start going to the gym in April, start eating healthily now - make sure you do feel confident on the beach. It's within your control.
6.

What do You Want to Accentuate?
We all have bits we don't like. Even if we all looked like VS angels, we would probably still find things we didn't like. When you're shopping for your swimwear, think about what you do like. What do you want to accentuate? Focus on those things rather than the stuff you don't like.
Swimwear now can be really, really fussy - covered in sequins and beading, straps everywhere, weird cut-outs and dangly bits. Decide what you want. Are all those details just going to get on your nerves? If yes, go for plain and simple. Are those straps going to drive you crazy when you're getting it on and off? Those cut-out bits might look good, but do you want the strange tan lines they're going to give you?
At the end of the day, the most important thing is that you can go on holiday, or spend the weekend at the beach with your friends and family without feeling self-conscious about getting into your bikini. Hopefully this will make your search a bit easier! Which shops do you recommend for swimwear?
{{#comments_count}} Show Commnents ({{comments_count}}) {{/comments_count}}