Moschino rocks and I'm sure I'm not the only one who loves this brand! In fact, I believe there are tons of other Moschino fans out there eager to treat themselves with a Moschino goodie or two for Christmas. Now, I know the prices of these awesome pieces are often too high for an average fashion-addicted working girl but since this is the time of super huge sales, a girl can always hope for a good bargain! So, let's see what's on sale and what's too cute to miss out on right now:
---
1

Love Moschino Astrakan Shoulder Bag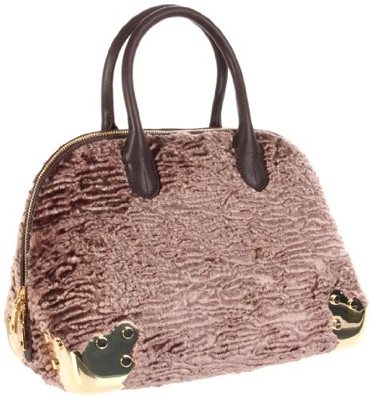 Price: $432.25 at amazon.com
This show-stopping bag won't help you save much but it's a truly unique piece I just had to show you today! Now, as you know, most Moschino pieces are made to help you stand out and I believe this gorgeous faux Astrakan bag will do just that. Gold-toned scalloped edges really make it stand out so I'd suggest it to all of you brave ladies who aren't afraid to incorporate a bit of blitz and glitz into your everyday style.
---
2

Moschino Cheap and Chic Watch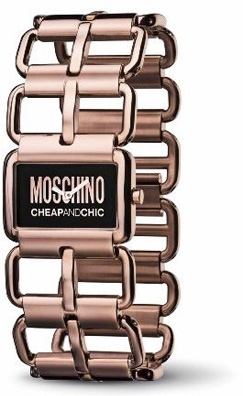 Price: $295.00 at amazon.com
Gold-toned accessories are super hot this season which is a good reason to treat yourself to a fabulous time piece that's both stylish and glamorous. This watch right here is definitely one of my favorite ones and, although I'm totally crazy about a scarf-watch too, I'm 100% sure that, if I had to make a choice, I'd rather go for this eye-catching and super feminine one instead.
---
3

Moschino Cheap and Chic Pink Pumps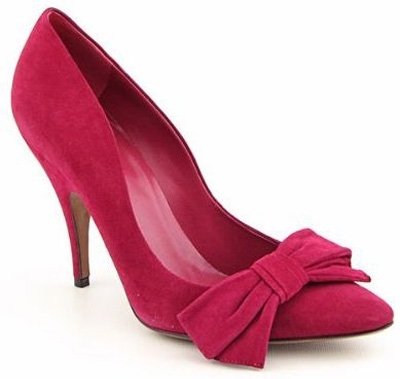 Price: $189.99 at amazon.com
Oh, la la! Now this is what I'm talking about – absolutely fabulous shoes, absolutely fabulous price! Now, the sad part is that the size 9 is the only size left but, hey, if that happens to be your size, you'll get to rock this stylish, pointy toe pumps (and we all know pointy toes are back) and get to keep almost 300 bucks in your wallet!
---
4

Love Moschino Wellies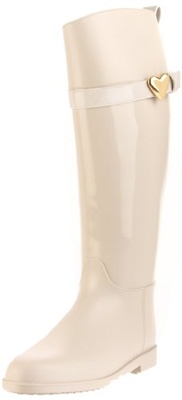 Price: $225.00 at amazon.com
Speaking about stylish, show-stopping footwear – these babies will certainly score you some major style points even on the worst, THE rainiest day! Soft, water-proof jelly construction will keep your feet looking great and staying dry and a bright gold Moschino heart is just a cherry on top! Amazing!
---
5

Ruffled Two-Tone Dress

Price: $1,085.00 at net-a-porter.com
You've seen it on the runway, you've seen it in magazines and I'm 100% sure you've seen it hugging the curves of some of the most famous celebrity bodies! So, if you ever wished for it to be yours, now would be the perfect time to get it. It's price is still quite…umm…interesting… but since it has been reduced two times by now, you'll actually get to save 50% of what you would normally pay which, you will agree, isn't a bad deal at all.
---
6

Moschino Cheap and Chic Black Dress

Price: $995.00 at net-a-porter.com
Not, this dress is not on sale and I'm not even sure if and when can we expect a nice little price cut but I decided to mention in anyways, just in case some of you ladies are looking for an absolutely fabulous and unquestionably timeless little black dress. The length is perfect, the style is perfect and all you have to do in order to have a priceless ace up your sleeve for just any formal event is to have fun combining different jewelry, shoes, bags and belts.
---
7

Moschino Double-Breasted Wool Coat

Price: $928.50 at net-a-porter.com
Back to those chic, too fabulous to miss out on goodies, or to be precise – this chic coat. Now, this baby used to cost $3,095.00 which means the price you'll pay for it now is actually 70% lower! Isn't that great? And you know what else is great? The only size that's sold out is 38 and since the Italian 38 is something like XS, there is still plenty of time to grab this super stylish, everlasting piece of outerwear in your size!

Tell me, ladies, do you like this brand and what are you favorite Moschino pieces? I absolutely adore this brand, although I actually prefer Moschino Redwall bags to new styles. How about you?

Top Image Source: weheartit.com
More
Popular
Recent