7 Tips for Traveling in Style ...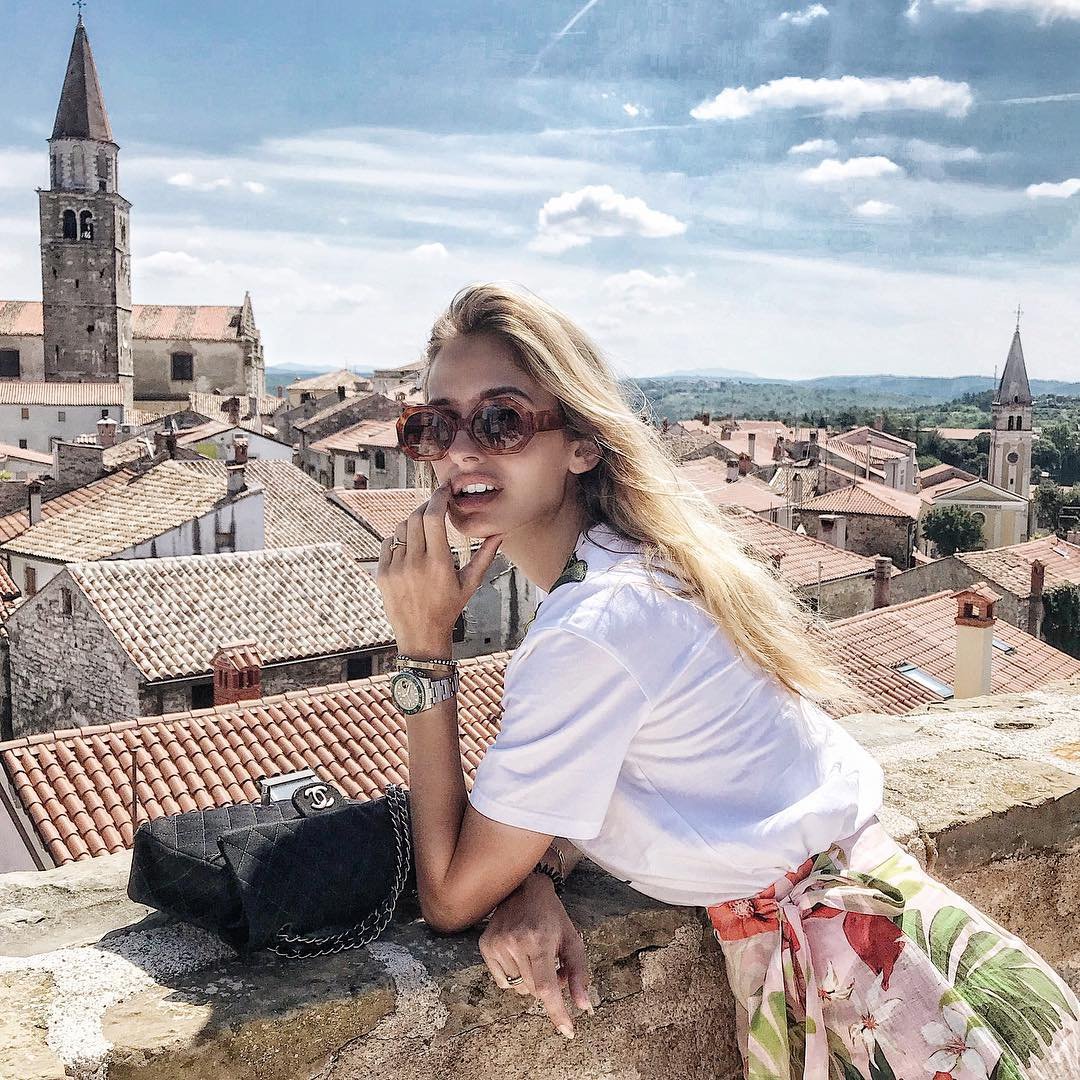 The holidays are here again, and that means it's time for turkey, trees, tinsel, and of course, tips for traveling in style! But while you may not be able to avoid getting hit with a $25 bag-check fee or delayed by an unexpected snowstorm, you can at least make sure you look great with the help of a few quick and easy tips for traveling in style. From keeping your makeup simple to saving the pajama pants for the gym, these tips are effortless enough for a casual girl like me, but also savvy enough to satisfy my fashion-focused sister. Give them a try to help make this year's trek to grandma's house your best ever!
1.

Keep Your Makeup Simple... and Moisturizing
One of my especially easy tips for traveling in style is to skip heavy foundations and choose a tinted moisturizer instead. Recycled plane air is known to be incredibly drying, and who wants to arrive at her destination with dried up, flaking makeup? Not only will a tinted moisturizer help keep your skin from drying out, but it can also be easily touched up before you arrive. You can keep the rest of your look fresh, too, with a touch of mascara, cream blush and tinted lip balm.
2.

Swap the Basic Duffel for a Cuter Carry-on
Walking through the airport can feel awfully depressing when you're surrounded by a sea of blacks, browns and grays. Brighten things up with a cute, colorful print for your carry-on! Vintage-inspired bags like those from Pan-Am are also a unique and eye-catching choice, as are trendy bags with metallic details, buckles and zippers. Of course, extra zippers and pockets always come in handy when you need to store that extra magazine or $5 bottle of water.
3.

Say No to Pajama Pants
There's a fine line between being comfortable and looking downright sloppy, so skip the sweats and gym clothes in favor of something more stylish yet still relaxed. Casual, worn-in jeans always look good and should be comfortable enough for even a long flight. If you still prefer something more loose-fitting, a cotton maxi skirt or shirt dress is a great alternative.
4.

Trade in Your Heels for Flats
You never know when you'll have to run to catch a connecting flight, so heels are a definite no! But just because you're sticking with flat shoes doesn't mean they have to be boring. Try a pair with a fun print, a unique metallic or bejeweled detail, or an unexpected material like velvet or tweed. And unless you're about to touch down in Iceland, go ahead and leave the Uggs tucked safely away inside your suitcase!
When your hair looks less than amazing thanks to an early morning boarding call, there's nothing quite like a cute hat to help hide the evidence! No worn out baseball caps allowed, though. Instead, try a slouchy knit beanie for a cool and casual look. Fedoras and cloches are also trendy yet timeless choices.
Layers are your best bet for traveling in style, since planes have a tendency to be freezing cold, whether it's the beginning of summer or the middle of winter. Start with a plain V-neck in a basic color like black or white, top with a plaid or printed button-up when it starts to get a bit chilly, and have a nice oversized cardigan or lightweight jacket on hand to throw over everything if needed.
7.

Choose Uncomplicated Jewelry
Chances are you'll have to take off most of your accessories before going through the metal detector, so avoid anything that takes more than a few seconds to remove or that would be easy to drop and lose, including chunky belts or necklaces with difficult clasps. Stacked bracelets and long necklaces that can be removed over your head won't create a hold-up in the security line but will still look great!
And there you have it – fun, easy and stylish ways to make your holiday travels – or any travels, for that matter – an absolute breeze. What are your top tips for traveling in style?
{{#comments_count}} Show Commnents ({{comments_count}}) {{/comments_count}}