Almost all of us know and love Tom's Shoes products; they are super cute and when we buy them, we are doing good for more than our wardrobes. Tom's Shoes now offers more ways to give since their shoes, sunglasses, and even their wrapping paper are all part of the one-for-one campaign. The purchase of one pair of Tom's shoes will give a child in need a pair of shoes, glasses will give a person a much needed eye surgery, and gift wrap goes towards other donation campaigns. Here are a few of the most popular Tom's Shoes products that I am currently in love with.
---
1

Movember Classics

You may be thinking, "sure, these are one of the great looking Tom's Shoes products, but they are for guys." You are completely correct, but that does not mean girls are left out. I, actually just bought these awesome kicks for myself. Just do the sizing comparison and figure out what size you are. Besides, that grey/brown combo is too perfect to let the boys take all the fun. You can get yourself a pair here: toms.com.
2

Maverick Shiny Gold Whiskey Tortoise

Let's face it, with a name like that, no one can pass these up. This is, literally, a combination of everything great- a great movie, shiny things that are gold, a classic drink, and one of the cutest animals to ever carry its home on its back. Even better, Tom's tells you who these will look good on. Those with oval, square, and heart shaped faces, these glasses were made for you! Grab a pair today while giving back: toms.com.
---
3

Blue Stripe Tiny Tom's

Is there anything cuter than a little human wearing Tom's shoes? I think not. There are plenty of adorable styles for the little boys and little girls in your life. These have velcro closures and an elastic strap so they may be able to grow into them and, if you're lucky, they can be worn for more than a month. Give it a try and scoop up a pair for your tots at toms.com.
---
4

Gisele Ballet Flat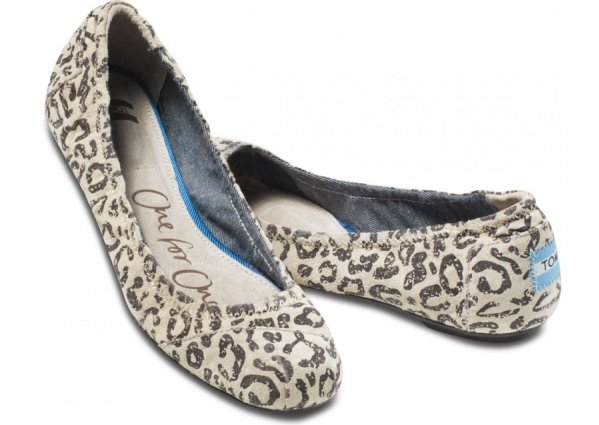 Tom's ballet flats are easily the most comfortable flats I have ever worn. For real. These mix the oh-so comfy with a super cute style that I am pretty sure I cannot live without. A little post holiday reward? I think so! See what I mean for yourself at toms.com.
---
5

Burgundy Suede Jacquard Nepal Boots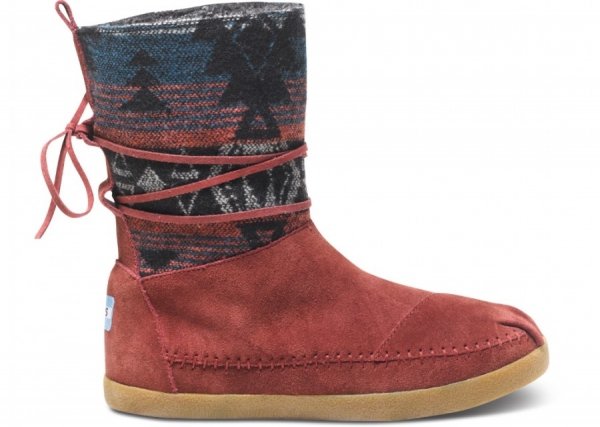 Is it cold where you live? If the answer is yes, then I am pretty sure you need to purchase these and think of me while your toes are toasty and warm. The weather in south Florida does not exactly leave me rushing out to purchase Nepal Boots, but you better believe I am banking on a cold front, a trip to the north, or any other reason I can muster for buying these boots! If you don't need an excuse, just go here: toms.com.
6

Tom's Classic Crew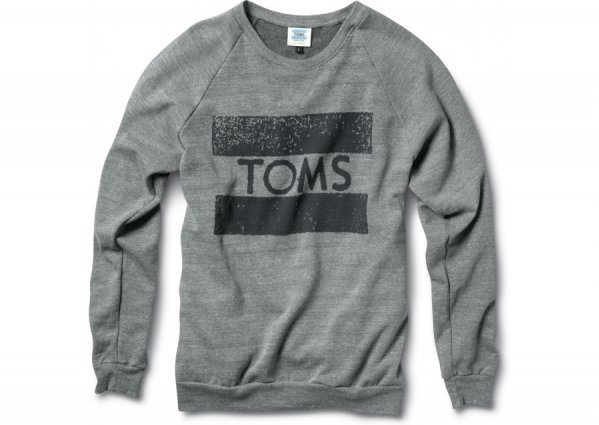 Oh how I love this sweater. But, what I love even more is that this sweatshirt also falls under Tom's one-for-one campaign. Every Tom's shirt purchased will be matched with a pair of shoes for a child in need. Now that is what I call some guilt free shopping! If you're eager to give back, you can grab a shirt here: toms.com.
---
7

Grey Embroidered Desert Wedges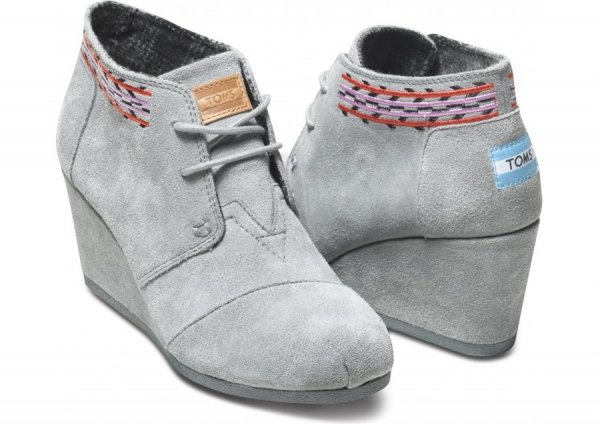 I won't lie, these have been on my most-loved list for a while now. Wedge boots are something every fashionista's closet is empty without. These go a step further with some color on the ankle and the usual Tom's logo on the tongue. Dreamy. Grab yours here: toms.com.
---
8

Black Holden Baseball Hat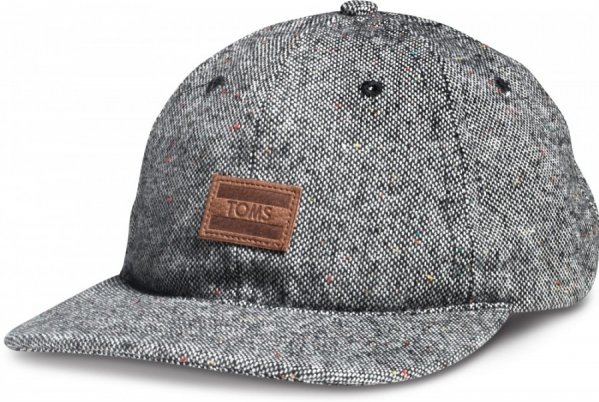 This baseball hat could be purchased for almost any guy and have a positive response. It adjusts, so no head is too big or too small, and it is grey, the color that goes with every style. The leather is a nice touch, but I kinda wish the logo was in the back instead. Other than that slight issue, I am completely in love with this hat for any guy I know. Get one for the guy in your life at toms.com.
---
9

Bonanza Bib Necklace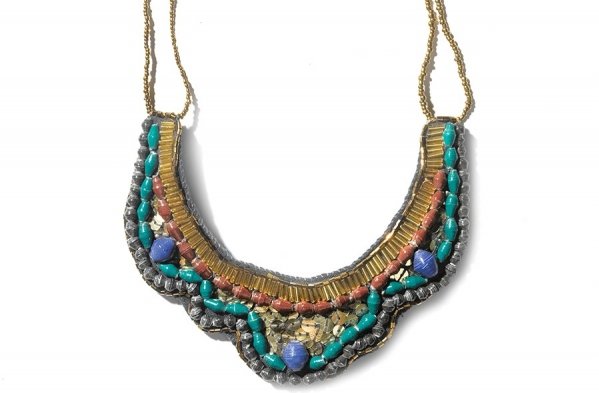 This incredible necklace is part of the Tom's Marketplace and was made by Bits. Every piece made by Bits is handmade by women in Northern Uganda and is dedicated to giving fair income and financial counseling to these women. Although I picked this neckless for the list, almost every article of jewelry in the Tom's Marketplace is pretty much the best thing ever. Treat yourself and support these women at toms.com.
With all the incredible things that Tom's has to offer, it is hard to only pick nine. Knowing that my purchase will also help those in need makes every product that much better. What are some of your favorite retailers that give back?
---
Comments
Popular
Related
Recent