7 Ways to Add a Touch of Class to Any Outfit ...
By Rosalina • 5 Comments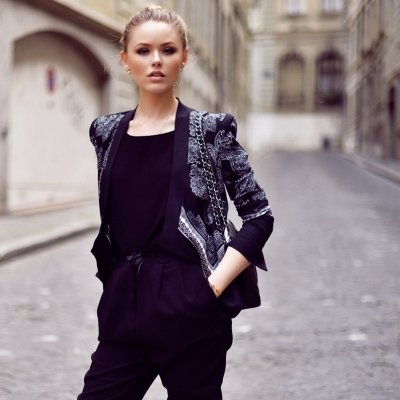 There are many simple ways to add a touch of class to any outfit and you don't need to have the bank balance of a movie star to achieve a classy look any time of the year. Here are some ways to add a touch of class to your look without having to spend all your life savings on expensive items.
---
1

Pretty Pearls

Coco Chanel once said, "A woman needs ropes and ropes of pearls." Whilst I agree that pearls add a classic and classy edge to any look, I don't think you really need ropes and ropes of them, unless you really want to! If you look at pictures of Jackie Kennedy from the 1960s, you can see how beautiful she looks with pearls. They're a simple yet classic accessory and are one of the wonderful ways to add a touch of class to your outfit.
---
2

Heavenly Heels

Victoria Beckham said that she can't concentrate in flats and I totally empathize with her. I actually can't wear shoes which are super flat as they hurt my back and I could never achieve that Audrey Hepburn ballet-flat belle look because I'm about twice her size. However, when it comes to heels, I love to wear a beautiful pair with jeans in the evening and they can instantly make you look and feel fabulous.
---
3

Sexy Scarf

A scarf is a really easy way to make your outfit look chic. A seemingly boring and plain outfit of jeans and a sweater can be taken from drab to fab in a matter of seconds just by adding a beautifully printed scarf. Try it!
---
4

Simple Accessories

Simple accessories are über classy too. Although I am a huge fan of statement accessories and jewelry, I am also a fan of understated and chic accessories, such as a classic pair of studs. So, it might be a little extravagant but ask for a pair of diamond studs for your next birthday for a present that will last you forever!.
---
5

Big Shades

Jackie Onassis was the queen of class with her oversized shades and many stars are seen out and about with their oversized sunnies, mostly because they don't want you to see the evidence of the late-night partying and excess! Invest in a gorgeous pair of shades for when you want to feel like a superstar and more importantly, to protect your eyes from those harmful UV rays.
---
6

Ravishing Red Lippy

Red lipstick is a simple way to make you sizzle and can make you look so classy. And don't worry if you can't pull off the classic red shade as there are many red shades to suit every colouring. So, in the words of someone unknown, "put on some red lipstick and live a little"!
---
7

Sexy Smile

Audrey Hepburn said, "Happy girls are the prettiest," and she was right. A smile is free and is the easiest way to add a touch of class to your outfit. Don't opt for the moody and smoldering Victoria Beckham look, although no one does it quite as well as she does. Go for a super sexy smile for an economical way to add a touch of class to your outfit.

These are just a few simple ways to add a touch of class to your outfit. Can you think of any more?
Show 5 Comments
Popular now
Recent
---