Bold sunglasses are just one way to update your summer look this season. Lately there's been a trend for sunglasses with thicker frames and in more unusual designs. If your outfit is fairly basic, add a bit of flair with a bold pair of sunglasses. Take some inspiration from the following stylish bold sunglasses.
1

Flat Top round Sunglasses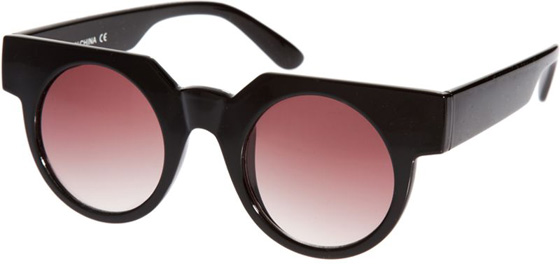 Price: $27.00 at asos.com
These bold sunglasses have been given the flat top treatment. They have chunky black plastic frames which have rounded lenses and a striking flat top design. These funky black sunglasses will give your summer outfit some contemporary flair.
2

Cream Square Oversize Sunglasses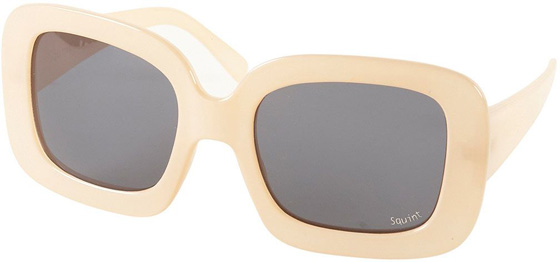 Price: $50.00 at us.topshop.com
Lighten up the mood with a pair of cream or white sunglasses this summer. These ones by Squint Topshop have a square oversized design with a metal lower rim. They'd look great worn with this season's must-have pastels.
3

Cat Eye Sunglasses with Cut Away Detail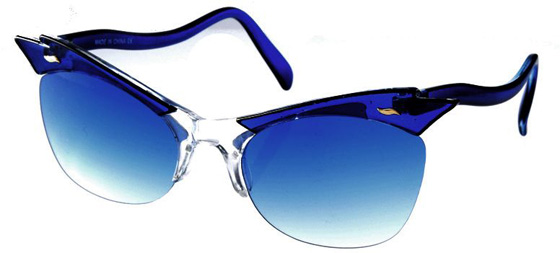 Price: $21.00 at asos.com
Add some much needed va-va-voom to your outfit with these bold sunglasses. They have a daring cat eye design with a two-tone top frame and slim wavy arms. The cool shade of blue is also a must-have. Team these sunglasses with a surf-inspired outfit for a beachy look, or with a vintage dress for something more retro.
4

Cheap Monday Cats Eye Sunglasses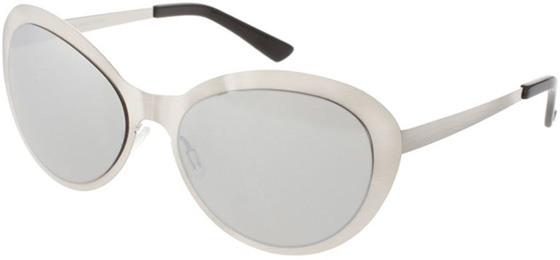 Price: $32.00 at asos.com
These sunglasses have a certain futuristic vibe to them. Luckily, the futuristic look is having a trending moment right now. These sunglasses have an oversized design and feature metal round frames and polarised lenses. Pop them on with an all-white outfit for a crisp look.
5

Jetset to Go Sunglasses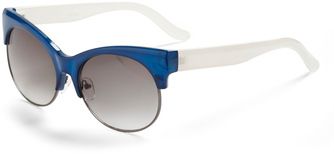 Price: $11.99 at modcloth.com
Anything two-tone is hot right now, and these bold sunglasses are no exception. These sunglasses have a vintage-inspired design with blue frames with white arms. They'd look great teamed with patterned top or dress.
6

Striped Wayfarer Sunglasses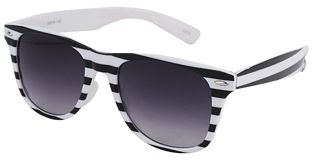 Price: $5.80 at forever21.com
These striped sunglasses are a bold take on a classic design. The wayfarer is timeless, but the striped pattern is a fun twist. One tip: avoid wearing these sunglasses with a striped top!
7

Espresso Yourself Sunglasses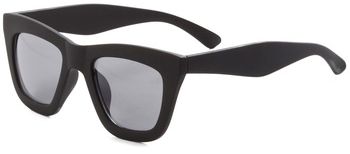 Price: $11.99 at modcloth.com
These bold sunglasses are deceptively simple. They have thick plastic frames with a matte black finish. They design is edgy and very 'now'. Team them with a denim shirt and coloured jeans for a cool, contemporary look.
8

Illesteve round Acetate Sunglasses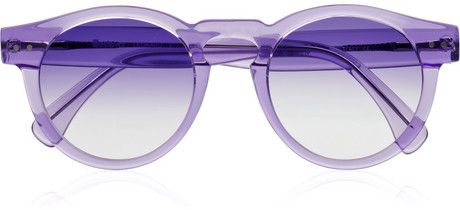 Price: $165.00 at net-a-porter.com
If you want to update your outfit, one of the easiest ways to do so is with a pair of coloured sunglasses. These come in a fresh violet colour with transparent frames. Wear them to brighten up a monochrome outfit or as the final touches on a colour blocked outfit.
When it comes to sunglasses this summer, the bolder the better! Thick frames are great for making a statement, as are interesting design elements. Which of these stylish bold sunglasses would you be willing to try out?
Top Image Source: pinterest.com