If you're stuck for wardrobe inspiration this month, look no further than these celebrity looks we loved. We've trawled through hundreds of great and, err, not so great outfits to bring you the ones that we are totally lusting after, so that you can pick your favorite elements and give your wardrobe a much needed end-of-year update. So, here they are – the celebrity looks we loved the most this month. Do you agree?!
---
1

Rosie Huntington-Whiteley…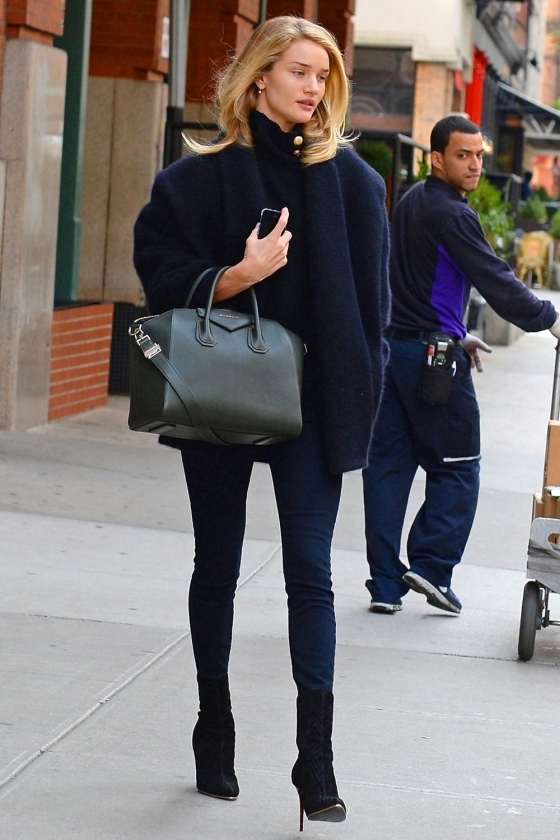 This has to be one of the celebrity looks we loved the most this year, let alone this month! Rosie Huntington-Whiteley does off-duty chic so well that she's even getting checked out in the photograph. Skinny jeans, an oversized navy cape, an oversized black bag, black ankle boots…it's all so effortless, yet so stylish. Definitely a look to steal.
---
2

Paris Hilton…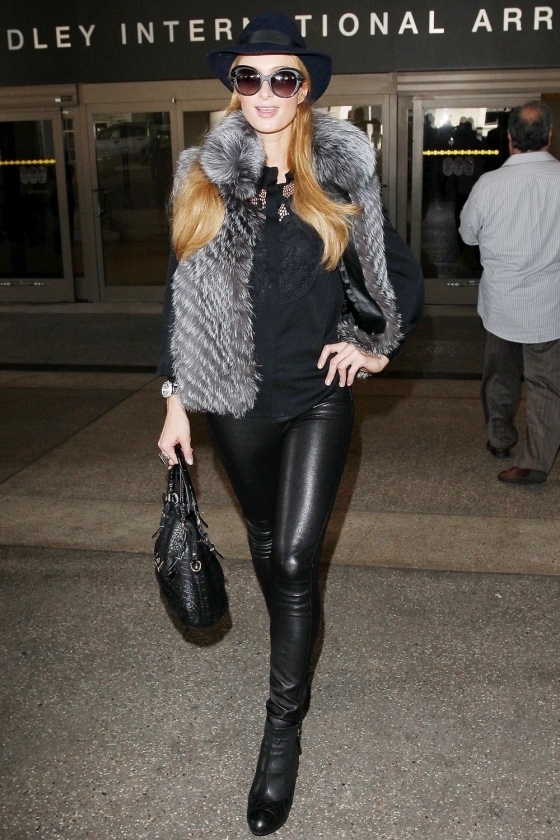 Yep, Paris Hilton. I can't remember the last time I saw her in the best-dressed lists either, but I have to say that I agree here! Paris rocked some serious style jetting into LAX in October. Leather trousers, a black shirt, a gray gilet and a black trilby aren't easy to looks to carry off, but she keeps it casual and stylish, and she looks casual and comfortable. Win.
Trendinig Stories
More Stories ...
3

Olivia Palermo…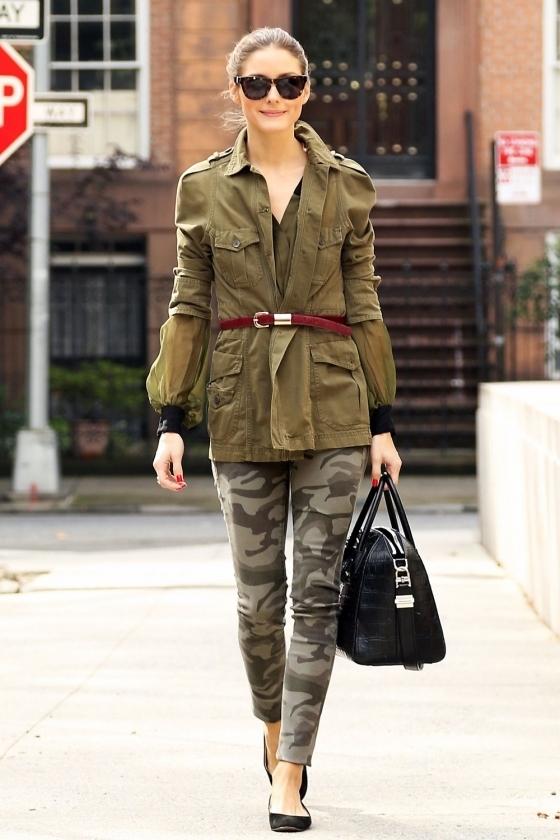 Olivia worked the camo trend in New York last month, and her outfit seemed to truly divide the masses. Mixing tight camouflage trousers with a loose khaki shirt and jacket combo was risky, but matching red belt and nails add a touch of glamour, and her ballet flats bring the look back down to earth. Which side are you on, though? Is this just right, or should camo be kept to just one item?
---
4

Alessandra Ambrosio…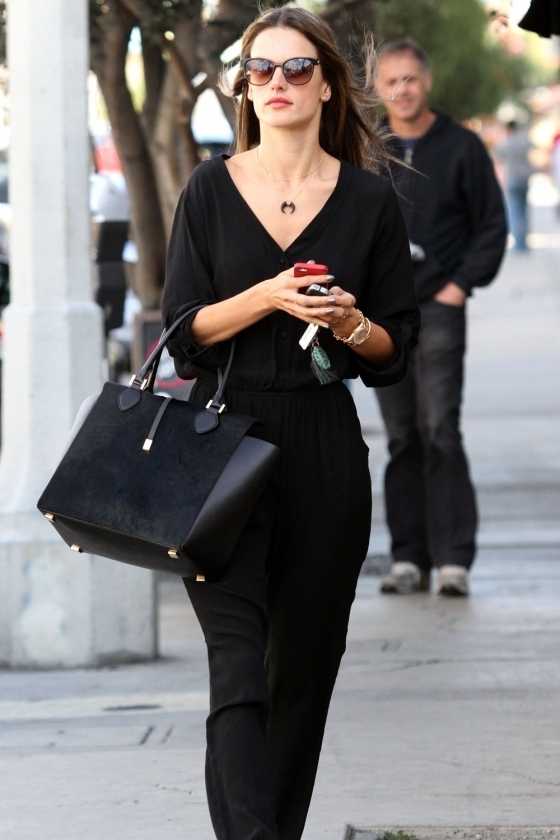 Alessandra looks utterly gorgeous out lunching in Beverly Hills in this classic dress. There's a definite hint of Audrey Hepburn in that wide V-neck and mid-length arms, and the dress is tight without being too clingy. Add in an oversized yet classic black bag and some delicate jewellery, and Alessandra has an effortlessly feminine look. If it wasn't for the sheer amount of phones she's juggling, she'd look utterly timeless.
---
5

Miranda Kerr…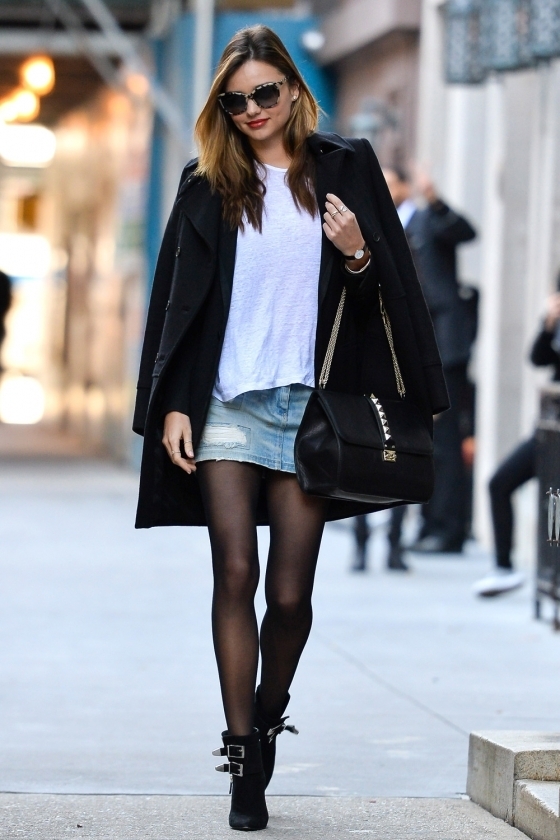 Miranda Kerr showed us how to do denim miniskirts in New York, and she even managed to add some leopard print in! An oversized white t-shirt and big black coat keep her frayed denim mini looking casual, and that big black bag perfectly accessorizes her leopard-print glasses. Less is definitely more when it comes to miniskirts!
---
6

Gwen Stefani…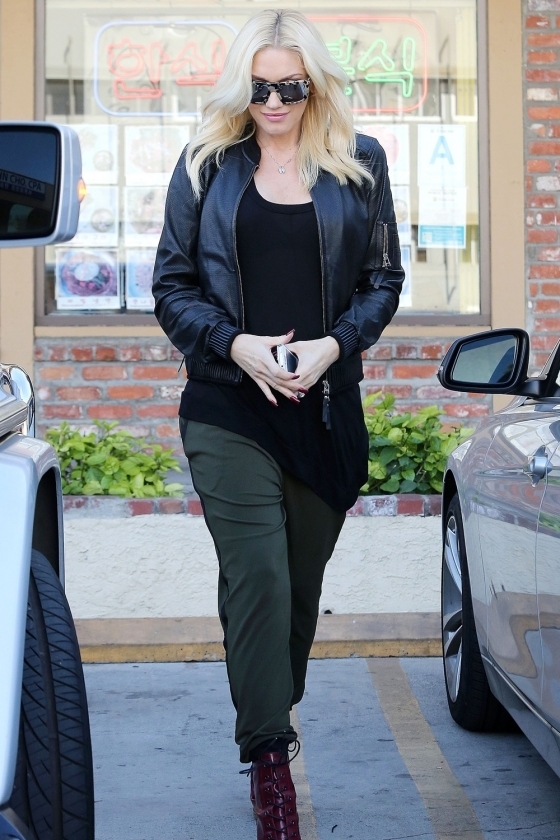 Want to rock sports luxe? This is how to do it. Gwen opts for lace up boots teamed with casual trousers, a black vest and a leather jacket. The look is softened with natural makeup (it's much lighter than Gwen normally wears!) and groomed but loose hair. Chic.
---
7

Jessica Alba…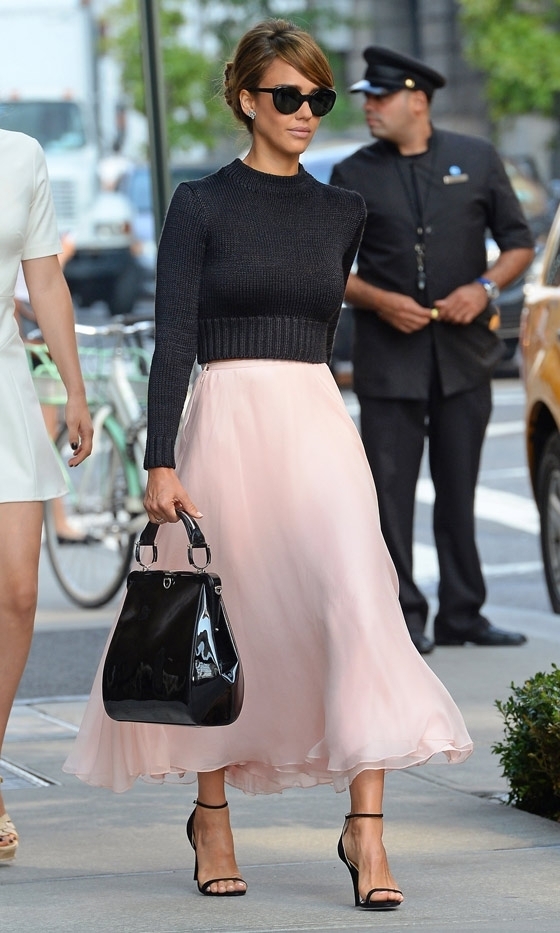 There were loads of celebrity looks we loved this month, so choosing the last one was hard! For style inspiration purposes, it's this great outfit by Jessica Alba, though. Brighten up your winter wardrobe by teaming long floaty dresses with tailored jumpers and strappy heels, and keep a warm scarf in a big bag. Don't be afraid to mix your colours, either – black and pastel pink here look great!
Which of these celebrity looks we loved was your favourite? And who do you think we missed? Leave a comment with your thoughts, and I'll definitely keep your suggestions in mind when I'm making the next list…now I'm off to use these celebrity looks we loved to update my wardrobe. ASOS, here I come!
---
Comments
Popular
Related
Recent