7 Helpful Tips for Shopping Sample Sales ...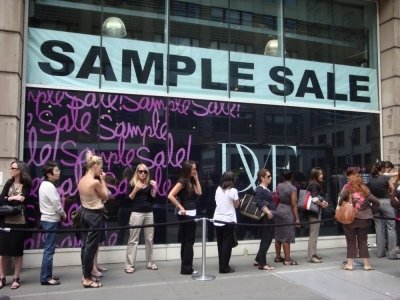 Shopping sample sales can be daunting, even for the most seasoned shopper. Some people love a good sample sale while others baulk at the thought. Sure, there's always the lure of designer goods at massively reduced prices, but are you willing to spend your day in queues or elbowing crowds of bargain-hungry women? How exactly are you meant to keep your cool when there are bargains to be had at every turn? Check out our top tips for shopping sample sales.
Shopping sample sales usually occurs on a first come, first serve basis. It pays to arrive early to ensure that you don't miss out. If the sale has been heavily advertised or is a popular designer (think Manolo Blahnik, Christian Louboutin etc.) then either get there early or be prepared to queue. Set those alarm clocks and plan your travel routes!
Before you head to a sample sale, it helps to do a bit of research. See if what's on offer are actual samples or overstock. Samples are usually things that never made it into production so they could be one of a kind or the quality could vary. For clothing, samples usually come in small sizes. However, if it's overstock, then it's merchandise that didn't sell and usually comes in a range of sizes. Also go into a sample sale with an idea of what you want to buy. If you're not familiar with a designer, it helps to browse past season collections to get an idea of what's on offer.
3.

Dress for the Occasion
Sample sales often have makeshift dressing rooms with hardly any privacy. Wear comfortable clothes that are easy to put on and take off. Avoid wearing things like stockings and belts that can get in the way. Aim to wear separates, and try wearing fitted clothes in case you need to try something on over your clothes. Slip on shoes are also a good choice.
Sample sales hardly ever offer refunds so make sure that what you're buying is exactly what you're after. Check for any damage like stains and rips before you buy something. If something is damaged, ask yourself whether it's worth buying and repairing.
Friends come in handy at sample sales for many reasons. They're an extra pair of eyes, an extra pair of hands, will give you honest feedback, and you can hold each other's spots in queues if one of you needs a break.
Some sales might not have card facilities available. Having cash on hand can make all the difference between bagging that designer bargain or not. If a sale has been advertised it will usually say what payment methods are accepted so it's always worth checking beforehand.
The lure of designer goods at massively reduced prices is enough to make any sane woman go a little bit crazy. An orderly queue can quickly descend into pushing, shoving, and general bad behaviour. Don't believe me? YouTube has proof. Sample sales can be pretty ruthless so please, please, please, remember to behave yourselves. Shopping might feel like it at times, but it's not literally meant to be a blood sport.
Sample sales are a double edged sword. They could prove to be a buyer's heaven but they can also be pretty brutal if you don't know what you're doing. Do you have any tips for shopping sample sales? What are your best sample sale purchases?
{{#comments_count}} Show Commnents ({{comments_count}}) {{/comments_count}}