Yesterday I found the perfect maxi dress to wear to my sister's beach wedding; it's long, has a summer, ocean feel to it, and just puts me in the mood to relax with my toes in the sand! I love the tropical blue and green colors and just can't wait to show if off. It was also on sale at Kohl'sfor $42.00 from Apt. 9, which is one of my favorite brands. Do you have a beach wedding to attend this summer, or maybe you're just looking for a dress to relax in...
---
6

Light & Flowy...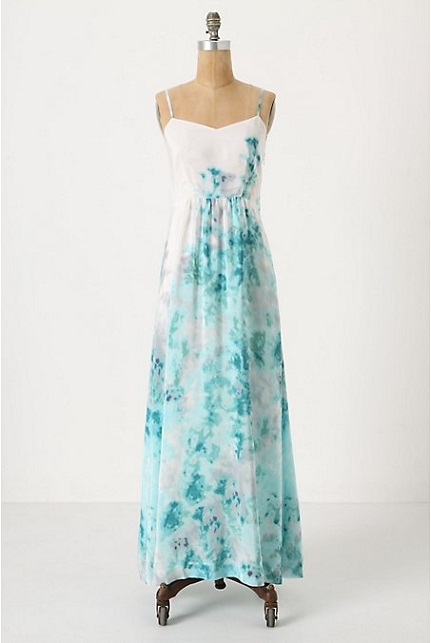 Price: $188.00 @ Anthropologie
For a** low key wedding **on the **beach **with the bride and groom in relaxed attire and all the guests sipping on strawberry daiquiris, this ocean wave **maxi dress **will put you right in the perfect mood. The light tones of the blue color just feels right for walking along the tide. Pair this flowy dress with gladiator flats and a turquoise scarffor a complete look.
---
5

Zig Zag Yellow...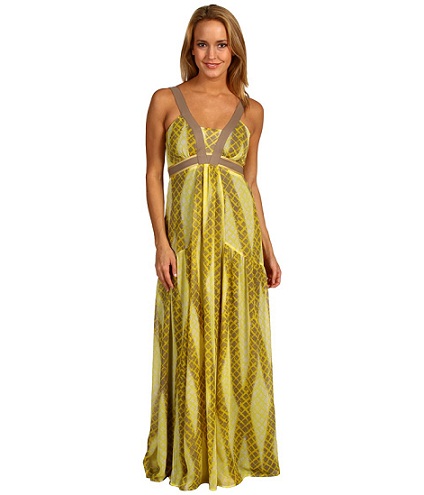 Price: $148.00 by Jessica Simpsonvia Zappos
If you're looking for a** maxi dress with a little more personality and unique style than this Jessica Simpsonyellow zig zag print may be the one to wear to your friend's **beach wedding. What I love most about this dress is how the belt around the waist ties into an adorable bow in the back. Have a fun and flirty time in this dress with matching yellow sandalsand beautiful drop earrings.
4

Tropical Florals...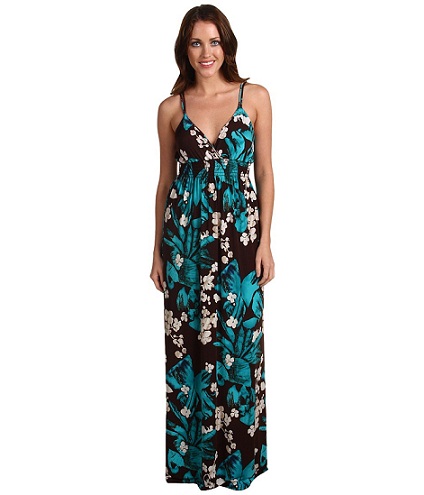 Price: $55.20 by Christin Michaelsat Zappos
The tropical flowers, the bright blues against the rich brown; does this **maxi dress **not remind you of the colors of Hawaii! In this dress you are all set to enjoy an umbrella drink, a wedding reception on the beach, and good company! With a beautiful dress like this one what other accessories would you need than a blue flower in your hair.
---
3

Classy Beach Style...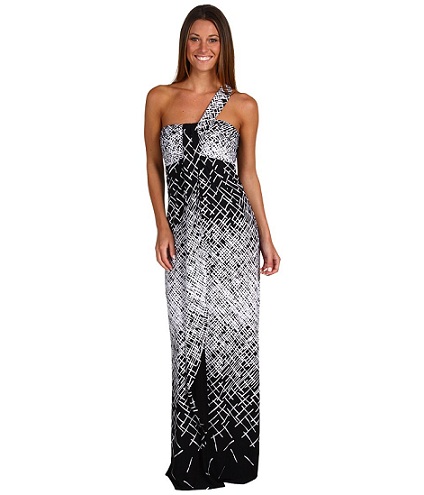 Price: $178.00 byMax and Cleoat Zappos
Perhaps that beach wedding is in the Hamptonsand you need something a bit more classy, but you still want that beached, relaxed feeling. That's what I love about maxi dresses, you can look casual and simple or classy and chic. The black and white pattern and the one-shoulder strap on this one by Max and Cleo is gorgeous and would wow the crowd and the bride!
---
2

Fuchsia Pink...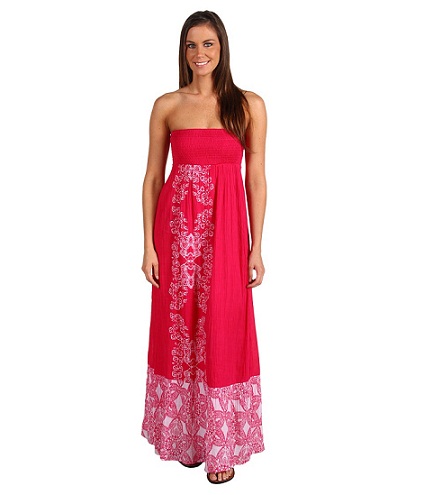 Price: $49.50 by Rip Curlat Zappos
You'll be glowing in this **pink maxi dress **as the sun sets on the romantic beach wedding in Mexico. I love the mix of patterns on the dress, it makes it more interesting than just a plain fuchsia pink dress. This would also be a pretty dress to wear to the bridal shower if you already have your dress picked out for the big day.
---
1

Colors of the Beach...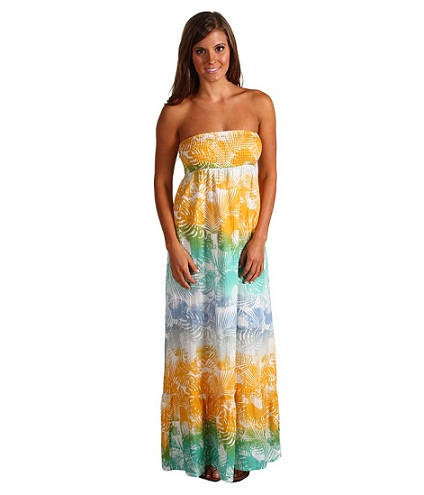 Price: $54.00 byRip Curlat Zappos
This is the perfect maxi dress to match the **colors of the beach **at your cousin's destination wedding; the yellow for the sun and sand, the turquoise for the tropical waters, and the light blue for the pretty sky above. A coral necklaceand matching sandals will complete your beachy look.
What kind of dress will you be wearing to a beach wedding this summer?
---
Comments
Popular
Related
Recent