I love to travel. Almost as much as I like to people watch. But I love to travel in style even more (and maybe do a bit of style watching on the people I encounter while traveling). Depending on the trip, I plan my luggage based on the wardrobe items needed (which is, like, everything in my closet and six extra pairs of shoes) and the length of my time away. Most importantly, when flying, I like to see my suitcase immediately in a sea of plain, boring black bags coming around the baggage claim. Here are 10 of the most fashionable luggage pieces I have found (and currently covet):
---
1

Pierre Cardin Signature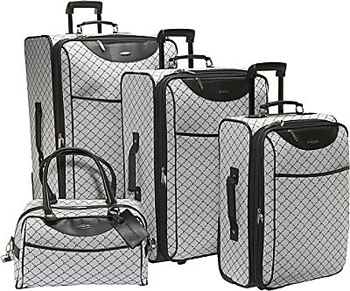 Price: $229.99 ebags.com
Ah, the traditionalist. This brown, four-piece Pierre Cardin logo-printed standard is definitely for the classy traveling broad. Durable, high-quality, fashionable… and at a great price point for those who want a matchy-matchy style while strolling through airports and train stations. The tote is the perfect size for a weekender bag too.
2

Vera Bradley Weekender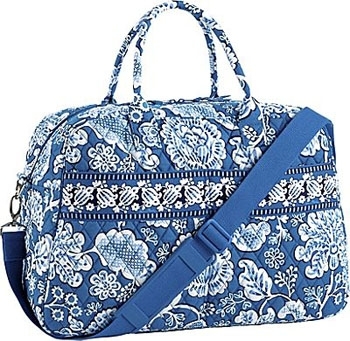 Price: $92.00 ebags.com
In a variety of colors to fit your fashion taste (or the airport outfit that you meticulously planned for two weeks), this weekender bag from Vera Bradley will fit your necessities for a couple days out of town. Best of all, there is no added bulk to the bag, rendering it undesirably heavy – and no need to use (or tip) the baggage handlers.
---
3

Diane Von Furstenberg Signature Studio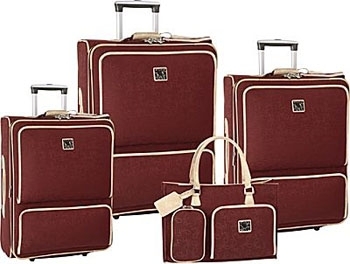 Price: $399.99 ebags.com
This modern four-piece luggage set by Diane Von Furstenberg is manufactured in understated solid colors with a subtle logo print and includes every pocket, zippered pouch and organizational compartment you could hope for. But truly, it's that tan-leather trim that makes me want to pack my bags ASAP.
---
4

Diane Von Furstenberg Signature VI Wheeled City Bag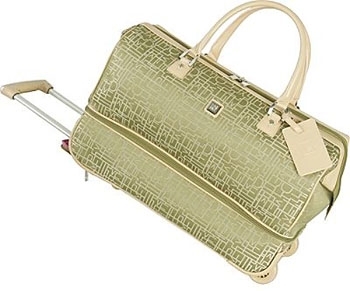 Price: $114.99 ebags.com
For the girl-on-the-go – and who doesn't need to check any luggage – this contemporary print Diane Von Fustenberg Wheeled City Bag is perfect. Because you're carrying on your "doctor bag," the bottom compartment unzips to reveal ample storage space for a laptop and items you will likely need to remove at the security gates – all without having to unpack your entire bag. I especially like the additional shoulder strap, when you need to pick up and move quickly (like, running to the gate because you missed your boarding call AGAIN).
---
5

American Flyer Fleur De Lis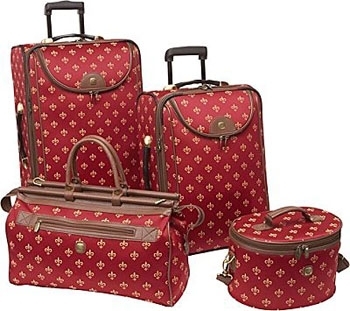 Price: $274.99 ebags.com
This set from American Flyer is certainly unique. While most contain three suitcase-styled bags at varying dimensions, this includes only two – but adds in a perfect-sized weekender tote and hat box-like cosmetics case to complete an old-world class look to your luggage. The Fleur de Lis pattern is minimalist, but recognizable from across the baggage claim, and reflects a certain "je ne sais quoi" to your travel plans.
6

Lug Life Puddle Jumper Overnight Bag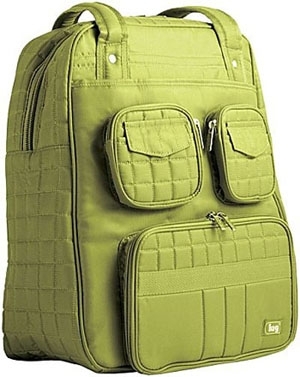 Price $79.99 ebags.com
Getting this right off my chest, Lug Life is probably the best brand name for a bag company. Secondly, their manufacturing department definitely understands the need for organization and compartmentalizing during traveling – regardless of the length of your voyage. This weekender is perfect as an overnight bag or for just a change of gym clothes.
---
7

International Traveler Shiny Zebra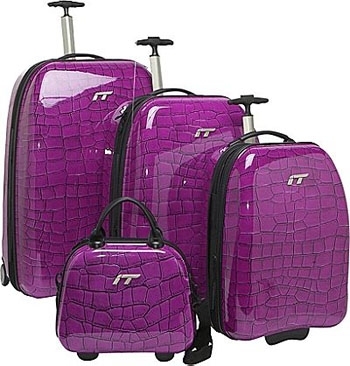 Price: $450.00 ebags.com
This four-piece, zebra-print luggage set by International Traveler has animal instincts and is easy to spot in the wild. Its shiny, high-impact, polycarbonate shell takes a beating from the elements and environmental damage naturally occurred in airports, train stations and travel platforms worldwide. Or just the predatory baggage handlers.
See also: Shiny Croc Set ebags.com
---
8

LeSportsac Luggage 30" Wheeled Duffel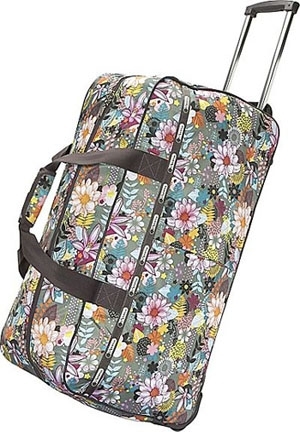 Price: $180.00 ebags.com
Created in a variety of colors and prints, this LeSportsac duffel is perfect for the five-day vacation (for a light packer, that is) or great for the over-packing needs of a weekend getaway girl. Carry as a regular duffel or tote along with a hidden handle and its wheels. This luggage piece is great for airports, quick jaunts from trains to platforms and easy to transport when elevators are not around.
---
9

Jane Marvel Overhead Large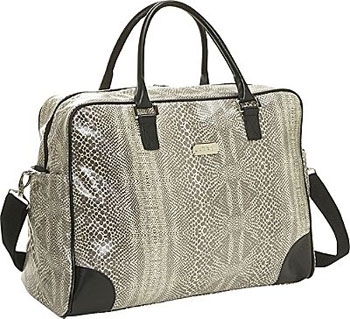 Price: $142.00 ebags.com
I love this Jane Marvel bag – the size, its print and its chic style statement (even while being a little loud in the fabric department). Most times, I just need a tote and don't need the unnecessary weight of a rolling suitcase. But merely knowing that this fits into the overhead compartment is absolutely worth the reasonable price of this luggage piece.
---
10

Pan Am Globe Print Weekend Trolley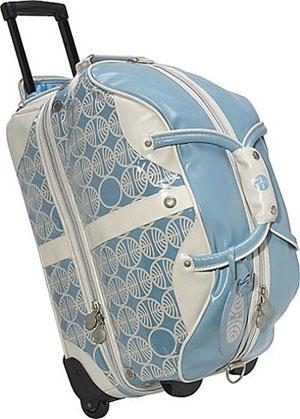 Price: $240.00 ebags.com
I'm a sucker for vintage fashion – just as obsessed as I am over the by-gone era and "old" traditions of flying. This Pan Am Weekend Trolley (in the 70s-perfect vintage olive green, of course) fits my needs for style and function, while evoking before-my-time tales of airplane travel in such a luxurious manner. But then I'm reminded of the whole "smoking allowed in the air" thing and gladly return to my style of traveling by means of funky luggage.
The best gift I could have asked for was for a more "adult" set of luggage for my 30th birthday. While I probably don't NEED a new suitcase, I cannot help but drool over how trendy the bag scene has become. But in searching for the most fashionable luggage, I definitely have some new ideas for short trip travel bags (the large wheeled suitcase is just so obnoxious for a weekend). How do you travel in style?
---
Popular
Related
Recent