It's that time of year where you're sure to be attending at least one party (hopefully a lot more), so you'll need some of the hottest heels to go with your gorgeous party dresses. There are loads to choose from this season, no matter what your style - here are some of the hottest heels that I love this winter.
---
1

Chain Peep Toe Shoes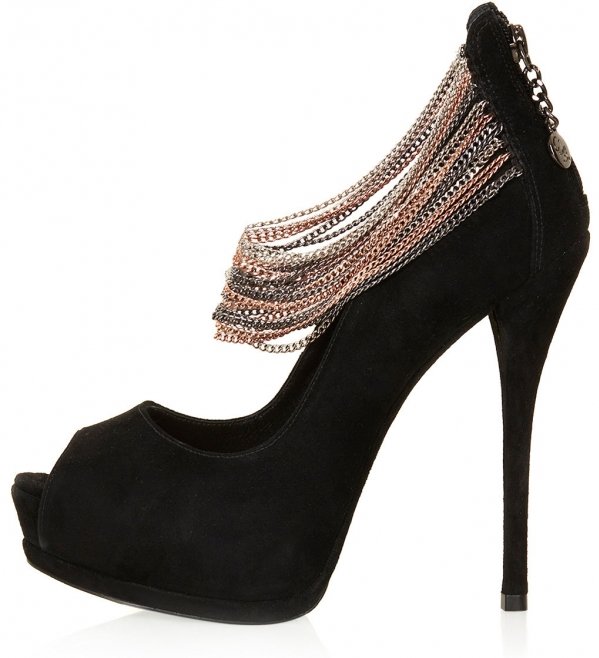 These gorgeous shoes from Topshop are cool black suede peep toes, and as if that wasn't good enough, they feature stunning multi ankle chains in bronze, silver, gold and gunmetal. They're the hottest heels around and would look great with any dress this season!
---
2

Dinner and Dancing Shoes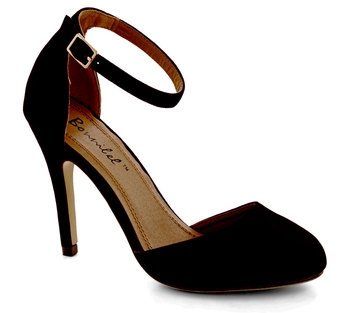 Some might call these Modcloth heels a little 'safe,' but with their black suede finish and ankle strap I think they're a little bit of old-school Hollywood glamor that would be perfect for any Christmas or New Year party!
3

Shola Platform Courts
A little bit glitzy, these gorgeous platform court shoes from Topshop feature a stunning sparkly blue glitter sole and heel. Unlike some other glittery heels, I don't think these are too in your face, as the dark blue is sparkly enough yet not over powering - I think they would look great with a navy blue or black dress!
---
4

ASOS Popsicle Platforms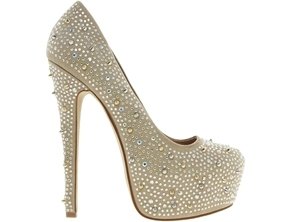 I'm sure that these sparkly shoes won't be for everyone, but personally I love nude heels, and I think the touch of sparkle is really festive! Perhaps save these for crazy nights out and parties rather than wearing them to a friend's rather more formal wedding though!
---
5

Palais Royal Patent Shoes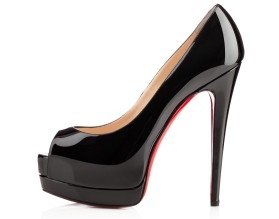 For me, Louboutins will always be a favorite - yet I've still to afford my first pair! These patent shoes are classically styled yet have a high heel, platform sole and peep toe that make them great for the party season. They're still elegant enough that you could wear them year round too, which I think makes them a great buy!
---
6

Lola Satin Strap Sandals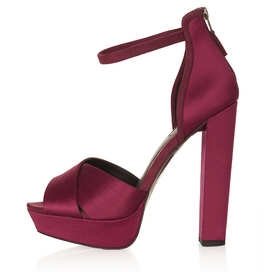 This is one of my favorite pairs of shoes - the color might not be for everyone, but I personally love the bright magenta and the satin fabric of these Topshop beauties! I would wear these all season long, to every party!
---
7

ASOS Play Platforms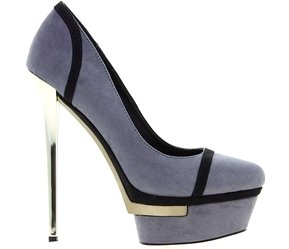 These come in grey or black - I've chosen the grey as I think it's more unusual. I love that they look like a sexier, more futuristic style of court shoe, and the metallic heel and inserts add a certain cool touch. Love these shoes!
---
8

ASOS Heighten Heel Sandals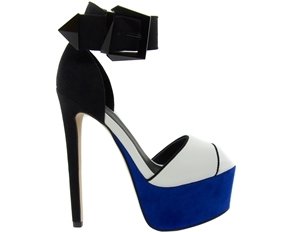 These are the kind of shoes I dream of wearing (and the kind my boyfriend tells me make him feel like Tom Cruise...). They're so high you'll probably need to pack a pair of flats in your handbag, but it's worth it as they look great! The geometric color blocking and the royal blue platform sole add a really stylish look - definitely a pair I'd love to own.
---
9

Likewise Glitter Sandals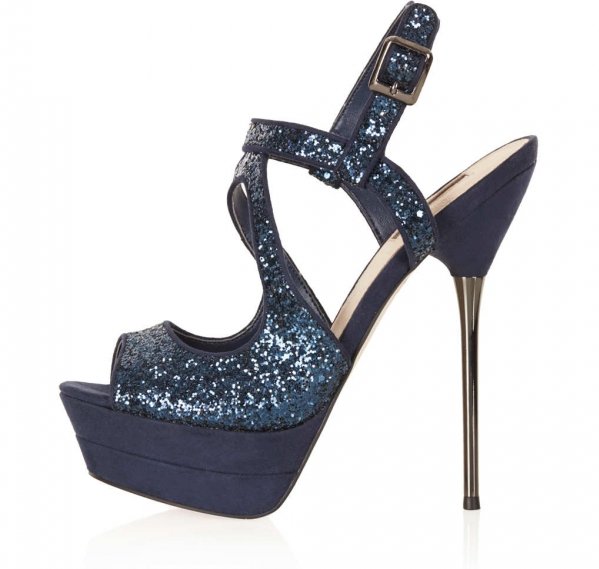 These have made the list because they're so super-sparkly, they have to be for the party season. I don't know if I would wear them personally as I think it's quite a bold look! But they would look absolutely gorgeous on a night out or at a Christmas party with a little black dress.
---
10

ASOS Hammersmith Sandals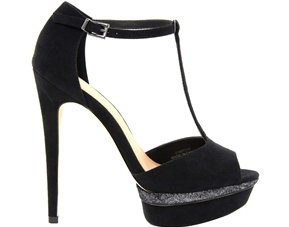 I love these suede sandals - I seem to be a huge fan of suede - and they come in black or dark blue. They're pretty enough for any night out or party and the t-bar design makes them really comfortable to wear; great for dancing!
---
11

Sadie Lazercut Peep Toe Heels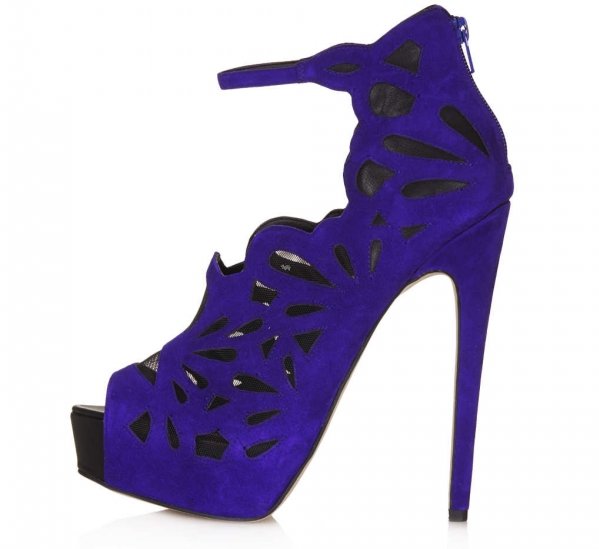 Love it or hate it, lazercut shoes are everywhere this season, and I personally love the style! These purple suede Topshop heels just happen to be my favorite color and I think they're so pretty - they would look equally great with a dress or black skinny jeans!
I'm a huge fan of heels of any kind - although sometimes I tend to have quirky tastes! I think some of these heels will definitely be making their way into my wardrobe this season though. Where do you buy your shoes from - are you a designer girl or prefer the high street?
---
Comments
Popular
Related
Recent