Ready to take a look at some of the best red carpet dresses of 2014? Barring the odd "Omg what was she thinking" attire (I'm looking at you Lena Dunham), it was a great year for red carpet fashion. Here are some of my favorites:
---
1

Lupita Nyong'o: Crimson Beauty at the Golden Globes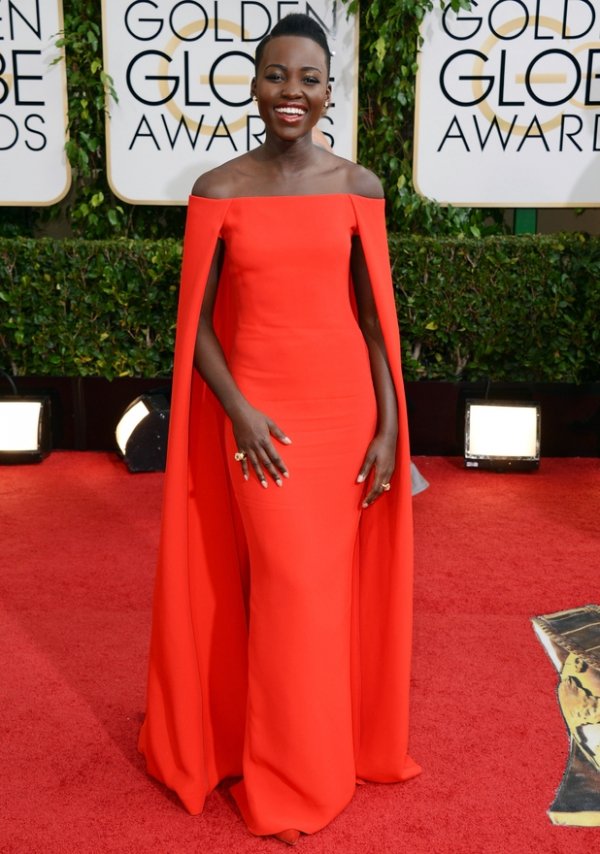 Lupita looked like a fiery superhero in this Ralph Lauren caped gown. So fabulous!
---
2

Lupita Nyong'o: Resplendent in Blue at the Oscars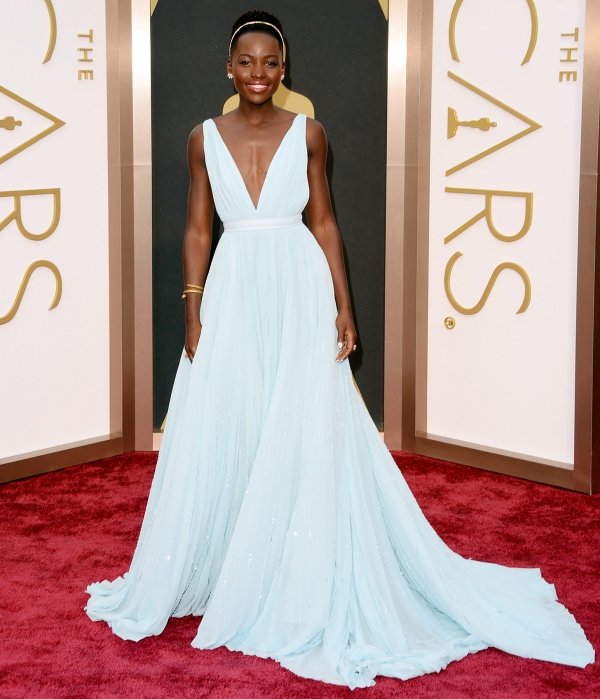 Can this woman do no wrong? She looked absolutely ethereal in this Prada gown at the Oscars. In her words, it reminds her of Nairobi's skies. All we can say is Wow!
---
3

Blake Lively: Yummy Mummy at the Angel Ball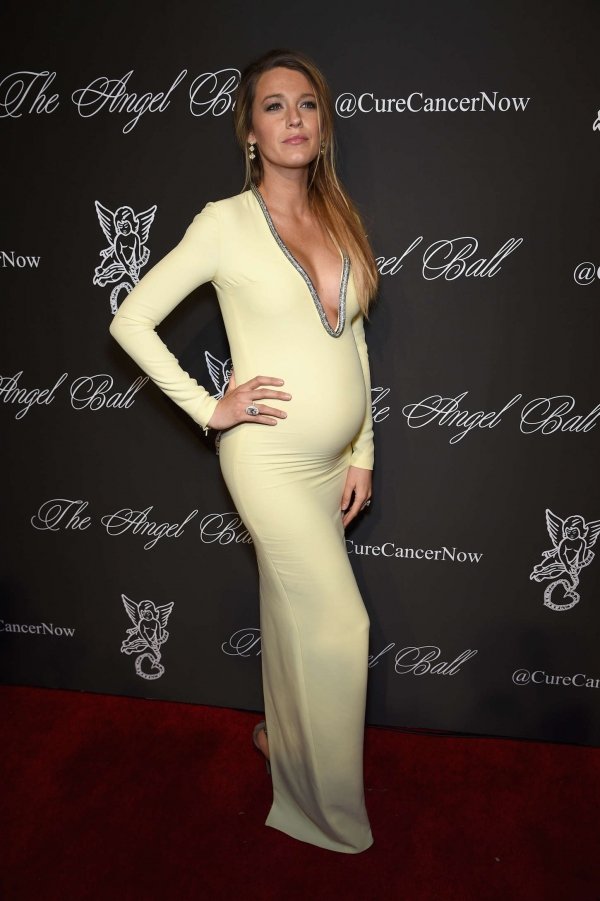 Blake Lively made pregnancy look oh-so-amazing in this Gucci gown. Hers was definitely among the most fashionable baby bumps of the year.
---
4

Lily Collins: Regal in Purple at Love, Rosie Premiere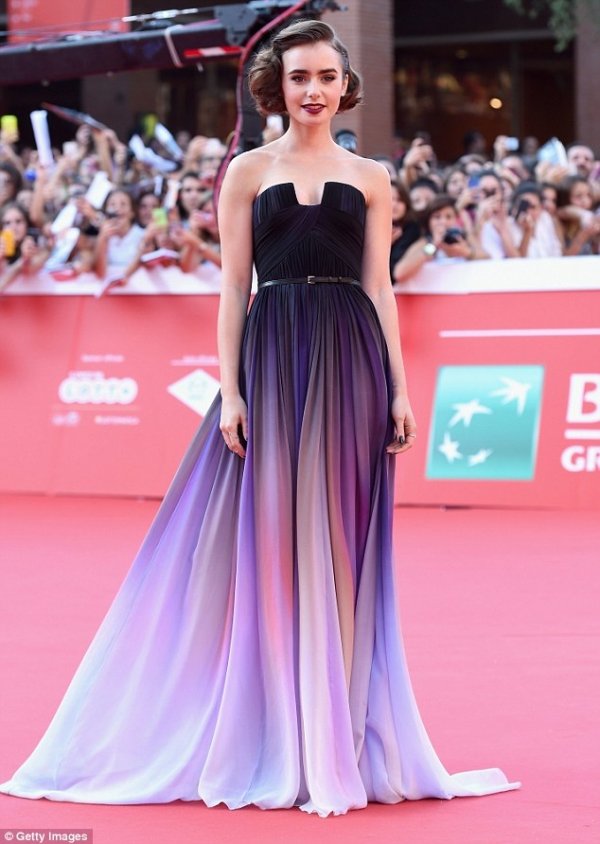 I must have that Elie Saab gown! Seriously though, everything about this look including the dress, her hair, her makeup (those lips!)... EVERYTHING was PERFECT!
---
5

Jennifer Lawrence: Red Hot in Dior at the Oscars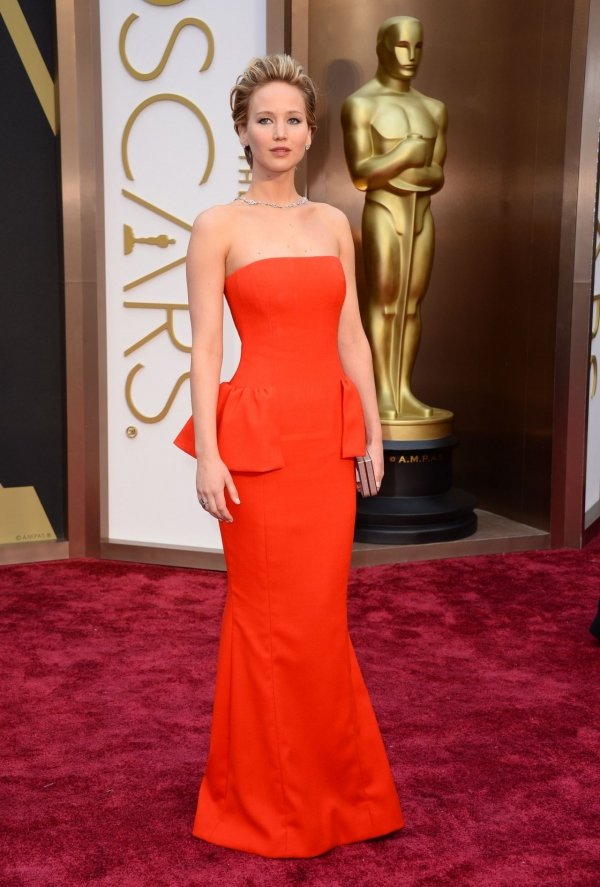 Everyone's favorite J.Law, looked stunning in this red Dior number at the Oscars. Of course she tripped again, but what's the Oscars without that happening at least once, huh?
---
6

Angelina Jolie: Shimmering Goddess at the Oscars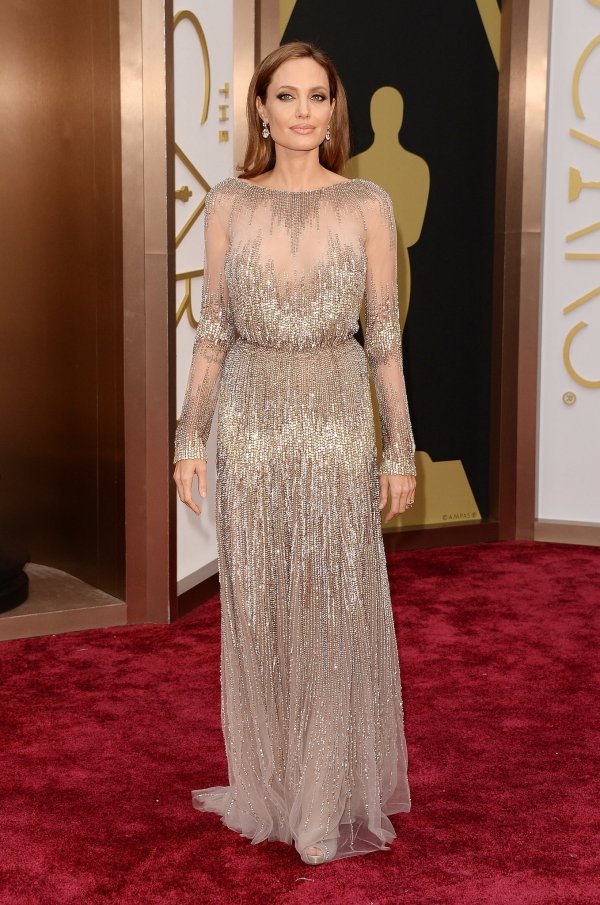 Angelina Jolie has mastered the art of looking flawless. This Elie Saab couture gown looked gorgeous on her and her minimal makeup created the perfect balance.
---
7

Amy Adams: Vision in Blue at the Oscars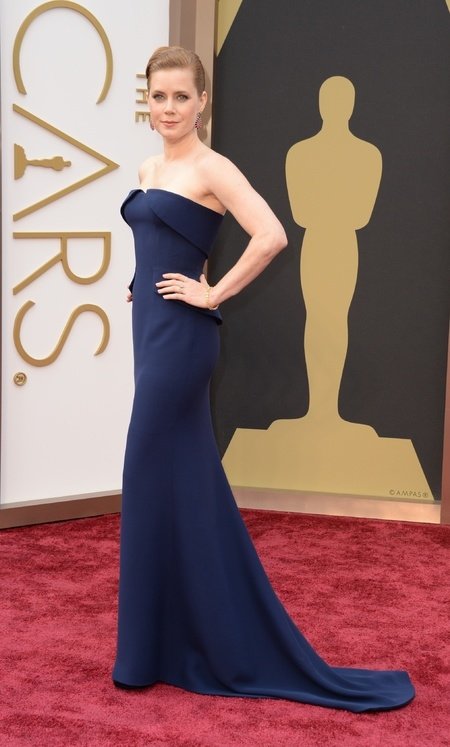 Sometimes, the simplest dresses make the most impact. Case in point: Amy Adams in this Gucci gown that fit her like a glove. Stunning!
---
8

Emma Watson: Cool as a Cucumber at the Golden Globes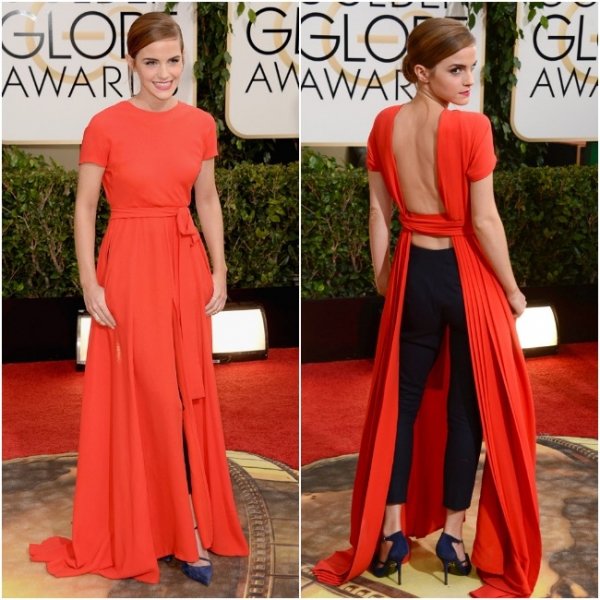 Not many can pull off this half dress, half pants look but Emma did it like a superstar! I'm not a fan of mullets (both the hair and dress kind) but this I love!
---
9

Beyonce: Bootylicious at the Grammys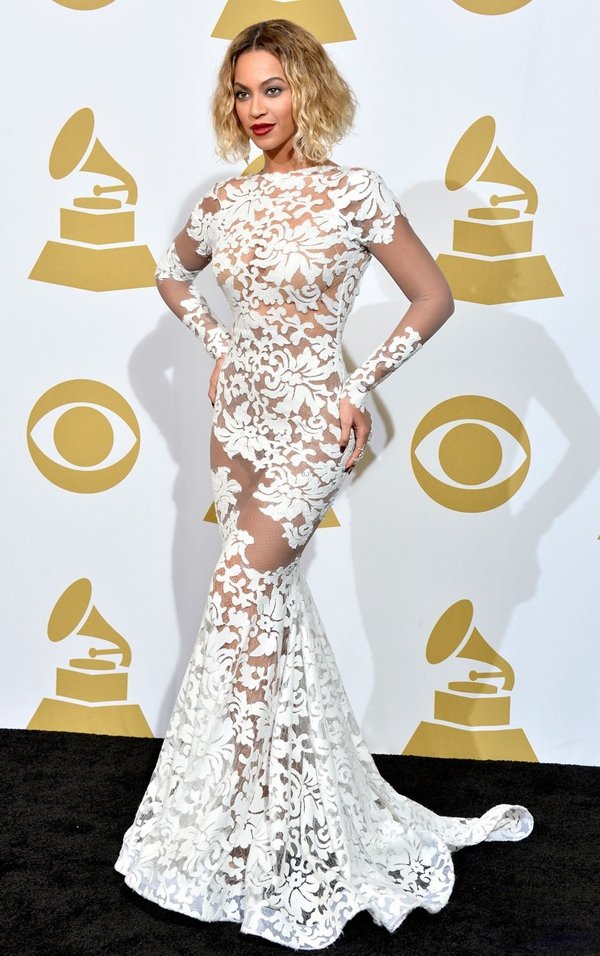 Queen Bee showed off her flawless curves in this amazing Michael Costello lace gown at the Grammys.
---
10

Rihanna: Risqué at the CFDA Awards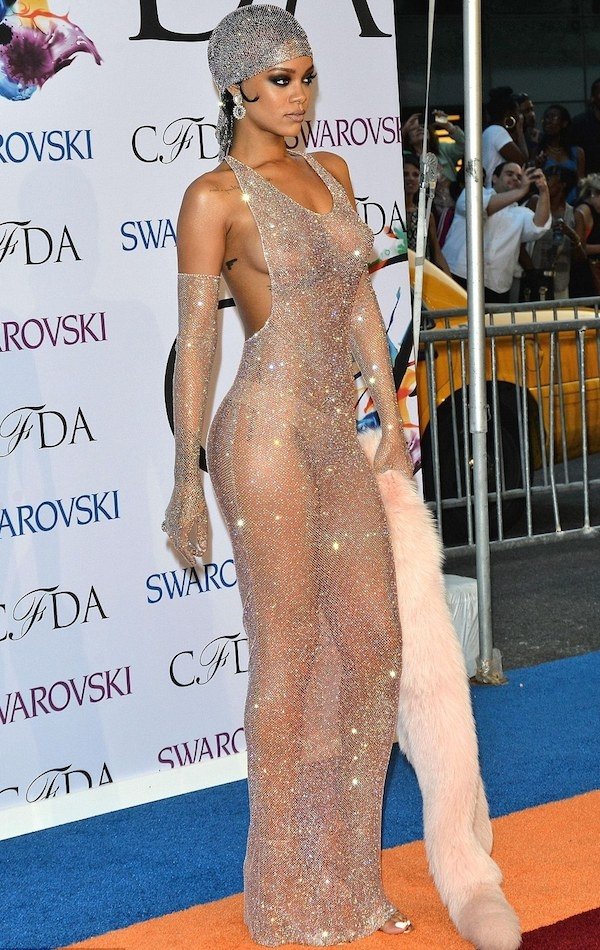 I know not everyone will agree with this addition but I thought Rihanna looked so fiercely sexy in this Adam Selman gown. Yes, it's a little OTT but only RiRi could pull this off effortlessly. Afterall, there's a reason why she won the style icon award.
---
11

Blake Lively: Showing You How It's Done at the Cannes Film Festival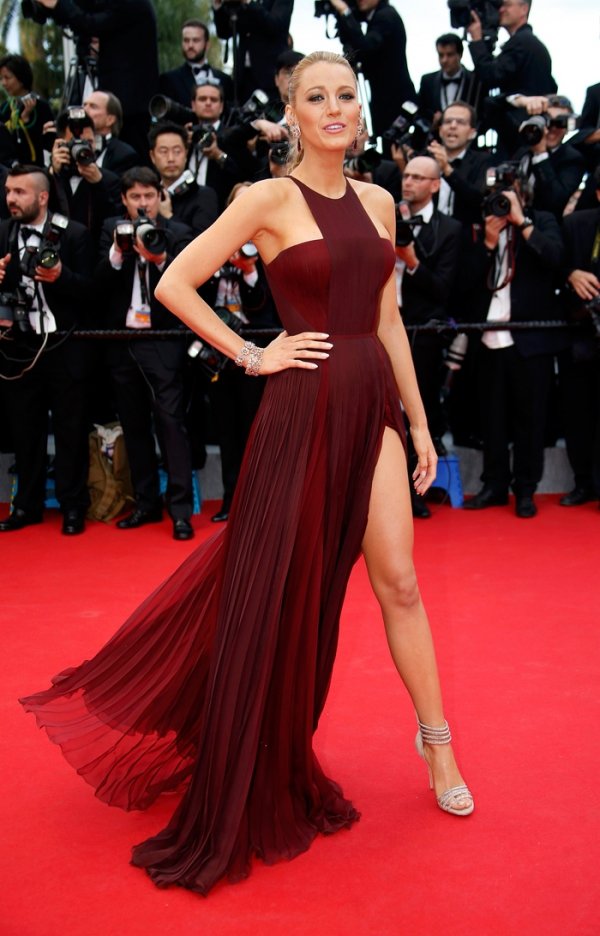 Blake was a vision in this burgundy Gucci gown. From the color (which looks gorgeous on her), to the thigh high slit, to the braided high ponytail, this was definitely one of my favorites of 2014.
---
12

Sonam Kapoor: Keeping It Traditional at the Cannes Film Festival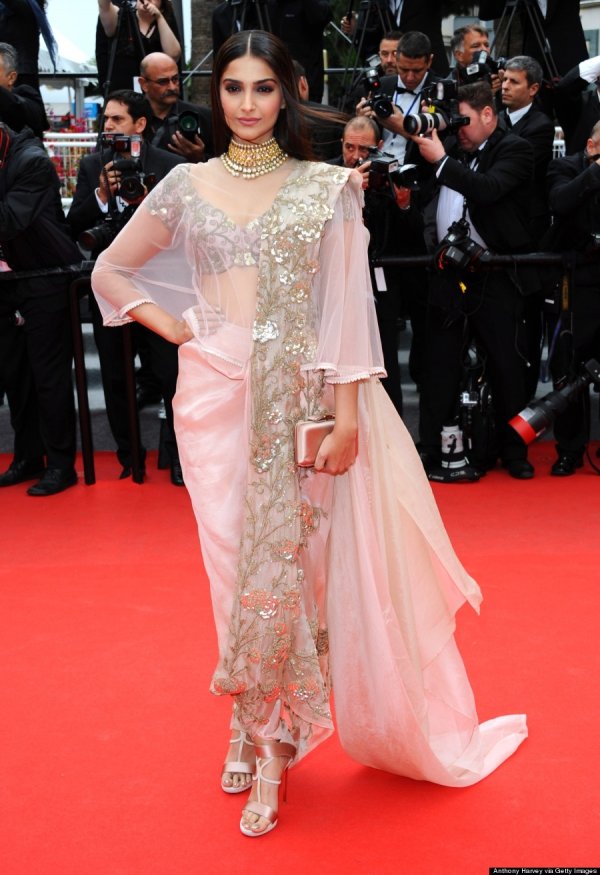 Trust Sonam Kapoor to put a spin on the humble saree and make it look so haute couture. That Anamika Khanna saree looked spectacular on her and that necklace certainly made quite the statement!
Told you 2014 was a great year for red carpet fashion! Which of these dresses made you go meh and which made you go Ooh la la?
More
---
Comments
Popular
Recent