There is nothing more lovely than a choker necklace elegantly placed around the neck of a beautiful lady. Chokers can dress up the neckline, become a focal point, or hide unwanted imperfections. When choosing a choker, it is important to make sure the choker fits comfortably and is not too tight around the neckline. It is also important to carefully select the style of the choker to compliment the style of your attire. From simple to ostentatious, a choker can make a bold statement that will set your social entrance off right. Here are 7 pretty choker necklaces that will compliment your favorite outfit.
1

Angled Rhinestone and Silver Necklace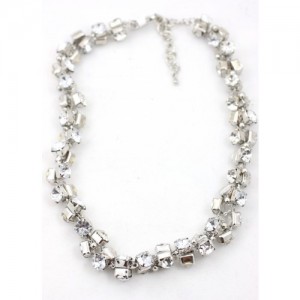 Price: $35.00 at mimisthelook.com
Add a little glitter, and a lot of sparkle and shine, to any of your formal occasions with this gorgeous rhinestone choker. It's all glam, all style, ideal for prom, homecoming, maybe even your own wedding! It's also available in gold-tone with bits of coral... both are so pretty, how will you choose just one?
2

Hematite and Metal Wreath Necklace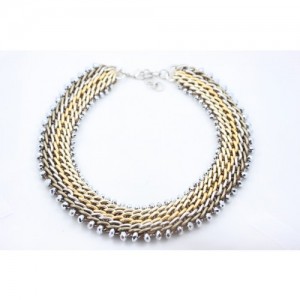 Price: $48.00 at mimisthelook.com
Hematite can be worn to dress up or dress down an outfit, especially when worn in this choker! Even if you're not sure you want to wear it as a choker, you should still consider it — with the built-in 2" extender, you can wear it lower on your neck for a more casual look.
3

Large Link Necklace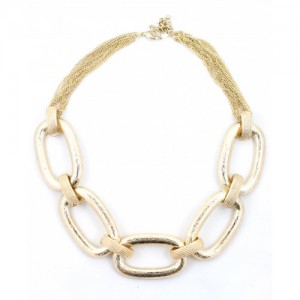 Price: $22.00 at mimisthelook.com This pretty choker has is available in gold or silver-tone, and what a statement it makes! It's very bold, and would look great with office or date-night attire. It is priced right and ready to be shipped to you!
4

Double Pearl Strand Necklace with Crystal Accent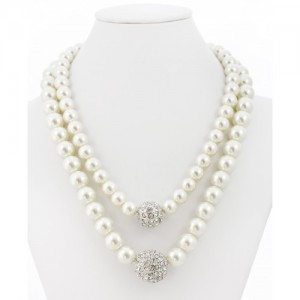 Price: $24.00 at mimisthelook.com Add this beauty around your neck and you are sure to turn heads. This elegant choker will make you the belle of the ball. It's simple design is versatile enough to be worn anywhere you go.
5

Crystal and Turquoise Stone Statement Necklace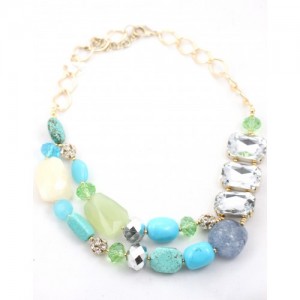 Price: $42.00 at mimisthelook.com
This elegant design brings life to your attire. It is simple, elegant and beautiful. You will be able to attend the grandest of social functions wearing this choker. Don't feel bad when your friends think you put down a hefty chunk of change for this sweet little number. I love the look of the natural stones!
6

Tribal Wood Bead Necklace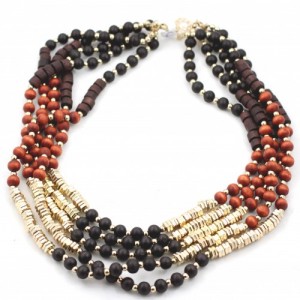 Price: $26.00 at mimisthelook.com This gorgeous wood-bead choker looks like it came from an upscale boutique in New York City so it's a total steal at only $26. Wouldn't this look stunning with tweedy shorts, knit tights, and a crisp white blouse?
7

Braided Crystal Collar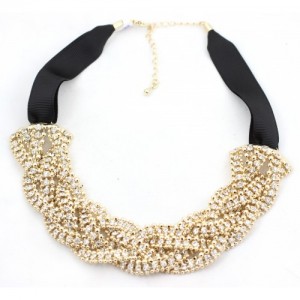 Price: $42.00 at mimisthelook.com This is my favorite of all of the chokers here — the thick braid of glittering rhinestones, the contrasting black grosgrain ribbon — these elements both work together to make it the ideal way to dress up your favorite LBD?
Use these 7 pretty choker necklaces to create your own choker collection and be ready to turn heads and wow the crowds. Chokers are fun and can be plain or fancy. They add an extra touch of beauty to your neckline and can be just the accessory you are looking for to spice up your outfit. Which style is your favorite?