The sun is finally found its way into my little town and that, my ladies, can mean only one thing – it's time to go through the collection of sunglasses I've magically managed not to lose somewhere, discard the ones that are so last (or last, last) year and start checking for some cool, trendy shades to add to my collection. Now, since I wear contact lenses with high UV protection, I base my choice on the price and my liking of a style in question. However, the ones not using contacts should make sure the shades they choose are not only cool but do a great job at protecting the eyes from the damaging effect of the sun. But enough with the lectures, you girls already know all this. So let's skip to the fun part where I'm supposed to pick my favorite chic and trendy shades to show you!
---
1

Jeepers Peepers Grace Oversized Sunglasses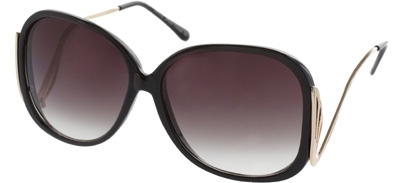 Price: $28.69 at asos.com
You can have this interesting Victoria Beckham-like style for only a fraction of the price you'd normally pay for a pair of smoking hot trendy shades with the signature of this popular ex-Spice girl. I love the "vintagy" oversized, almost square frame and the fact that they are black. A girl can never have enough of black sunglasses… especially if you're like me and tend to forget them in coffee shops, convenient stores or banks.
---
2

Carrera Visor Sunglasses

Price: $195.44 at asos.com
These girly two-toned visor glasses by Carrera are definitely the best summer choice for all the sporty, urban vixens whose idea of a perfect outfit involves Nike Air Max and the large tote with the same logo. I've seen many girls rocking the pair of Carrera shades last summer and honestly, they look totally amazing, regardless of the style chosen.
3

River Island Carrie Gold Aviator with Diamante Brow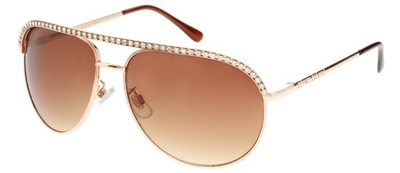 Price: $26.90 at asos.com
Now this is one pair of glam trendy shades I'd like to own ASAP! I love the way aviators look on girls and I swear some girls are even better in making them work than guys (no macho puns intended as these glasses were originally designed for men). This classic style often makes its male wearer appear strong, dominant and sexy but, as you can see, careful re-vamping, some diamante details and gold tones makes them a perfectly glam accessory that's bound to score you some serious style points.
---
4

River Island Oversized Gold Trim Sunglasses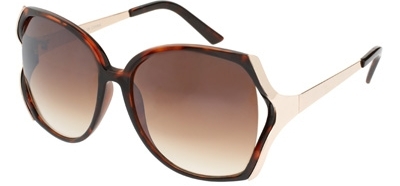 Price: $23.31 at asos.com
An oversized, modern vintage style that's going to be very popular this summer. Seriously – check the popular high-end designer sites and you'll see most of the models look like this. Now, I tend to choose cheaper models as most of the sunglasses I buy never remain in my possession longer than a month or two and I've got the UV protection part all covered with contact lenses. That, of course, doesn't mean you must pick these – investing a bit more in getting a very similar and yet, far more effective, "sunblock" you'll take care of is definitely a smart move.
---
5

Peach Small Flat Top Sunglasses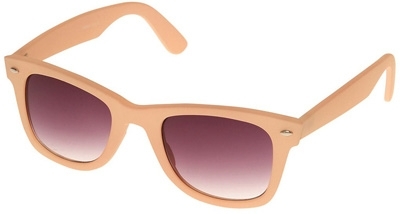 Price: $32.00 at us.topshop.com
The popular Wayfarer model has been popular for two-three years now and, the way I see it, it still has a good year or two left. So, if the lack of your ideal shade or the price of this model originally produced by Ray Ban is what kept you from getting a pair of these, do check this peachy, almost nude ones available at Topshop.
---
6

Gucci round-Frame Acetate Sunglasses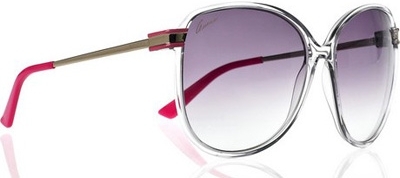 Price: $245.00 at net-a-porter.com
Oh dear, oh my! Having these fab, totally trendy shades out there, so tempting and inviting should be a sin! In fact, I think they should introduce new taxes for posting designer goodies online and invest the money in healthcare so the ones who drool over them (read: we) could receive free soothing massages and aromatic tea blends to ease the heart aches and high blood pressure!
---
7

ASOS Polka Dot Print Sunglasses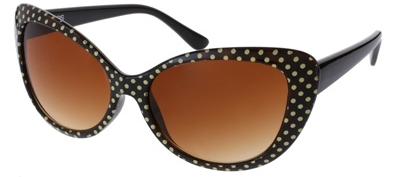 Price: $17.03 at asos.com
Vintage is hot and that means that you simply can't go wrong with a pair bold, eye-catching, retro shades like these. Polka dots or monochrome – the trick is to get a plastic, authentic-looking cat-eye frame and wear it with some of those cool vintage accessories or shoes I've been writing about in some of my previous posts.
---
8

Ray Ban Large Metal Aviator Sunglasses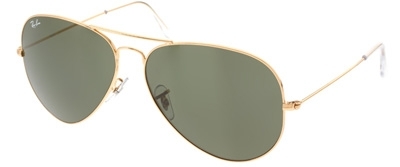 Price: $215.16 at asos.com
Well, speaking about trendy shades and not mentioning standard Ray Ban Aviators would be totally rude – wouldn't it? They are not just an accessory, they are a piece of history, a piece of fashion that will outlive us all and the best thing you can get for your dear eyes since their special G15 lenses give 100% UV protection! So, while the Gucci ones mentioned above might not be worth every penny, Aviators certainly are! Take care of these babies because your kids might want to borrow them one day too!
Have you found your prefect pair of hot trendy shades for the season? I'm currently borrowing my sister's Aviators and struggling to survive with a pair of oversized brown shades left over from last year.
More
---
Popular
Recent