I love wearing tees, especially layering them under cute cardis or blazers, or wearing them with skirts. But it's hard to find a graphic tee that's not silly or too young, which is why I adore tees by Deadworry. They're made of 100% cotton, so they're comfortable and soft, and they feature original designs that are incredibly detailed and absolutely gorgeous! If you're looking for a new tee or two for spring, keep reading! Here are 8 great tops by Deadworry (most are tees).
---
1

Deadworry Sir Fancy Rabbit Tee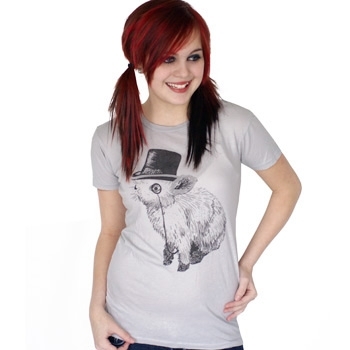 Price: $24.00 at shanalogic.com
This little bunny is all dressed up, and now he needs somewhere to go! I love his little monocle and his adorable top hat — fancy indeed! Pair this tee with a pair of black shorts, patterned tights, and a cropped blazer, or with a floral-print skirt, anklets, and wedges.
---
2

Deadworry Tentacles Hoodie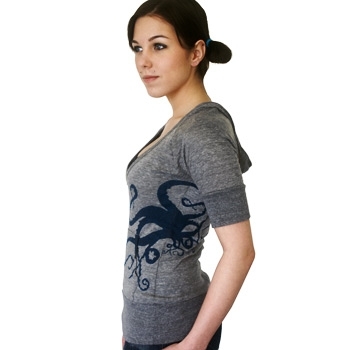 Price: $35.00 at shanalogic.com
What to wear when a tee may not be warm enough? This super-flattering and cozy mid-sleeved hoodie! It features a curly-tentacled octopus on the front and side, with a deep vee neckline and kangaroo pocket at the front. Wear a tank or cami underneath for an extra layer of warmth, too.
3

Deadworry Jellyfish Top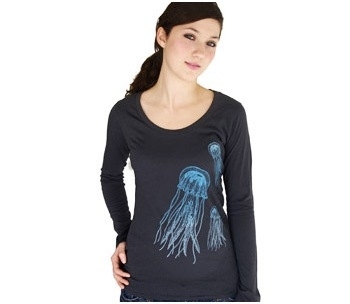 Price: $30.00 at shanalogic.com
This organic cotton long-sleeved tee boasts a trio of graceful jellyfish on a dark grey background, ideal for wearing in winter under an open-front cardi and a short skirt with leggings, or with skinny jeans. The round scoop neckline is flattering, and low enough that you can wear long or short necklaces with it.
---
4

Deadworry Antique Bicycle Tunic Top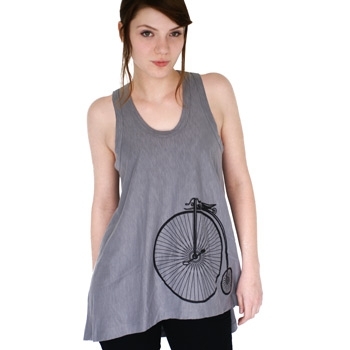 Price: $35.00 at shanalogic.com
This a-line tunic is ultra soft, comfortable, with an asymmetrical hem and a scoop neck. It's made of plush 100% cotton, with an antique penny farthing bicycle printed on the front. Pair with leggings and flats, or with a short plaid skirt.
---
5

Deadworry End Mass Production Ladies T-Shirt

Price: $24.00 at shanalogic.com
Support your favorite indie designer with this tee, letting the world know your shopping preference, and encouraging them to join the revolution! I love how this looks under my amber velvet cropped blazer, with loads of silver necklaces and skinny jeans with heels — but there are so many other ways to wear it, too!
---
6

Deadworry Grumpy Owls Ladies Tee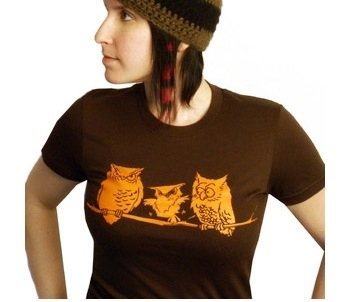 Price: $20.00 at shanalogic.com
This trio of owls is a little grumpy, and you would be too, if you were constantly being typecast as the wise, bookish, clever sidekick. Where are the action roles, the romantic parts? The design is hand printed on a brown tee by American Apparel, made of super-soft 100% cotton. Wear it on the days you're feeling less-than-cheerful, with skinny jeans and your brightest, loudest Chuck Taylors. Grr!
---
7

Deadworry Men's 3-D T. Rex Tee

Price: $20.00 at shanalogic.com
I wish they made this in girl's sizes! But I suppose them men in our lives could so with a little Deadworry style, too… and this tee features a T Rex so tough, they'll love him immediately! They'll also adore the tee because it's made of a super-soft cotton, and because it looks great with their favorite jeans, and a button-down shirt over the top, if they want to disguise their dino-toughness.
---
8

Deadworry Seahorse plus-Sized Tee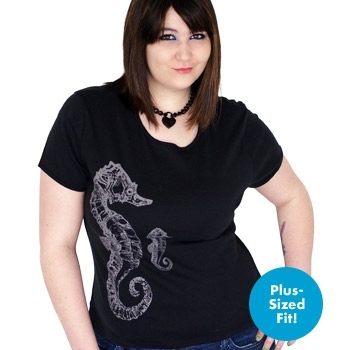 Price: $25.00 at shanalogic.com
Another reason I love Deadworry's tees? Because they're made for girls of all sizes and shapes, including the women with super-feminine curves! This tee's adorable, too, with an intricate 3D rendering of two beautiful seahorses on the front. This tee is available in XL, 2XL and 3X … so we can all wear them! Love it!
See? Aren't all of these Deadworry tees AWESOME? I love them all… but the indie-supporter one is my fave, along with the grumpy owls… eek! Which of these tops do you like best, and what would you wear it with? Please share!
---
Popular
Related
Recent