Think outside the jewelry box this season and try these 7 chic choker necklaces. Gone are the days of grunge '90s chokers, as these modern statement makers are a show-stopping accent that commands attention and offers a fashion forward touch to the season's dramatic dressing directive. From sleek and sexy hardware to over the top opulent embellishment, bib style chic choker necklaces are the new must-have additions to your box of trinkets.
Table of contents:
1

Pearl Choker Necklace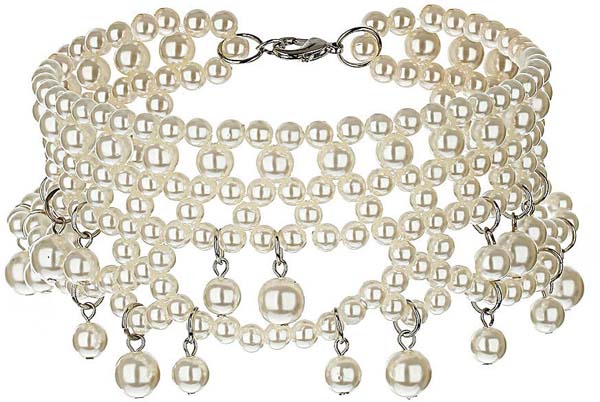 For a touch of Gothic glamour and romantic Victorian elegance, add a vintage inspired pearl chic choker necklace to your outfit to up the drama factor during day or night. Don a delicately feminine pearl choker necklace to festive cocktail parties and holiday soirees this season for style that commands attention like this Topshop choker at $25. Other chic choker necklaces can be found at Modewalk, Tarina Tarantino, Kenneth Jay Lane, Bonadrag, Lanvin and Miss Selfridge in the $30 to $1,300 range.
2

Crystal Choker Necklace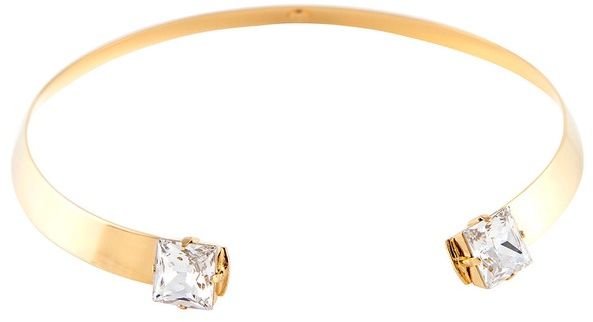 Get your shine on with a cool and edgy choker necklace with accented large faceted crystals for brilliant sparkle during the holiday season. For a simple, minimalist effect, opt for a slim glided metallic choker with crystal embellishment to maintain a downtown cool aesthetic in winter. Pair a crystal choker necklace with tailored duds for a sleek and sophisticated look for all occasions.
3

Three Row Choker Necklace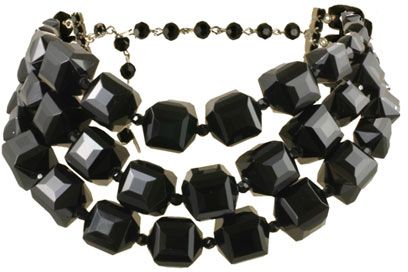 For an understated, simple and elegant option for wearing a chic choker this season, opt for a multi-strand necklace that emulates classic status and cult appeal. The effortless sophistication of a multi-strand choker necklace makes it a chic pick for your wardrobe that's office appropriate when worn with an open collared shirt or lower neckline. Dress this choker necklace up or down in your favorite little black dress or sleek pencil skirt.
4

Snake Choker Necklace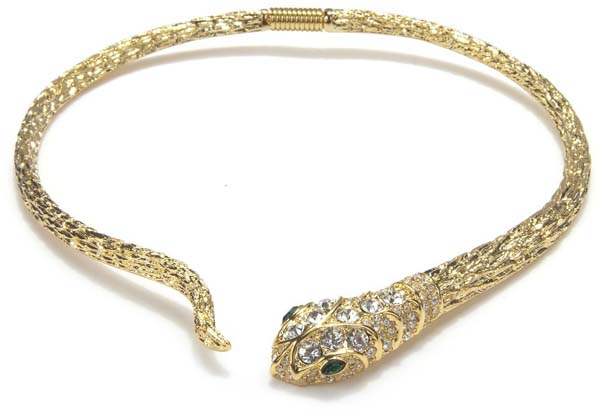 Animal motifs slither their way back into style with serpentine jewelry creations like this snake choker necklace. For opulent drama, opt for a snake choker necklace encrusted in jeweled embellishments to add that extra sparkle fit for the season and your new reptile accessory.
5

Metallic Choker Necklace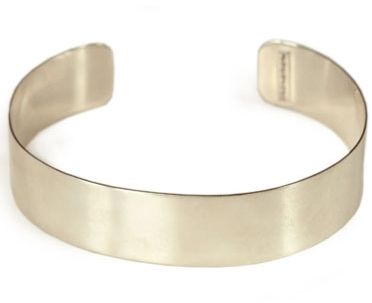 When style demands less is more, simple is always best. A brushed metallic choker necklace is a sleek and sexy statement that's effortlessly edgy and cool. To maintain a refined urbanite cool edge, sport a metallic choker necklace with casual relaxed pieces like oversized sweatshirts and graphic sweaters with skinny jeans for laid back appeal.
6

Jeweled Choker Necklace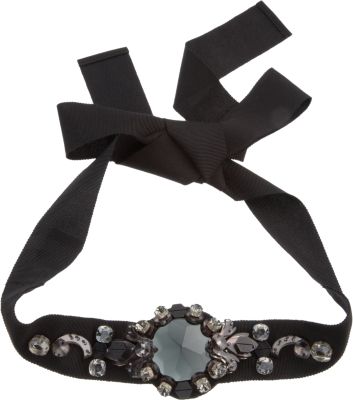 Make your grand entrance into the season with festive jeweled embellishments on your chic choker necklace. Complete all your holiday ensembles with opulent Victorian glamour and European flair in the shape of luxe beading and lavish jewels for standout sparkle. Don a fun and playful party frock with your jeweled choker necklace to stay belle of the ball all season long.
7

Tassel Choker Necklace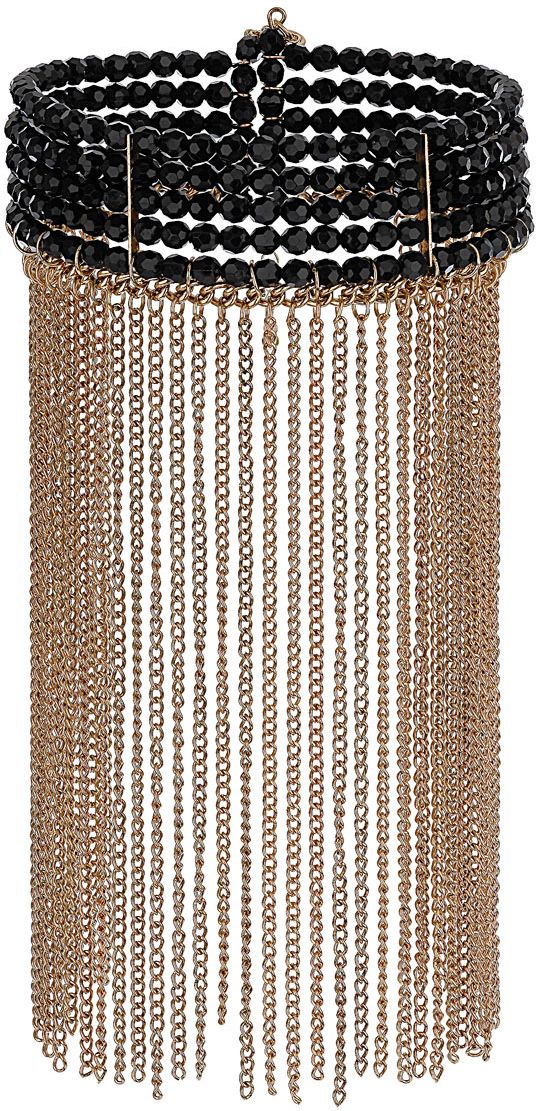 Step out in style with a tassel choker necklace adorning your neck. For a little old world charm, sport a tassel choker necklace reminiscent of medieval chains and armor to toughen up your look this season. Pair with a fitted, structured dress to make a dramatic statement that'll stun and shock onlookers while you're coming and going.
Revisit '90s nostalgia with these chic choker necklaces to don this season. With a modern update this year, these neck-centric accessories make a bold and dramatic statement that's not to be messed with. Try your hand at this leading tough trend and elevate your style from grunge to goddess. Will you be sporting a chic choker necklace this season?
Please rate this article