Being full figured doesn't mean you can't find dresses for plus size women, but sometimes shopping can be a drag, especially when you need a chic dress for a special event. You love your shape, curves, and everything about your beautiful body, but not all designers know how to make that something special you are hoping to find. There are some** dresses for plus size women that hug you where you wish they would flow and other dresses that just don't cover enough of what you have. I hope one of these 6 Chic Dresses for Plus Size Women** will be the perfect dress you have been searching for...
---
6

Pleated Floral: Chic Retro Dress for plus Size Women...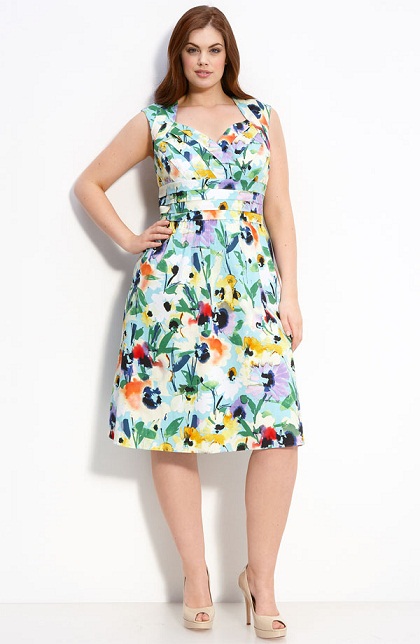 Price: $101.90 by Adrianna Papell@ Nordstrom
I love dresses for plus size women that have a retro look to them like this Adrianna Papellfloral pleated dress. In the 50s and 60s women loved showing off their curves and models and pinup girls had hips and bodies you could shake. The floral print, pleating, and shape of the neckline flatter a woman's bodyand help to show off the things she likes best about it. This would be a great dress to wear to a Spring or Summer wedding, along with any chic parties you might be attending!
---
5

Flowy Print Perfect Dress for plus Size Women...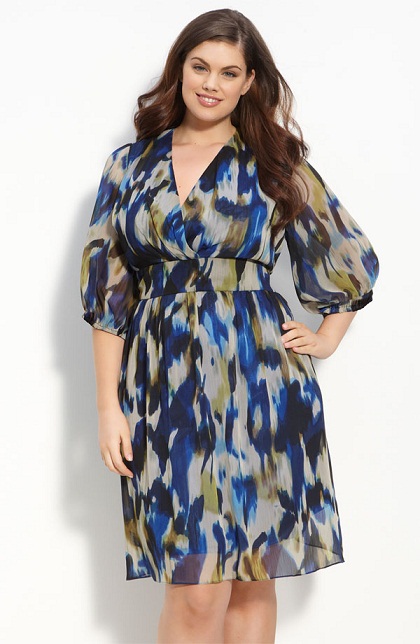 Price: $148.00 by Eliza J @ Nordstrom
Fabric that flows and bands that help accentuate our top half rather than our mid-section or hips are important things that all designers should know when making dresses for plus size women, which is why this dress by Eliza J is the perfect combination of slimmingand chic. The lovely print fabric flows away from the body as well as covers the arms and the band around the bodice gives any woman a complementing look.
4

Faux-wrap: Simple and Chic Dress for plus Size Women...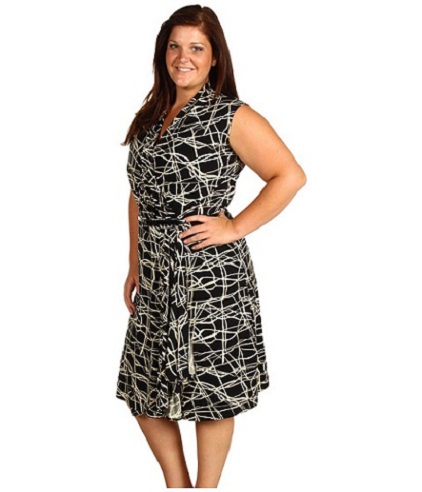 Price: $139.00 byAnne Klein@ Zappos
Sometimes we just want a nice, simple dress we can wear to work and accessorizefor night time. This faux-wrap Anne Kleindress for plus size women looks great from all angles and is the perfect length for daytime or evening. A pretty dress with a great neckline and a removable belt that can be used to help flatter your waistline. Put on a red pump, a few silver bangles, a great pair of earrings and you are set for the night life!
Continue Reading...
---
3

Sexy Black Lace: My Favorite Dress for plus Size Women...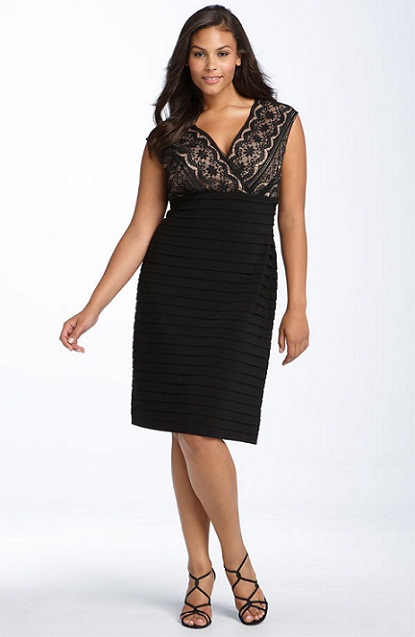 Price: $178.00 by Adrianna Papell@ Nordstrom
This tiered, banded look is one of my favorite trends, I actually have a similar dress that I've worn and have received many compliments on! This is a dress for plus size women who love showing off their gorgeous curves and feel sexy when they do. The high waist and beautiful lace-overlaid bodice give you a slimming look and a dress that hugs you in all the right places. Is this not the perfect little black dress!
---
2

One Shoulder Dress for plus Size Women...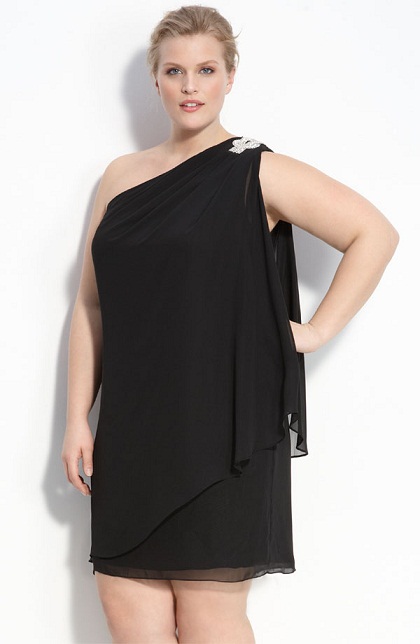 Price: $93.90 by JS Boutique @ Nordstrom
Being full figured you don't always find that dress for plus size women that gives you the glow you were hoping for. With this stunning one shoulder dress by JS Boutiqueyou will feel like the beautiful goddess that you are. Show off your legs in this short, draped chiffon dress that flows away from the body to make you feel confident and powerful. No need for accessories or strong makeup, just let the dress and your sexy body do all of the talking!
---
1

Silky Charmeuse: Stunning Dress for plus Size Women...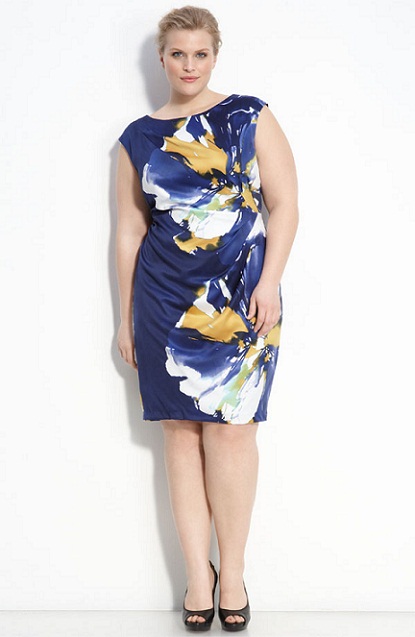 Price: $118.90 by Suzi Chin @ Nordstrom
What could you not love about this gorgeous dress by Suzi Chin! The bold flower print catches the eye and the draping of this dress is great for many plus size women who are looking for the perfect elegant dress for that special occasion. I would love to wear this dress for our anniversarynext year; I think my husband would be impressed!
There are many beautiful dresses for plus size women that flatter full figured bodies, just because we have a little more doesn't mean we should hide it with ugly clothes. But with these wonderful bodies we should also learn how to dress in a way that will complement our curves instead of wearing something that is too tight or too short. Though it may be a struggle to find them, chic dresses for plus size women are out there and hopefully with our help you have found your favorite look here!
Where do you shop for your plus size dresses and looks?
---
Comments
Popular
Related
Recent