Mod Dresses are making a huge comeback, with good reason. Mod culture and fashion have been in flux since the 1950s when the super cute trend set the stage for feminine liberation in Britain. Slashing hemlines by several inches and sporting a plethora of colorful patterns, mod dresses represent a movement in favor of feminine allure. Playful, comfortable, and a bit more modest than your typical micromini, mod dresses allow you to add a bit of flirtatiousness to your everyday wardrobe. Below are 8 cute mod dresses that truly incorporate the mod mentality.
---
1

Mod-ern Amenities Dress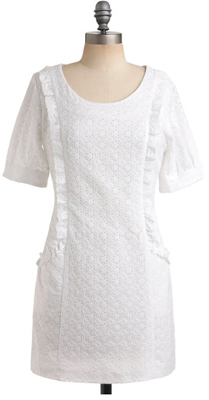 Price: $87.99 at modcloth.com
For those ladies who are still experimenting with the classic, boxy shape characteristic of most mod dresses, here's a junior edition that will help ease you into it. This eyelet, cotton shift combines a more severe silhouette with girlish frill and pomp for a mod-inspired look.
---
2

Mod Americana Dress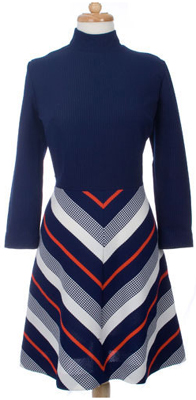 **Price: **$34.99 at modcloth.com
Behold the bright, bold patterns so lovingly associated with mod. Striped with muted plaids, stark white, and brilliant orange, this mock turtleneck dress features long sleeves, a cinched waist, and flared skirt. Get the complete look with by using a silk kerchief as a headband, and donning a pair of tangerine clip ons.
---
3

Sample 1004 from ModCloth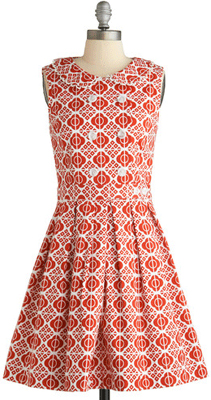 Price: $159.99 at modcloth.com
With a vintage revival in full swing, mod dresses are in demand like never before, so it can be hard to hand pick coveted items before they're sold out. Beat the crowd with at Modcloth.com, who will soon ramp up production on this delectable mini. Fashioned from festive orange and while print, this sleeveless piece allows you to show off your tanned arms, cute waist, and toned legs. Pair with a pair of Mary Janes for an oh-so-old-school look, or don with a leather jacket and biker gloves to bring it into the twenty-first century.
---
4

Lunain Block-Color Jersey Dress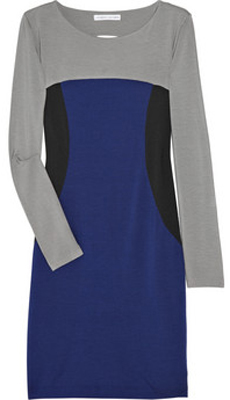 Price: $150.00 at theoutnet.com
Mod tends to be skimpy: short sleeves, short skirts, and open necklines tend to epitomize this adorable subculture. Unfortunately, this means that mod dresses are all too often summer attire. Rock this look through the winter with this long-sleeved, fully lined, color-block jersey dress. Wear with tights, leather boots, and a tight bun to mimic the look to a T.
---
5

Sweet Osmanthus Shift

**Price: **$178.00 at anthropologie.comSweet, whimsical, and understated, this cute shift combines the mod silhouette with a cool, minty fabric and demure lace. Perfect for a special occasion or more formal setting, it may be worn with white heels, lace headband, and bangles for a decidedly more vintage vibe.
---
6

Lace Frill Sleeve Bodycon Dress

Price: $110.00 at us.topshop.com
Perhaps a bit more Betty Draper than Twiggy, this lace bodycon dress nonetheless manages to strike a beautiful and eye-catching balance between mod color and housewifery. It is, in fact, one of the cutest mod dresses I've seen. Its flared sleeves and lace bodice and skirt bespeak a modest innocence counterbalanced by the saucy cut and scandalous hemline. Wear with a pair of patent nude stilettos and a thick gold link necklace for some cheeky sex appeal.
---
7

Diane Von Furstenberg 'Lorah' Dress

Price: $345.00 at shop.nordstrom.com
Splashed with an abstract interlocking black and white pattern, this long-sleeved dress by Diane von Furstenberg is nothing short of stunning. With modern accents such as a draped neckline and silk fabric, this updated dress easily goes vintage with a pair of platform boots or circular sunglasses. Diane is the queen of hot mod dresses.
---
8

Denim Mod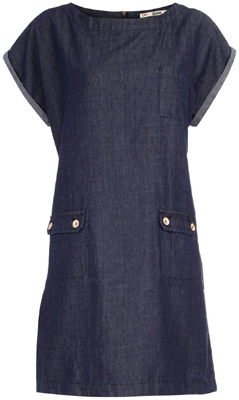 Price: $56.34 at dorothyperkins.com
Decade after decade, denim ceases to get old. As the durable material ages, designers and manufacturer alike become more adept in its manipulation. The result is a plethora of items in this beloved fabric, including this supremely trendy frock from Dorothy Perkins. With rolled sleeves, front pocket, and brass features, this mod silhouette can remain in the mod era with a pair of sleek brogues or can even go hippie with a pair of fringed Minnetonka ankle boots.
---
9

Khaki Seam Detail Dress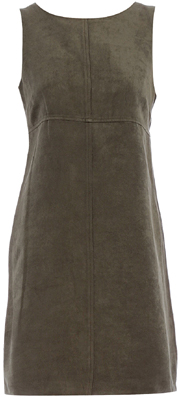 Price: $45.07 at dorothyperkins.com
Heather grey and boasting the look of suede, this sophisticated mini is sure to turn heads with its risqué length and minimal coverage. Sporting visible seams, this sensual little frock adopts the tailored, structured look so reminiscent of the original mod dresses. Wear with set of Jeffrey Campbell platform wedges and tasseled earring and you've got a look that to die for.
Cute mod dresses may be a summer staple, but many of them are specifically designed for fashionable fall wear as well. Perhaps you've dabbled in vintage before, but just haven't felt bold or spunky enough to pick up some mod dresses for your wardrobe. Rest assured that these scanty pieces are a solid investment, not just for fall but for every season. Paired with tights and boots they offer you an amazing winter alternative to thermals and long johns and during the summer they help you escape the heat. So, which of these mod dresses do you think you'd like to try?
More
Popular
Recent