Pink Pants are a popular choice of clothing right now. Different designers have their own interpretations of certain trends. This is especially the case when looking at the popularity of pink pants. Both pastel pinks and hot pinks are equally stylish options. You can also wear them tailored and fitted or slightly more slouchy – it's all up to you! Take a look at a few pairs of stylish pink pants below.
1

Pastel Pink Pants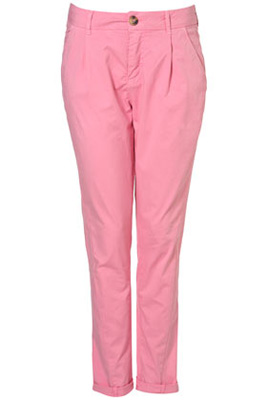 Price: $56.00 at us.topshop.com
Pastel colour palettes have been very popular lately. They're even more fitting with spring just around the corner in the northern hemisphere. A pair of pastel pink pants would look great with a white tank top, tan leather sandals, and turquoise coloured envelope clutch.
2

Hot Pink Pants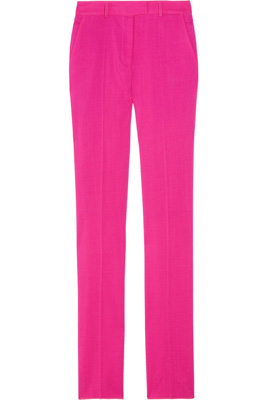 Price: $1050.00 at net-a-porter.com
Really up the ante in a pair of hot pink pants. Despite the hefty price tag on this particular pair, they're the perfect example of this particular trend. They have a slim cut and a tailored design. A pair of hot pink pants would look great with a black and white printed top.
3

Slouchy Pink Pants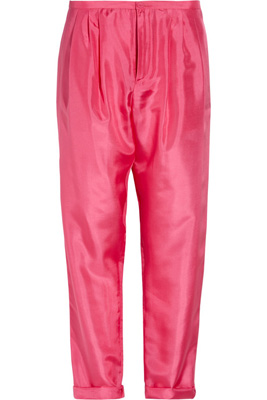 Price: $275.00 at net-a-porter.com
Work a more casual look in a pair of slouchy pink trousers. When aiming for this look, choose relaxed fabrics like silks and satins. These particular pants are lightweight and have a tapered silhouette. You could also dress them up by teaming them with blazer and heels.
4

Tailored Pink Pants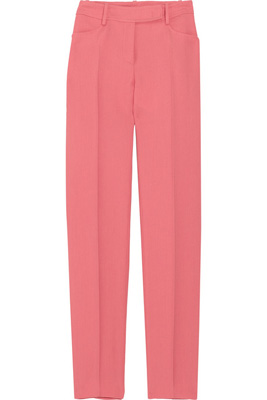 Price: $1150.00 at net-a-porter.com
A pair of tailored pink pants is a more conservative and sophisticated design. These stylish pink pants have a typically tailored design with pressed creases, an extended waist tap, and front slit pockets. If you want to try your hand and power dressing, find a matching blazer.
5

Embroidered Pink Pants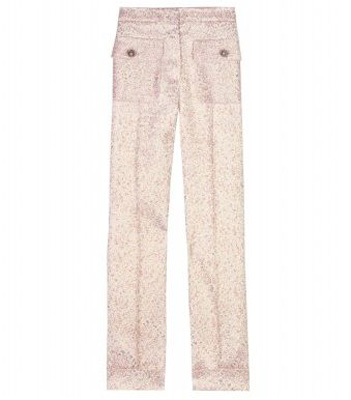 Price: $635.00 at mytheresa.com
These pink pants have been given a twist thanks to some intricate embroidery. They have a pink and gold floral embroidered front with a solid pink reverse. The textured finish is quite appealing. Experiment with textural elements by teaming such pants with a soft knit top.
6

Cropped Pink Pants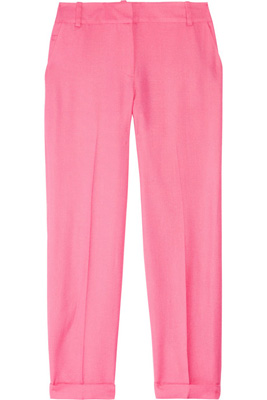 Price: $285.00 at net-a-porter.com
Cropped pants are a stylish option. They're ideal for when the weather warms up, and allow you to show off your favourite statement shoes. Wear these with a simple white blouse for something dressier, or play it down with a slouchy grey t-shirt.
7

Flared Pink Pants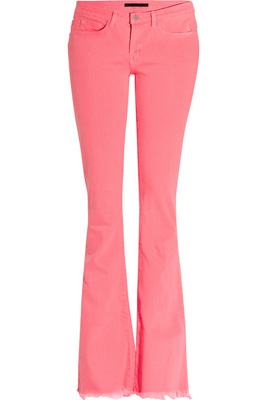 Price: $365.00 at net-a-porter.com
A flared pink pant is a great way to stand out from the crowd this season. Flares are making a comeback, so work two trends at once by choosing a pair in a pink colour. Wear them with wedge heels to really accentuate and lengthen the appearance of the flares.
8

Glitter Pink Pants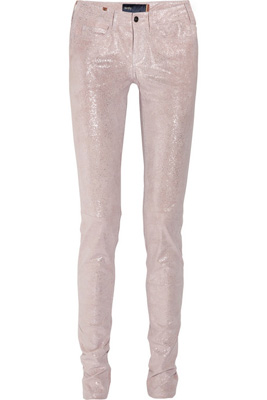 Price: $1105.00 at net-a-porter.com
It's all about the glitter this season, and no clothing item is left unturned. These light pink stretch leather pants have been given the glitter treatment. They have a low-rise, skinny cut and feature an all-over sprayed glitter finish. Tone down the metallic finish by pairing such pants with matte fabrics or soft knits.
You can pull off the pink pant look in a variety of ways. When wearing pink pants you can either tone them down with neutrals or amp up the volume with colour and prints. What do you think of these pink pants?
Top Image Source: weheartit.com