Trendy professional looks don't come cheap these days or at least that's what the magazines would have us believe. Well, it isn't entirely true and there are ways to obtain trendy work clothes without having to spill out your entire savings. And here are a few items that will definitely help make dressing for work this summer sweeter, without the bitter aftertaste of an empty wallet:
---
1

Pointed Hem Longline Blazer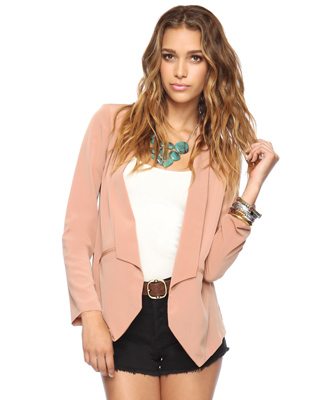 Price: $29.80 at forever21.com
Top off your elegant spring/summer basics with this gorgeous pastel blazer and start creating a few trendy professional looks to rock in the office this season! Belt it or leave it loose, wear it with browns, whites or nudes or, in case the dress code allows, throw it over a turquoise-colored dress to create a bold fashion statement.
---
2

Twist Lock Purse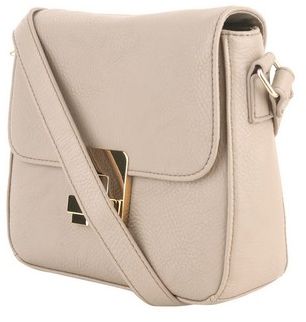 Price: $19.80 at forever21.com
Speaking about those super-trendy pastels – what do you think about this bag? I'd say a bag is always a good way to start putting together a trendy professional look! Wear it cross body in case you have a lot of paperwork to carry or shorten the strap and you'll get an eye-catching, retro-ish yet totally fabulous purse to vouch for your fabulous sense of style.
Trendinig Stories
More Stories ...
3

Peplum Button up Blouse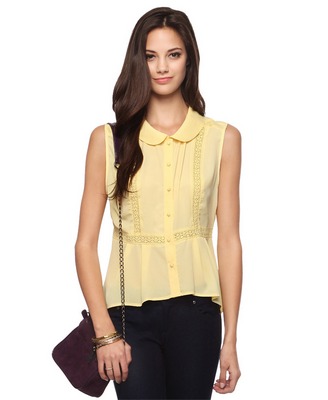 Price: $17.80 at forever21.com
Peplum, pastels and crochet details – dressing for work is easy when you have a stylish piece such as this one! Color block it with other pastels, wear it with green, orange or fool proof black – the color of this fab blouse will allow you to wear with a lot of items you already have in your closet while its stylish yet pretty formal cut makes it perfect for the office.
---
4

Woven Lace Insert Dress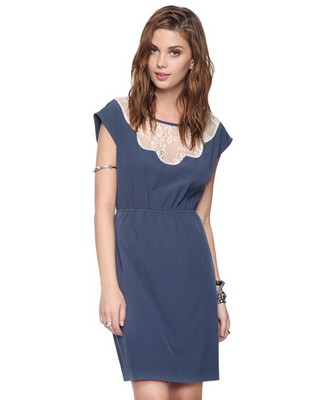 Price: $27.80 at forever21.com
Speaking about work appropriate garb, here's one feminine dress I like a lot! This dusty shade of blue is perfect for those who prefer to stay away from bright colors, yet it's a world away from gray, black or brown… A whole colorful world away! Top it off with a matching or mismatching thin belt, wear a cardigan to kick up its feminine appearance or opt for a blazer to give it a sharp, business note – it's definitely a piece worth having and it will help you pull off a couple of interesting and trendy professional looks.
---
5

Pleated Skirt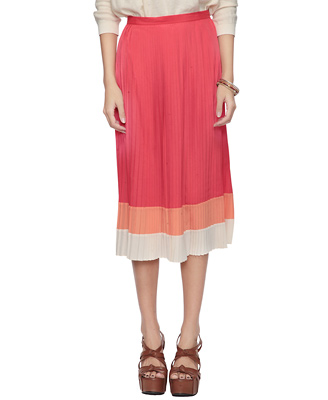 Price: $22.80 at forever21.com
A pleated skirt is a must have this season and this one right here will flatter any body shape! With its stitched pleats that don't pouf too much, summer-friendly shades and an elegant flutter that reaches well below the knees, who's to argue its beauty and usefulness! Who? I dare you! Step out and state your case if you believe this skirt shouldn't be on my list of trendy work clothes.
---
6

High Rise Trousers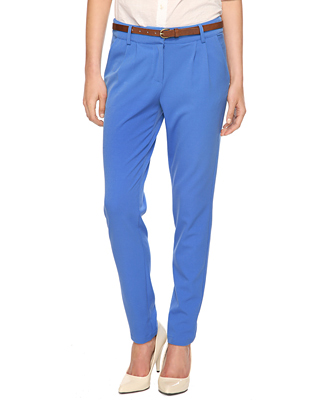 Price: $24.80 at forever21.com
Dressing for work is a fun game you could make even more interesting by adding a bold color such as this one! Elegant front pleats, tapered legs and an overall classic appearance will help you pull it off even in a professional environment and the rest… well that's entirely up to you! Color block it in case your working environment allows for such things or tone it down using neutrals to achieve a look that's well put together yet shows you for what you are – a creative individual that refuses to be stuck in a rut.
---
7

Lacquered Bib Necklace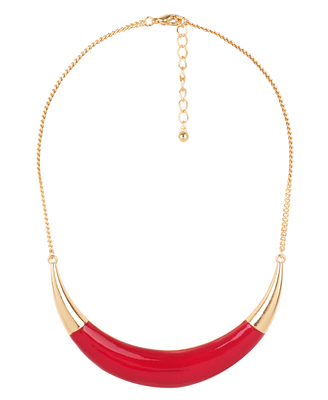 Price: $5.80 at forever21.com
But trendy professional looks don't have to revolve around clothes only and I'm sure you're well aware of how much a carefully chosen accessory can do for one's appearance! My suggestion for today is a bold, chunky and uber trendy piece such as this to help you with that finishing touch some outfits lack.
---
8

ASOS Petal Platform Peeptoes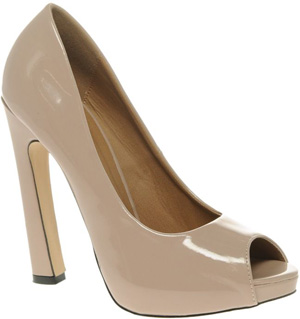 Price: $32.72 at us.asos.com.
Spice up your look with fashion forward yet neutral pumps and you'll manage to satisfy both your need for trends as well as your rigid bosses! After all, nude patent pumps are something every woman should have in her shoe closet and, once you see how many wonderful outfits you can match them with, you wouldn't want to part from them even off duty!
Which of these pieces would you use for your trendy professional looks? Do you pay a lot of attention to price tags when buying your office wardrobe? I'd say that, as long as you have a few good-quality versatile pieces, dressing for work in a way that allows you to enjoy a few trends doesn't have to be a huge financial burden.
Top Image Source: weheartit.com
---
Popular
Related
Recent