Fall fashion finds on a budget are a schoolgirl's best friend. As fall approaches us, classes start and money is tight. You might be wondering how to look fabulous this fall without breaking the bank. Well, look no further because below are 10 great fall fashion finds for under $15! This fall, colors like eggplant, teal, rustic red, burnt orange and silver are in style. Check out how to look marvelous on a budget this fall.
---
1

Eggplant Scoop Neck Tee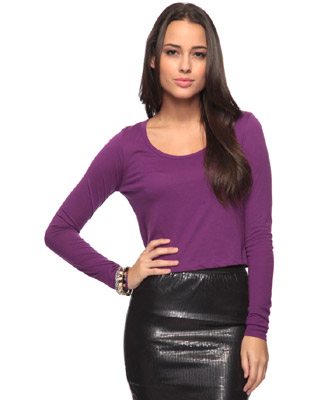 Price: $7.80 at forever21.com
As the weather gets chillier, wear this long sleeve tee with a faux fur vest or just layer under a leather jacket. This fall fashion find can easily carry you from warm autumn days to winter with its solid color and versatility. This is certainly a fall fashion eggplant must-have!
---
2

Chic Sunglasses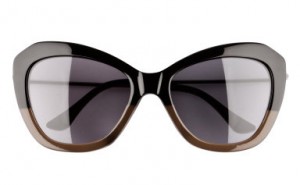 Price: $14.95 at hm.com
Black and brown together is also making a comeback this fall and shades are the perfect way to show off your fashion forwardness. Summer might be coming to an end, but these shades are a fashion staple in any season. Wear these with a more neutral outfit to make your eyes pop!
3

Turquoise & Teal Canvas Tote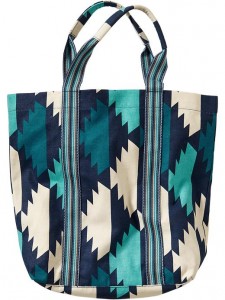 Price: $12.50 at oldnavy.gap.com
Just as the fall term starts, you'll need a large bag to carry all your books. Not only is this fall fashion find trendy and eye-catching, it's incredibly practical as well. The canvas is very sturdy and larger than the average school bag. At $12.50, this tote is back to school essential.
---
4

Rust-Red Tights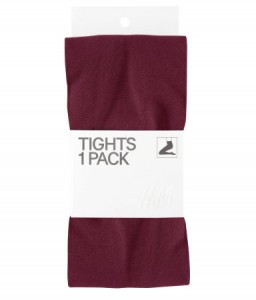 Price: $5.95 at hm.com
Falling leaves means crunching on them in your boots and what better to pair them with than these rust-colored tights? These versatile tights could also be worn with a skirt and oxfords for a chic schoolgirl look. This fall fashion find also come in other colors, so there's no reason to not have a pair (or three!) in your wardrobe!
---
5

Drop Earrings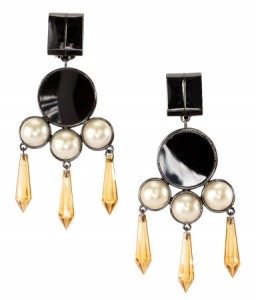 Price: $9.95 at hm.com
Earrings are definitely in this fall and what better way to rock the look than with these bold drops? Tie your hair up in a messy bun or sleek ponytail and throw on these earrings for a fun night out. This shiny fall fashion find can give you the added oomph to any casual outfit. Summer may have been too hot to wear earrings all day, but with the cooler weather there's no excuse to leave your ears bare.
---
6

Lightweight Burnout Scarf in Peach

Price: $14.95 at oldnavy.gap.com

With the heavier colors of fall, it's always fun to keep it light with a neutral like peach. The neutral tone of this fall, peach can easily soften a dark coat or brighten a dull sweater. Pair this scarf with a navy trench coat for a cute but sophisticated look.
---
7

Beaded Necklace

Price: $7.95 at hm.com

This must-have necklace will go with just about anything this fall. As scoop necks and tank tops turn to turtlenecks, layer on this necklace for your dose of bling! At a little less than $8, this fall fashion find should definitely be in your jewelry box, giving any outfit an added touch without tearing up your wallet.
---
8

Burgundy Skirt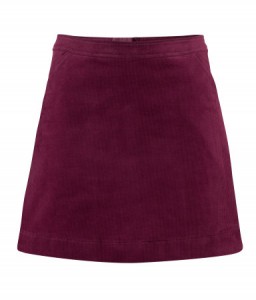 Price: $14.95 at hm.com
Ahh, burgundy… fall would not be the same without burgundy. If colored tights aren't your thing, this skirt is just for you. Wear this over sheer black tights and cowboy boots or loafers for a classic autumn look. Wear a light colored chunky sweater on top and thicker stockings when the cold winds start to blow.
---
9

Teal Gloves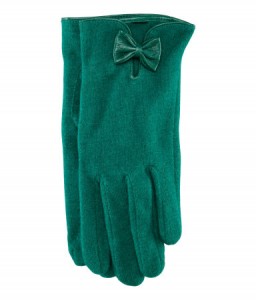 Price: $12.95 at hm.com
Want to look like a high-end lady without spending like one? The lady in you can snatch these gorgeous gloves for less than $13. Slip these on with a long wool coat for a smart and classy look. The little details on these gloves really add a nice touch to a classic fall look.
---
10

Orange Flats

Price: $12.95 at hm.com

Burnt orange is so hot this fall there's no reason to pass these up. Make these flats the highlight of your outfit by wearing them with dark skinny jeans and a loose sweater. Plus, who doesn't need another pair of flats, right?

CALL THE COPS, because at less than $15 all these fall fashion finds are steals. Which ones are you going to snatch? Do you have any other suggestions for staying trendy and fabulous this fall while on a budget? Share away!

Top Image Source: luphia.blogspot.in
More
---
Popular
Recent