As the temperatures rise and we pack away our coats and sweaters, another scarf seems like it should be the last thing on our shopping lists. But investing in a light and bright summer scarf can be a trendy way to take your outfit to the next level. Here are 7 scarves that'll keep you cool but help you look hot all season long.
---
1

J. Crew Printed Summer Scarf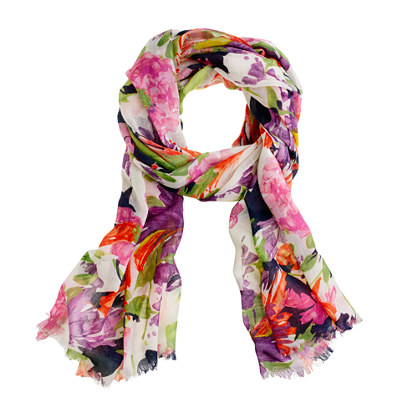 Price: $59.50 at jcrew.com
Floral prints are feminine and flirty. They're a perfect way to dress up a shorts and tee combo. This summer scarf is a fun and effortless way to pull together any casual ensemble. I'd wear it on a shopping spree with my gal pals to look easygoing yet fashion forward.
---
2

Vera Bradley Scarf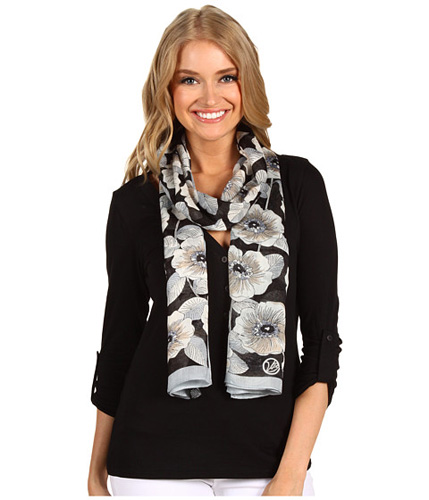 Price: $42.00 at zappos.com
This ladylike summer scarf will dress up your daily office wear. Plus, it's part silk and cashmere, so it'll feel especially luxurious during business meetings or lunch with your boss. I especially love the oversize floral print, which has been all over the runways recently.
---
3

A Place in the Sun Scarf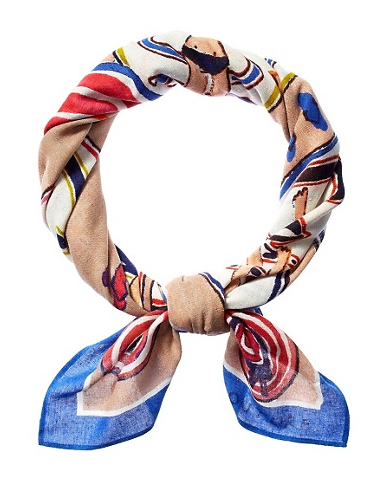 Price: $68.00 at juicycouture.com
What do you get when you pair illustrator Sujean Rim with the famed Juicy Couture brand? This fabulous watercolor, graphic-adorned summer scarf. Ladies, I absolutely adore this one! I'd wear it everywhere from a boardwalk trip with my honey to a lunch date with friends – it's just that versatile.
---
4

Horseshoe Print Scarf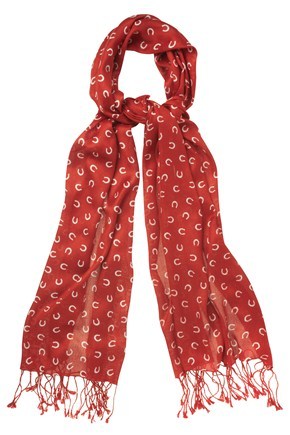 Price: $58.00 at usa.frenchconnection.com
Summer scarves are usually bright, floral printed, or both, and that's usually how I like them. But a trip to the stables requires something more fitting. This horseshoe print scarf is highly unique but still super chic. I'd wear it over a black V-neck tee, jeans, and comfy sneakers. Giddy up!
---
5

Rainy Day Regal Scarf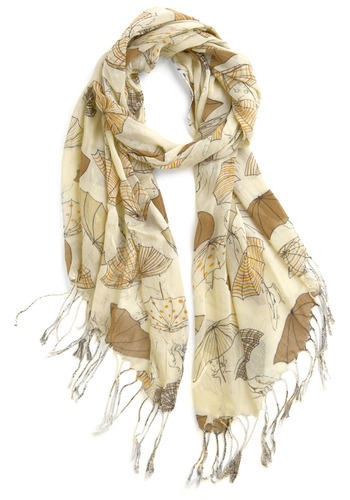 Price: $16.99 at modcloth.com
Who said you have to sacrifice style when rainy days hit? This vintage print umbrella scarf is perfect to combat those rainy day blues. I'd pair it with my usual black rain boots and denim skirt and hit the town. A few drops won't keep me stuck in the house!
---
6

Chevron Striped Scarf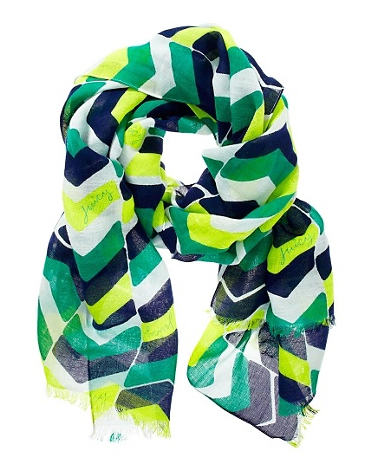 Price: $68.00 at juicycouture.com
Stripes continue to rock the runways and fashion magazines. The easiest way to give a nod to this major trend is with an easy, breezy summer scarf. The bold stripe print makes this piece work over the neutrals in your closet. I'd wear it with a plain white frock for a pretty pop of color.
---
7

Dale Hope Hibiscus Scarf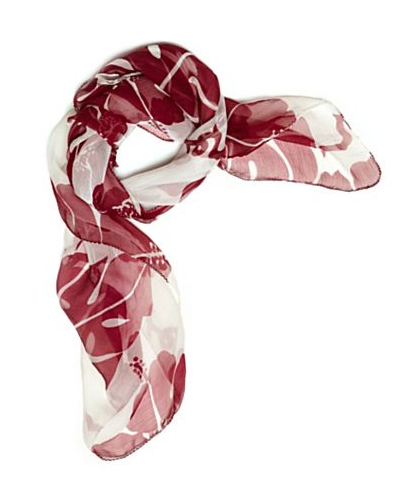 Price: $39.50 at luckybrand.com
As far as summer scarves go, Hawaiian designer Dale Hope has mastered the island-inspired print pattern. This pretty scarf should feature prominently in any gal's vacation suitcase. I'd pack this away for an island getaway…or just my usual summer trip to visit relatives in Florida. Hey, a girl can dream! This just makes it easier.
Summer scarves are a fashionable and easy way to dress up your summer garb. Will you purchase a scarf this season? Or do you already have a stash of summer scarves in your closet?
Top Image Source: weheartit.com
More
Comments
Popular
Recent