Searching for the perfect fiery red pieces for Valentine's Day is one of my favorite aspects of the season. Wearing red is the easiest way to make a statement and really stand out, making it the best color to rock on this lovely holiday. Don't let this cold season get in the way of your trendsetting plans; pairing these looks with thick tights or leggings and a toasty coat will definitely add to your overall outfit. These fabulous red pieces for Valentine's Day are sure to inspire you to find the perfect look.
---
1

GoJane – Asymmetrical Drape Turtleneck Dress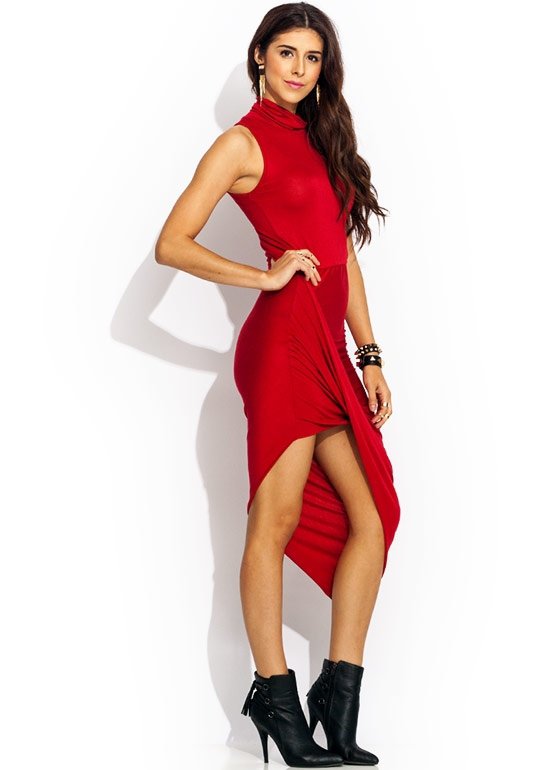 I can't stop gushing over how unique this sassy piece from GoJane is; the sleek lines make it one of my favorite red pieces for Valentine's Day. The asymmetrical style has been really popular this season; with its daring cut and fierce factor, it's not too hard to see why.
---
2

ASOS – Noisy May Animal Skirt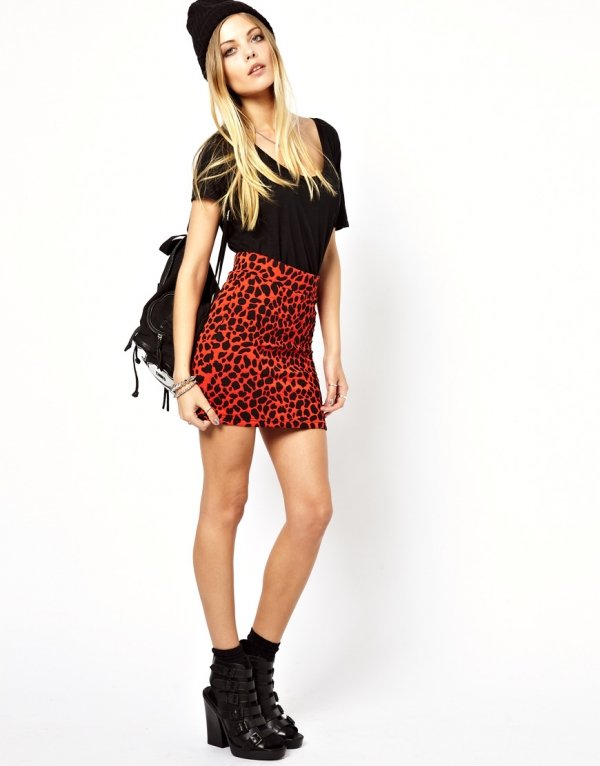 Who said that you can't look edgy and chic on Valentine's Day? If you're planning to hang out with your best pals, you should definitely rock something fierce. I love how versatile this skirt is; pairing it with heels and a solid button down would instantly take this look from daytime to nighttime. In my opinion, anything animal print related can do no wrong.
3

Charlotte Russe – Structured Deep V-Cut Skater Dress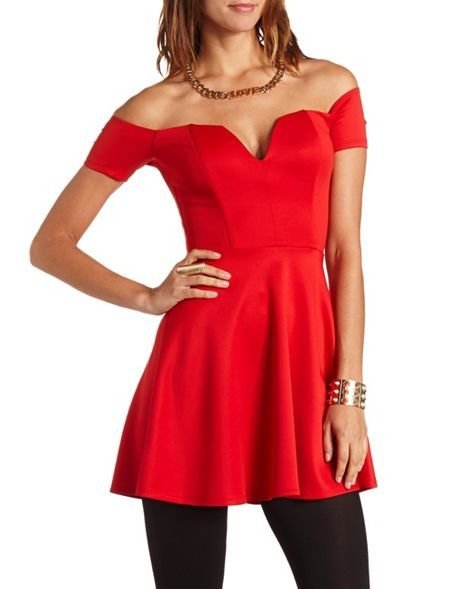 This sexy skater dress features a daring but sophisticated off the shoulder look. Made from soft material, the silhouette of this piece is absolutely stunning. It can easily be dressed up or down depending on your plans for the holiday.
---
4

Modcloth – Style Essential Skirt in Red - plus Size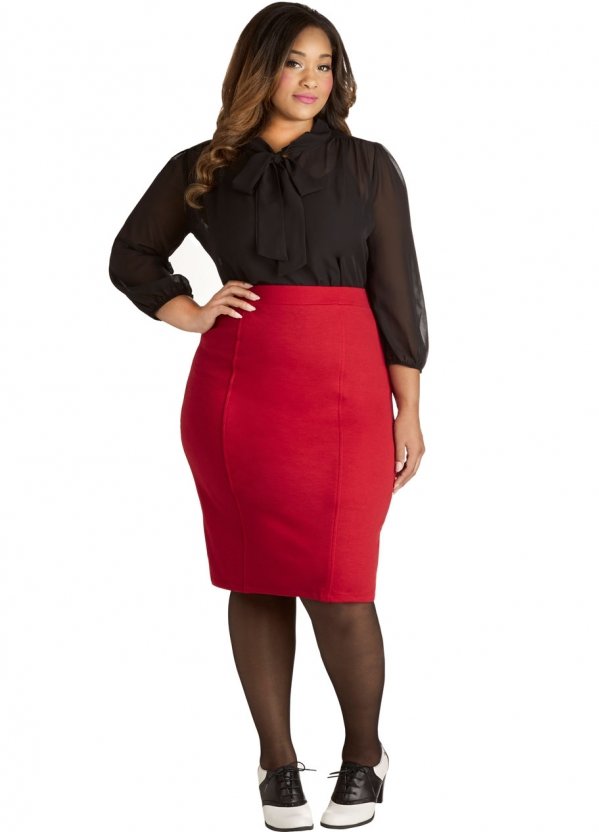 This red pencil skirt will hug your curves and slowly but steadily become one of your go-to pieces. Better still? It can easily do double-duty at the office or on campus.
---
5

ASOS – Closet Shift Dress in Leopard Print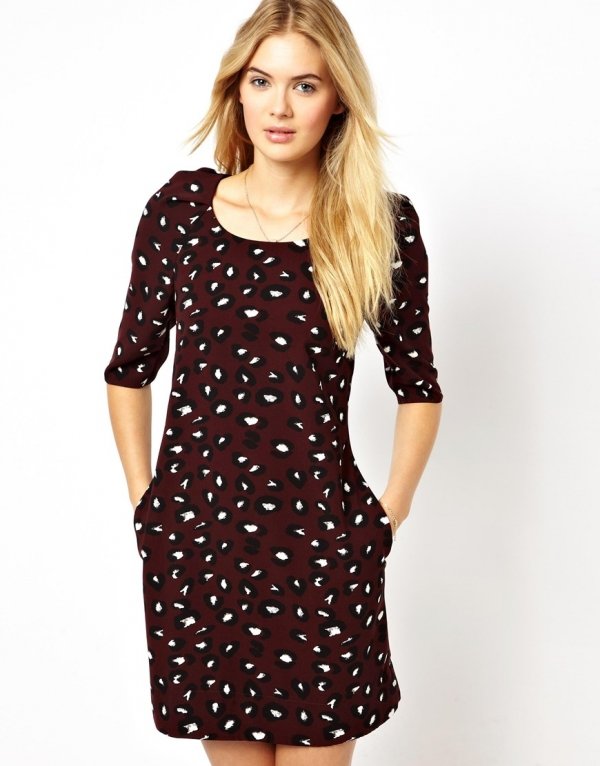 I am floored by how beautiful and sassy the burgundy color of this leopard print dress is. There's something about wearing leopard print that makes me feel that much more confident. The sleek outline of this shift dress may cause you to have the same reaction. The best part about this piece is that it has pockets, making it both trendy and convenient!
---
6

Forever 21 – SOPHISTICATED Stripes Peplum Top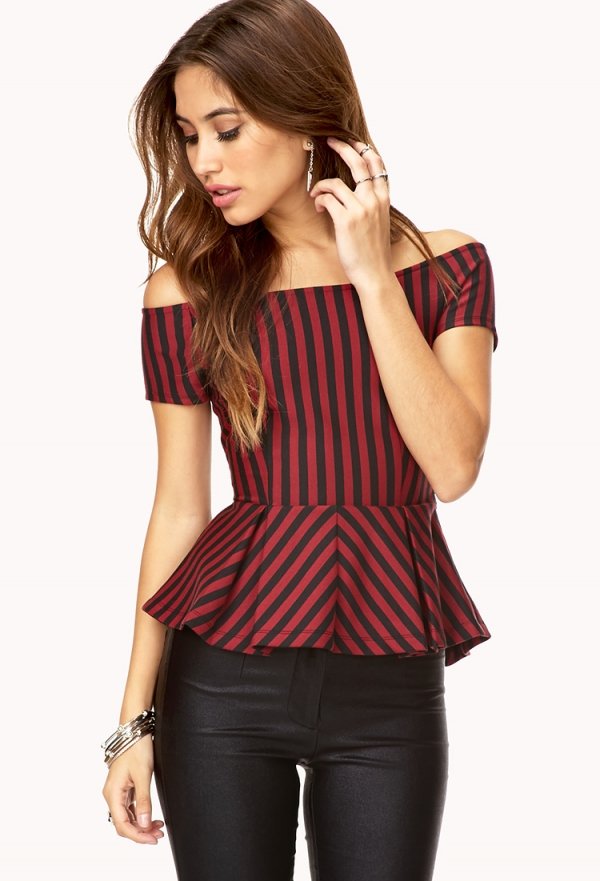 I didn't think it was possible for me to fall even more in love with stripes and peplum tops than I already was. The red and black pattern on this off the shoulder top is quite lovely; I love pairing this shirt with my black skirt (after tucking the ruffle in) for formal events or with jeans for a more casual look.
---
7

Modcloth – Hello, Bow! Top in Red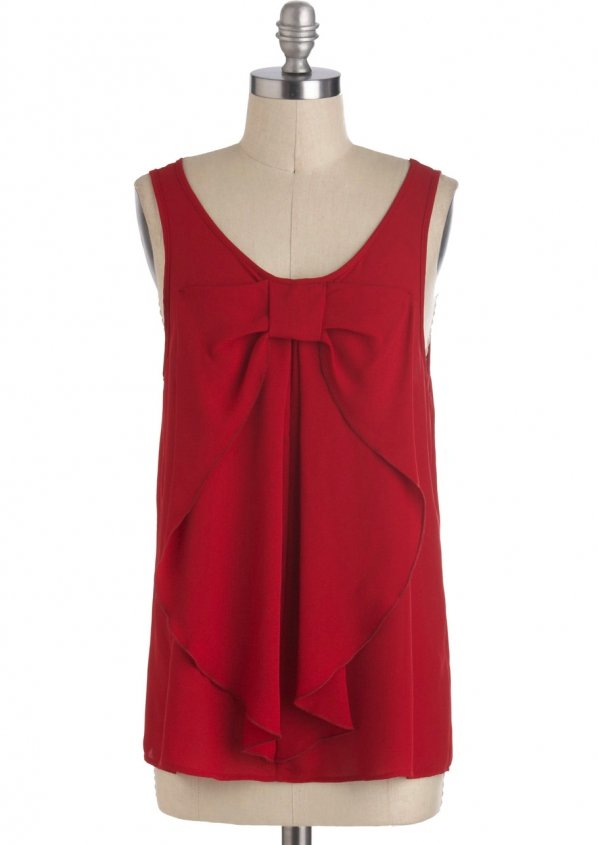 I love how sweet and casual this top is. The bow accent certainly makes it simple to transition this into a fancier look. If you're planning on going on a dinner date, you won't regret wearing this marvelous piece with either an A-line or pencil skirt; it also works very well with jeans and trousers.
---
8

Forever 21 – Rebel Girl Zippered Bodycon Dress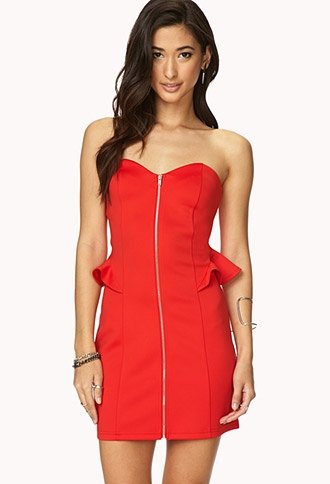 I am in love with the exposed zipper on this sassy bodycon dress from Forever 21. The ruffles on the side add a wonderful touch to the overall look. While strapless dresses are definitely trendy, I would advise you ladies to find the right ones that both fit and accentuate your chest size.
---
9

Forever 21 – Polka Dot Georgette Peplum Top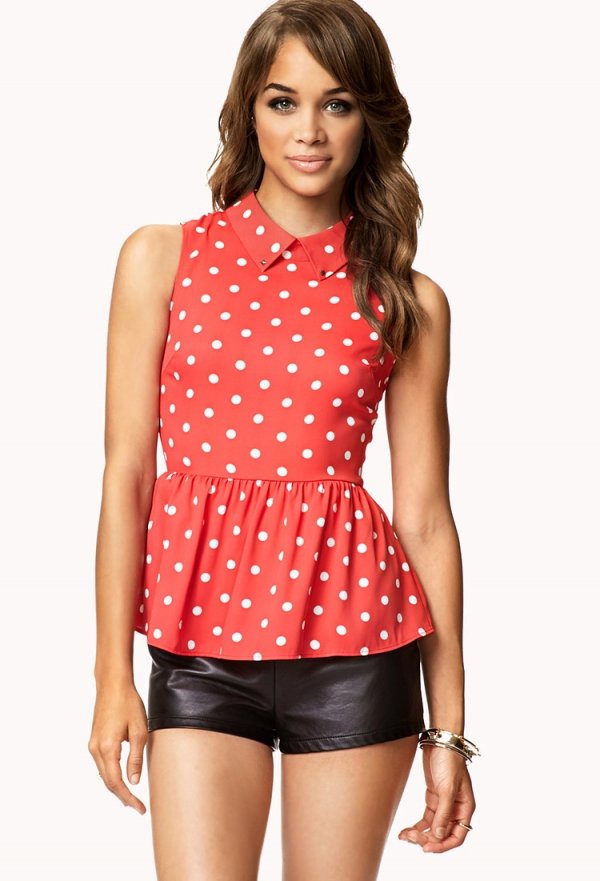 Lastly, words cannot express how amazing this polka dot collared top truly is. From the beautiful contrasting colors to its silky feel, this shirt is a great way to add a touch of the vintage era to your overall look.
Coming in a variety of bright and bold shades, red can definitely be considered a power color. What red pieces are you looking forward to rocking on Valentine's Day? How are you planning on dressing warm?
---
Comments
Popular
Related
Recent