What do your dream prom dresses look like? Would you choose something timeless and understated? A gorgeous vintage number? Something short and playful? From the classic to the glitzy and even bold neon, prom dresses come in almost every style known to man, and choosing one can be tough. How do you find something that makes you look and feel great, flatters you and sums up your personality?! This should help: here's some of the hottest prom dresses right now, and how to make them suit your figure.
---
1

Create Curves…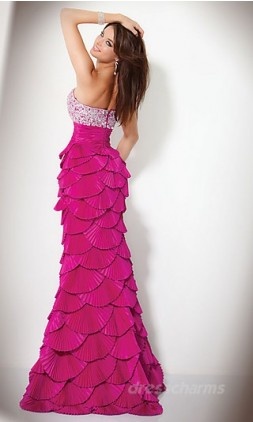 There's something about this prom dress that I just totally love. From the bold pink shade to the white lace detailing and corseted back, it's flattering and well cut, and I love how the frills give the illusion of a perfect silhouette. It's perfect for people who aren't feeling too confident in their figure, or who want to create that classic hourglass shape. A simple glitzy bracelet and classic make-up will rock this look best, and opt for either blow-dried hair or a chic up-do to finish it off. I definitely need some prom dresses like this!
---
2

Enhance Your Bust…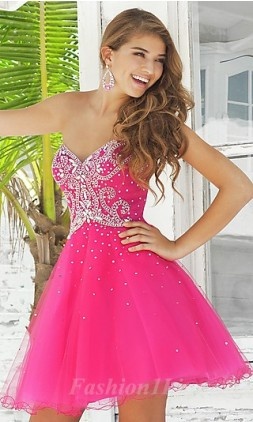 When was the last time you got to wear a proper full skirt?! There's something very fun about slipping into a full dress, and it'll definitely get you in the mood for dancing. Shorter prom dresses are ideal for a more low-key look, and I love the way this one still commands attention with the detailed embellishment and bright pink netting. Sweetheart necklines are ideal for boosting your bust, so rock the look by adding some cute dangle earrings and ditching your necklace.
---
3

Perfect for Petites…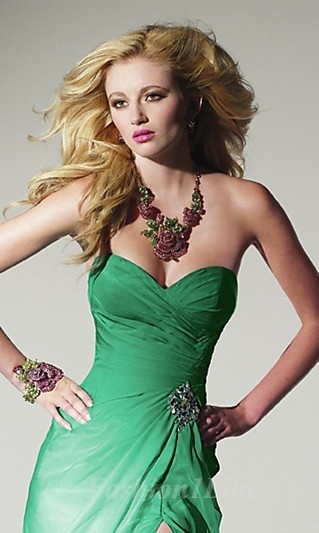 Prom dresses can seem to drown you if you are petite, especially if they are covered in heavy netting or big embellishments. Instead, channel that distinct Greek goddess look. A dress with a wrap-over waist like this one will highlight your figure, and the subtle waist embellishment draws your eye down. I love this bright green shade, too, and the way the big rose jewelry fits the garden theme perfectly. Just don't forget a light jacket if it's cold!
---
4

Retro…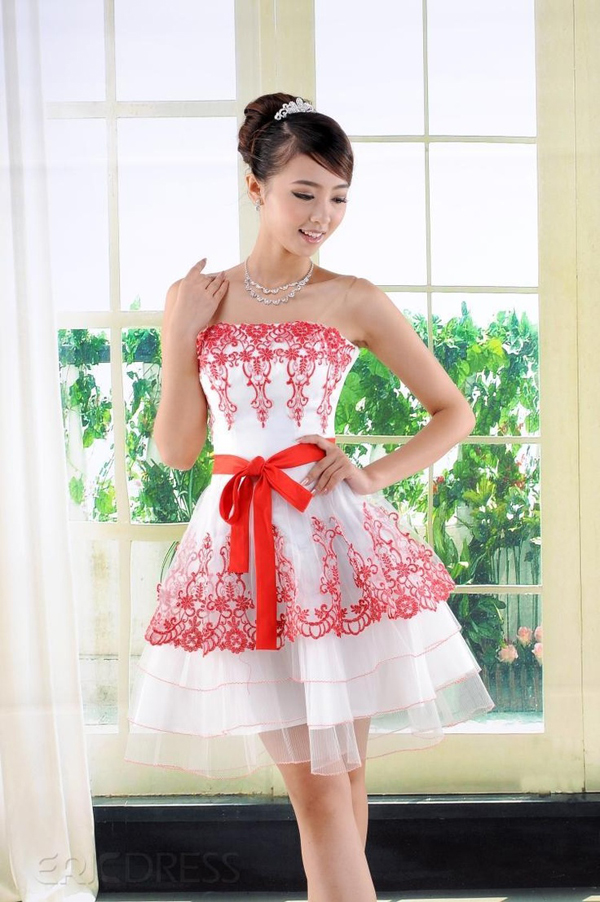 If you love the retro look, opt for a stunning A-line dress. This white and red number is ideal, featuring a bold print, plenty of netting and a gorgeous shape, and adding a brightly colored ribbon around the middle is ideal for dressing the look up. Nude make-up and nails are an easy choice, and a tiara and glitzy necklace will finish the look and ensure you look ready for prom. This look suits almost everyone, so get hunting out some striking A-lines!
---
5

Classic…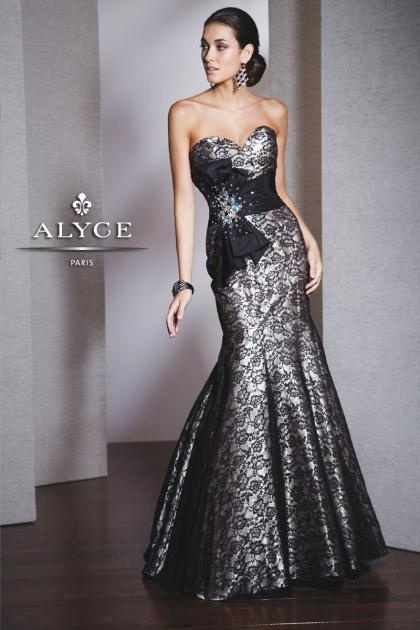 This dress has everything that you want from a classic inspired dress: the timeless fishtail shape, the monochrome lace print, and the understated yet elegant embellishment. Get measured properly to make sure that the fishtail fits your figure completely – it should flare at your knees – and stick to the color scheme completely. I love the model's geometric monochrome earrings here, which add a modern touch, and a vintage bracelet and low chignon are easy final touches.
---
6

Love Your Legs…or How to do Sheer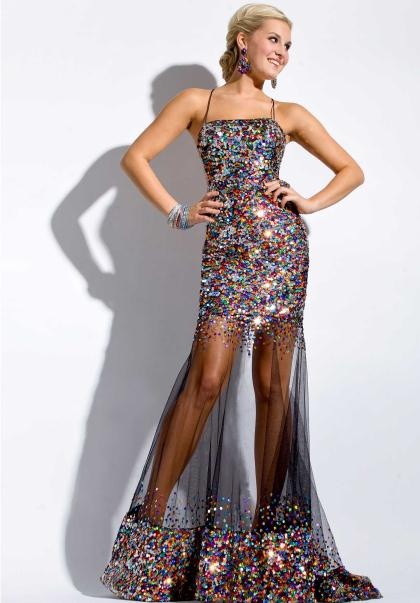 Carrying off sheer for prom can be difficult: it's very easy to get it wrong! Done right, it's also a great look, though. Firstly, avoid any and all dresses that are completely sheer, or almost completely sheer. You also want to avoid any sheer paneling across the chest, because less really is more at the prom! A dress like this one is a much classier way to wear sheer, and it's perfect if you love your legs. This dramatic sequin pattern makes the sheer look understated, and with piles of colorful bangles, big earrings and a chic hairdo, it's a look that's perfect for partying. If sequins aren't your thing, find a dress with dramatic feathers or frills in their place, but stay away from all-over-sheer!!
---
7

The Non-Dress…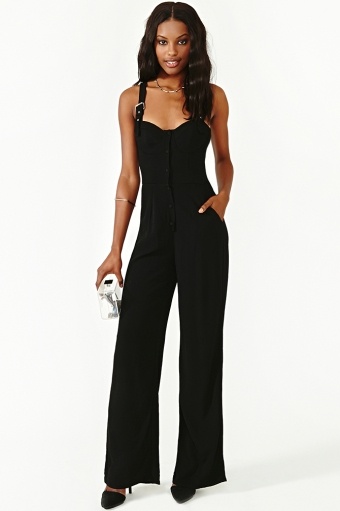 There are plenty of reasons that you might not be keen on prom dresses, from a general dislike of dresses to not needing one, or just not being able to find one you love. That's okay! For my partner's prom, I ditched dresses completely in favor of a classic black jumpsuit like this one. A French manicure, nude make-up and a necklace, along with a cute clutch, dressed the look up just enough to make it chic and acceptable, and I felt much more comfortable. Of course, sometimes I wish I'd worn a dress. And I was the only female not rocking an amazing dress, but that doesn't matter if you look and feel great. A dress isn't the only option; just make sure that you look chic, tailored and made-up, whatever you wear. If you look like you've made an effort, it's likely to be well received.
Remember to shop for prom dresses relatively close to the date, and to buy something that fits. The size tag in an outfit really doesn't matter: any size will look much better if it fits you perfectly than if you've madly tried to shove yourself in. Save the stress and invest in something that fits, flatters and looks great, and then have an amazing prom! What are you looking for in the perfect prom dress? I'd love to know!
More
---
Comments
Popular
Recent