The peacock is known by many to be a symbol of beauty, royalty, immortality, pride and peace. So it's no wonder why women love the design of peacock feathers! A peacock is one of the flashiest of creatures in the animal kingdom and thus why their feathers give women an eye catching appearance as well. Here are 11 must have peacock design items for you to ogle. Enjoy!
---
1

Peacock Shoes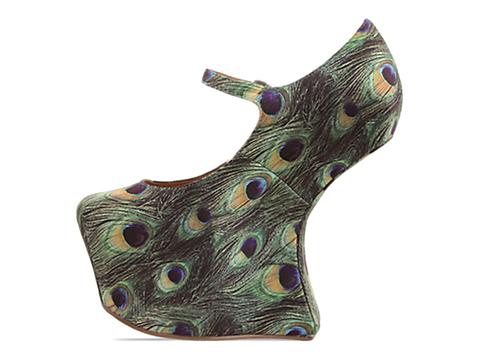 I still don't know how I feel about this whole heel-less trend, but with these peacock shoes I think I might get on board! These Jeffrey Campbell Night Walk shoes come in 31 colors but the peacock design is definitely the coolest. These mind blowing shoes come with a cute "Maryjane" strap to soften the look, but with a style this intense, you won't be able to go incognito. The shoes have a 6 1/2" heel and 2 1/4" platform made with suede. For those of you who don't want to be so bold, there are also other shoes you can search for online that have an actual peacock feather attached to it or one single feather design along the side.
---
2

Peacock Phone Case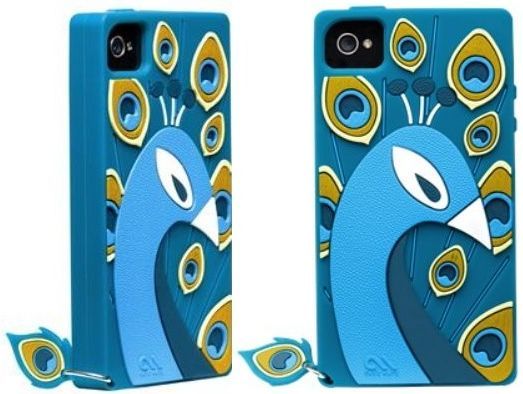 Your phone case is an important part of your outfit and style even if you don't actually wear it. So don't you want to have the best case possible? It you're looking for a peacock design case, then you're in luck because there are tons of them all over the Internet! I came across a slightly different take on the peacock phone case from Case-mate. Case-mate has a line of creature iPhone cases and one of them is the peacock! This case has textured and raised pieces that create a cute design that's also fun to hold. Plus, you have to love the accompanying peacock feather charm that hangs from the side of the case!
3

Peacock Dress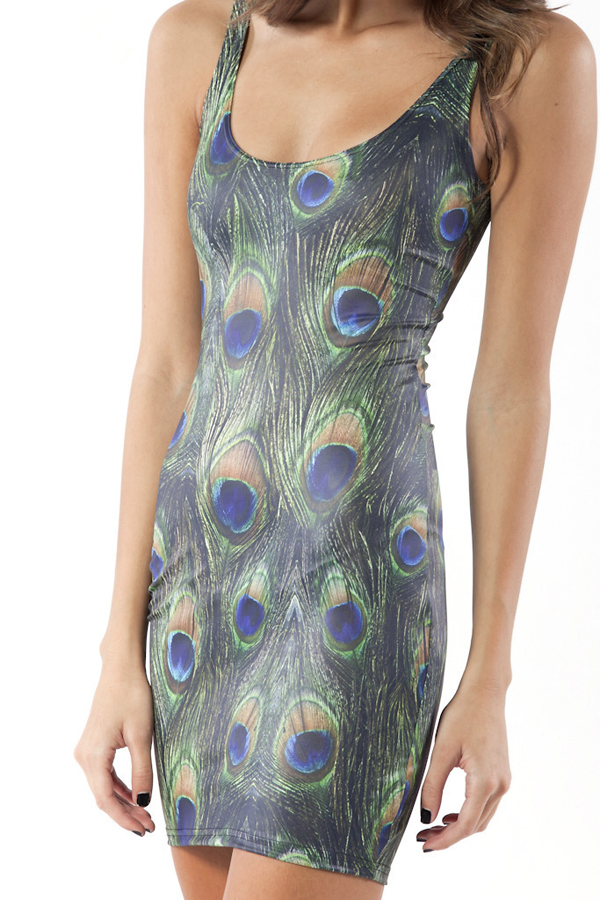 The point of a peacock's feathers is to attract a mate, so why wouldn't you want to wear them in order to do the same thing? Peacock dresses look gorgeous and the colors are fantastic. Plus the dress itself can be a bit plain like this one, because when peacock feathers are added to it, it automatically stands out anyway! Pair this dress with some sexy black pumps and you have a great dress for a night out that is sure to grab any guy's attention.
---
4

Peacock Bag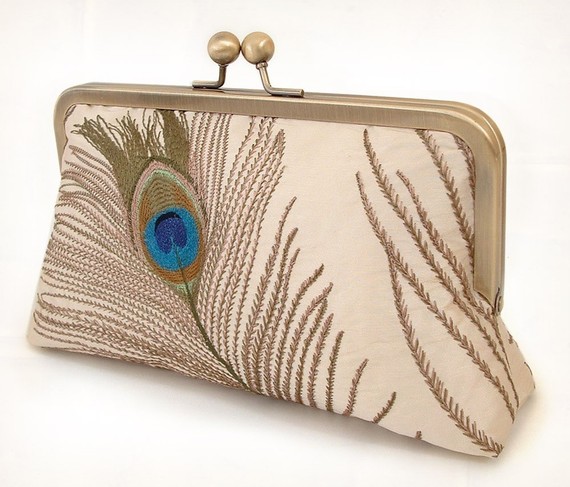 Perhaps you want to keep your peacock fashion to a minimum. Well then just pair a peacock design bag with any outfit. This peacock clutch is adorable and can go with almost any outfit! It lets you show off a little bit of peacock feathers without going overboard. This silk embroidered clutch is perfect for special occasions or just taking it out shopping. It would look best with a neutral colored outfit that will make the bag stand out more.
---
5

Peacock Hair Clip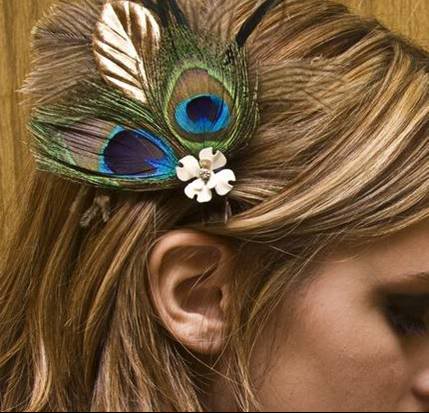 Our hair is to us, what a peacock's feathers are to them. They are meant to grab the attention of those around us. So why wouldn't we incorporate one with the other? Wearing a peacock feather hair clip is a unique way to style your hair and add a little bit of peacock design to your outfit. The best place to look for these hair clips is on Etsy because being handmade they are usually all one of a kind and you can pick the one you like most.
---
6

Peacock Bed Set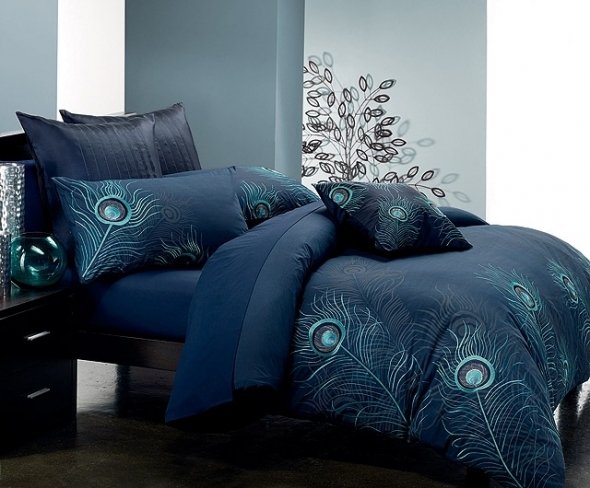 Thinking of changing your comforter set in your room? Well there's a peacock design for that too! This beautiful bed set features gorgeous climbing peacock feathers that embellish the duvet cover and shams. The set features vibrant contrasting hues of blue and will give your bedroom a gorgeous and calming affect. You can even choose to add a peacock's other natural colors to your bed set by adding some purple sheets and green decorative bed pillows. If the blue isn't doing it, there are tons of other peacock bed sets out there in different colors.
---
7

Peacock Color Scheme Decor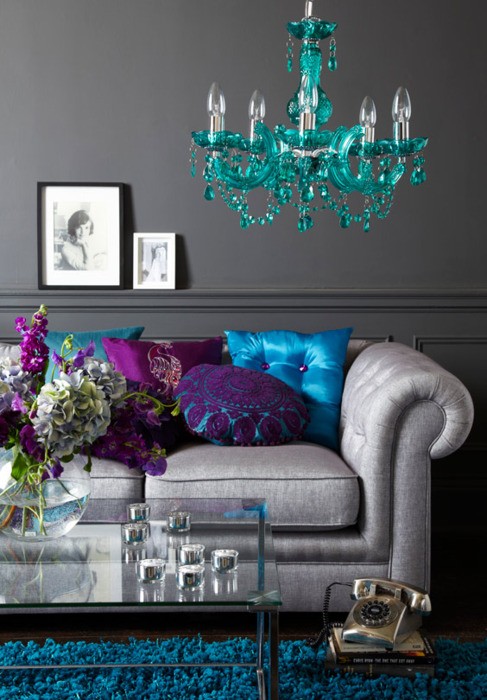 The best part of peacock feathers are their coloring. The mix of greens, purples, blues, and beige is a great color scheme for anything! So why not consider it as a color scheme for a room in your house. When these colors mix, it gives any room a beautiful and luxurious feel that is more vibrant then it is girly. Make sure to have a pillow or art on the wall with a peacock on it so your guests seeing the room will make the connection between the colors and the animal.
---
8

Peacock Stocking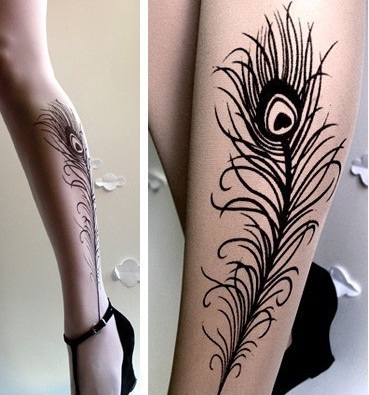 Sexy, elegant and absolutely gorgeous, these full length peacock feather stockings are definitely a must have for any peacock feather loving girl! They are guaranteed to turn some heads, compliment your feet, and somewhat make you feel like you have a gorgeous peacock feather tattoo. The best part about them is that they are unique and you don't see them often!
---
9

Peacock Scarf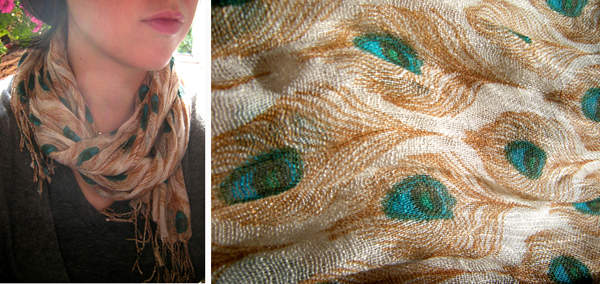 This lightweight, fiercely fabulous scarf features an allover print of peacock feathers! This is another great way to add a little bit of peacock design to any outfit without overdoing it. Again, the best way to wear this pattern scarf is with a neutral colored outfit which will make it pop!
---
10

Peacock Drinking Glasses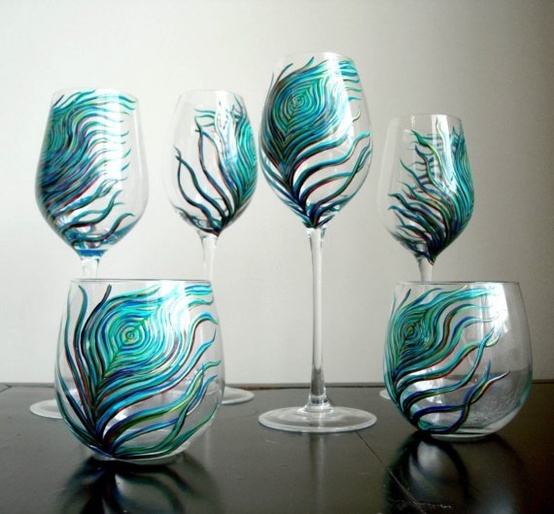 Peacock drinking glasses are a must have for any wine lover. Plus, if you have a little bit of artistic skills, you can pretty simply make your own! Whats great about making your own is that you can make the peacock feathers any color you want to match the rest of your kitchen decor. They would also make great gifts! If painting is not your calling, there are a bunch of different options of peacock drinking glasses online to choose from.
---
11

Peacock Jewelry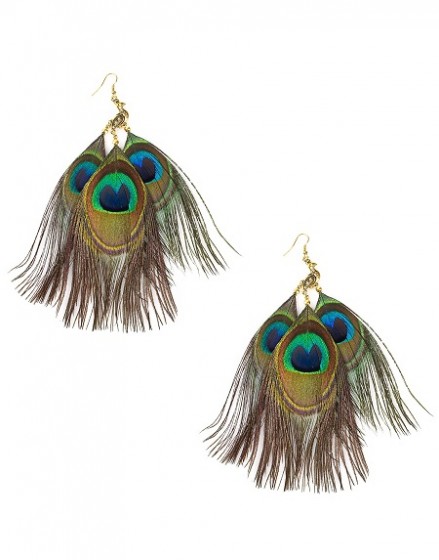 Finally, I leave you with one of the most popular ways to implement peacock design into your outfits. Peacock jewelry is not very hard to find in stores like Forever 21 or Claire's. Peacock feathers tend to go better with gold jewelry so if you get peacock feather earrings, be sure to pair it with a gold necklace. I also wouldn't recommend wearing peacock jewelry if you are also wearing a peacock design outfit as the pattern can tend to get overwhelming. I find that with peacock feathers, less is more!
Animal prints have definitely always been a hot trend in the fashion and design worlds. There's tiger print, leopard, zebra, snake... the list could go on and on. I personally love peacock feather print the most when it comes to fashion and design, and hopefully I'm not the only one! Are you obsessed with the peacock design? If not, what do you like better?
Top Image Source: magnetstreet.com
---
Comments
Popular
Related
Recent