There's no doubt about it-we all need that one perfect little black dress-or two, or three-okay, so maybe we need several perfect LBDs! Hey, we're women! We don't need an explanation for why we want 5 dresses in the same color, right? Black is the most versatile, sexy, modern color and it looks good on everybody. Perfect for any occasion, be it party, funeral, wedding, first date, the office, class reunion or meeting your new in-laws. Here are 9 Perfect LBDs for your special occasion!
---
1

Mossimo Women's Sateen Dress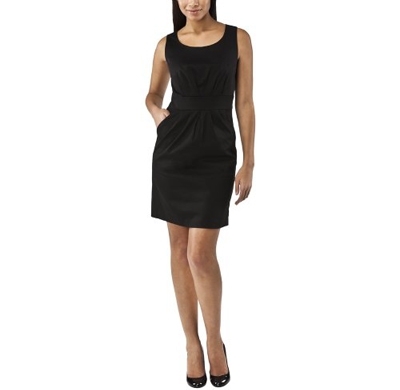 Price: $27.99 at target.com
This is the classic, perfect Little Black Dress. A perfect example of the timeless piece we all should have hanging in our closet. This is the dress you can wear to the office with a cardigan and a belt and then wear to a first date with a scarf and sexy heels. It does it all! And for such a good deal.
---
2

Merona Women's Ponte Cap Sleeve Dress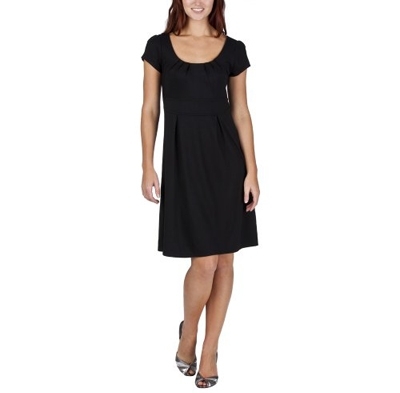 Price: $24.99 at target.com
For the modest lady who likes to be fashionable, yet leave something to the imagination, this dress will do it both! A scoop neckline with cap sleeves and a hem that hits right at the knees, this dress will be appropriate for cocktails or your teenage daughters piano recital! I love the waistline and the extra gathers around the neck, it really adds to the whole dress, don't you agree?
---
3

Merona Collection Non-Beaded Neckline Dress
Price: $39.99 at target.com
I love the 50's style of this dress! It's so girly yet classic. This perfect LBD isn't quite as formal but could still be dressed up with pearls and a pair of heels. Side zippers make it easier to slip on and off. You could even pair this dress with a pair of funky tights or bright leggings and boots for a fun night out on the town!
---
4

Embellished Edge Dress

**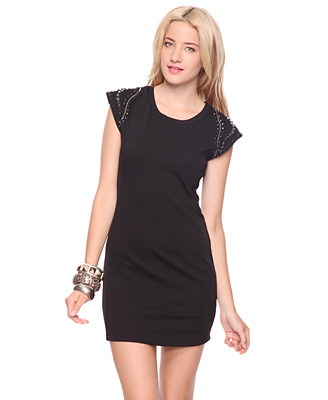 Price:** $27.80 at forever21.comCan you say ultra chic? This dress would pair perfectly with a long chunky statement necklace and a pair of flats! I think everyone could use a good "special occasion" dress and this one is so versatile it could work for anyone! The style will flow over the things we want to hide, and skim the things we want to highlight. Now that's what I'm talking about!
---
5

Mossimo Women's Scallop Split Neck Dress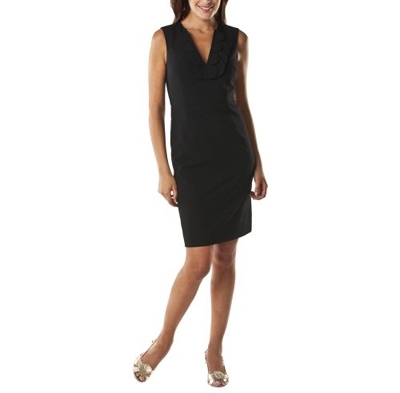 Price: $29.99 at target.comI'm loving the pencil skirt on this dress! So ladylike yet foxy! And that split neck is just down right sexy! You could wear a brightly colored lacy tank underneath it for a fun vibe. I'm thinking a nude or silver sandal and an armful of bangles would look super cute for this spring! So many options.
---
6

Broadway Tiered Dress

**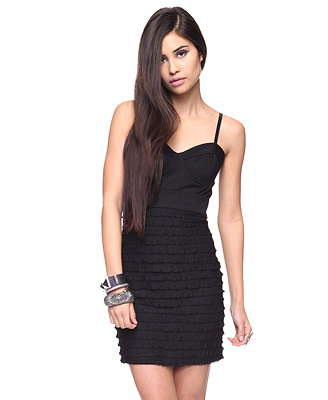 Price:** $22.80 at forever21.comWe all need that one sexy dress, the one that reveals a little too much skin. The one that catches every eye when we enter a room. This dress has ruffles and sex appeal- just enough to get you glam for a party but not leave you looking like you just left the local nightclub. To dress this down, don a jean jacket and some zebra stripe flats. To dress it up, well, it speaks for itself!
---
7

Mossimo Women's Multi Style Convertible Wrap Dress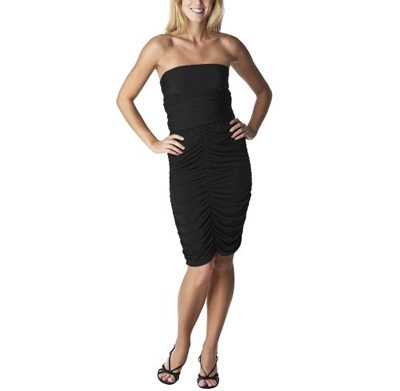 Price: $29.99 at target.com
You gotta love a convertible dress! You can change your style with your mood or the occasion. Or if you are a spy, this dress could help you go undercover in a flash! Show off your sexy shoulders. Whatever you need, perfect this LBD will deliver. And the ruching is absolutely adorable and so flattering, no matter your body type.
---
8

Strapless Party Dress

**
Price:** $22.80 at forever21.comI love how this dress reminds me of a mix between the chic 50's era and an undercover spy! It gives the dress a reckless, dangerous feel. The strapless top really highlights your skin, draws attention to your collarbone and shows off your shoulders, so save this one for a balmy summer night! A long gold chain and matching drop earrings would accent and pull together this whole outfit very well!
---
9

Mossimo Women's TRS 3/4 Sleeve Boatneck Dress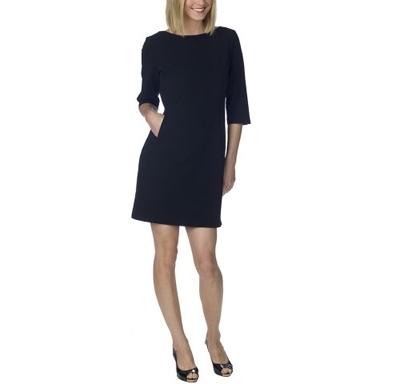 Price: $29.99 at target.comElegant and reserved yet sexy. That's what this dress says! I love the peep toe shoe with it, but you could pull off a gladiator sandal as well. I'm picturing a single pearl on a chain or a thin belt to accessorize. Scarves also would play in very nicely. That's the fun part about being a women we can mix it and mash it up!
If you don't have a LBD hanging in your closet, don't put it off! This is a great selection at affordable prices and you're all set to pick one out now! As stated before, black is an appropriate color for nearly every event and if you pick a classic style, chances are you can wear and re-wear your LBD for years to come! When you're shopping for perfect LBDs, what do you look for?
More
Comments
Popular
Recent