Every season, there are designers that like to push our buttons by creating fashion, handbag, and shoe designs that polarise people. One of the most common platforms where we see this happening is among all the new season shoes. In amongst all the almond toe pumps and basic sling-back sandals, there will be a pop of acidic colour or a design that is too unbelievable for words. Some people fall head over heels, while others stare in disbelief. There are many shoe designs that polarise people, and below just are a few examples:
---
1

Charlotte Olympia Tutti Frutti Leather & Suede Flats

**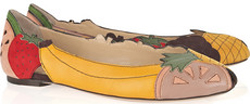 Price:** $945.00 at net-a-porter.com
These quirky, fruit salad inspired shoes are the most fun your feet will ever have. You might remember the original fruit pumps, which had a massive platform heel. I'm sure that would test many seasoned high heel wearers. It was definitely one of those shoe designs that polarise people, and here's a version that's just as colourful but more wearable.
---
2

Nicholas Kirkwood 35mm Glitter Karung Suede Mignon Pumps

**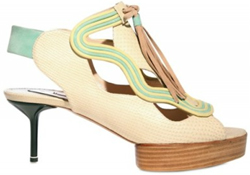 Price:** $676.00at luisaviaroma.com
This shoe looks like a mish mash of parts. Wooden soles, stiletto kitten heels and a sorbet palette. It definitely has me scratching my head as to whether it is a piece of clothing or a piece of art. In theory, I shouldn't like it, but my eyes are telling me otherwise. The jury is still out on this one.
---
3

Viktor & Rolf 120mm Patent Pumps

**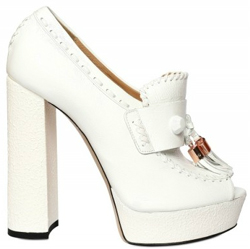 Price:** $757.00 at luisaviaroma.com
It looks like a tasselled loafer with a stacked, sky-high heel. It's bold, and just a bit clunky. You may look at it as high-fashion, or just as a fashion don't. This will split fashionistas right down the middle, so it's definitely one of the big shoe designs that polarise people.
---
4

Proenza Schouler Curved Wedge Sandals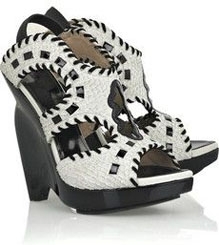 Price: $366.00 at theoutnet.com
Black and white is a classic combination, but when it comes to these shoes it is anything but. These shoes feature a unique take on the wedge heel and interesting whipstitch detailing around the edges of the leather. The pointed toe provides a contrast to the prominent curved design. Futuristic in form, these shoes definitely push the boundaries.
---
5

Vivienne Westwood 120mm Leopard Print Low Suede Boots

**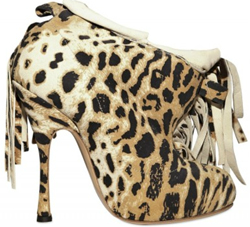 Price:** $1084.00 at luisaviaroma.com
You'd be forgiven for thinking that these shoes were actually a shaggy leopard in disguise. Vivienne Westwood is notorious for her outrageous shoe designs that polarise people, and these shoes are definitely in keeping with that character. They are definitely a statement shoe for people wishing to make an even bolder fashion statement.
---
6

Diego Dolcini Crystal Lovers Limited Edition Sandals

**
Price:** $1086.00 at luisaviaroma.com
Sequins, studs, and spikes. These shoes look like they're straight from the future. And maybe that's just where they belong. You would have to be one very fashion forward fashionista to be wearing these shoes.
7

Christian Louboutin Pik Pik Pik 120 Studded Slingbacks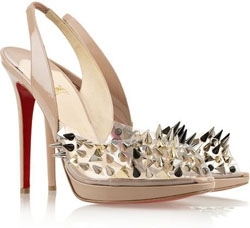 Price: $458.40 at net-a-porter.com
Is this a shoe or a weapon? That's what first came to mind when I saw this shoe. This shoe is how Christian Louboutin does edgy. It is also probably one of the most wearable shoes on this list. That said, it still packs a mighty punch.
---
8

Versace Lace-up Leather Platform Sandals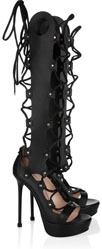 Price: $717.60 at net-a-porter.com
I'm not quite sure what to think about these sandals. These calf length lace-up sandals are almost gladiator-like in their design. The platform stiletto heel looks just as deadly. Not for the faint-hearted, these shoes are definitely for those willing to take a risk.
As you can see, it seems that the more outrageous the design, the more expensive the shoe. Of course, that's the point of shoe designs that polarise people. You just have to wonder if they are pieces of art or a waste of money. Which of these designs do you think are the most wearable?
---
Popular
Related
Recent