Scarf print clothes are a big trend right now. Aided by the popular Celine S/S2011 scarf print, this trend is not only appearing in other designer collections but making its way to department stores as well. Scarf print clothing really plays into the idea that bigger and bolder prints are better. It's not the easiest look to pull of but if you're up to the task, take a look at just some clothes with scarf prints below.
---
1

Topshop Scarf Print Shirt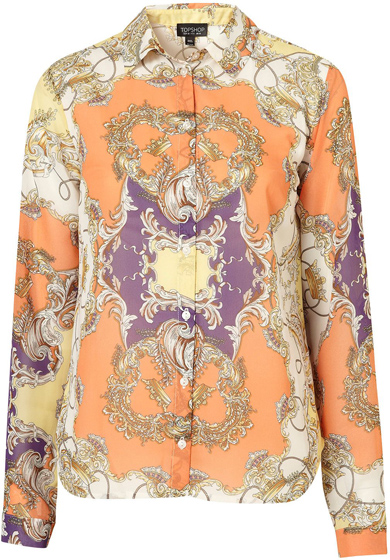 Price: $76.00 at us.topshop.com
This top almost looks like something you'd find in a vintage or thrift store. It features quite an opulent looking orange, cream and gold scarf print. Wear it with the top buttons undone and tucked into a cream skirt for a contemporary look. Accessorise with metallic jewellery and a compact side bag.
---
2

D&G Scarf Print Silk-Satin Dress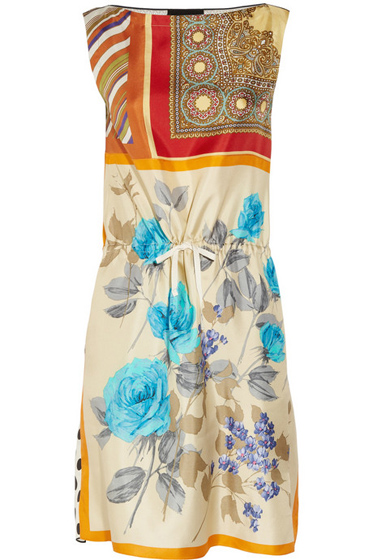 Price: $665.00 at net-a-porter.com
For a high end designer's take on the trend, look at this luxe D&G number. Here, Dolce and Gabbana have taken inspiration from past scarf designs and incorporated them into a simple shift dress. The various scarf prints are arranged in a collage style pattern which looks quite eclectic. Tone down the busy design of scarf print clothes like this dress by teaming them with simple, minimal accessories.
Trendinig Stories
More Stories ...
3

Elizabeth and James Scarf-Paneled Printed Top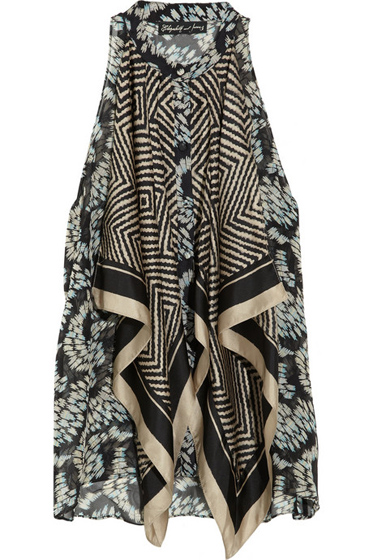 Price: $265.00 at net-a-porter.com
This stylish silk-chiffon top features scarf-effect printed panels to the front. They create an interesting fluid element to the design of the top. This top would look great worn with slim cropped black pants, strappy heels, and a boxy clutch.
---
4

Topshop Scarf Print Runner Shorts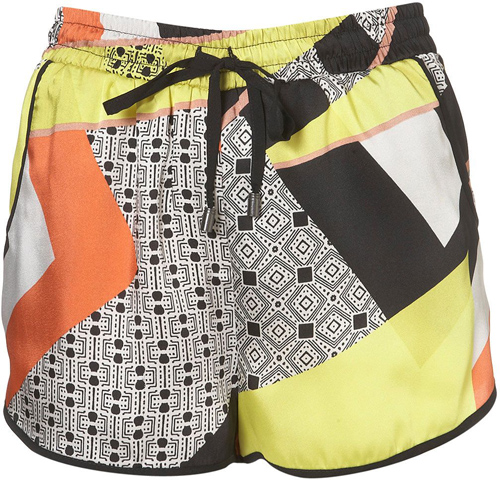 Price: $56.00 at us.topshop.com
These runner shorts are a modern and youthful interpretation of the scarf print clothing trend. They feature a graphic black and white scarf print which is accented by bright yellow and orange panels. Wear these with a white blouse and flat leather sandals for a cool weekend look.
---
5

Dorothy Perkins Coral Scarf Print Top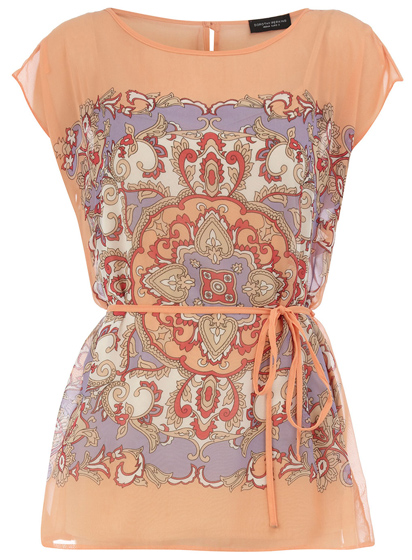 Price: $49.00 at us.dorothyperkins.com
The scarf print is really the focal point of this top. It comes is beautiful coral colour and features a classic scarf print design. It comes with a self tie waist, so you can accentuate the waistline accordingly. Personally, I'd wear it without the tie and tuck it into a pair of denim shorts for an easy summertime look.
---
6

Clover Canyon Printed Pants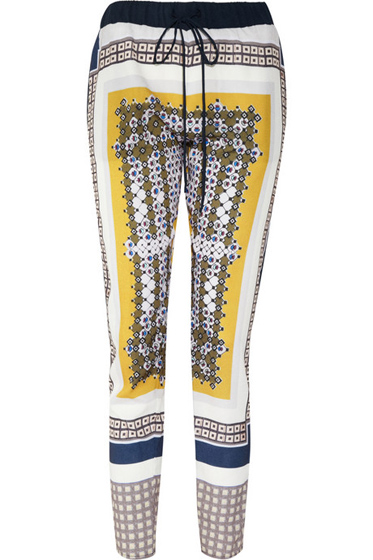 Price: $200.00 at net-a-porter.com
If there's one item of scarf print clothing to invest in this season, I'd make it a pair of printed pants. These are a perfect example of the trend. They have a white, blue and yellow print and come in a relaxed cut. They'll look incredibly on-trend teamed with a loose button-up blouse and strappy heels.
---
7

Topshop Scarf Print Sweater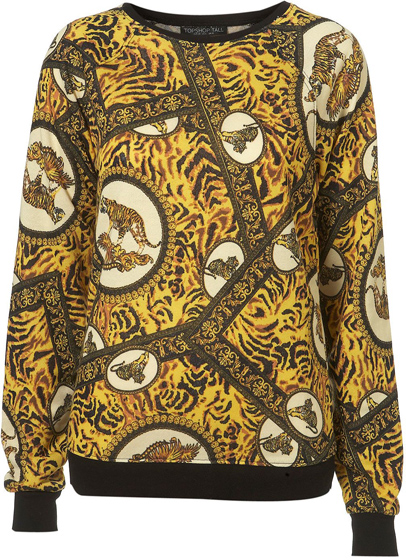 Price: $56.00 at us.topshop.com
If you like your prints loud and obnoxious, then this scarf print sweater may just be for you. It features an 80s kind of print that combines tiger motifs with border scarf prints. Wear it with black skinny jeans, hi top sneakers, and plenty of bling for a street inspired look.
There's no denying that scarf print clothes are quite popular at the moment. Wearing scarf print clothing is just one way for you to embrace the bold print trend. What do you think of these scarf prints?
Top Image Source: beautyforallbudgets.com
---
Popular
Related
Recent