My ideal climate would be one where you could wear cute summer jackets all day and night. I love short jackets and fitted blazers, swing jackets and most anything with a peplum. I'm partial to Ralph Lauren because I think he makes cute summer jackets, and researching this article, I've become a fan of White House/Black Market, which has much better prices than I anticipated. I hope you find something cute here for your summer evenings.
---
1

Ralph Lauren Single-Button Striped Peplum Blazer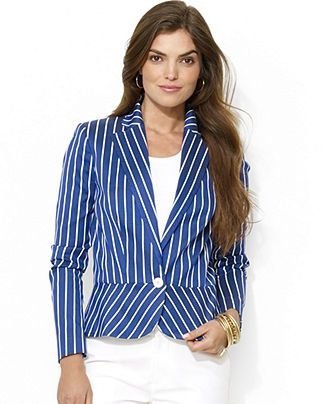 When I set out looking for cute summer jackets, this Ralph Lauren just screamed "PICK ME!" This is a cotton and silk blend, so that means dry clean only. You can't see it from this photo, but the long sleeves have four-buttons at the cuff in the style of finer goods. I'd love this over a white dress and please get a better fit than the model is showing. This jacket should be form fitting and really nipped in at the waist to make the peplum flare out a bit.
---
2

Lauren Jeans Co. Zip-Front Denim Moto Jacket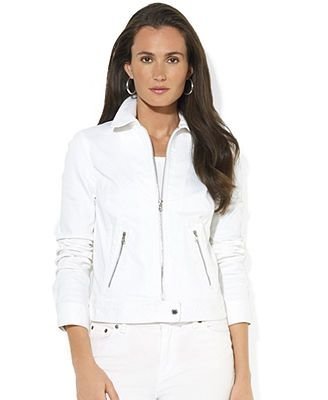 How cute is this white denim jacket? Now, I usually overlook boxy styles, but the angled zippers change the whole dynamic. I like that it has elastane and cotton and you can tjuz the sleeves. As for styling, I'm not big on same color denim, so I'd ditch the white jeans and wear blue, black, or maybe a nice summer color on the bottom.
---
3

Ralph Lauren Contrast-Trim Emblem Blazer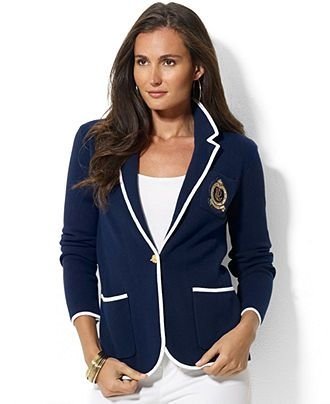 This was love at first sight for me because it checks off all the boxes I have for a summer jacket. It's navy with white trim. Check. It has a decorative patch on the pocket. Check. It's machine washable. Check. It's 100% cotton. Check. It has a real moneyed look. Check. That's five checks and that's enough. Total winner.
---
4

Labworks Petites Colorblock Jacket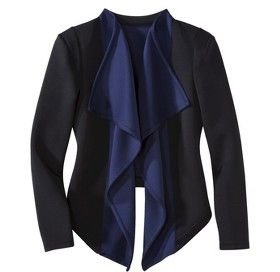 This is a great little summer jacket from Target.com that will add just the right amount of flair to black pants and a top. I love the color blocking and drape effect and there's an unexpected strip of blue in the back. This has a nice easygoing, comfortable look about it and no wonder, it's polyester and spandex. Inexpensive, and perfect for a cool summer evening.
---
5

Armani Collezioni Ruched Flare-Hem Leather Jacket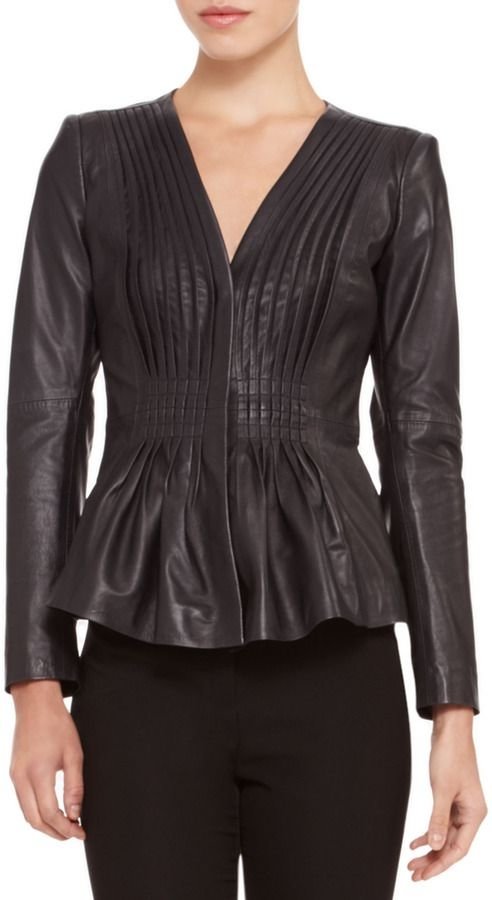 Here's your statement piece. This lamb leather jacket from Armani will be your go to item when you know you need to look fashionable, tasteful, and modern. This is an investment piece. But the number of times you wear it will more than make up for its cost. Find it at Bergdorf Goodman. Where else?
---
6

Laced Notch Collar Jacket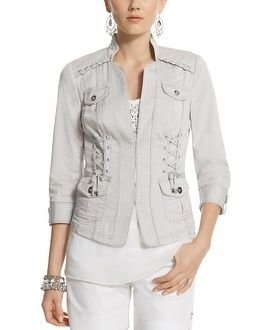 What a super summer jacket is this from White House/Black Market. Wear a high pony tail, and let the stand-up collar and laced shoulder detail show to perfection. The front features a hook and eye closures and always chic ¾ sleeves. The silver buttons offset the light grey of the jacket. I love it as shown, with a longer top underneath that matches the color of the pants.
---
7

Swing Button Jacket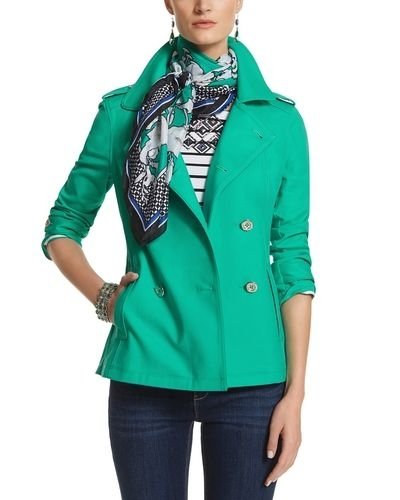 I love swing dresses and coats, and here comes a swing summer jacket from White House/Black Market. This is the trench coat that everyone loves, fashioned as a jacket. Add a stunning shade of green, pair it with dark wash jeans and you're a vision of loveliness. If you think the front is cool, wait till you see the inverted pleat in the back!
These are some great lightweight summer jackets and I can see myself wearing all of them. I always opt for a jacket over a cardigan, which can seem shapeless, especially after washing. I love the structure of a jacket. The good ones create a great waistline where none exists. Did you find any favorites here?
More
---
Comments
Popular
Recent