Though the weather hasn't exactly been cooperating, summer is almost here, so it will soon be time to break out all of the frilly frocks and darling dresses… you know, once it's warm enough and it stops raining! If the rain and chill has you feeling a little down, too, cheer up by checking out a few of these frilly frocks for summer!
1

Pretty in the Piazza Dress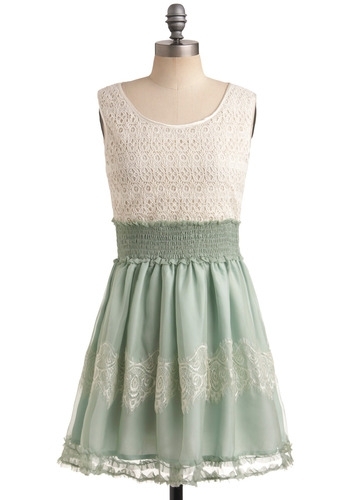 Price: $104.99 at modcloth.com
What a pretty dress, the perfect frilly frock for summer! Note the eyelet-inspired bodice, and the mint-green lace-edged skirt. It's short and sweet, like a perfect mint-chocolate chip ice cream cone. Wear it to a summer wedding, or for a day of shopping downtown… but don't forget your cardi, in case it gets chilly!
2

Summer Wheat Dress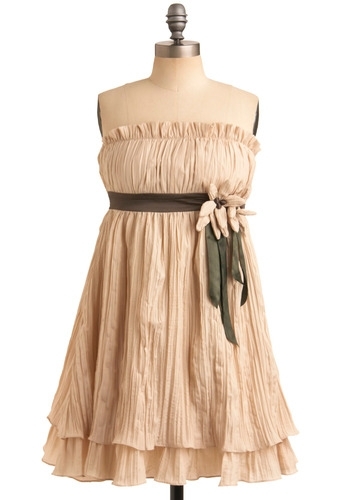 Price: $99.99 at modcloth.com
This frilly summer frock by Ryu boasts not one, but two tiers of sweetness! Its crinkle-texture polyester adds a bit of visual interest, along with the duo of straw-colored flowers at the waist. It zips at the side, and there's elastic shirring at the back to ensure a perfect fit.
3

Sunny in Style Dress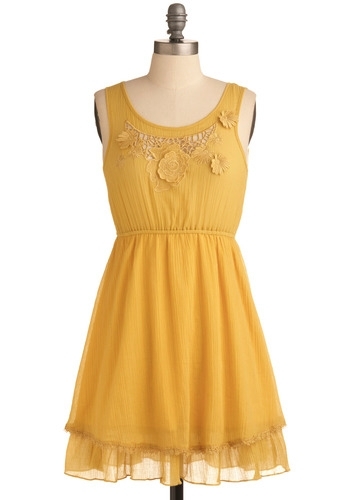 Price: $49.99 at modcloth.com
There are so many things I love about this dress, it's difficult to know where to start… how about the delicately open-work crocheted bodice, or the sweet eyelet at the hem, or the sunshine-yellow color? All three work splendidly together to make this my must-have frilly frock for summer!
4

Rolling Meadows Dress

Price: $79.99 at modcloth.com
The tiny floral print of this silk dress is so feminine and pretty, you'll want to wear this filly frock all summer long! Pair it with a floppy sunhat and wedges for a lunch date, or with skimmers and a light-weight cardi for date night.
5

Natural Waves Dress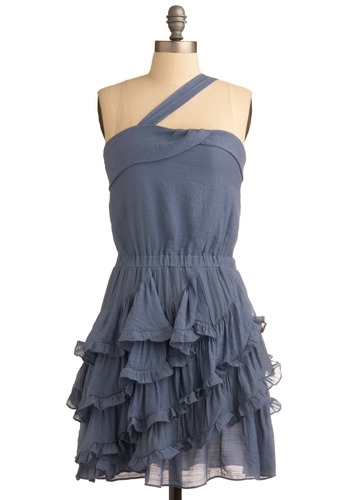 Price: $52.99 at modcloth.com
Who says the "B" in "LBD" has to stand for "black"? I think in the case of this darling dress, that "B" could Justas easily stand for "blue," as in, as blue as the ocean, as blue as your eyes! It's made with rows and rows of luscious ruffles, with a unique one-shoulder twist at the bodice. Pair with light brown leather wedges and your favorite wooden bead bracelet for a look that's sure to get noticed this summer!
6

Summer Samba Dress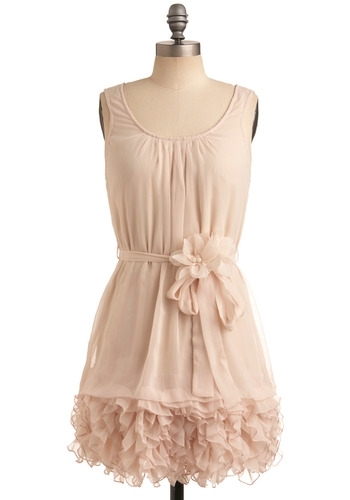 Price: $49.99 at modcloth.com
This frilly frock reminds me of the foam on a latte, rich and sweet and divine. The tiers at the hem suggest lightness and beauty, while the flower detail at the waist sash confers girly-ness galore. Pair with navy sandals and an armful of delicate gold bangles, and wear your hair pinned back with loads of natural beach-goddess waves.
7

Perfect Party Favors Dress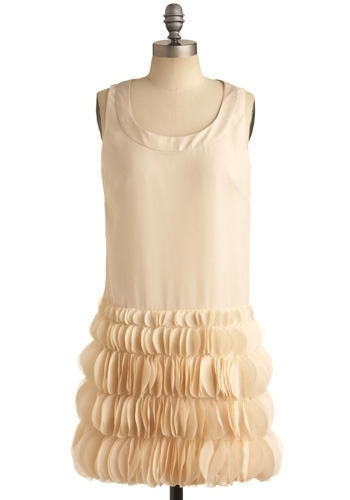 Price: $72.99 at modcloth.com
The name of this dress is entirely appropriate, for what better party favor could there be than this gorgeous gown? It's a creamy pale peach color, sure to flatter every complexion, with rows of unique leaf-shaped details at the hem, all the way round to the back, where it zips. I adore the drop-waist fit… so vintage!
See? Aren't all of these dresses perfect for summer… you know, once it actually arrives? I adore that blue one! Which of these frilly frocks do you like best, and how would you accessorize it?