Colorful trench coats are the perfect spring fashion update that will enable you to look absolutely fabulous even on the rainiest of days! Now, I don't know about you but a colorful, bright or eye-catching piece of outerwear definitely says it all for me! And here are a few examples of what a fabulous colorful trench coat is supposed to look like:
---
1

Vince Camuto Double Breasted Trench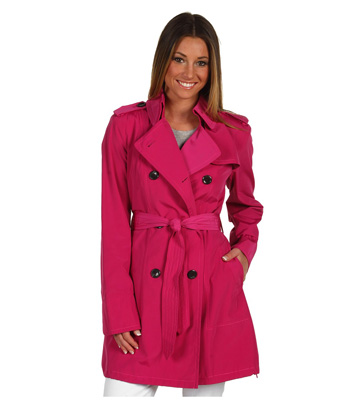 Price: $121.00 at zappos.com
The first on my list of awesomely colorful trench coats is this lovely Vince Camuto piece in fascinating fuchsia! Now isn't this a perfectly stylish color to wear around town this spring? Strong enough to demand some serious attention, perfectly girly and oh-so-color-block-friendly – I'm giving it thumbs up!
---
2

Dsquared2 Menage a Trois Trench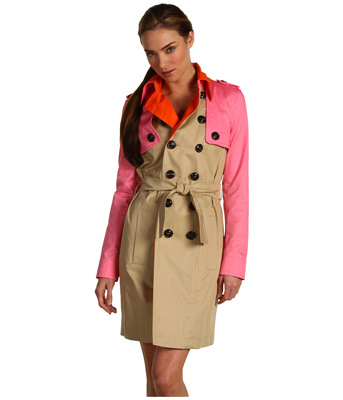 Price: $1,190.00 at zappos.com
Did I say color block? Well, here's something all of you color blocking fanatics are going to love, love, love! Paired with bright orange and spring fashion must-have pastel pink, that this pale, traditionally «trench» camel color has never looked better! A bit too expensive, though, but hey… definitely worth checking out!
---
3

Forever 21 Belted Trench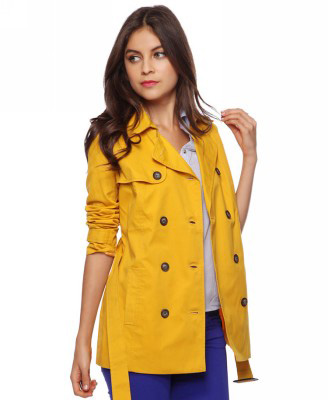 Price: $37.80 at forever21.com
Available in bright yellow and sunny orange, this lovely wardrobe update might even be one of my favorite colorful trench coats ever! Its perfect, just-under-the-hip length makes it ideal to wear in pretty much any occasion, enabling you to have fun pulling of various color block styles as well as dressy and totally casual outfits that defy rainy, gray skies!
---
4

ModCloth Emerald Coat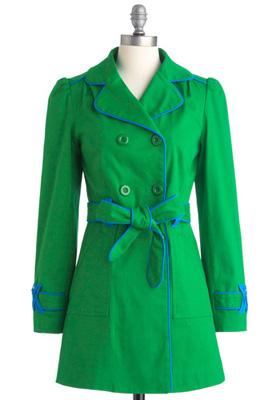 Price: $164.99 at modcloth.com
A perfectly girly fusion of retro and modern, this «trenchy» school coat will be your BFF this spring! In fact, if you're looking for a colorful trench coat that has that «special something», this is definitely it! Wear it in just any occasion, enjoy its gorgeous, ladylike construction and fab colors and have fun!
---
5

ModCloth Candy Coat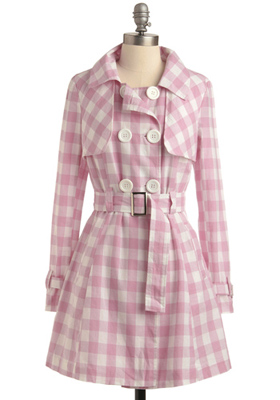 Price: $49.99 at modcloth.com
If you're into spring trends, then you know pastel pink is an absolute must have! And guess what – you don't have to shop at Louis Vuitton to get the look! This cotton candy colored trench will enable you to look different and oh-so-stylish without having to change your entire wardrobe so, hurry up and grab yours while it's still available!
---
6

Forever 21 Satin Polka Dot Trench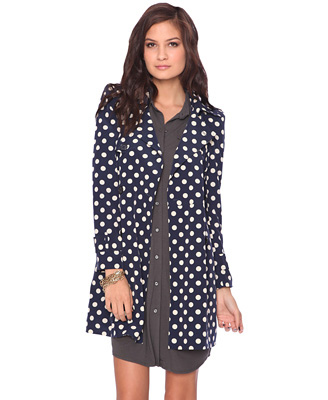 Price: $37.80 at forever21.com
Navy and polka dots are still super hot and, if I may add, a perfect choice for all of you ladies who want to play it safe but aren't ready to give up popular trends, prints and colors. I love its glam, satiny sheen, the color and the print and I really think it's a great, versatile piece of outerwear every fashionista would love having!
---
7

RSVP Rowen Jacket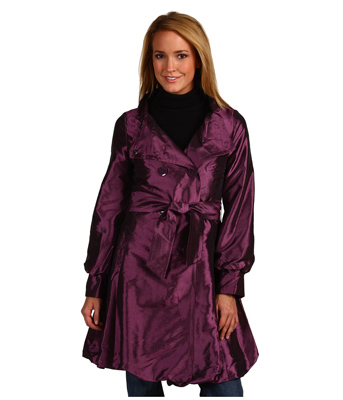 Price: $62.99 at zappos.com
The last on my list of lovely colorful trench coats is this cute, metallic jacket-like trench by RSVP! It's available in a range of different, equally great colors which will make the choice much easier and help you look exactly the way you want this season. So check it out and tell me what you think!
So, ladies? What do you think? And which one of these fabulously colorful trench coats is cool enough to be your spring fashion update this season?
Top Image Source: weheartit.com
More
Popular
Recent