Clothes for rainy days don't really make up much of our wardrobes. But when it does pour down, you'll want something to keep all that rain off. Umbrellas are fine but to really protect your clothes, something like a raincoat can provide better coverage. The problem is your run-of-the-mill raincoat isn't always that fashionable. However, there are some rather acceptable rainy day clothes available out there. Take a look at just a few stylish clothes for rainy days below.
---
1

Topshop Basic Pac-a-Parka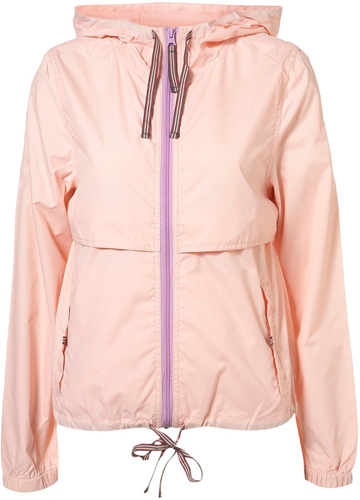 Price: $48.00 at us.topshop.com
This peach coloured parka easily packs into a small carry bag, making it perfect for stashing away in your bag. It's water resistant so perfect for protecting you against light showers. The pastel colour is quite on-trend, and you could almost mistake it for one of this season's must-have sporty jackets.
---
2

Aubin & Wills Poncho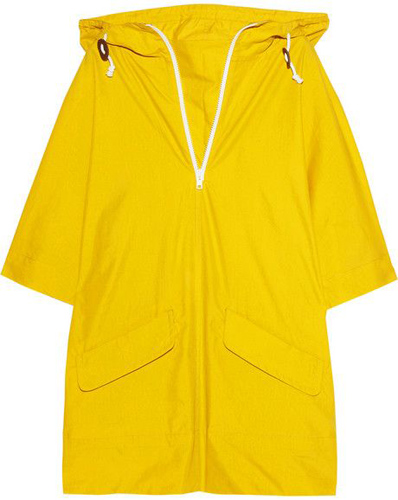 Price: $175.00 at net-a-porter.com
This poncho is like a grown-up version of the classic yellow children's raincoat. The fabric is a coated cotton blend, making it showerproof. It has a drawstring hood, three quarter length sleeves, and front pockets. The bright yellow colour ensures that you'll never get lost in the crowd.
---
3

Topshop Unique Grey Coated Raincoat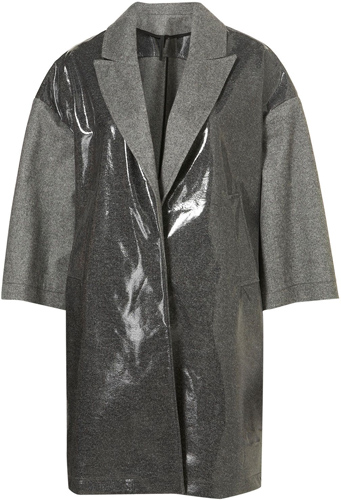 Price: $240.00 at us.topshop.com
Clothes for rainy days, such as raincoats, often stick out like a sore thumb. This could be any grey oversized jacket only that it has a coated body, making it ideal for protecting you from the elements. Since the collar and sleeves are uncoated, avoid wearing this raincoat in any heavy downpour.
---
4

Topshop Longline Metal Plastic Mac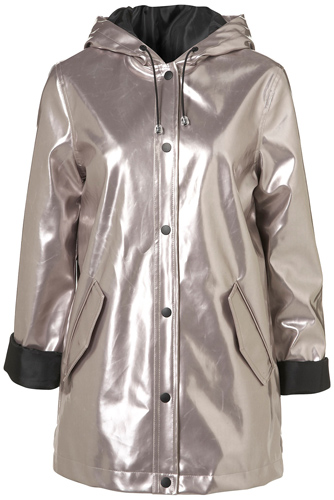 Price: $90.00 at us.topshop.com
Metallics are a big trend right now so why not incorporate it into your rainy day gear? This striking raincoat has a drawcord hood, snap front closure, front flap pockets, and contrast lining. It's definitely one of the more statement-making wet weather options.
---
5

Burberry Brit Hooded Anorak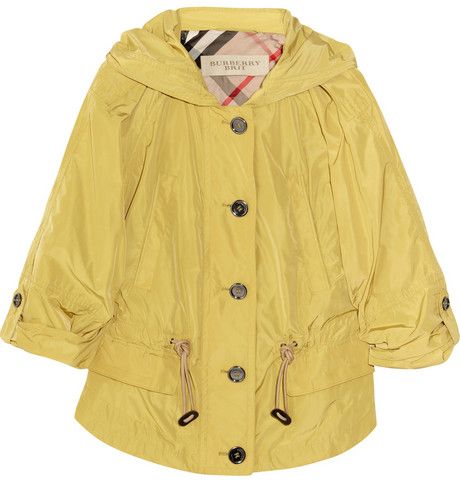 Price: $550.00 at net-a-porter.com
The Burberry brand is well known for its take on all-weather attire. This hooded anorak is a contemporary take on rainy day clothes. It's very sport luxe and comes in a cool mustard colour. However, with a designer label comes a designer price tag so if you're in the same boat as me it'll be a case of look but don't touch.
---
6

Tulle Clothing Water Resistant Coat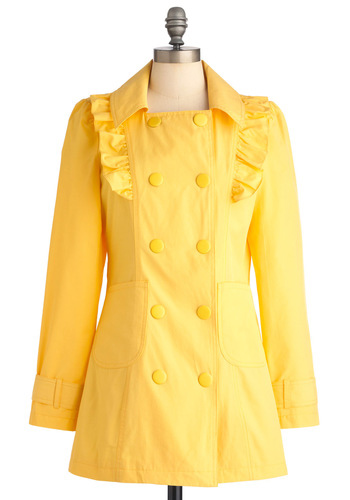 Price: $94.99 at modcloth.com
This rain resistant jacket is simply the sweetest! It comes in a bright yellow colour and has a double breasted design. The ruffle detailing at the shoulders is a lovely feminine touch. This jacket would look great paired with jeans or over a vintage inspired outfit.
---
7

M Missoni Printed Raincoat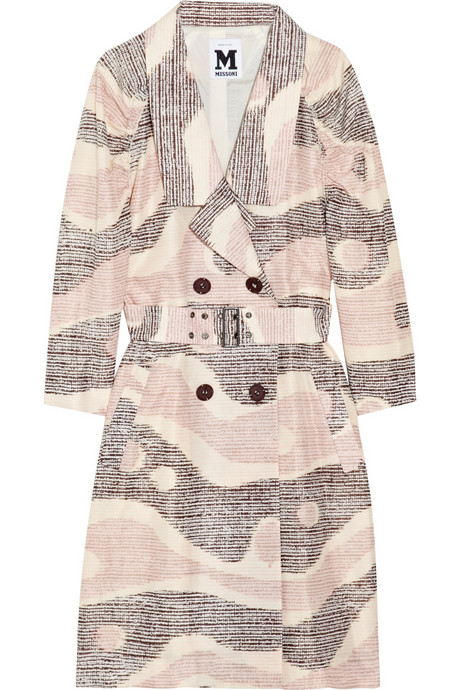 Price: $567.00 attheoutnet.com
At over $500 this jacket is less of a necessity and more of an «in my dreams» item when it comes to clothes for rainy days. It has a classic trench-style cut and features a distinctive pink print. Heck, if I owned this I'd probably be wishing for rain just so I could wear it out as much as I could.
---
8

Marc Jacobs Polka Dot Jacket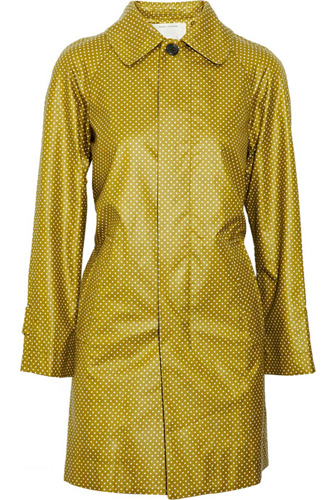 Price: $360.00 at theoutnet.com
Polka dots are a big trend right now, and this jacket features plenty of them. This jacket is made from a coated silk-blend material and features a mustard and cream polka dot pattern. It has a simple cut and would look great worn with a range of off-duty outfits.
These raincoats are admittedly at the higher end of the price range, but hopefully they'll give you an idea of what to look out for when looking for clothes for rainy days. What do you think of these rainy day clothes?
Top Image Source: sundaysandchampagne
More
---
Comments
Popular
Recent