Slim your silhouette down without losing an inch by following these 9 easy ways to define your waist. Avoid endless hours in the gym and craving restricted diets by creating sexy curves and the illusion of an hourglass silhouette with effortless fashion forward pieces that flatter your figure. Learning how to dress your body to showcase your curves or highlight your shape is something every woman can do with these 9 easy ways to define your waist.
---
1

Wrap Dress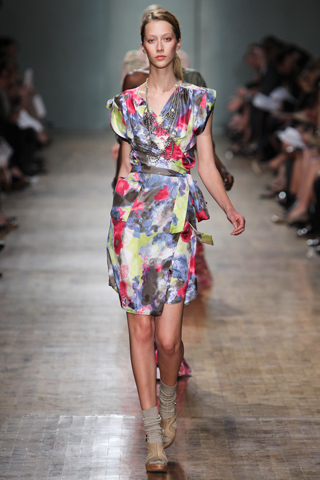 The wrap dress is one of the most universally flattering garment in women's clothing thanks to the great Diane von Furstenberg who expertly and geniusly designed this shape in the 70s. Not only is a wrap dress the ultimate garment in effortless ease, elegance and sophistication, it is also one of the most infallible piece for a woman's body. This waist-centric dress wraps perfectly around the waist, hitting the smallest point on the body while defining the waist with a simple tied belt, making it one of the top easy ways to define your waist.
---
2

Belts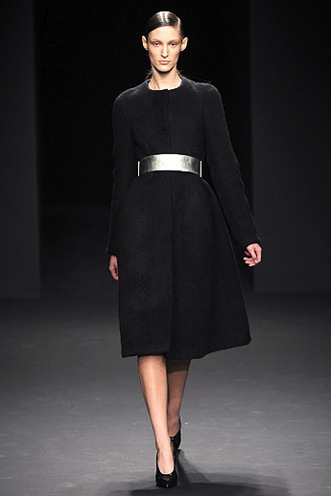 Even if you think you lack curves, a belt will help to create the appearance of a waist and a shapely figure. Placing a belt over dresses or flowy breezy pieces like tunics will help to enhance your body by accentuating its smallest and thinnest area. Creating this definition is as simple as selecting the right belt for your body type. If you're on the petite side, opt for a skinnier belt that'll sit just under the bust line to create the look of a sleeker, longer torso. If you're on the busty side, a big belt is in order for wear just slightly under the waistline to balance your proportions.
---
3

Peplum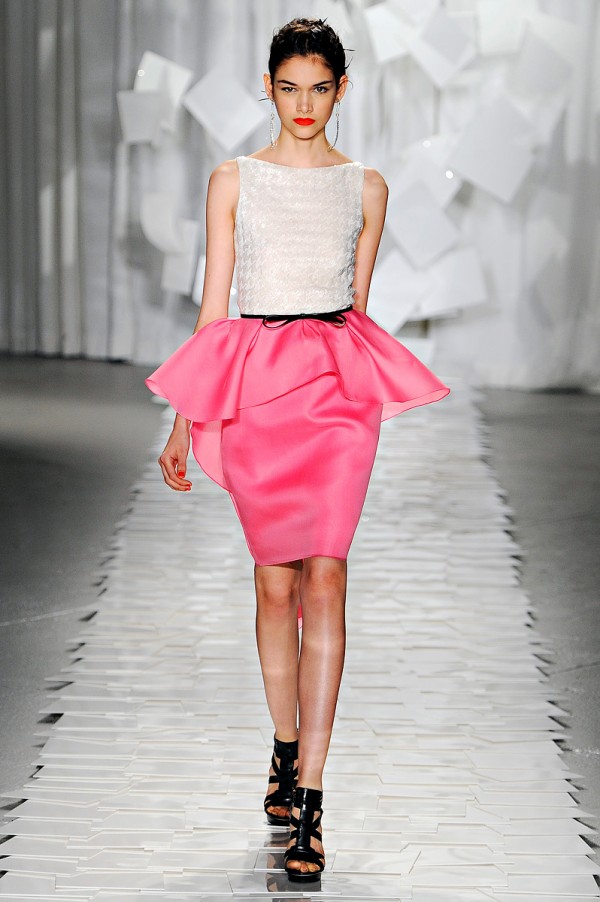 Peplums are the latest finely crafted trend that work as extensions on structured dresses and tops to take charge of the ultra-feminine fashion seen recently on the runway. With its elegant and flattering flare, the peplum flares out from the waistline immediately shrinking you at the point where the peplum starts and moves away from your body. For the best fit and flattering silhouette for your figure make sure your peplum duds hit at the smallest part of your middle to show off your waist and avoid unbalanced proportions.
---
4

Pattern Placement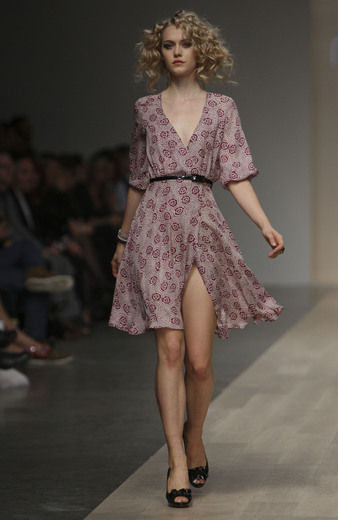 The most important rule when it comes to wearing prints and patterns is selecting the right size for your figure. The general rule of thumb goes like this: if you are petite, smaller patterns will look the absolute best on you and if you are full figured, large patterns are the most flattering for you. With that being said well placed patterns especially in dresses draw the eye inwards and direct attention to the narrowest parts of your body with clever placement and coloring to create the illusion of a slim, hourglass silhouette.
---
5

Fit and Flare Silhouette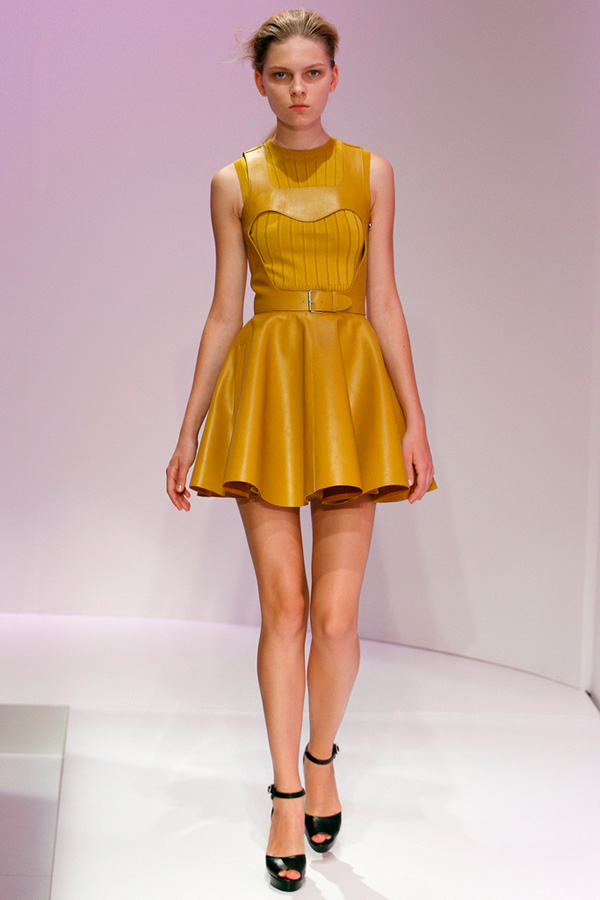 Much like the peplum, fit and flare silhouettes feature demure drop waists and flirty flippy hems to accentuate the body at its smallest point. Its universally flattering appeal defines the body with fitted bodices skimming away from the waist with a coquettish flare while disguising those tricky body areas. The gathered skirt of a fit and flare combined with a nipped waist adds movement and interest to a simple silhouette that's super feminine and sophisticated. The fit and flare provides the hourglass shape you've always coveted with the illusion of endlessly long legs when paired with the perfect heels.
---
6

Darted Jacket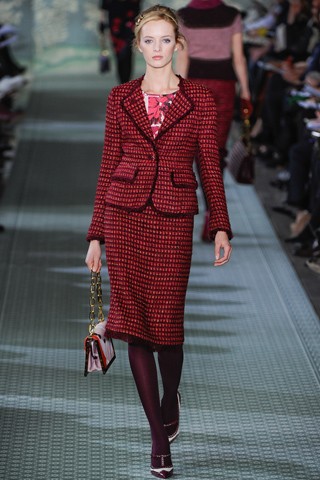 Although jackets and blazers are at the helm of men's fashion, a well-tailored jacket can work wonders for the feminine figure. For a jacket or blazer that's specifically built for women, look for one with nipped waists, maximum darting and seaming to create a structured silhouette. The right blazer will polish off your look and add definition to your upper body.
7

Bottom Prints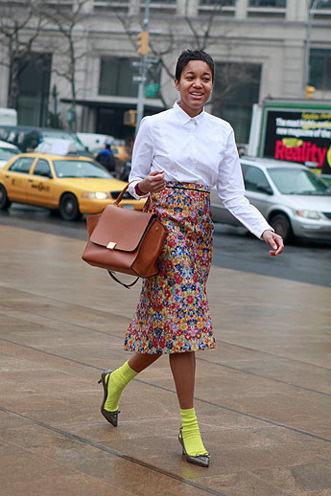 To create visual interest in your outfit, prints are an excellent wardrobe addition that keeps your style fresh and trendy. Wearing a well fitted printed pant or pencil skirt works as a smart illusion to draw the eye in and direct it to the waistline making it look smaller. Prints often time create the illusion of volume so sticking to one print on the bottom paired with a neutral or basic shirt will help to maintain balance proportions and a sleek silhouette.
---
8

Colorblocked Panels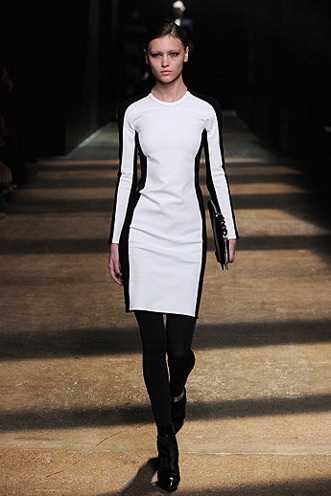 Expertly placed colorblocked panels can create the figure you've always dreamed of with the effortless ease of color. By selecting a dress or top in two contrasting colors will not only help to create visual interest but also serves to make you appear slimmer. With colored panels on either side of your body and another down the middle creates a shadow like effect where your body will look narrower and your waist will be visually cinched for that ultimate hourglass figure.
---
9

Tailored Top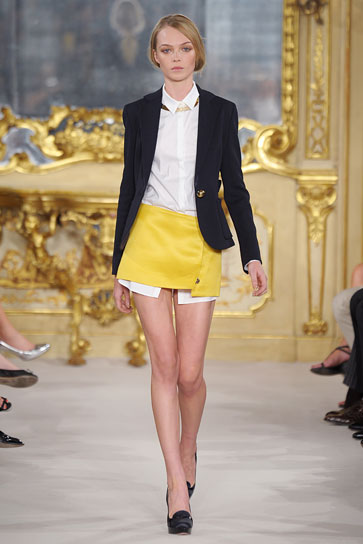 Everyone loves blousy garments, oversized sweaters and boyfriend fits, but lets face it sometimes these pieces and wardrobe selections don't do our bodies any justice to show off our best assets. That extra fabric that folds over the waistline does nothing for anyone's figure. When it comes to flattering your shape and creating a slim middle, wearing a tailored top tucked perfectly into your bottoms works best for all occasions, work or play. Stick to slim cut button-ups with expert darting and seaming will enhance and show of your figure.
Look like you've lost an inch without hitting the gym or breaking a sweat with these 9 easy ways to define your waist. It's oh so simple to define your waistline and create a feminine shape without losing a pound! What are some of your tricks for defining your waistline?
---
Comments
Popular
Related
Recent